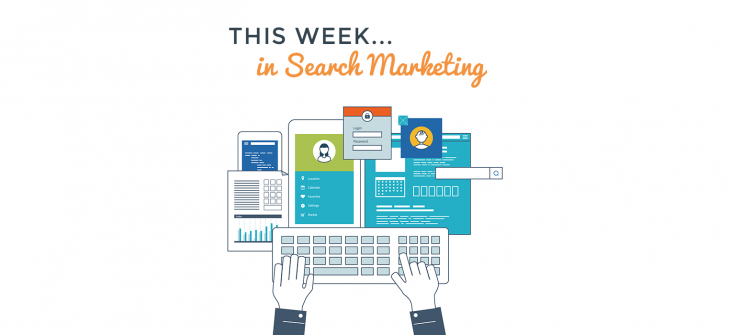 This week in search marketing
What have Susan Boyle, the Great British Bake-Off and 'tech behemoths' got in common? They all feature in this week's round-up of search marketing news…
---
Google
Landing page app
Google is rolling out a 'Landing Pages' mobile assessment tool. This will be a tab in new AdWords experience that enables advertisers to determine which individual URLs need to be adjusted for mobile.
According to the search engine's own research, nearly a third of smartphone users will immediately switch to another website if a landing page doesn't satisfy their needs. If there are too many steps or they can't find the information they're looking for, 64% will look elsewhere.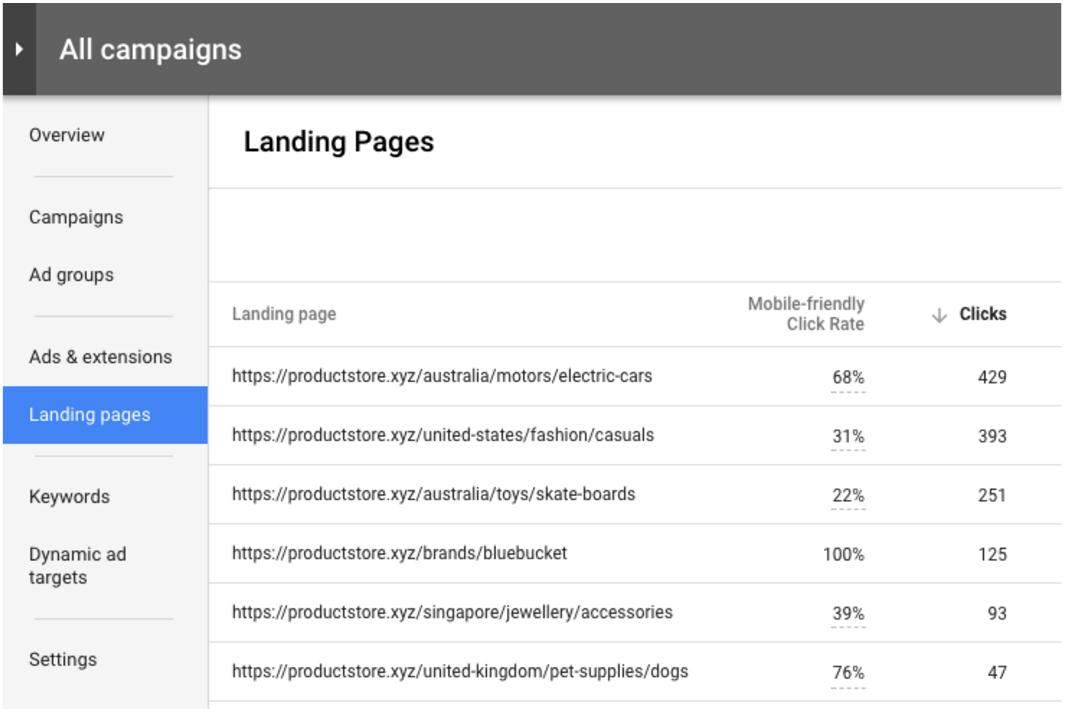 Source: Google
Video previews for quick searches
Another roll-out will see Google feature six-second video previews in search results, rather than just static images, working in a similar way to text snippets.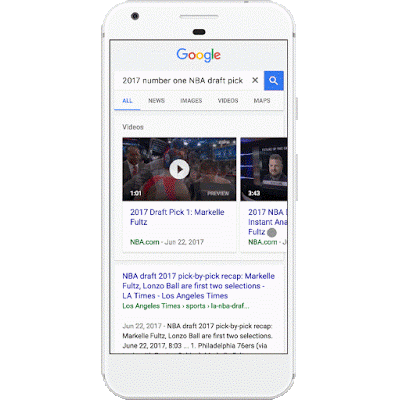 Source: Google
Mobile apps
People spend more time on mobile apps than on mobile web or desktop, according to a new report from comScore. Users spend 50% of online time on mobile apps, while PC usage stands at 34% and mobile web (including tablets) just 16%. Nearly 90% of users' mobile app time is spent within a user's top five apps, with Facebook, YouTube and Facebook Messenger dominating.
Unsurprisingly, the demographic that are the most engaged, adept and opinionated app users is Millennials.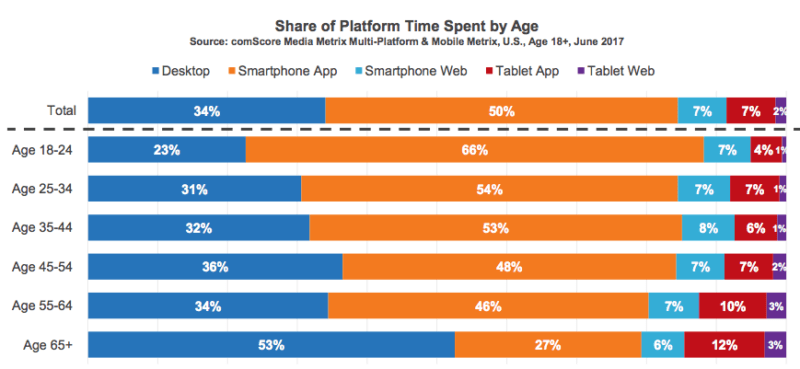 Source: comScore
Facebook
Ad restrictions
From 15th September, businesses will no longer be able to convert Page posts like profile picture changes and place recommendations into ads.
---
We want businesses to utilise Facebook ad products that give them the best opportunity to achieve their business goals, and removing these inessential boosting options will reduce complexity and help them find the right products to get the best results

Facebook Product Manager, Jyotika Prasad
---
Read more about the change here
Facebook marketplace
Facebook marketplace is being extended to encompass business listings too, with content and product published in Pages eligible for a Marketplace listing.
Facebook says it has expanded the scope and content of Marketplace to better respond to user demands. Part of this means 'professional' listings from business users will now sit alongside items listed for sale by individuals. A number of new categories will also be added to the Marketplace classifieds, many of which are more business friendly.
In other Facebook news…
In a move to combat fake news, the platform has announced that it will begin to display publisher logos next to posted links.  Logos will be featured adjacent to content viewable in Facebook's topical Trending bar as well as in search results on the site.
Publishers who want to participate need to upload their logos to Facebook manually.
YouTube
YouTube has introduced a 'breaking news' carousel in an apparent attempt to become a real-time news platform, in the same vein as Twitter. The Drum reports that it's not yet known whether Google is populating this section algorithmically or whether it will be hiring a team of editors to curate the news.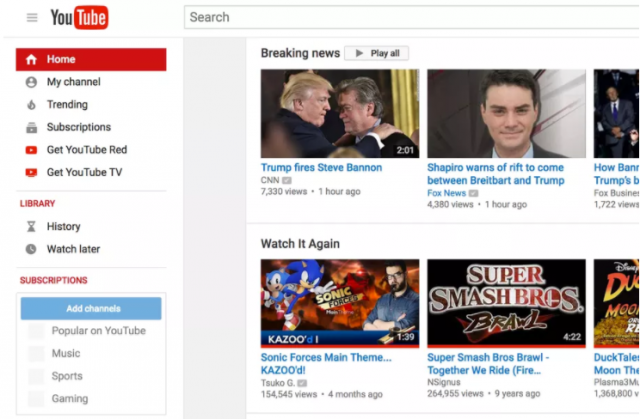 Source: The Verge
Hashtags turn 10
The social media hashtag started a decade ago with #barcamp, and now 125 million of them are shared daily on Twitter alone.
Its inventor, Chris Messina,  said: "The value and satisfaction I derive from seeing my funny little hack used as widely as it is today is valuable enough for me to be relieved that I had the foresight not to try to lock down this stupidly simple but effective idea."
Hashtags have proved to be a useful way of navigating the prolific posts across social, but have also led to some amusing errors of judgement (or marketing ploys?):
It's ten years since hashtags were first used on Twitter! What's your favourite? I'll never forget #susanalbumparty #hashtag10

— Becca Johns (@thebeccajohns) August 23, 2017
Christmas online shopping
2017's Christmas eCommerce sales projected to grow 10% over last year's, predicts NetElixir. However, YoY growth is set to be slower than in previous years due to:
Amazon's increasing market share.
Shift of website sales to third party marketplaces.
Economic factors such as unemployment rate, inflation rate, gross domestic product, and overall spending habits.
"With Amazon continuing to play a huge role in e-commerce consolidation, retailers need to prioritize e-commerce in order to stay competitive during the holiday shopping season," says NetElixir CEO, Udayan Bose.
Unsurprisingly, NetElixer also predicts a rise in mobile shopping during the festive season, estimating that 35% of all online purchases will be on smartphones.
IAB responds to 'dystopian advertising nightmare' criticism of digital
The IAB's CMO, James Chandler has responded to criticism of the digtal advertising industry in an open letter.
Newsline columnist Bob Wootton had previously published an article that accused  "tech behemoths" of being "endemically dismissive of the responsibilities they hold to their advertisers" and called for greater accountability and accuracy from agencies and media owners who will "have to comply or be embarrassed".
Defending the industry, Chandler wrote: "Sorry you didn't share our view that digital isn't quite the dystopian advertising nightmare some might believe it to be."
He continued: "When done well, like any media channel, digital delivers; even in its most simplest form…  of course, there is work to do and as an organisation set up to represent digital advertising we're are not immune to criticism. But, it's all too easy to stand at a distance shouting vague, emotive things about the woes of digital and how it's not working for brands. The IAB's role as I see it six months into the job, is to bring together everyone with an interest in digital to achieve things they couldn't do on their own."
GBBO: social listening meets reality TV
In an extreme experiment in social listening, the New Statesman's Amelia Tait has attempted to predict the order in which contestants will leave the latest (pre-filmed) series of the Great British Bake-Off – by studying their Instagram and Twitter accounts. She's gleaning clues from:
The date a contestant signed up for social media (was it during, or after, the competition?)
Whether a contestant follows any of the others (indicating they had a chance to bond)
A contestant's personal blog and headshots (has the contestant already snaffled a PR?)
Pictures of the contestant's baking.
It'll be interesting to see the proof of the pudding…
---
To make sure you keep up to date with the latest and most important search news, sign up to our blog using the form on the left, for more insights – check out our resources or contact us today to see what we can do for you.
Share this: