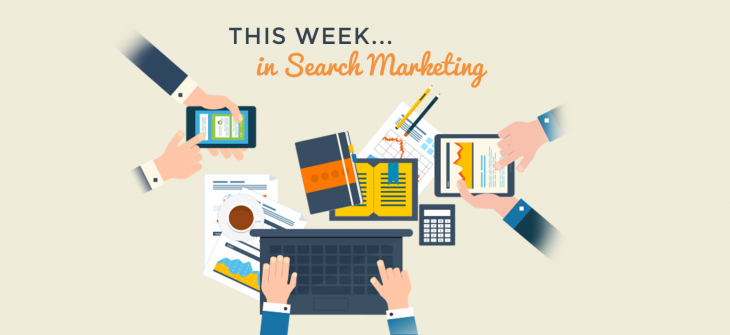 This week in search marketing
Regular followers of this blog will know that the team here at Click Consult is dedicated to bringing you all of the latest developments in the market. We scour the web, attend events, and monitor campaigns to gain a greater knowledge of the industry and we gather this knowledge up and relay it to you in real time.
So what's new this week?
---
Mobile internet usage surpasses desktop
In an age of ever improving connectivity and where time is one of the most important commodities that we have, it is no surprise that mobile internet usage continues to surge. According to statcounter.com, a leading global stats agency, October 2016 was the first time that the internet usage was greater on mobile devices than on desktop worldwide. This shift is one that has come about in a relatively short period of time – just seven years ago; back in October 2009 the percentage of internet usage that was conducted on desktop was nearly 100% and now finds itself at 48.7%.
---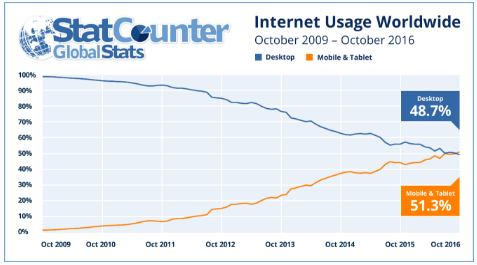 Image Source: StatCounter
---
So what does this mean for marketing? Well, it means that the powers that be – in terms of search rankings, will have to make allowances. According to Aodhan Cullen, CEO at StatCounter: "These findings should be a wake-up call, especially for small businesses, sole traders and professionals to make sure that their websites are mobile friendly. Many older websites are not."
In the UK, desktop browsing is still ahead with a 55.6% market share. This share is however shifting and the mobile usage data is accelerating to a position that reflects the worldwide stats, something that may be of more significance as the country moves towards Brexit.
---
Image Source: StatCounter
---
Cullen continued: "Mobile compatibility is increasingly important not just because of growing traffic but because Google favours mobile friendly websites for its mobile search results.
"Post-Brexit, UK businesses should be aware that as they look to trade outside of the EU, that India for example has over 75% internet usage through mobile devices."
As Google continue to use mobile-friendliness as a ranking signal we need to ensure that we help and guise our clients on mobile optimisation.
Search ads generate 50% of digital revenue in 1st half of 2016
Following on from the news that mobile search has surpassed desktop search it is clear to see that this is one of the biggest factors when it comes to digital revenue. According to a survey by the International Advertising Bureau (IAB), overall search ad revenue represents 50% of all online sales, a 19% increase year on year and this trend looks set to continue.
---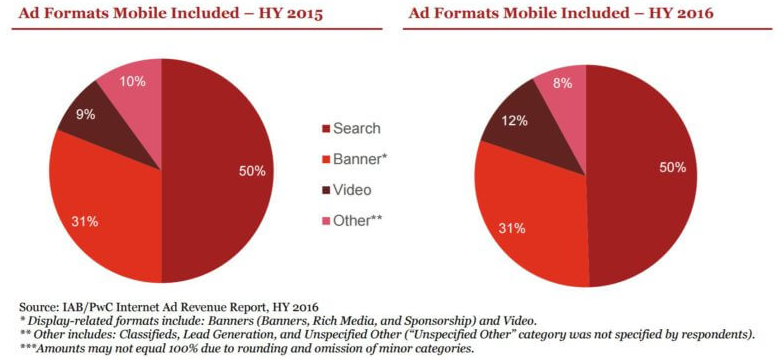 Image Source: Interactive Advertising Bureau
---
The report highlighted that 74% of desktop advertising is captured by the top 10 ad sellers and publishers, whilst the numbers are higher and these transactions occur on a smaller number of ad sellers, namely Google and Facebook. Looking at the areas in which consumers are buying from online ads, the top sectors in the first half of 2016 were:
-Retail
-Financial services
-Auto/motoring
-Telecoms
– Leisure and travel
-Packaged goods
-Electronics and computers
-Pharmaceuticals and healthcare
-Media
-Entertainment
It seems as though after the boom of smartphone sales, businesses are catching up with consumer needs and 2016 is the start of the real digital advertising boom.
News UK to roll out full scale content strategy
News UK, the owner of some of the most recognisable brands in British media, including the Sun, The Times and The Sunday Times, has vowed to become the largest producer of original content in the country.
The parent company has taken inspiration from many other news agencies and plans to not only utilise their large collection of data, but their vast number of staff and advancements in technology.
At present, there are thought to be around 7 million registered users across the titles and this enormous amount of data mean that the group can expect plenty of interaction and ultimately that they can produce an ever growing social media following. As we know here at Click Consult, original content is a must for the performance of brands and websites in SEO terms and utilising this 'data bank' and encouraging interaction, will go a long way to making this project a success.
Discussing the strategy, Ben Walmsley, digital commercial director at News UK said: "We have identified four main opportunities: video, mobile, branded content, and programmatic. We are making senior hires to bring expertise from outside of the business. All of this will be underpinned by a rich data catalogue, so brands can target our audiences but also discover their own audiences across our properties."
Whilst News UK's head of video Derek Brown commented: "We looked at BuzzFeed's Tasty and went: 'That's good, we should do that'. We want to tell more brands that we're making videos in that area. We are excited about next year, as publishing video is going to be big [for us]. Our ambition is to become the biggest producer of original content. And I believe we are quite far ahead of our competitors."
The project, if successful is sure to increase the brands online presence and improve its results in SERPs.
---
Click Consult is proud of its ethical approach to search and believes that pushing the boundaries of best practice forward is an important part of what makes it an award winning search marketing agency. To find out what Click Consult can do for your brand, contact us today; or for actionable industry insights, check our blog or resource pages.
Share this: