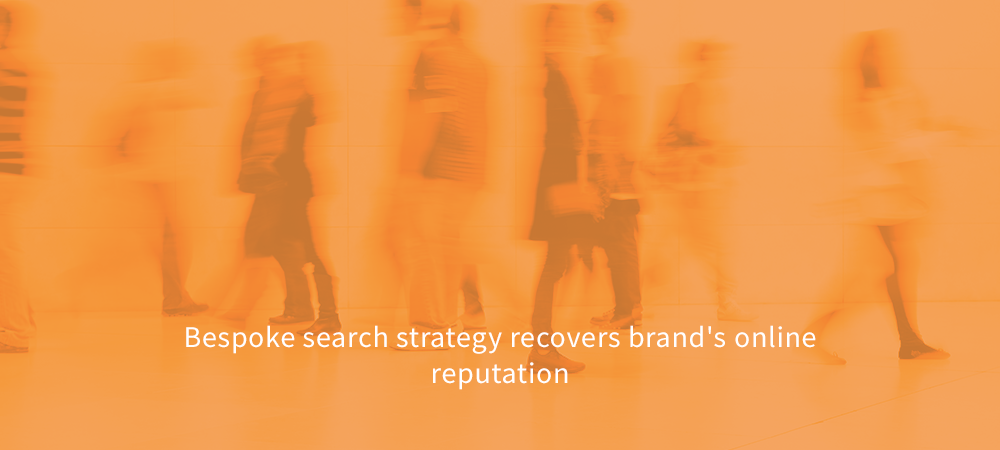 Click Consult reviews how a positive, natural and controlled set of search results were achieved for a brand following a negative online review
---
Please note that due to a Non-Disclosure Agreement we have anonymised the brand for the purpose of this case study.
About the client
It came to light that an unfavourable online review on a popular consumer review site was ranking in second position of Google's results pages for the main brand term of one of our clients. The client, an online retailer selling items of high value, was keen to move the review to position 11 or lower so it would not appear on the front page, as reviews were of great importance to the brand. The client wanted all page one results to be either controlled by the brand or to portray the brand in a positive way.
---
Our approach
The temptation in this situation is to create and optimise 10 websites to attempt to control the rankings of the main brand term on the first page of Google, with the aim of protecting the brand's reputation. However, after thoroughly analysing the situation, we decided that the best course of action was to create a small selection of websites with the ability to link to and socially engage with positive reviews, articles and sentiments online.
The aim of this strategy was to create a strong, positive, natural and controlled set of branded search results by ensuring that both current brand websites and external positive stories and sites ranked well.
We anticipated that this approach would deliver results quickly, be cost effective, and achieve a more natural and credible set of search engine results. It also meant that an easily-scalable system could be created and used in the event of future negative reviews.
---
What we did
The process of implementing the campaign included four steps.
Step 1: Auditing
We listened to the client's business goals and objectives. This was imperative to achieve the best results possible for the client and decide on further actions. It was also vital to understand the issue in light of the assets available. To do this, we performed detailed analysis of the following:
the negative review
the client's main website
the client's group sites
the client's social profiles
We also investigated other potential reputation management issues, including:
other negative articles
other negative terms
Google site links that show the brand in a poor light
Google autosuggest results that convey a negative brand sentiment
negative sentiment on social media
The team then worked to understand the cause of initial review and weighed up the client's ability to respond. This was essential to inform our strategy and tactics.
Step 2: Strategy creation
We identified websites that needed to rank higher for key terms in Google's results pages. These included:
the client's other sites
positive and neutral coverage without comments
positive and neutral coverage with comments
current social channels
potential new social channels
Step 3: Implementation
As part of a bespoke and tailor-made approach, the team used the following techniques to ensure that the client's goals were achieved in a timely and efficient manner:
effective cross linking of the client's social and web assets
basic SEO work on additional web assets where required
creation and addition of high quality content to key assets to enable them to rank for certain terms
removal of links and responses to poor articles from all available channels
linking from the client's main site and other assets to neutral and positive articles in priority order
link building from third-party sites
tactical decision-making on whether to respond to negative reviews in comments and whether the client's main site should link to complaints sites
Step 4: Reporting, reviewing and ongoing maintenance
To protect the brand going forward, we took the following actions as part of the final step of the campaign:
setting up new complaints channels for Twitter and Facebook to remove complaints from main social link
monthly reporting of websites ranking for major keywords to show progress and future threats
---
The results
Within three months, we managed to get all of the client's social profiles ranking on page one of Google and to increase the ranking positions of other, positive reviews.
However, as the main site continued to link to the review site hosting the negative review, it was impossible to lower the ranking of the main problem site immediately. To overcome this issue, we recommended that the client remove all links to the review site from their main website. Once the link was removed, the review site moved down the rankings over the next three months. By month six, we had achieved all of its objectives by decreasing the ranking of the negative review so that it no longer appeared on page one of Google's results page.
---
By month six, we had achieved all of its objectives by decreasing the ranking of the negative review so that it no longer appeared on page one of Google's results page
---
Example PPC strategy for Reputation Management
This is how we envision a PPC (pay per click) strategy would work alongside the SEO solution described above.
Illustrated below is the type of PPC ad format that we would use for www.ourclient.co.uk; this is one ad unit that would appear position 1 on a search engine results page. The headline would link to the home page and sitelinks each to a different subpage.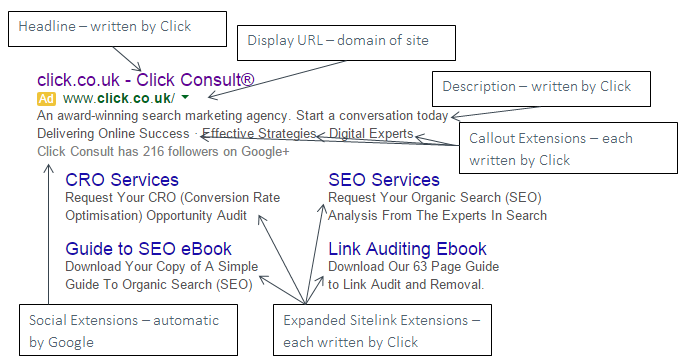 Below is an example of another ad format that we would use for a separate domain such as www.ourclientcomplaints.co.uk (which would cover the complaints procedure, a small site but containing at least 5 pages); this is one ad unit that would appear position 2. The headline would link to the homepage but each of the sitelinks would need to land on a unique page.

Finally, below is the smallest ad format, this is how we envision position 3 would likely look with the bigger ads in position 1 and 2. We would use this for a third domain and, like the second example, it would need to offer a completely different service and experience. Something like a sister company would be ideal to use here; or a charity, eg,  www.ourclientcharity.co.uk which would raise awareness of our client's chosen charity, showcase their fundraising, link to their just giving page etc.

Why pay for up to 3x PPC ads?
The idea is that the 3 ads will push down the organic listings to below the fold, thus increasing click through rate to websites controlled by our client and reducing the likelihood that a user would be aware of a reputation issue.
This would be employed as a short term measure when:
All 3 ads appear above the organic results (if only 1 or 2 appear we would pause the other rather than have them right hand side)
While domains with negative sentiment still appear the top of page 1 or above the fold
---
The first 2 pages of Google results – before & after
Before Click's Reputation Management service…
(click image to enlarge)
After Click's Reputation Management service…
(click image to enlarge)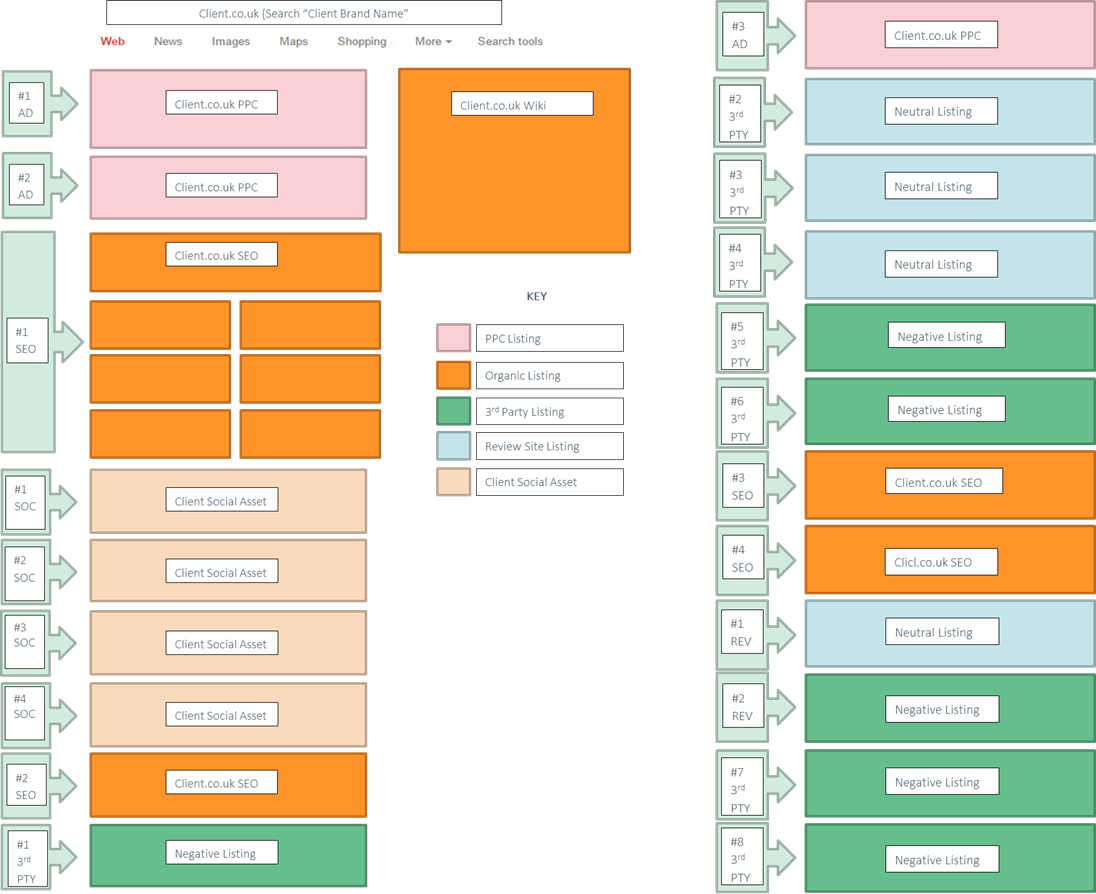 ---
Click Consult reviews a whole host of reputation management cases, from negative reviews to damaging press releases. To find out more about how we could protect your brand's online reputation, get in touch today and speak with one of our experts.
Download this case study