2019 was a big year for social media – and 2020 already looks set to be even bigger and better. With this in mind, we're going to publish a three-part, in-depth guide to help social media marketers stay at the cutting edge
First of all, let's take a look at some of the biggest developments from the last 12 months…
Instagram announced it would be making 'likes' private, forcing marketers and influencers to rethink vanity metrics, and also launched the 'Creator Account' to offer influencers with more than 10,000 followers more insights, while the popularity of Instagram Stories overtook the newsfeed
Facebook and Twitter banned political ads; LinkedIn changed its algorithm to favour 'people you know, talking about things you care about' and added live streaming video; Snapchat created more viral AR filters, improved ads, and invested in professional content on the platform as well as – shock horror – announced it was considering introducing permanent snaps.
TikTok exploded onto the scene, hitting 1 billion downloads in February, and began to monetise by introducing ads; shy and retiring Pinterest overtook Snapchat as the third largest social media platform in the US and has been quietly leading the pack with its developments in visual search; and social selling took on a life of its own.
And it's these last three that we'll focus on in Part 1 of '12 Habits of Effective Social Media Marketers in 2020′.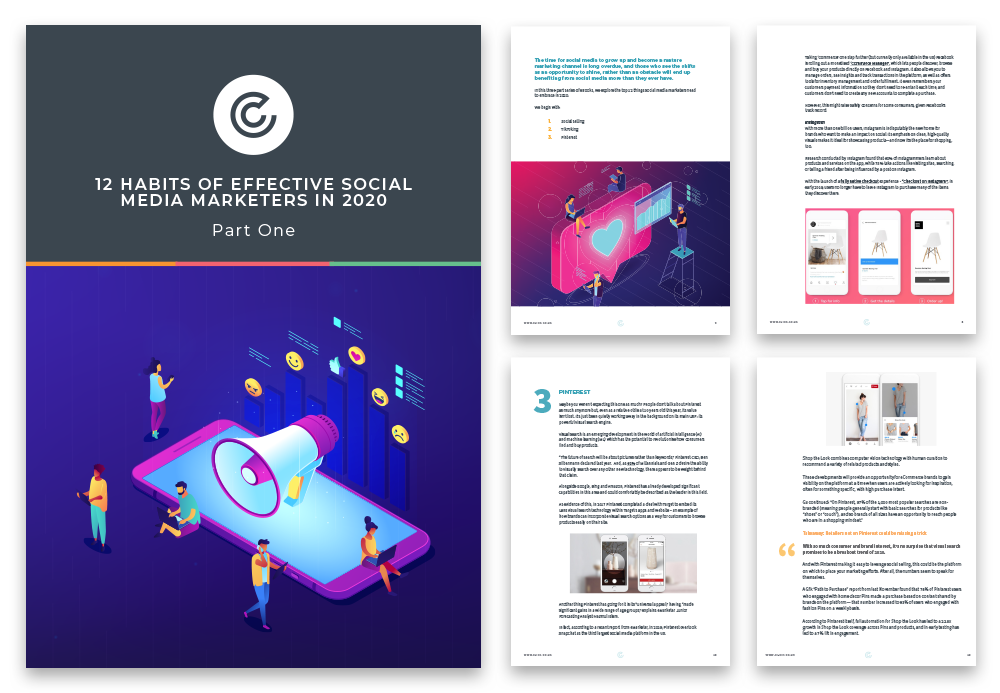 What's in Part 1?
1.  Social selling
The increasing adoption of social commerce functionality enables consumers to purchase products without leaving their social apps, supporting the holy grail of online shopping: a frictionless eCommerce experience. How can social marketers optimise their customers' journeys to identify opportunities?
2. TikToking
By encouraging users to interact and collaborate, the platform combines the best aspects of user-generated content (UGC) and the 'social' element of social media. The onus is now on marketers to embrace these features with campaigns that make it easy and fun to engage with your brand.
3. Pinterest
People don't talk about Pinterest as much anymore but, even as a relative oldie at 10 years old this year, its value isn't lost. It's just been quietly working away in the background on its main USP: its powerful visual search engine and its ahead-of-the-curve thinking in terms of social commerce. If you're a retailer, it could be time to reconsider the value of the platform.
Why not also download…
4. A new breed of influence
5. Re-evaluating social metrics
6. Making data accessible
7. Groups
8. Storytelling
Coming soon…
12 Habits of Effective Social Media Marketers in 2020 – Part 3
9. Video
10. Social TV
11. AR and playable content
12. Gaming