Amazon has been redefining how we shop online since 1996 – and the changes have not stopped coming, with Amazon's share of shopping searches now at 54%.
In addition to this, 90% of all product views on the Amazon platform came from searches – rather than from ads or product aggregators and 45% of all of those views went to products on the first three rows of the search result.
While these top rows increasingly feature ads, this isn't likely to diminish the percentage share of clicks for the top results by much – though the Google and Amazon SERP are not exactly interchangeable, the share of clicks is similar and, one can safely assume, consumer behaviour is unlikely to substantially differ between platforms.
This means that, if your brand operates on Amazon, it is as important – if not even more so – that you feature in the top positions. This eBook will look at both Amazon SEO and PPC and we'll show you what can be achieved through paid advertising and – the most cost effective method – improving your Amazon SEO. There will also be a focus on the key eCommerce trading periods and seasonal sales that run every year.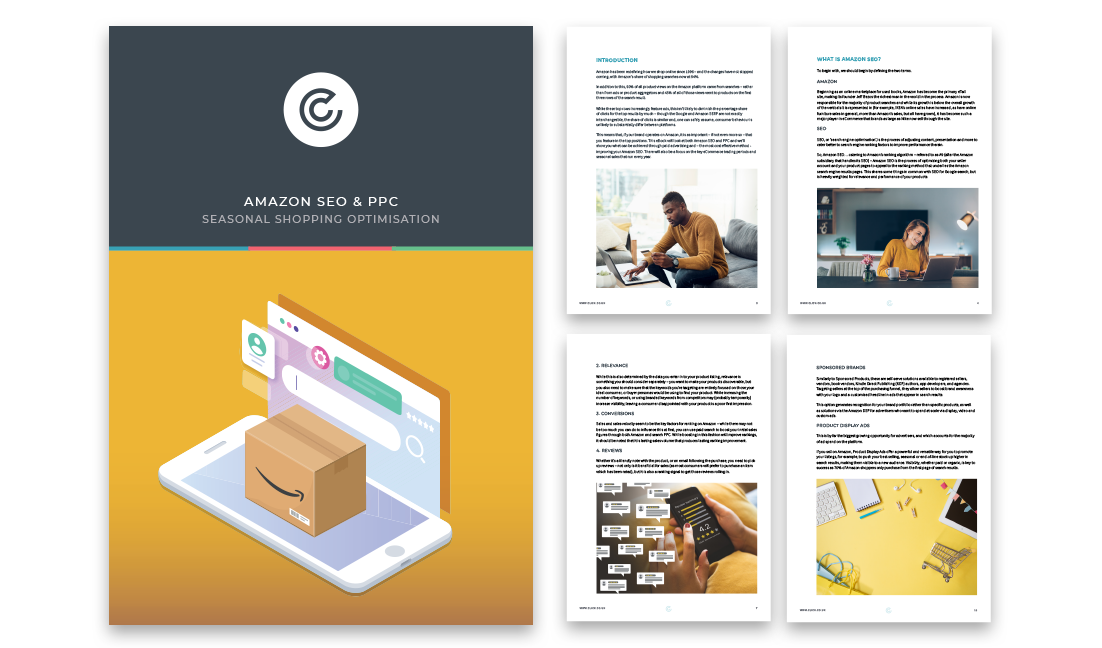 The 'Amazon seasonal SEO & PPC' eBook includes sections on:
What is Amazon SEO?

What is Amazon PPC?

Amazon SEO & PPC Optimisation

The rise of Amazon Advertising

Amazon's ad offering

Black Friday, Cyber Monday and  Seasonal trading

And more…
Know someone that should be focusing more on Amazon? Share this eBook with them!
This eBook deals can be considered a primer on what Amazon has to offer eCommerce brands, and an argument as to why brands need to take it seriously as a potential sales platform.
---
For links to our other eBooks and resources, you can look here. For anything else, why not contact us to see what we can do for your brand?