A solid Digital PR strategy is imperative for any good marketing campaign if companies want to ensure their story is the piece that is picked out from the crowd, and selected by journalists to be featured in the wider media
PR is all about influencing, engaging and building a relationship with members of the public across a range of platforms to enhance your brands' reputation through an honest and distinctive brand voice. If you manage to find the right news hook, your brand can reap the benefits by connecting with the masses and growing your business online.
Adopting a Digital PR strategy that fits into your brand isn't always easy, however. It's important that your approach doesn't focus on selling your brand, but instead focuses on being able to find a newsworthy story that stands out from the rest, evokes trust and harnesses engagement.
This guide will look at some of the ways in which your brand can develop a PR strategy that works and which grabs the headlines. So what are you waiting for?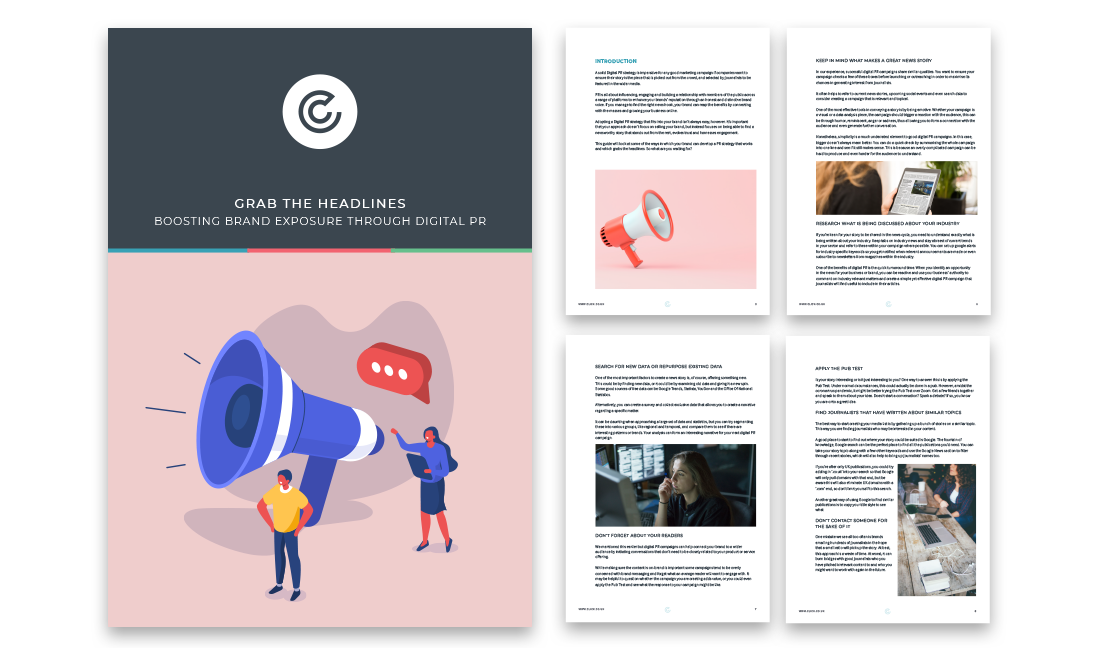 'Grab the Headlines – Boosting Brand exposure through Digital PR' includes sections on:
What is digital PR?
Implementing a good strategy
Creating effective PR
Industry research
Understanding the newsroom
& More…
Know someone that could use some help communicating with consumers? Why not share this with them on social media?
The overwhelming benefits of having a multi-faceted approach to both you digital marketing and your PR are vast. If you are able to engage as wide an audience as possible, build loyalty, protect your reputation and increase your search visibility then growth is inevitable. You can deal with problems and communicate successes to your readership in a way that shows the business off in the best possible light.
Self-publication and promotion are becoming increasingly important for businesses. If you're not shouting about your brand, products and services then who is? By implementing a good digital PR strategy you give yourself not only the best possible coverage but can attract new and retain existing customers.
There is a common misconception that it can be difficult to talk about yourself but if you are going to grow your business then this communication is vital.