Below is an infographic developed by our in-house outreach team which explains our competitor linking process.
---
The online world can be difficult to penetrate for new (or even established) brands – especially if your competition is ranking more highly in search engine results pages than you are. For many people outside of the search marketing industry it can seem a prohibitive arena to enter – and finding out how your competition is doing what it is doing in order to emulate it can be impossible if you don't know how.
This infographic explains the Click Consult 'competitor linking' process from start to finish in order to give you and your brand the the full details of how we seek to close any gaps between you and the competition (or, indeed, how to ensure that that gap is maintained).
The three step process describes, from a top level perspective, what lies at the heart of any link building process we may discuss. At Click Consult, we believe in transparent communication and do our best at all times to outline our processes in an easy to understand way. If there's anything a client needs to know, we're always here to help – and for those who aren't clients (yet!), there are a host of resources, blog posts and assorted infographics which can help you and your brand to make great strides with your search marketing.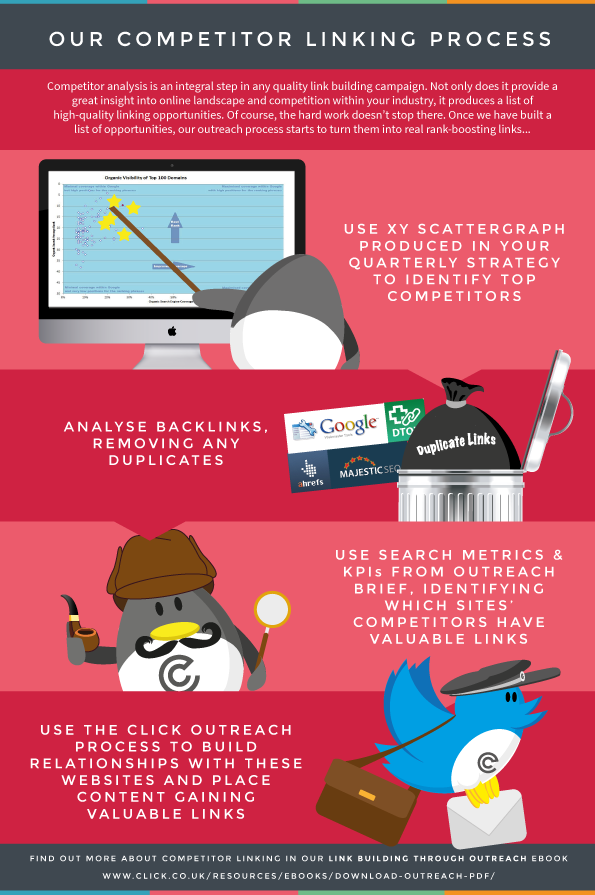 If there's anything you would like to know, think we've missed or would like us to explore in more depth, why not contact us today and see what we can do to help you reach your search marketing potential.