Site speed is a confirmed, though lesser weighted ranking factor – but its growing importance suggests we should take it very seriously
Speed has been an increasingly important ranking signal over the last few years – from the specific Speed update announced by Google at the turn of 2018 to the incorporation of speed in to the 'core web vitals' that they announced in May would be part of their ranking calculations. Google was able to report in April 2019 that, among slower sites, there had been a 15-20% improvement in speed, but there's a long way to go.
With consumer expectation for rapidly loading, quickly accessible content growing and tolerance for lagging sites diminishing, it's not only likely that their expectations will continue in the same direction, but also that Google will increase their 'nudge theory' speed weighting to gently guide webmasters where they want them to go.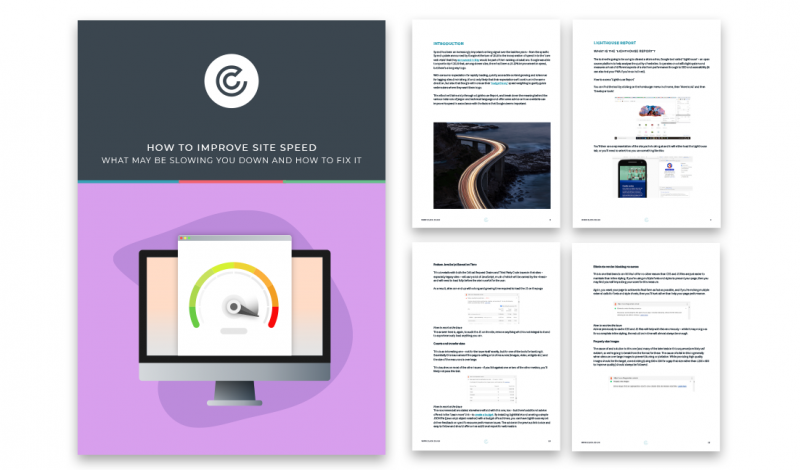 'How to Improve Site Speed – What may be slowing you down and how to fix it' includes sections on:
What is the 'Lighthouse Report'?
How to access 'Lighthouse Report'
Running the report
What the various metrics mean and how to perform well
Know someone that could use a little kick start? Let them know about this eBook via social media?
Speed may not currently be the most important ranking signal, but it is growing in importance – but more importantly than ranking (if we're allowed to speak the unspeakable) is the fact that many of the improvements we can make to a site's speed have the dual benefit of being beneficial to the user. For that reason, not only does the performance report we've just walked through impact site speed, it can serve as a conversion rate optimisation task – improving the user experience of a site in order to improve outcomes.
One thing is for sure, there are few confirmed ranking signals which are better correlated to improving conversions on a website and, in an industry with very few definitive statements it is well worth ensuring that we make the most of the areas in which we can act with a high level of confidence.