Whether ecommerce or B2B lead generation, your brand has a sales pipeline – but knowing what it is and how to develop it is tougher.

Whatever industry or sector your brand operates in, you will have a sales pipeline – a measurable process through which your users progress and, while some may enter the pipeline further along than others and there will be those that drop out along the way, this is a process that all brands should develop a deep understanding of and detailed strategy for.
---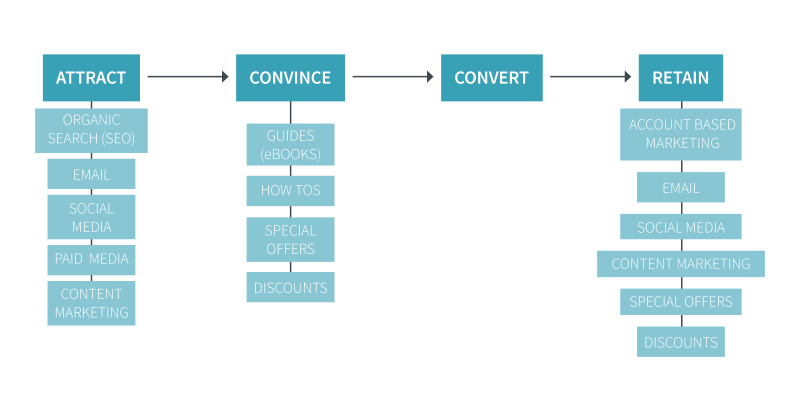 ---
Working on your sales pipeline is not just about increasing numbers at one end or another – though that is certainly a part of it, it's about taking accurate stock of your strengths and weaknesses to develop each junction of that pipeline to be as leak proof as possible.
By ensuring that we sketch out and analyse our pipeline, we can develop each part and also monitor progress over time – ensuring that we don't miss opportunities in the future either.
The 'Improving Your Sales Pipeline with Digital Marketing' includes sections on:
What is a sales pipeline?
Attract
Convince
Convert
and much more…
Know someone that might need a little help? Share this with them via social!
There are always pain points in the sales pipeline that can be improved. This isn't just a case of CRO, it's an approach to your website that uses data to enhance all areas – whether that's ensuring that you're targeting the right keywords, or improving functionality and usability.

The sales pipeline is an important, on-going process – it's important to build it and maintain it to avoid it springing leaks and to be able to patch them when they occur. Through developing as full a picture of the pipeline through which you are directing your users, and through development and maintenance, you can not only increase your conversion percentage, but also the number of users you have entering at the awareness stage as many of the considerations you will need to make will have a direct and positive impact on your rankings.