Data Studio is improving all the time, and while it isn't the perfect reporting platform, the fact that it's free and constantly adding features makes it hugely popular and incredibly useful
We've covered the basics of Data Studio here, so if you're new to the platform, then there's plenty in there to get you started. This eBook will deal mostly with the next step in the process – when you've gone beyond the basic Analytics report and are looking for something to offer a little more depth and insight to your reporting while facilitating ease of navigation and understanding for stakeholders.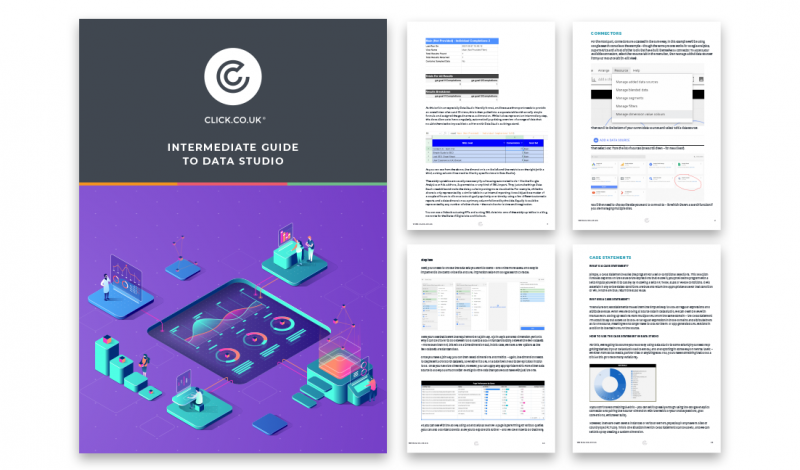 The 'Intermediate Guide to Data Studio' eBook includes sections on the following:
Connectors
Scheduling
Blending data
Calculated fields
Regex
And more!
Data Studio is a potentially powerful tool not just for reporting, but for gathering insight from the many data sources we, as digital marketers, have access to. While the processes we need to master get more complex and time consuming as we look to take the step up from reporting data to learning from it, that extra time can lead to invaluable insights we might otherwise miss, or at least take longer to learn.
There are certainly more specialised reporting platforms, and there are better tools for reporting specific types of data and sizes of data sets, but there are few platforms which are developing so much and so quickly and – importantly – are free to use.
For that reason, we feel that it's a platform that is well worth taking the time to learn and to keep pace with as it improves. The importance of collecting data has been made countless times in the digital marketing industry, but what we do with it and how is often overlooked – good reporting can be more than just representing the success or failure of a campaign, it can be an invaluable resource.