With a significant proportion of all Magento powered websites yet to migrate to Magento 2, we thought we'd let you know the case for migration as the countdown to Magento version 1's retirement begins
Used by approximately 12% of all eCommerce sites on the web (according to CloudWays), and – after Shopify – is the second most popular eCommerce CMS in the world, with more than a quarter of a million sites powered by Magento or Magento 2 (source: Magento.com).
With the platform handling more than $155 Bn in transactions every year, the platform is among the most important CMS platforms available, making it no great surprise that Adobe acquired the platform for $1.68 Bn in 2018.
However, despite Magento 2 having been released in 2015, there remain a substantial number of sites still using version 1.14 and below. While these sites have no doubt performed perfectly well in the interim, it became a matter of concern when Magento announced in late 2018 that it would be withdrawing support for version 1 in June of 2020.
What is Magento 2 Migration?
While it could be applied to the transfer of any eCommerce site to the Magento 2 CMS, in this respect, we refer to it as specifically describing the process of moving an eCommerce store from the Magento 1.X platform to the new, better performing Magento 2.X platform.
Why is Magento 2 Migration important?
While there are a host of them, some of the main reasons to consider such a migration include:
Faster loading
Quicker check out process
Better security
Better PWA implementation
The success of your Magento 2 migration relies, like any other migration (you will have, no doubt, undertaken the move to HTTPS recently – and, if not, this can be done in parallel), on planning as much as implementation. You will need to spend time on the creation of a roadmap and understand that time, while important, is a distant second place to proper implementation of the various factors involved.
Ensure you cover all of the bases – you cannot expect to receive all of the benefits from half of the job. Make sure your SEO is correctly implemented, that your sitemap is dynamic and the correct one uploaded to GSC, and that your old store maps properly on to the new one. As ever, the age old adage: 'if a job's worth doing, it's worth doing well' is one to abide by.
Your "Magento 2 Migration Survival Guide" eBook includes chapters on:
What is Magento?
What is Magento 2?
What are the differences between Magento 1 & 2?
The problem of remaining with Magento 1
How long should migration take?
How to migrate to Magento 2 (checklist)
Migration flow chart
The importance of remembering SEO during migration
Someone else you know also running Magento 1? Why not share with them via social media?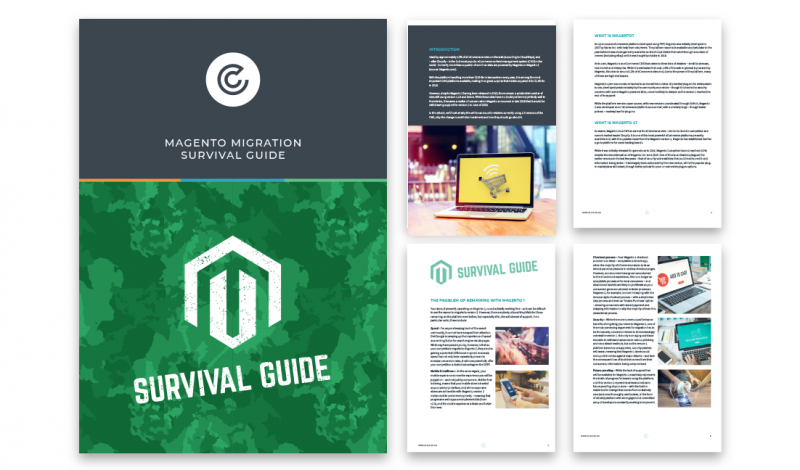 Moving to Magento 2 – Case study
One of the key things to remember when it comes to migrating a website is that simply moving to Magento 2 (M2) will not see instant returns. Google is constantly tweaking the algorithm and as such businesses need to constantly evolve in terms of their SEO. A well optimised site, that understands the potential issues and errors that could be restricting it will see a positive impact once it actions all of the recommended changes.
Over the last year we have worked closely with Julian Charles to ensure that they were getting the best possible returns from their site. The site, which has a large amount of shopping traffic heading to it, is one of the best we've seen in terms of a case study.
We approached Julian Charles and warned them that from June 2020 there were some changes that could have an impact, especially on retail sites. Experts have warned that once central support is removed from Magento 1 (M1), businesses were likely to see hackers going after old M1 plugins and exploiting the security holes, posing a huge risk to the site. It was on the back of this that we pressed on with the M2 migration.
Julian Charles moved to Magento 2 but initially saw the site penalised in search engine results pages (SERPs) this was due to a list of snags that needed fixing. The effect on the business would be catastrophic if we didn't' step in and make changes for them.
We knew that we needed to act if we were to restore site-wide visibility and if we were to boost the overall SEO performance of the site and after briefing the brand with a clear strategy so Julian Charles agreed to let us implement positive changes.
We could see from the following chart that when you migrate a site, SEO elements need to be carefully considered. The circle was when the site migrated and the plateau was a time period in which we formulated a strategy and implemented a list of changes.
---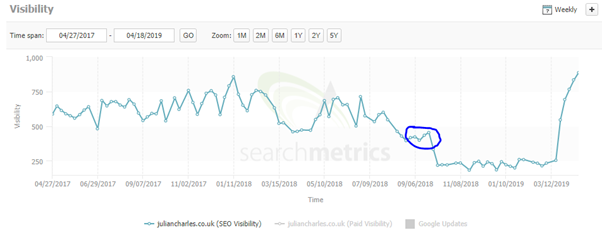 ---
Over a period of three months we successfully looked at the main issues on the site. The areas we concentrated on were:
Sitemap not being dynamic and out of date
Incorrect URLs – 301s not implemented correctly
Incorrect canonical tags
Missing Robots.txt
Missing Pages
As soon as all of the technical recommendations were pushed live, the site became loved again by Google and performance began to improve. The speed at which the visibility improved was incredible and the growth trajectory was one of the best that we have seen.
With continuous work and maintaining optimisation, this growth has continued and has led to a greater number of sessions, more page visits, a higher level of conversions, and a better ROI.
Time until Magento 1 is unsupported (days:hours:minutes:seconds)