Businesses are looking to expand online at a greater rate than ever before. 2020 brought with it huge challenges especially for retail but one area that did very well was eCommerce
We have spent the last few months fine tuning a number of projects and strategies to make sure our clients are geared up towards a further shift towards this area of marketing. 
We know that it is important that your brand is found online organically and that's why we spend a lot of time working with SEO projects. One area we can't ignore however is paid search. If you want to run adverts and bid for customers that are relevant to your goals and which is highly likely to convert then you have to write good ad copy and optimise your ads to reach their potential. 
We've put together this cheat sheet to give you the best start to this project.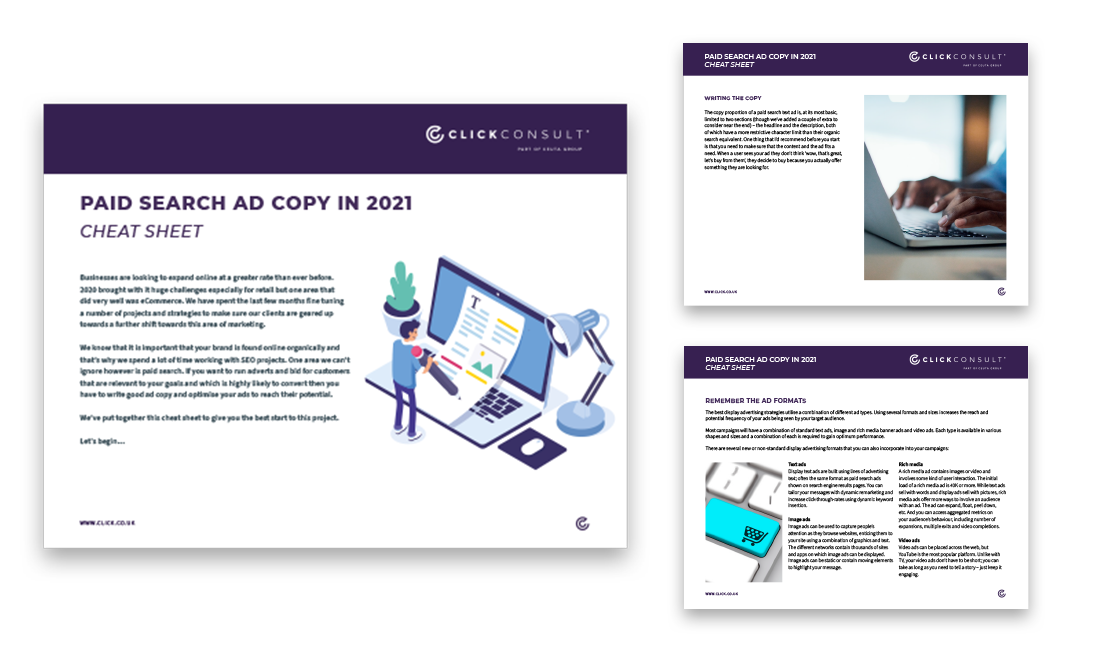 The 'Paid Search Ad Copy in 2021' Cheat Sheet includes sections on:
Writing copy
Headings and descriptions
Adding statistics
5 Tips to implement today
Keyword strategy
& more…
Know someone looking to update their ad content? Why not share this report with them via social media!
2021, while representing a new and uncertain year, does present some opportunities to refresh – if only for the sake of our own work. We have an opportunity to draw a line under 2020 and adopt fresh practices and approaches to help us move forward. We hope this cheat sheet will provide the necessary information and set the right tasks to help you remodel your content and content production for the new year.