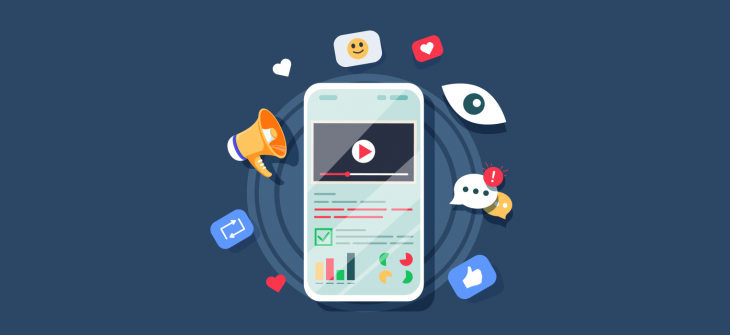 The Ultimate Guide to Content Marketing (2021)
Content marketing generates links and citations, raises brand awareness and can influence a brand's bottom line. No wonder it's one of the most sought-after digital marketing services
---
Many things in search have changed since Google launched in 1997, but there has been one consistent ranking signal – links. Since the first iteration of PageRank – named for Google co-founder Larry Page – the Google algorithm has been developed to infer relevance from a wide range of signals among which links from external pages has been hugely important. Content marketing arose as a response to this and, in this guide, we'll tell you what it is, why it's important and how to achieve the best results with from your own efforts.
What is content marketing?
A strategic approach to earning links and citations, content marketing involves the creation and sharing of content in a range of media – both online and offline – from blogs to videos, reports to whitepapers, social media posts, mixed media, mixed reality and much more with the intention of earning links, citations (unlinked mentions), brand exposure, revenue and building consumer relationships.
The digital marketing technique which bears the clearest relationship with traditional marketing, content marketing differs in that it works best in collaboration with other search marketing techniques to generate links and citations from highly relevant publishers which will improve visibility for the right pages.
Why is content marketing important?
By helping to earn links and citations, content marketing helps to contextualise a website's content for the various search algorithms and indicates the site's importance within a specific online space. In turn, this helps the site and specific pages to better compete for keywords which are important for the brand's ambitions.
How content marketing helps
While it has increased hugely in complexity, the Google algorithm still relies heavily on links and mentions to determine relevance and importance. While links are no longer sufficient to deliver page one rankings on their own, there is a well established positive correlation between link volume and rankings.
The reason for this is that relevance and authority are calculated – at least in part by a website or page's relationship with the web as a whole, while the importance of a link is calculated by its distance from a seed site (one of a number of high authority sites). So, were all things equal, when competing for the same keyword with exactly the same content quality, UX etc. the following would be a rough example of a page's ability to rank:
A page with multiple discovered links from multiple highly relevant, high authority sites
A page with a discovered link from a highly relevant, high authority site
A page with a discovered link from a high authority site
A page with a discovered link
A page with a detected, unlinked mention
A page with no links and no mentions
What is a seed site?
A seed site is one of an unknown number of Google selected nodes of authority within the wider web – this includes sites such as government websites and the BBC – which represent a kind of wellspring of authority within a given subject. This authority then trickles down through a series of links meaning that a link from a relevant seed site outweighs that of a link from a site linked to by a seed site which, in turn, is more important than any number of links from a site which is not a part of such a chain.
What is authority?
From a search and digital marketing perspective, authority come in a few forms, but there are two of them which are important from a content marketing perspective:
Site authority
As discussed, this is determined by a huge number of factors (including, in part, the next mentioned), but comes down to proving – through great content, great UX, through external links and mentions, and by ticking a lot of other boxes – that a site is to be trusted on specific subjects.
Author authority
Contributing to site authority, but important in its own right – author-ity is made built over time, as much online as in any other format. Through writing on specific subject, through linked profiles, structured data and more, the author can become a recognised entity in their own right – and in doing so, can impart additional authority to the content they contribute.
3 Reasons to consider content marketing
To stand out from the crowd
Among the aims of content marketing is to provide content that is useful to the brand's target demographic – allowing them to share and engage with your brand. By centring your target audience in your campaigns; such as what it wants to know or talk about (information that can readily be found on platforms your brand is already active on, such as social media or social news aggregators) you can foster a relationship and maintain front of mind position once members of that audience require the brand's products or services.
Brand identity
Brand identity is developed over time and while users are engaged with your content, they are also, whether consciously or not, are developing impressions about your brand. By remaining consistent and delivering quality content, your brand can build a positive impression of your brand which can carry over to the products and services you provide.
Learn about your target market
Understanding consumers wants and needs can be an uphill struggle, especially at the pace they change today. For this reason, running content marketing campaigns can be beneficial as they mean you are always monitoring your target audience's interests and reactions. Ultimately this provides a deeper understanding of your market, which can be useful when looking to expand or change your product offering.
How to Develop a Content Marketing Strategy
While there is no one size fits all strategy for content marketing, there are stages of strategy development that brands should be looking to move through to achieve the best results.
Setting the foundation
Every great content marketing strategy begins with a unique and thorough understanding of the brand's ambitions. Brands should look to determine objectives and KPIs that align with its goals. Developing this understanding early can help ensure the right strategy and the right strategic thinking are in place at the outset.
Research
There's no one-size-fits-all approach to how campaign strategies are designed or executed. A vital period of in-depth research is required. The research phase should include analysis of your brand's industry and target demographic and look to identify the most effective type of content and delivery method for your audience.
Identify partnerships
Based on the brand's objectives and research, the next step is to identify appropriate publishers to hopefully work with as you begin to execute your strategy and run campaigns. Identifying these publishers and digital influencers can also help you to determine the tone and topics of the content that will form your campaigns, this allows you to develop content which is highly shareable and audience-relevant for both parties.
Get creative
A great strategy will help you to stand out from the competition even in a crowded field, but it needs to be backed by content which provides your consumers with a useful resource, is loved by search engines and is highly shareable to increase its reach.
Fundamentally, the aim of such content is to influence consumer behaviour, encourage brand interaction, broaden your audience, and to build natural, organic links to your site and mentions of your brand from respected sources. This can only be done well with content of the highest quality and with great creativity.
Build relationships
An essential element of a great content marketing strategy is building genuine relationships. Building and maintaining productive working relationships with publishers allows brands to better understand the content that will appeal to them and their audiences. This means maintaining a genuine relationship – not simply becoming transactional with publishers.
Learn and iterate
As well as monitoring performance throughout each phase of the strategy and individual campaign, brands should conduct in-depth analysis of each campaign. This analysis should look at, among other things, the quantity and quality of links and brand mentions earned, social media performance and impact on organic visibility, rankings and more – this can then feed back into the next strategy phase.
Great content marketing examples
There are great examples of content marketing most places you look online – if you see something particularly eye-catching – a study, a chart or map or other interesting way of displaying data, the chances are: it's content marketing. However, there need to be tangible results, so along with some of our favourites, we'll include some of our own work you may have seen around so that we can give you the details.
Chums – Colouring WWII
While the campaign had a huge reach, what we were looking for here – as a Digital PR exercise – is the top-level publishers (likely to be or to be close to seed sites) in order to really boost the authority and trustworthiness of the Chums site. This campaign, which added colour to photos taken during the second world war, allowed us to bring these people to life in celebration and commemoration of VE day while earning 23 links of the highest quality from sites like the Evening Standard and Daily Mail.
---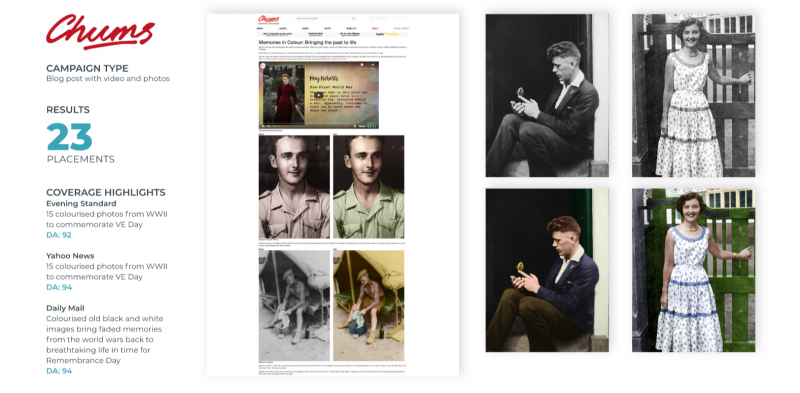 ---
Money – How to get a mortgage on the Moon!
A personal favourite of our Head of Campaign Outreach, Sophie Edwards, the How to get a mortgage on the Moon campaign blends the brand's core services with a quirky and trending subject to create an excellent and creative piece of content.
While we don't have access to the behind-the-scenes data, a quick search on Semrush shows that it has more than 96 active linking domains (44 followed). While many of them are fairly low quality, it did earn a link from the well rated Fox Business domain (and now from us!).
---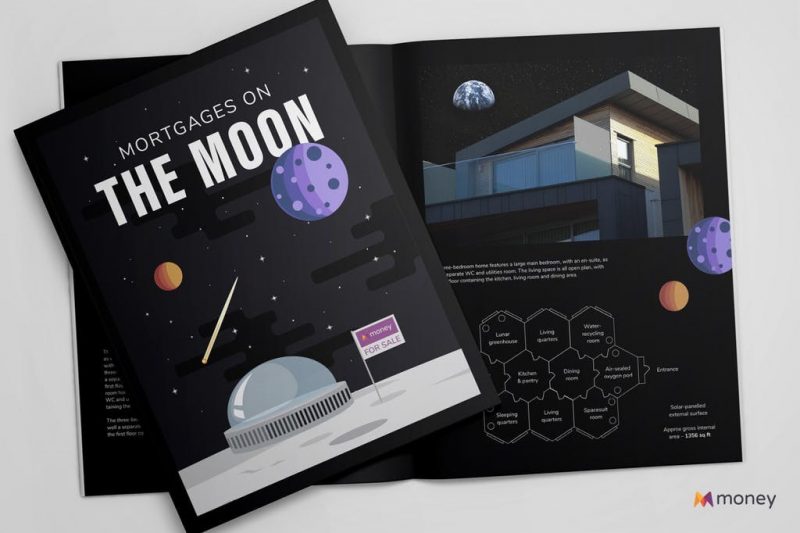 ---
Citation – How employers can improve remote workers' wellbeing
Featuring original research presented in a unique way, and pushed at a time when the information was of genuine use to the target audience, the Citation campaign – like the example from Money previously – combines unique business authority with a trending topic to provide publishers with an easy win. With high quality design and imagery made freely available, publishers were able to run with a highly audience focused piece of content in moments – and they did, with 18 high quality, industry relevant links earned.
---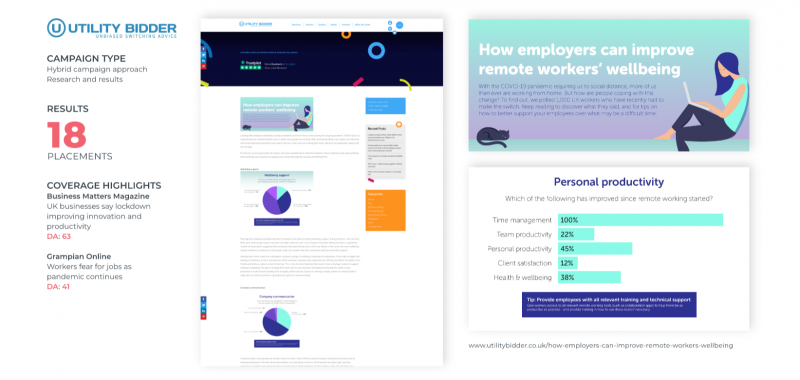 ---
Lego – Rebuild the world
Honestly, I love Lego's marketing, and this piece of UGC from 2019 is fantastic. Featuring creations from creators all over the planet, the campaign builds a new world from their creations. While the campaign only shows a few links, it's difficult 2 years later to say whether that's a true reflection or a quirk of how the site archives historic URLs. Either way, it gets another from us for being awesome.
---
---
Content marketing and SEO
From an SEO perspective, content marketing is about building authority – both of the kinds mentioned earlier. Whether the content is placed on the brand's site or is distributed to publishers, content marketing is a method of demonstrating authority to the various algorithms that assess such things.
There are SEO concerns beyond the earning of links and citations, however, that can help to establish this authority.
Schema
Schema markup, as we've discussed in detail elsewhere is a technical method of integrating your brand's content into the wider web and the network of interconnecting ontologies.
By ensuring that your content is marked up with the correct structured data, you can help to better convey the topic and meaning of your content to search engines, including how it fits in to the broader subject and why you have the necessary authority to tackle the subject.
Entities
Entities tie into schema markup in a number of ways – including the fact that structured data helps to create named entities – but, more broadly, by ensuring that you're using accepted terminology, that content is written by and attributed to known experts, you can make it easier for search engines to recognise what the content is and, again, what makes you a subject expert worth the attention of searchers.
Canonicalisation
This is about identifying your site as the proper home of the content and, consequently the place to direct authority, if it is republished elsewhere. This is often difficult to do as it requires access to the site's back end, but it's a question that can be asked. Placing a canonical tag on an external page which points to your site, it recognises your brand as the true subject authority and will pass on any additional authority earned by links to that third external site's page.
Content marketing tools
We've been creating award winning content marketing campaigns for some time now, and during that time there have been some tools that have become indispensable parts of our strategies. We'll split them into three sets to give you an impression of where they fall in the
For inspiration
Google alerts: – by setting up alerts for mentions of the client and competitors, as well as related keywords and topics, you can maintain a steady flow of useful information as soon as it's published.
Daily resources: – provides live feeds from sites such as Reddit, social media platforms, visual capitalist (great for design) and more to keep the inspiration flowing.
Buzz Sumo: – great for monitoring trends, discover what existing content is available on your subject, and monitoring the progress of active campaigns.
Google trends: – allows you to track topics to explore popularity, seasonality, relevance and provides additional data to use in campaigns
Answer the public: – provides the questions that people need answering on your topic.
For identifying relevant and authoritative websites
Moz: – while DA is secondary to relevance, it makes an excellent way to prioritise potential targets before choosing to outreach to the website.
SimilarWeb: – great for finding similar websites to that of your brand which, in turn, can serve both as additional inspiration and as a list builder for possible publishers.
Cision: – great for helping to build media lists and target specific publications.
ResponseSource: – presents opportunities that can be filtered to show the most relevant to your brand or concept.
Monitoring campaign success
Ahrefs, Moz & Search Console: – to indicate when a link has been earned by your campaign.
Google alerts: – also discovers links, but will also alert you to citations (unlinked mentions).
Hootsuite – provides comprehensive oversight of social media performance.
For content writers less familiar with the world of SEO, there's a really useful workbook by Semrush which also features an overview of their SEO writing assistant which can offer keyword advice, check copy for uniqueness and tone of voice which can be an asset for those looking to optimise copy without the experience.
While there are some paid tools listed above, it's possible to discover most of what you need using free tools.
Content marketing metrics checklists
When it comes to understanding the metrics that you need to track, it is vital that you consider the end goal for your content. Results bring results, and we need to break our metrics down into four key groups.
We need to think about user metrics, engagement metrics, those that consider SEO
performance and those that improve revenue; the following are the ones we believe are crucial to track and, more importantly, use in your future efforts.
The future of content marketing
The future of content marketing is mixed media, mixed reality and immersive. While it's been the case that content marketing has been relatively unchanged for several years (barring trends), the future of content marketing will see the availability of augmented reality and virtual reality open up to new brands, meaning that campaigns which seem out of reach at the moment will become the norm.
Consumers will expect to be able to place AR versions of products in their room as a minimum, or to test new looks in your app, so there will be a need to think beyond this and get creative with the new technologies that are reaching maturity.
---
Need help with your content marketing? Contact us to see what we can do to take your brand to the next level. Or check out our extensive library of resources for more actionable information and search marketing knowledge.
Share this: