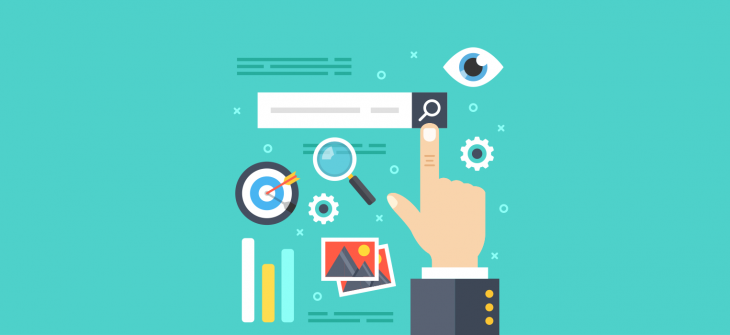 That year in search marketing [2018]
The annual culmination of our (mostly) daily updated "week in search marketing" blog posts – here's 2018 in search marketing
---
---
January
Facebook
Facebook users are more likely to like and share content by people they like than by brands says the first article, with branded content ads seeing just shy of twice the paid impressions of standard ads and about 3600% more earned impressions. Perhaps my audible eye roll was a little harsh here – as it's something that content marketers have been saying and measuring for years – it's good, however, to see definitive data from any source.
Amazon
Marketing Land also ran a story on the spending habits (with Amazon) of 2,000 consumers that had purchased from Amazon.com in 2017 – which I'm including, rather grumpily, as the data is provided without any kind of detail on the sample. While the graph they share from CIRP shows a $400 uplift in spend annually from Echo owners (presumably to show that the Echo is a good marketing device or that it removes friction – which it may well do), without data on age, net income, and a host of other possible influences on the results, it's impossible to determine whether the findings are at all meaningful.
Search Engine Land also reports on a disputed (but eminently likely) story from CNBC that Amazon is some distance in to a process that will deliver promotional opportunities for brands via Alexa and Alexa linked devices. While a post script states that the author received an email again denying speculation, it is reasonable to say that further monetisation opportunities for Alexa are unlikely to be overlooked indefinitely.
Channel4
Channel 4 (The Drum reports) became the first UK broadcaster to have a digital ad offering. This will allow brands and agencies to better target their advertising and promises the possibility of 'Dynamic Ad Insertion [for] live events'. Channel 4 already has a partner in BT Sport, with more expected to follow.
Google My Business
Video also seems to be on the way to Google My Business according to Search Engine Land (whose stories fair far better than their sister site this week), who were able to share screen grabs of a video tab on the dashboard.
Industry News
I'm going to round off the week with a blog from Forrester on a search marketing research report that predicts a 'late-stage renaissance' for search advertising as brands look to protect themselves and their reputations from the damage that is possible on social media platforms, and difficulties with data gathering and targeting caused by GDPR.
The same report also finds that spend on advertising through voice search will 'grow significantly' – presumably as Alexa (and the Google Assistant) starts opening up to advertisers.
UK ad spend grows in the face of marketing Brexodus
While various sources reporting that two thirds of EU marketers are considering leaving the UK due to Brexit, leaving the advertising industry wondering how they'll fill the gaps, it appears that those remaining marketers will be in charge of an even larger sum of money as UK ad spend grew by 3.4% in 2017 and is expected to grow by a further 2.8% in 2018.
YouTube
Google is planning a new push to vet top-tier YouTube videos that it bundles for major advertisers, people familiar with the effort said, moving to address resurgent concerns that inappropriate content is being shown alongside brand messages.
The new approach, according to Bloomberg Technology, will be applied to videos that are part of Google Preferred, a set of popular YouTube channels Google sells to advertisers at higher prices, these people said. They asked not to be identified talking about private company plans.
In recent months, advertisers and others have complained about the unfiltered nature of some videos involving children and popular stars such as Logan Paul — the second round of such scrutiny in the past year.
Google told partners that it plans to use both human moderators — the company recently announced it will have 10,000 employees focused on the task — as well as artificial intelligence software to flag videos deemed inappropriate for ads.
"We built Google Preferred to help our customers easily reach YouTube's most passionate audiences and we've seen strong traction in the last year with a record number of brands," a spokeswoman for Alphabet Inc.'s Google wrote in an emailed statement.
Alphabet
Alphabet's Google has bought a UK based start-up that could dramatically change how you listen to music on your smartphones.
The company, called Redux, has created a technology that can turn smartphone screens into speakers, according to Bloomberg, which earlier reported on the acquisition. The feature would eliminate the need for separate speakers but still let users play audio, potentially creating opportunities for Google to develop new smartphone design concepts.
Like other major technology companies, Google acquires small start-ups all the time. In some cases, those start-ups' products are integrated into existing company products. In others, the company will acquire the start-up for access to its talent or an underlying feature. Google (which hasn't confirmed that it's even acquired Redux) hasn't revealed what it might have planned.
Chrome
Google is preparing to launch a new set of parental control features for users of its Chrome browser. The announcement was made in an email sent this week to users of its current system for parental controls and other restrictions called "Chrome Supervised Users," which is soon shutting down.
Chrome Supervised Users was first launched into beta back in 2013. The feature allowed a parent to lock down the Chrome browser on a device, including by blocking access to certain websites, enabling SafeSearch for filtering Google Search results and keeping a history of websites visited.
This feature set will now be deprecated, said Google's email shared with the program's users.
"Since we launched Chrome Supervised Users in beta preview over four years ago, Chrome and the way we use computing devices have evolved significantly," the email explained. "We've learned a lot in these four years, and heard feedback about how we can improve the experience for you and your children. Based on this feedback, we are working on a new set of Chrome OS supervision features specifically for the needs of families to launch later this year," it said.
Starting on Friday, January 12, 2018, users will no longer be able to create or re-import supervised users.
Voice Search
The latest in a growing number of studies on voice search and virtual assistants, Adobe Digital Insights (ADI), found that sales of "voice assistants" (let's assume that's smart speakers) grew roughly 103 percent in Q4 vs. a year ago. Most of these sales (79 percent) took place in the fourth quarter (lots of gifts).
Data from ADI and other third-party analyst firms justify the assertion that smart speakers became the fastest-selling consumer technology last year, dramatically outpacing wearables and VR.
ADI's analysis is based on retail sales data and a survey of more than 1,000 US consumers. According to the study, more than 50 percent of consumers who own smart speakers use them at least daily, with 22 percent saying they also shop using voice commands.
ADI found the most common uses for voice assistants were the following:
Listening to music
Checking weather
Asking fun questions
Researching
Apple
The Apple smart speaker will be available from the 9th February, bringing the voice of Siri to the homes of committed Apple fans around the world. With this device set to take on the Google Home and Amazon Echo devices in a market that has rapidly expanded over the last two years, it will be interesting to see how it pushes the advancement of digital assistants and voice search.
Searchmetrics
Seach marketing tool providers Searchmetrics have overcome a legal case brought by competitor Bright Edge which had alleged that Searchmetrics had breached a number of its patents. With the judge ruling against Bright Edge, both companies have released statements with the main aim of reassuring customers that they remain committed to innovation and the success of their client base.
Google
Google releases ability to mute 'reminder ads', allowing you stop that pan you looked at once following you around the web forever
Located in the Ads Settings page of your account, there now lurks a function that allows you to see who is targeting you with 'reminder ads' and also to mute them. While this offers some benefit to consumers, it does place more pressure on brands to ensure that they have their targeting down to a tee and refresh their lists regularly. If not, brands could see their retargeting campaigns blocked totally by consumers who may not have liked just a single component part.
Google announces new algorithm update
In the news you've been waiting for (or have scanned down to find), Google announced late last week that that they were about to introduce a new algorithm update. The update, dealing with mobile search results and their load speed, the update has been christened the 'Speed Update' which I expect will be represented in all future algorithms by vector renderings of Sandra Bullock and Keanu Reeves standing in front of a bus. [n.b. this, to my disappointment, did not happen]
Search Engine Land conducted a Q&A with a Google spokesperson (and former employee?) which answers many of the questions that brands will be asking pretty well.
While speed has been a ranking factor for desktop search for some time (and many, including me thought it already was for mobile), the announcement puts still more pressure on brands to up their game with regards the mobile experience.
February
Google
Google has combined its two payment services, Google Wallet and Android Pay, into a new app: Google Pay., which began rolling out on Tuesday. According to Google's blog, more features are also planned:
"If you live in the US or the UK, you'll be able to use it to send and request money within the next few months. In the meantime, the Wallet app is now called Google Pay Send, and we're giving it a fresh coat of paint to go with the Google Pay brand.
"Want to accept Google Pay for your app, site or business? If you're a developer, you can work with our processor partners and find all the tools you need on our developer site. And if you're a business owner building a site for yourself, we've partnered with Shopify to make integration even easier."
Google removes 'view image' option
Google has removed the 'view image' button from search results – now people only have the option to see the picture on the page that hosts it. The popular button's removal is part of a settlement that Google reached with Getty Images after the stock photo provider filed a complaint with the European Commission in 2016, which accused the search giant of "creating captivating galleries of high-resolution, copyrighted content" that fail to direct users to an image's original source site.
Google ad reviewer in 'click farm' claim
Moderators who have worked for Google say they were put under pressure to label content as 'family safe' even though they did not understand the language of the material. A former Google employee told The Times the Dublin-based team sometimes resembled a 'click farm', such was the speed at which they were required to approve content.
The team, part of an operation ran by Accenture on behalf of Google, review material on behalf of AdWords and YouTube to ensure nothing illegal or inappropriate is posted. Google promised to recruit 10,000 content reviewers by the end of 2018 amid increasing concerns from advertisers about the type of content posted on platforms such as YouTube.
In response to the allegations, Google said it "demand[s] high standards of our contractor companies and never ask them to prioritise speed over careful review of ads.
"We continue working closely with Accenture to maintain high standards," a spokesperson said.
Google changes request recrawl limits
Google has removed the quotas in the Search Console interface for how many URLs you can resubmit to Google from the Fetch as Google tool, reports Search Engine Land.
Now, Google has updated its help documentation page to specify exactly what changes have occurred with these recrawl limits and quotas.
For the "Crawl only this URL," the limit is now "up to 10 individual URLs per day." It used to be 500 individual URLs within a 30-day period.
For the "Crawl this URL and its direct links," the limit is now "up to 2 of these site recrawl requests per day." It used to be "up to 10 requests of this kind within a 30-day period.Monday, 19th February
Google has combined its two payment services, Google Wallet and Android Pay, into a new app: Google Pay.
Google bug
Google's spider was missing a leg or two last week, it seems, as Google confirmed that stats drops experienced by many brands in Search Console may well have been the fault of a bug. Googler John Mueller had this to say:
If you're seeing a weird drop in the Crawl Stats in Search Console for a day last week, that's a reporting issue on our side which you can ignore. Sorry for the confusion & hope your week otherwise starts off great! https://t.co/FFzFDERr6K

— John ☆.o(≧▽≦)o.☆ (@JohnMu) February 26, 2018
In additional Monday Google news, the search engine has also released a pair of tools that will allow brands to monitor mobile performance versus competitors as well as assess the possible impact of mobile site speed on their site's performance. The first automatically ranks inputted URLs by page speed, while the second allows you to see the possible impact of an increase or decrease in that load speed – both tools can be found here.
Privacy
A Belgian court has ordered Facebook to stop tracking people without their consent and to delete all the data on non-Facebook users that it said was collected illegally, the BBC has reported.
The social network could face fines of up to $311,000 a day — up to $125 million — if it does not comply. The decision marks latest chapter in longstanding conflict between the Belgian data privacy commission and the social media giant.
Influencer marketing
61% of the UK public believe influencers don't have to disclose that they have been paid to talk about a product, research by competition agency Prizeology has found. They also Regulations governing how social media influencers advertise products online are confusing and unclear with the UK public overwhelmingly believing the system should be more transparent, new research reveals. And the confusion cuts across generations: 33% of the 49% of the UK public who were unaware of the relevant language or tags like #ad, that show that there is product promotion, were young people aged between 18-24.
Sarah Burns, Managing Director of Prizeology and a leading expert in compliance and regulation in the promotional marketing sector said: "The results are extremely interesting and overwhelmingly show a shocking lack of knowledge and confusion amongst all age groups – including teenagers – about the way that brands use social media influencers to advertise their products. The Advertising Standards Authority (ASA) has a tough job on its hands, but more must be done to enforce the rules and educate the public and influencers themselves as to what is acceptable and what is not. In fact, our survey revealed that 71% of those we questioned feel that the ASA should be doing more to force disclosure.
Industry News
Companies are continuing to focus on customer experience (CX), as well as the content required to facilitate this, according to recent research, and organisations committed to CX are shown to outperform their peers.
eConsultancy and Adobe's annual global survey of 12,795 marketing, creative and technology professionals also found:
Data-driven marketing increasingly seen as exciting opportunity.
Investment in technology and related skills is paying dividends, with integrated platforms fast-becoming a prerequisite for success.
AI is set to play a growing role in helping marketers to deliver more compelling real-time experiences.
Screaming Frog
In anguished amphibian news – Screaming Frog has announced the release of version 9.0 of its SEO spider. A quick glance at the new features suggest that it will almost certainly break my PC when I try to have a look, but the announcement of an upgrade to a firm fan favourite in the SEO community is likely to be met with no little excitement. You can read all about it here.
March
Google
Wider AMP rollout planned
Google has announced that it's embarking on a project to convince the group in charge of web standards to adopt technology inspired by its Accelerated Mobile Pages (AMP) framework. If successful, this would mean that virtually any webpage could gain the same benefits as AMP: near-instantaneous loading, distribution on multiple platforms, and (critically) more prominent placement on Google properties.
It said in a blog post: "We are taking what we learned from AMP, and are working on web standards that will allow instant loading for non-AMP web content. We hope this work will also unlock AMP-like embeddability that powers Google Search features like the Top Stories carousel. Meanwhile, AMP will be Google's well-lit path to creating great user experiences on the web. It will be just one of many choices, but it will be the one we recommend. We will continue to invest heavily in AMP. A key example of how we continue to innovate on user experience on the web are AMP Stories and we hope to provide insights to future web standards along that way."
Google crawling question
In Google's first SEO Snippets video, John Mueller has responded to the query: "how often does Google reindex a website?" He says: "In general, Googlebot tries to crawl important pages more frequently to make sure that most critical pages are covered. Often this will be a website's home page or maybe higher-level category pages. New content is often mentioned and linked from there, so it's a great place for us to start. We'll recrawl these pages frequently, maybe every few days. Maybe even much more frequently depending on the website."
See the full video below:
Google engineer: GoogleBot can't crawl CSS custom properties
A Google engineer has issued a 'public service announcement' notifying web publishers that Google does not support CSS custom properties. The engineer stated that Google's crawler is rendering sites using an outdated version of Chrome, Chrome 41, which dates from March 2015.
This effectively means that Google's crawler will not be able to render the web page properly, Google's site rendering is based on Chrome 41.
According the Search Engine Journal (SEJ): "It may be the case here that the crawler team is lagging behind the Chrome team such that the crawler team has fallen behind the standards that the Chrome team supports."
SEJ recommends: "If you care about how your website ranks, then it may be helpful to make sure it renders perfectly on Chrome 41."
PSA: Google Search crawler is based on Chrome 41 [1], which does NOT support CSS Custom Properties [2]. If your layout/design relies on vars, make sure you're compiling CSS so your page renders properly. I wasn't

[1]: https://t.co/ZinziTp4oT
[2]: https://t.co/PtAAR4ZOHq* pic.twitter.com/w4AhujZYSQ

— Eric Bidelman (@ebidel) February 28, 2018
Google update brings new 'Mute Site' feature to Chrome
An update to Google's internet browser, Chrome, has brought users plenty of new features including the option to mute certain websites permanently.
In January, Google Chrome — the search giant's extremely popular web browser — started rolling out an update with a lot of new features, including the ability to permanently mute sites that auto-play videos every time a user visited.
Google Chrome updates usually consist of bug fixes and other necessary security-related adjustments that make a minimal difference in day-to-day browsing but this is seen as something of a win for user experience (UX).
Google Chrome users can now right-click on a tab and select 'Mute Site' to make sure that the site never plays sound. You can also click on the padlock on the left end of the address bar, scroll down to 'Sound,' and select 'Block.' I found sites would remain muted even when visiting them in an incognito tab, which means only clearing out your cache would undo the site-wide mute.
Of course, this means if you do want to hear a video from of your muted sites, you'll have to 'Unmute Site,' done in the same manner.
Google suspends zero results SERPs
Danny Sullivan announced on Twitter late yesterday evening that Google had suspended testing on the zero result SERP (for now!) and had received enough data to be going on with. It is almost certainly not the last we'll see of the zero result SERP as Google has demonstrated a keenness to answer the query quickly and in the results already, and reduced load times (up to 0.5 of a second – a lot to the many users still accessing the mobile web with a 2G connection) combined with the pressures of voice search are guaranteed to lead to more experimentation. [n.b. note from the future – this suspension has since been suspended]
---
Update! We have enough data and feedback — which is appreciated — to conclude that the condensed view experiment should stop for now. The team will look at improving when and how it appears.

— Danny Sullivan (@dannysullivan) March 20, 2018
---
EU want transparency
The EU is placing pressure on Google to reveal its ranking criteria. While it's unlikely to be successful, or at least the general population is unlikely to find out about it (for a search engine, the way it produces results is surely commercially sensitive information), it may lead to a few choice nuggets of information making their way down to the search community that may otherwise have remained secrets.
Google Play Instant
Google has rolled out 'Google Play Instant' which allows gaming app developers to offer demos of their games in Google without requiring a download. Coming on the back of announcements around in game advertising last week, it's clearly seen as another promising revenue stream for Google.
Another possible earner for the search engine is the move to 'cost per sale' for 'Shopping Actions' which will allow interaction across devices and offer voice interaction functionality – a move which Search Engine Land points out is most likely in direct response to Amazon's success in the area.
YouTube
YouTube has announced that its updated YouTube Studio channel management tool – previously called 'Creator Studio' – will now become the default for all creators, after being in beta testing for the last eight months.
YouTube Studio is designed to be your one-stop shop for all your channel management needs – including organising your channel, analytics, managing your videos and interacting with fans.
The upgraded YouTube Studio merges more functionality into one tool, with a particular focus on streamlining communication between fans and other creators. And as part of the expanded roll-out, YouTube has also announced a set of new metrics to help creators better understand their channel performance.
YouTube has viewers skipping with 'TrueView for Reach'
On Monday, while I was – like all people in England – involved in our annual supplication to the gods of DIY, Google were announcing that 'TrueView for Reach' is in direct response to customer requests. Ordinarily, In-stream ads were required to be a minimum of thirty seconds long. This new development means that these ads will now be able to run anywhere between six and thirty seconds and will be skippable after five.
Google My Business
Search Engine Land is reporting that the dashboards announced late 2017 are rolling out across Google My Business. This update introduces four features:
There will no longer be any need to switch between card and list views as all users will use the same interface.
You will be able to click into a listing and edit within the same window.
'Posts' and 'Insights' will be more accessible, located in the side menu of the main page.
More listings will no longer mean longer load times.
Google Home
The Google Home smart speaker has finally added voice calls in the UK, catching up with its Amazon rivals. Google announced the feature was coming to its smart speakers last May with US customers being able to make hands-free voice calls since August.
Industry News
Search outstripped social in the percentage of overall traffic that it delivered in 2017 – reversing a trend of social dominance that began in 2014 – research has shown.
Content marketing platform Shareaholic looked at externally referred traffic from over 400 million internet users and 250,000 mobile and desktop sites. A year ago site visitors were more likely to be referred from social networks, but search seems to have made a comeback in 2017.
Search drove 35% of site visits in 2017 compared to 26% from social. Shareaholic consider the changes to the Facebook news feed algorithims to be a major factor in the shift over the last 12 months. Another important factor is that search engines are indexing more and more social content and including it within their rankings and results pages. This means that internet users are increasingly finding social content being aggregated by search engines, rather than only being accessible through searches on individual social media networks.
Reuters work on new AI platform to produce stories
Reuters is advancing its embrace of artificial intelligence a stage further with the development of a new tool capable of writing sentences and suggesting story ideas as well as data analysis.
According to an article on The Drum, Lynx Insight has been conceived to better differentiate between tasks suited to automation and those which remain the preserve of humans, who will be able to dedicate more time to high value tasks such as interviewing, assessing importance and understanding context.
Already a pioneer in the field, Reuters is keen to furnish its journalists with new tools designed to augment their work and boost productivity in a 'cybernetic newsroom'– rather than an out and out replacement of its workforce with bots.
Reg Chua, executive editor of editorial operations, data and innovation at Reuters, said: "The real value is using machines to do what they're good at and then presenting that to humans — that's the best of both worlds."
Word War e
Search Engine Land have a feature on the coming war between Google and Amazon as their advancement into new spheres finally sees the two tech giants entering the other's primary market, with Amazon selling advertising and Google becoming a retailer. In a blog that, amongst other things, deals with plans to conscript every human in to a military force bearing the logo of the tech company with which they have spent most time, with family against family and brother against brother in a bloody fight to the death to see which company gets to use humanity as power cells in their future world spanning machine intelligence, and also where you should spend your advertising budget. A must read.
App purchases on the rise
Meanwhile Econsultancy is reporting on a study that suggests up to 67% of purchases from mobile devices in North America where made from apps rather than mobile websites.
Programmatic advertising in AR is virtually hereas reported by Martech Today, a Stockholm based startup that supplied a non-programmatic in-game advert for Coca-Cola's appearance in an Angry Birds game, are bringing a programmatic platform which will place adverts mapped on to the 3D environments of AR and VR experiences.
Apple vs Google
It was reported widely, but as Search Engine Land is in my feed, it gets the link, but Apple have snatched Google's AI chief John Giannandrea. As Google has spent the last few years pulling away from the competition in its AI offering, this could mean big things ahead for the Apple smart speaker and Siri.
Snapchat
Snapchat have rolled out support for geographic targeting, with advertisers now able to target ads to consumers within a radius of a specific point according to Marketing Land. The same article also reports on a new beta version of Snapchat's 'Foot Traffic Insights' tool.
Instagram
Instagram is expanding its shoppable organic posts to a further eight countries (UK, France, Italy, Germany, Australia, Brazil, Canada and Spain) states an article in Marketing Land – with Instagram stating that: "[since] launch, shopping on Instagram can be directly attributed to over 1,200 orders and over 100,000 sessions".
With Instagram's parent company losing billions in stock value over the weekend, and Zuckerberg facing summons from several world governments, it will be interesting to see how many announcements the tech giants will be making over the coming weeks.
Facebook
Another domino fell today in what must be another step to stem accusations of Facebook data mismanagement in the wake of the Cambridge Analytica investigation as the social media giant cut off API access to both Instagram and Facebook. The news, seen here at Tech Crunch, which has taken a lot of social media focused companies by surprise, will likely cause ripples across the digital sphere that we've yet to fully see. The Tech Crunch article has a lot useful information on the move from Facebook, with a summary of the changes.
Facebook wants to be your friend
As a result, it will ask your permission before ruthlessly farming out your data for the purposes of hi-tech psychological warfare (or advertising as it's usually known). The announcement of 'Custom Audiences' will require user consent and aims to safeguard against advertisers misusing data. [n.b. this does not seem to have gone especially well.]
Bing
Bing rolled out price extensions – while the extension has been available for a while in the US, it will be rolled out across international markets this month (April 2018) according to Search Engine Land.
April
Industry News
Vince Cable slams web giants as "villains"
The Lib Dem leader has compared Google, Amazon and Facebook to traditional oil monopolies, which exploited their market power more than a century ago – and called for them to be broken up.
In a speech in London, he said that a series of recent scandals, including revelations about Facebook and Cambridge Analytica, meant the "tech titans" had "progressed from heroes to villains very quickly".
"There is a case for splitting Amazon into three separate businesses – one offering cloud computing, one acting as a general retailer and one offering a third-party marketplace. Other examples would be Facebook being forced to divest itself of Instagram and WhatsApp as a condition for operating in the EU, creating two new social media networks. Divesting Google of YouTube would be another.
"The new oil is data. Data is the raw material which drives these firms and it is control of data which gives them an advantage over competitors.
"Just as Standard Oil once cornered 85% of the refined oil market, today Google drives 89% of internet searches, 95% of young adults on the internet use a Facebook product, Amazon accounts for 75% of eBook sales, while Google and Apple combined provide 99% of mobile operating systems."
Cable also said it was time to consider whether the public should be paid for handing over their data.
I, for one, welcome our new Amazon Overlord™
Two pieces of Amazon news – one from Bloomberg, one from TechCrunch, outline the next stage of the creation of Amazon World Government™, with the former revealing Amazon's 'Vesta' – a home robot and the latter detailing AWS's entry in to the blockchain-as-a-service market. Future humans in their Wall-E style hover chairs, with Wall-E style robots catering for their every need at the pudgy fingered push of a button, may well see this year as the year Amazon stopped being an eCommerce platform and really started to become the tech company Jeff Bezos dreamed of.
Data doesn't need to be creepy
In Marketing Week (okay, it was last week, but I only got around to reading it today, so it's going in), there's a piece which tries to rationalise the debate around data a little. Rare, in that it avoids dramatics, it makes a good case for using data to provide better services without being 'creepy'. The article makes the point that what has enraged people has been an abuse of data – and that it is possible, by collecting only the data you need (by asking the right questions), you can create a more transparent, non-intrusive, secure and customer focused strategy that will help rather than hinder your marketing.
Google
Google loses 'right to be forgotten' case
A businessman fighting for the "right to be forgotten" has won a UK High Court action against Google.
In a story covered by a the BBC, the man, who has not been named due to reporting restrictions surrounding the case, wanted search results about a past crime he had committed removed from the search engine and judge, Mr Justice Mark Warby, ruled in his favour.
Google was to remove search results about his convictions, including links to news articles, stating that they were no longer relevant.
"We work hard to comply with the right to be forgotten, but we take great care not to remove search results that are in the public interest," it said in a statement.
"We are pleased that the Court recognised our efforts in this area, and we will respect the judgements they have made in this case."
The right to be forgotten is a legal precedent set by the Court of Justice of the European Union in 2014, following a case brought by Spaniard Mario Costeja Gonzalez who had asked Google to remove information about his financial history.
Google says it has removed 800,000 pages from its results following so-called "right to be forgotten" requests. However, search engines can decline to remove pages if they judge them to remain in the public interest.
They took Google to court when it refused to remove the search results and the search giant has said it would now accept the rulings.
Google brief important updates on Google Analytics Data Retention and the GDPR
With the new data protection law coming into force on May 25, 2018, businesses are clamouring to to meet the requirements of the General Data Protection Regulation (GDPR) and Google is in the same boat.
In their latest communication, Google has messaged all users of Google Analytics and briefed them on the changes that they plan to make in order to comply with the law. In the update they look at three key areas within GA and explain the changes that will come into use with immediate effect. The focus areas are :
Product Updates
Contract And User Consent Related Updates
Updated EU User Consent Policy
One of the main updates, rolled out on the 11/04/18, was the introduction of granular data retention controls that allow the user to manage how long their users and event data are held on the Google servers.
The search engine will also introduce a new user deletion tool, before the GDPR deadline, which allows GA users to manage the deletion of all data associated with an individual user (e.g. site visitor) from their GA and/or Analytics 360 properties. This new automated tool will work based on any of the common identifiers sent to Analytics Client ID (i.e. standard Google Analytics first party cookie), User ID (if enabled), or App Instance ID (if using Google Analytics for Firebase).
Take a look at our feature length blog on the updates and as always those with access to the Google Developers site should monitor it to get the very latest news.
UI boost confirmed with New Google Assistant setup
Google is constantly testing and tinkering with things in a bid to boost the quality of the user interface (UI) of its products and in the latest update, confirmed by 9to5Google, the company has introduced a more conversational walkthrough screen for Assistant.
The new interface simulates the user asking and getting back results and will help to reduce technological friction. The first time users launch Assistant on a phone or tablet they will be greeted with a more compact setup interface.
At top is the official logo, as well as the "The new way to talk to Google" phrase first spotted in September 2017. Underneath is a series of animations that highlight the Assistant's various capabilities: "Play music", "Tell me about my day", and "Check traffic to work". This new screen is also more privacy conscious by informing users that "Assistant can work with Google partners to help you get things done."
Meanwhile, the "Services and your privacy" section details a new — or at least renamed — security feature that does not yet appear to be live.
Google first specifies how it "sends services you talk to a unique code" so that they "can still remember things like your preferences during conversations." This prompt goes on to note how "you can also reset the code for each service with the 'Forgot me' option in your Google Assistant settings."
According to the findings and given the newness of the Assistant setup, it's possible that Google is planning a redesign of Assistant's privacy features that better surfaces options, starting with the more obviously named "Forgot me" and more centralised controls, indeed this could be a step towards GDPR readiness.
Funding choices platform expanded
Google is expanding its Funding Choices ad messaging to 31 more countries, having launched last June for publishers in North America, the UK, Germany, Australia and New Zealand.
The Funding Choices platform lets publishers display one of the following three messages to site visitors using an ad blocker:
A dismissible message that doesn't restrict access to the content.
A dismissible message that counts and limits the number of page views that person is allowed per month, which is determined by the site owner.
A message that blocks access to content unless the visitor chooses to see the ads on the site or pays for access to content either via the site's subscription service or a pass that removes ads through Google Contributor (a paywall alternative developed by Google).
The subscription service option is a new addition to the Funding Choices messaging.
Google confirm broad core algorithm update
Google, in the same way they tend to after every sustained attempt to make them admit to an update, have made the same announcement they always do – that an update was made and that they make several a year. This was followed, as it always is, by hordes of SEOs crying 'Aha! I knew it!' on Twitter.
What is more interesting – to me at least – is that the last few of these have seen big shifts followed by fractional adjustments over a period of weeks. As many readers of the Click blog will probably know by now, I'm a fan of the idea that many of the latest updates are machine learning driven – something this pattern of shift and refinement seems to support.
Google adds "Mentioned on Wikipedia" carousels in search results
Google has added a new carousel in search results, called 'Mentioned in Wikipedia' which has been rolled out for both mobile and desktop search.
According to a post on SEMrush: "If you enter a [dog food brands] query, this carousel only shows those brands that have a Wikipedia presence. Upon clicking on the "mentioned in Wikipedia", the user gets directed to a special page on the encyclopedia's website. And if you click on the brand within the carousel, you will be directed towards a new tab with search results for that particular company."
---

---
Searchers, and site owners, have often complained about Google's carousels not having data from where the information is taken from. So Google adding this feature is of great significance. It is still unclear which countries and which queries are already seeing the new carousel, but I'm sure further updates will be released.
Google rolls out opening batch of Mobile First notifications
Ever since Google announced that it was officially launching its Mobile First indexing update a little over a month ago there has been a lot of 'chatter' in the industry. This conversation was interrupted today as the search giant began to send SEOs and webmasters notifications via Google Search Console that their sites were being "enabled" for Mobile First indexing.
The notification reads "Mobile First indexing enabled for" and specifies the domain name of the site it was enabled for. It read: "To the owner of 'affected URL/Domain here' Mobile First indexing enabled.
"This means that you may see more traffic in your logs from Googlebot Smartphone. You may also see that snippets in Google Search results are now generated from the mobile version of your content.
"Background: Mobile First indexing means that Googlebot will now use the mobile version of your site for indexing and ranking, to better help our (primarily mobile) users find what they're looking for. Google's crawling, indexing, and ranking systems have historically used the desktop version of your site's content, which can cause issues for mobile searchers when the desktop version differs from the mobile version. Our analysis indicates that the mobile and desktop versions of your site are comparable."
Facebook
Facebook ads
The impact of the Cambridge Analytica scandal seems to have had minimal impact on Facebook ad spend, up 62% in Q1 2018 versus last year. However, there was a decline of 34% from Facebook's Q4 2017 ad revenue, which may likely reflect seasonal advertiser demand.
Among other social media platforms, Snapchat saw the largest ad revenue increase at 234%, followed by Facebook-owned Instagram with 136%. LinkedIn's ad revenue grew 66% and Pinterest's 41%.
Facebook reduces its exposure to GDPR
Facebook is making changes that will prevent non-European users previously under European laws from being protected by the General Data Protection Regulation (GDPR), in an attempt to reduce its exposure to GDPR, which allows European regulators to fine companies for collecting or using personal data without users' consent. It is planning to make the case that 1.5 billion members in Africa, Asia, Australia, and Latin America will not fall under the EU's General Data Protection Regulation (GDPR), which takes effect on 25th May.
The social network will begin asking users to review information on whether they want to see ads from partners, if they want to continue sharing certain profile information (such as political and religious views and relationship status), and whether they want to use facial recognition technology.
Facebook chief executive Mark Zuckerberg told Reuters earlier this month that his company would apply the EU law globally "in spirit", but stopped short of committing to it as the standard for the social network across the world.
Facebook ads in fresh privacy claims
Following the Cambridge Analytica scandal, Facebook is promoting a 'Loyalty Prediction' AI ad service tool that lets advertisers target users based on predicted behaviours versus past actions, according to a leaked document seen by The Intercept.
The Intercept's story notes the document does not define the exact user information Facebook is indexing through its prediction engine for the service, but it does list location, device information, WiFi network details, video usage, affinities and friendship details.
The Intercept reports: "One slide in the document touts Facebook's ability to 'predict future behavior', allowing companies to target people on the basis of decisions they haven't even made yet. This would, potentially, give third parties the opportunity to alter a consumer's anticipated course. Here, Facebook explains how it can comb through its entire user base of over 2 billion individuals and produce millions of people who are 'at risk' of jumping ship from one brand to a competitor. These individuals could then be targeted aggressively with advertising that could pre-empt and change their decision entirely — something Facebook calls 'improved marketing efficiency'.
Facebook suing expert
The weekend was warm and England, as a whole, emerged blinking in to the sunlight – fearful of the flaming yellow orb that seemed to hang in the sky – celebrating this brief victory over the grey, damp darkness that otherwise rules the land. For this reason, one can only assume, Martin Lewis strode forward to attempt to summon the adpocalypse.
Stating that he sees dozens of messages a week from people saying they've seen get rich quick ads featuring his face or name, Martin Lewis (founder of the MoneySavingExpert website) has decided to sue Facebook for what he sees as a lack of action from the under pressure social media company. While it is unlikely to achieve action on its own, coming as it does on the heels of tremendous amounts of negative press around Facebook's ads, it may well contribute to whatever changes are no doubt on the way.
Facebook 'F8' conference launches in San Jose with several significant updates
In what will be the largest Facebook event ever, and on the back of the rather damning questions raised by the Cambridge Analytica scandal, Mark Zuckerberg and his team welcomed over 5000 developers from around the globe in a bid to showcase new products and build trust moving further. In a brief status update about this year's F8, Zuckerberg said that he is going to "share more about the work we're doing to keep people safe, and to keep building services to help us connect in more meaningful ways".
With this in mind here are some of the updates and tools launched on day one of the conference:
New online dating platform – Facebook is launching a dating feature where you can volunteer to make a profile that's only visible to non-friends who've also opted in to looking for love. Facebook will match you based on all its data, and messaging will happen in a dedicated inbox rather than Messenger.
'Clear history' function – The company will soon launch a new privacy feature that will allow users to see and delete the data Facebook has collected from websites and apps that use its ads and analytics tool. "Once we roll out this update, you'll be able to see information about the apps and websites you've interacted with, and you'll be able to clear this information from your account," Zuckerberg explains. "You'll even be able to turn off having this information stored with your account."
'Hate speech button' launch – US-based users (initially) will be able to see the question, 'Does this post contain hate speech?' under every post on their Facebook page. This feature will help the social network to clean up the news feeds and offers some reassurance to those questioning the ethics of the business in recent weeks.
---

Statement from Mark Zuckerberg on the latest 'clear history' update
May
Google
Google I/O 18
There's a lot of Google news still coming out of I/O 18 – the first of today's being that Google Lens is now able to operate in real time with enhanced text recognition, the option to look for lookalikes (see a chair you like? Google will take a look to see where you can get one) and is ready for the future of visual search and widespread AR adoption. I'm still of the opinion that AR and VR won't become too widespread until someone develops a wearable that doesn't make you look like a cyborg Buddy Holly, but having useful software should provide the necessary impetus for hardware manufacturers to up their game.
The first article that caught my eye – as someone who long ago joined an ever expanding crowd of online writers just shouting 'AI!' into the void at various times and intervals – is from Tech Crunch – who give a run-down of the 8 announcements they consider to be the biggest from the event. They chose:
The rebranding of its research division to 'Google AI'
The announcement that Google is looking to up its game in terms of conversational interaction with the Google Assistant (so there's no need to 'hello Google' between every command)
Google Photos will do more stuff (meh)
Google's rival to the Echo Show will launch in July – which raises a number of interesting questions about the recent update to schema making the video field 'recommended'
Maps is to become further integrated with the Google Assistant (another thing I've been bleating about for a while) allowing it to become far more than just a way to find out where you are or where you're going.
Google is pitching its third generation of processor – the Tensor Processor Unit 3.0 – which, with 100 petaflop performance, offers developers a way to speed up their operations and will no doubt encourage even more AI developers to move to TensorFlow.
Google news will be employing AI to present users with further personalised news feeds – because we've just not been able to retreat in to a self-affirming bubble enough.
The Second story comes from Cnet which picked out the ability to fully customise Google routines. For people like me who have an almost identical morning routine every day, this may be the thing that finally convinces me that the Google Home is the right smart speaker for me (I've been experiencing analysis paralysis for a good eighteen months now) – as it will enable me to begin the news cycle, morning podcast essentials (presently, The Gist and The Daily Zeitgeist are pre-7am regulars), and potentially shave valuable minutes off the morning, bleary eyed phone fumblings.
Story three comes from Search Engine land who cover (along with a lot more I/O news – as you would expect) the announcement that, with app downloads on Android up 12 billion to 94 billion, Google are going to allow advertisers to show more content within their app promotion ads. Due to be available soon in beta, the example given was a product catalogue carousel available within the ad.
Story four is that the 'Google Posts' available in Google My Business will now allow for the upload of video. The function – covered, again, on Search Engine Land – will create a richer experience for users performing a brand search and allow those brands to make a great, immediate impact with quality video or animated content.
AdWords
One of the new ad formats currently in beta is reviewed on the Search Engine Land blog, with a breakdown of the beta as things stand. Among the developments is the availability of three 'headline' slots and two 90 character descriptions instead of the standard single 80 character. So, with more opportunity to make the sale – will we start to see them appearing in SERPs with any regularity?
Google trends gets an update
In their latest blog post Google has officially announced that it has rolled out an updated version of their Google Trends platform
Google Trends has become a key part of journalistic storytelling, giving reporters everywhere an insight into search trends across the world and in a post by Google Trends, Software Engineer, Gavri Smith he said: "Today, we're updating Google Trends with new features, simpler navigation and more ways to explore data and stories around one of the world's biggest journalistic datasets. Many of the changes are based on feedback from Trends users.
"The new design puts more editorial data-based stories up front, and gives you the ability to create your own stories using Year in Search data, or by exploring the revamped Trending searches and Explore pages."
The new updates include:
A revamped Trending searches section, showing what is trending in search right now, both daily and minute-by-minute.
A newly-designed section where you can see Google Trends data stories curated by the News Lab team. This is also a great place to find amazing examples of Google data visualizations by newsroom designers from all over the world.
Easy access to Year in Search data going back to 2001, so you can see how search interest has changed over time.
New infographic types such as an intensity map to compare different topics in more meaningful ways.
Google confirms it shortened search results snippets after December expansion
Google has confirmed that only about five months after increasing the search results snippets, it has now decreased the length of these snippets.
Danny Sullivan of Google wrote, "Our search snippets are now shorter on average than in recent weeks." He added that they are now "… slightly longer than before a change we made last December."
At the time Google did warn webmasters that there was "no need for publishers to suddenly expand their meta description tags," but many ignored the warning for fear of missing out and the possibility of a penalty later in the year.
Sullivan added, "There is no fixed length for snippets. Length varies based on what our systems deem to be most useful. He added, Google will not state a new maximum length for the snippets because the snippets are generated dynamically.
Amazon
Amazon pause PLAs
A brief entry on Marketing Land states that Amazon appear to have paused their PLA campaigns. After running Shopping Campaigns for eighteen months, it seems they have completely disappeared. While it remains to be seen whether this is a test, an error or an indication of something larger from Amazon, it's certainly interesting.
Amazon may launch retargeting product
Amazon is testing a new display ad offering that could rival Google, Bloomberg has reported. The tool will add to Amazon's current ad offering by allowing merchants to buy retargeting ads on a PPC basis. Recently, Amazon stopped bidding on Google Shopping auctions. It's not clear yet whether Amazon-based remarketing will run on third party sites and/or whether Amazon will effectively sell ads to merchants at auction
Instagram
While I follow both TechCrunch and Marketing Land, it took a feature from the latter on a story in the former for me to hear about Instagram's new native payments feature. While it's only available to some users at the moment, it's a big step forward in Instagram's commerce offering. I'm entirely sure that, like Facebook's new avatar feature, it has absolutely nothing to do with similar features being introduced by Snapchat.
Instagram ads update
Facebook is rolling out a new feature that allows advertisers to turn existing organic Instagram posts into ads within Power Editor and Ads Manager. This means you don't have to use the Promote button on Instagram to turn organic posts into ads anymore. You can simply use Facebook's ads interfaces. The feature, currently rolling out to "all global advertisers" within "next few weeks" will be available for the Brand Awareness, Post Engagement, Reach, and Video Views objectives, and will be available in 'auction buying' in both Ads Manager and Power Editor.
Facebook
Facebook ad announcements
Facebook announced today it is expanding its list of third party solutions to measure ad effectiveness, specifically: marketing mix modelling (MMM), viewability and mobile app measurement. It is also limiting the capabilities of its view tags feature. View tags have been used since 2012—back when Facebook was primarily used on desktop—to measure and verify ad impressions on desktop and mobile browsers. Since they were originally designed to measure ads on desktop, they don't work as well for ads on mobile.
The press release stated: "Moving forward, we'll work with a more focused set of view tag providers to allow them to count impressions for verification purposes, but view tags will no longer be used for measurement purposes beyond counting. To count impressions, you'll be able to set up view tags in Ads Manager the same way you do today. Additionally, you can continue using Ads Manager and the Ads Insights API to view impression counts. This change will apply to new campaigns starting July 1. Campaigns running before July 1 will see the updated view tags on October 1."
Facebook suspends 200 apps in data misuse probe
Following the Cambridge Analytica data scandal, Facebook said it would begin a thorough audit and investigation of all apps on its platform with access to large amounts of user data. The company says it has now investigated thousands of apps and the result, so far, has been the suspension of 200 apps that are now pending an investigation.
Facebook Founder, Mark Zuckerburg in change of heart over EU data breach
In a change of plan, the public will be able to watch Mark Zuckerberg's response to European Parliament leaders' privacy concerns.
The body's president, Antonio Tajani, has tweeted that tomorrow's 75-minute meeting would be livestreamed.
---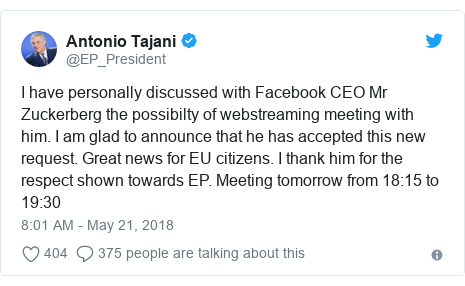 ---
Earlier German Green Party's MEP Sven Giegold, had launched an online petition, stating that: "It is disgraceful how Zuckerberg promises more transparency, but does not want to make public statements in the European Parliament. Facebook operates a public platform and therefore has to publicly take responsibility for its actions."
The European Parliament's webstream is due to be broadcast on the European Parliament's website between 18:15 and 19:30 local time (17:15 to 18:30 BST) on Tuesday.
YouTube
YouTube music streaming service coming soon
According to the Google-owned company, the YouTube Music service will include "official songs, albums, thousands of playlists and artist radio, plus YouTube's tremendous catalog[sic] of remixes, live performances, covers and music videos". Starting May 22nd, the subscription service will be available in the US, Australia, New Zealand, Mexico and South Korea, and will expand more broadly in the coming weeks.
Is YouTube working on an incognito mode?
YouTube is testing an incognito mode in its Android app, Android Police has reported. The incognito mode would let you watch videos without impacting the recommendations you get from its algorithms.
Bing
Bing latest to ban cryptocurrency ads
The updated financial product and services policy will take effect in June. Facebook, Google and Twitter banned cryptocurrency ads earlier this year. Melissa Alsoszatai-Petheo, a Bing advertiser policy manager, said in a statement: "Because cryptocurrency and related products are not regulated, we have found them to present a possible elevated risk to our users with the potential for bad actors to participate in predatory behaviors, or otherwise scam consumers."
Industry news
Yelp asks Europe to take new antitrust action against Google
In an article published by the Financial Times, it is reported that Yelp has formally complained to the European Commission (EC) that Google "abused its dominance in local search" and is seeking a formal Statement of Objections against the company.
The logic of the complaint is nearly identical to claims made against Google in the shopping search context: Google systematically favours "its own content," minimising that of competitors. The EC said when it brought the formal Statement in shopping search and subsequently fined Google roughly $2.7 billion that similar actions were possible.
Talking about the action, Yelp's Luther Lowe said: "When a mother does a search for a paediatrician in Berlin, instead of being matched with rich review content from a service like German startup Jameda.de, Google siphons her to a degraded local experience with fewer reviews and less content. In addition to being anti-competitive, this type of conduct directly harms consumers who still assume Google is relying on its meritocratic algorithms to govern which information appears at the top of the page.
"The substantial economic data and evidence included in Yelp's complaint provides the tools needed for Commissioner Vestager's team to extend its finding of guilt in comparison shopping into local search, the most common form of search on Google."
Google has denied it has abused its position and appealed the shopping search fine to the European Court of Justice, but if the EC were to take up Yelp's complaint, it would represent another action, with billions more in potential fines.
June
Google
Google My Business agency dashboard launched
Google has launched an agency dashboard that lets agencies manage multiple client listings faster, simpler and more intuitively. In addition, all locations within an Organisation account are now required to be contained within a location group (previously known as a business account). Agencies can request access to a customer's location through a location group or customers can invite an agency's location group to co-manage their listing.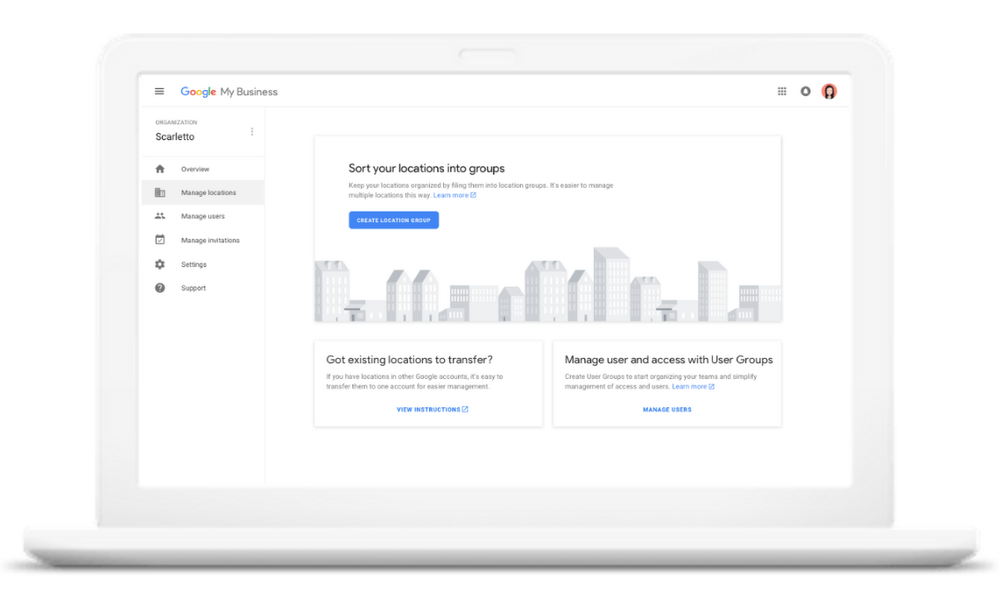 Google Posts adds products and offers
Google My Business has added two new post types: product and offer posts! Product and offer posts allow you to highlight your product and promotional details to your customers.
Offer posts: Posts that provide promotional sales or offers from your business. Offer posts require a title and start/end dates and times. A "View offer" CTA button is automatically added to the post. You can also include a photo/video, coupon code, link, and terms and conditions with the post. For example, a pizza parlor may advertise a 20% off large pizzas for a week.
Product posts: Posts that emphasise a specific product your business sells. Product posts require a title and photo or video. You can also include a CTA button and other information. For example, an electronics store may promote a new phone for sale.
AdWords add-on released for Google Sheets
The tool, which is in beta allows you to import your Google AdWords data into Google Sheets to create custom, easy to update reports. With this tool, you can:
Create reports based on data from one or more AdWords accounts in just a few clicks
Choose which columns to include in your reports
Use AdWords filters to narrow the scope of your report data
Get an overview of the reports you've created
Refresh your reports with your most recent AdWords data
Control who can see your reports by leveraging Google Sheets' existing sharing and privacy features
Ad nauseam
Users, according to an article on Search Engine Land, will be able to turn of targeting signals, Google is also extending the 'Why this ad?' notices to all services.
Mobile First and Search Console
There are a couple of articles on Search Engine Land today with some useful information – the first, a collection of clarifications from Google around mobile first; the second regarding the latest update to Search Console that allows webmasters to see how often their site is being delivered as part of 'Web Light' – which delivers a stripped back version to help delivery in areas of slow internet connection.
Video results switch to carousel format
Google has been replacing the video box in the desktop search results with a new carousel-formatted video box, Search Engine Land and RankRanger have noted. This allows users to click and toggel through more than the three videos displayed. RankRanger found that the average number of videos in a carousel is 8.5.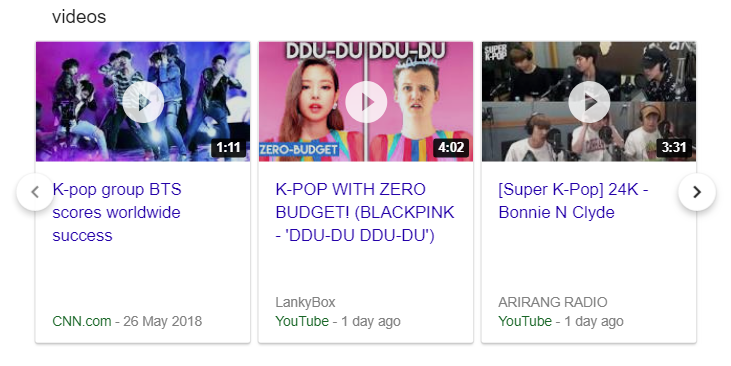 Google has reduced link spam by almost half
Google has also cut the number of hacked websites from showing in the search results by 80%, and cut link spam in search by almost half. Less than 1% of sites visited from search results are 'spammy'. Earlier this month it was reported that Google sent around three million fewer manual action notices this year than last year down from nine million in 2017 to six million in 2018
In a blog, Principal Google Engineer Cody Kwok, said that Google "actively works with webmasters to maintain the health of the web ecosystem. Last year, we sent 45 million messages to registered website owners via Search Console letting them know about issues we identified with their websites. More than six million of these messages are related to manual actions, providing transparency to webmasters so they understand why their sites got manual actions and how to resolve the issue."
The need for speed
Ahead of the rollout of Google's mobile Speed Update in July 2018, a new study by Searchmetrics suggests that marketers should take note that faster-loading pages already are deciding winners over losers in mobile searches. The search results appearing in Google positions one to five load significantly faster than those lower down, with almost a third (32%) loading within one second. And pages using Google's faster loading Accelerated Mobile Pages (AMP) appear in the first search results page for around 61% of searches.
Cliff Edwards, Director Marketing & Communications of Searchmetrics said: "The research suggests there is already some correlation between page speed and mobile rankings − and Google's Speed Update is only going to make this stronger. So webmasters need to be continually testing and finding ways to optimise their web pages for speed. Overall this is going to mean plenty of work for many sites as even in the top five positions 32% of search results took longer than three seconds to load."
Google Home outage causes outrage
Google devices and apps have experienced serious outages that lasted for more than 12 hours and affected millions of users around the globe. The Home devices are responding to queries by saying "there was a glitch" or "sorry, something went wrong".
The issue affected Google Home and Google Home Mini – speakers that respond to voice commands – as well as Chromecast – a device that plugs into a television and allows people to watch video content.
Users were angry at both the length of the outage and the lack of information from Google about it, once it had been identified. Google has not given a reason why these devices went down, only apologising for the service problems and identifying a fix for the issues.
5 devices down for 12+ hours

— James Burns (@jdburns4) June 27, 2018
Welcome to Google Ads, Google Marketing Platform, and Google Ad Manager
Google is rebranding its tools for advertisers and publishers, retiring the well-known brand names AdWords and DoubleClick. Google AdWords is now Google Ads, while DoubleClick for Publishers and DoubleClick Ad Exchange will be brough together d unified programmatic platform under a new name: Google Ad Manager. The new Google Ads, Google Marketing Platform and Google Ad Manager brands will begin to roll out over the next month.
---
The new Google Ads brand represents the full range of advertising capabilities we offer today—on Google.com and across our other properties, partner sites and apps—to help marketers connect with the billions of people finding answers on Search, watching videos on YouTube, exploring new places on Google Maps, discovering apps on Google Play, browsing content across the web, and more… We're enabling stronger collaboration for enterprise marketing teams by unifying our DoubleClick advertiser products and the Google Analytics 360 Suite under a single brand: Google Marketing Platform.

Sridhar Ramaswamy, Senior Vice President, Ads & Commerce
---
Knowledge Panel verification
Individuals and organisations with Knowledge Panels are being invited by Google to claim and verify their panels and provide authoritative feedback on the information and images presented. Any person, organisation, sports team, event and media property with a Knowledge Panel is eligible to get verified and suggest edits to the information shown.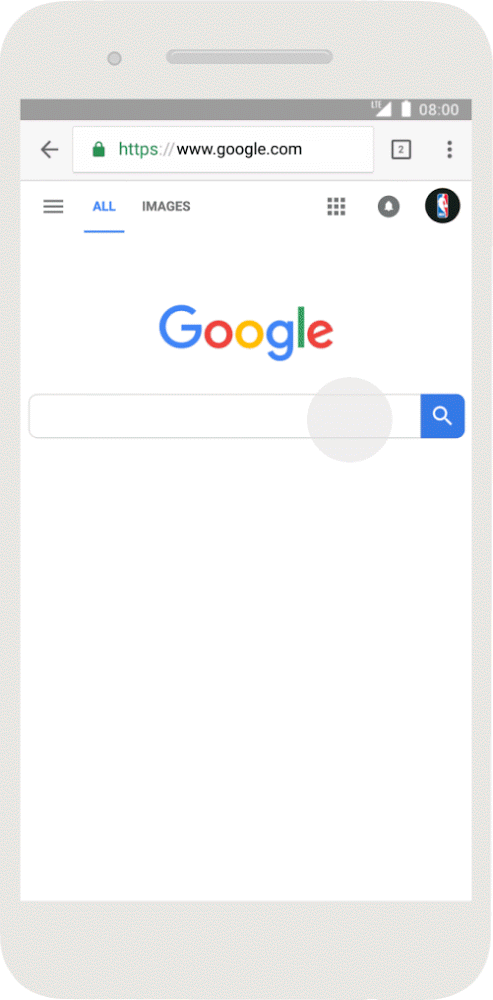 Source: Google
Execs want Google to clamp down on fake news
Executives think platforms should do more to combat fake news, are increasingly sceptical of social media and blame brands for adverts placed alongside inappropriate content – but they increasingly see news brands as a source of trusted content, according to a survey published today by Reuters Plus.
The third annual Tomorrow's News survey, based on a new survey of 1,587 global executives, reveals that 87% of respondents think Google and Facebook should do more to control fake news, while 81% believe that Google and Facebook should be held accountable for content.
Mobile's reshaping B2B marketing
Google reports that 50% of B2B search queries today are made on smartphones. – a figure that's expected to grow to 70% by 2020.
Google My Business Insights adds queries used to find your business
Google My Business is rolling out a new report in the Insights section of the console that is designed to show businesses how people are searching within Google Maps or Google Search to find your local listings. It is called the "queries used to find your business" report, and it shows the most popular queries for your business by unique users within a time frame.
Google introduces Smart Campaigns for small businesses
Following on from the news last week that Google was retiring the DoubleClick and AdWords brands to streamline entry points for advertisers and ad sellers, the search engine has announced their first major roll-out under the Google Ads brand.
Google wants to help simplify their products for the businesses that operate on a smaller scale and as such has launched Smart Campaigns.
Smart Campaigns will be the default campaign type for new advertisers in Google Ads. The campaigns are almost entirely automated, from ad creatives to delivery optimisation, based on the product or service being advertised and the goal the advertiser sets.
Smart Campaigns are designed to work with Google My Business for both ad creation — images, location addresses and so on — and soon, landing pages. For businesses that don't have websites, Google will create and host auto-generated and optimised landing pages.
The goals will include phone calls, website visits and requests for directions.
Bing
Bing makes it easier to import Google Shopping feeds
Bing Merchant Center has launched a Google Merchant Center Import tool. It allows the product feed to to be scheduled easily to keep them current for Bing Shopping campaigns.
UI reporting and opt-out available on Bing Ads Automated Extensions
Bing Ads have announced this week that there are now 10 Automated Extensions available on their platform formally known as Annotations.
After renaming the platform, Bing will add reporting on all Automated Extensions in the web user interface (UI) and the ability for advertisers to opt out of them.
The current Automated Extensions are available in Bing Ads:
Automated Location Extensions.
Consumer Ratings.
Dynamic Ad Enhancements.
Dynamic Callouts.
Dynamic Partner Data Enhancements.
Dynamic Sitelinks.
Dynamic Structured Snippets.
Longer Ad Headlines.
Previous Visits.
Seller Ratings.
According to SearchEngineLand: "The information Bing Ads shows in Automated Extensions gets pulled from a variety of sources, including website content, ad descriptions, search query, Shopping feeds, third-party consumer reviews, and even Twitter.
"The idea is that automating the extensions saves advertisers the time of creating them on their own while providing the extra information in the ad and performance lift ad extensions can deliver."
Facebook
Facebook Marketplace ads now official
Meanwhile, yesterday Facebook announced that it's launching product ads from businesses that appear within Marketplace. The ads can be bought in the US, Canada, New Zealand and Australia. Businesses can extend their existing News Feed, video, Instagram, Messenger and other ad campaigns to Marketplace, and more types of objective-based campaigns will open to the classifieds section soon.
Facebook introduces Subscription Groups
Facebook is testing a paid subscription feature for Group admins which allows them to charge for exclusive content. The feature is being tested across select Groups. Subscriptions can go from $4.99 up to $29.99 per month.
Alex Deve, Product Director, Groups, said: "This subscription groups pilot is testing with a small number of groups across a range of interests who will share input and feedback along the way… As we learn from this pilot and understand how group members feel about subscription groups, we'll continue to improve this experience to help admins offer more to their members and continue to invest in their communities."
Source: Facebook
Facebook is also trialling the placement of video ads in Messenger. "We're in the beginning stages of expanding the availability of video ads to Messenger and we plan to roll this out gradually and thoughtfully. People on Messenger are our top priority and they will remain in control of their experience," says a Facebook Messenger spokesperson told Marketing Land.
US Declaration of Independence labelled hate speech by Facebook bots
Facebook's content-cleansing bots have flagged the United States Declaration of Independence as hate speech, proving that there can be difficulties in AI and machine learning.
One Texas newspaper, posted "small bites" from the Declaration on its Facebook page in the lead-up to the USA's July 4th Independence Day, "To make it a little easier to digest that short but formidable historic document".
But as the paper detailed on July 2nd, "The first nine parts posted as scheduled, but part 10, consisting of paragraphs 27-31 of the Declaration, did not appear. Instead, the paper received a notice from Facebook saying that the post 'goes against our standards on hate speech'."
The offending paragraphs were as follows:
"He has abdicated Government here, by declaring us out of his Protection and waging War against us.
"He has plundered our seas, ravaged our Coasts, burnt our towns, and destroyed the lives of our people.
"He is at this time transporting large Armies of foreign Mercenaries to complete the works of death, desolation and tyranny, already begun with circumstances of Cruelty & perfidy scarcely paralleled in the most barbarous ages, and totally unworthy the Head of a civilised nation.
"He has constrained our fellow Citizens taken Captive on the high Seas to bear Arms against their Country, to become the executioners of their friends and Brethren, or to fall themselves by their Hands.
"He has excited domestic insurrections amongst us, and has endeavoured to bring on the inhabitants of our frontiers, the merciless Indian Savages, whose known rule of warfare, is an undistinguished destruction of all ages, sexes and conditions."
It'll be interesting to see, with the advancement of technology, how historical documents and books are transcribed, sorted and displayed in the future.
Facebook issues warning to brands over their use of 'politically-fuelled' ads
Under new rules aiming to clean up political advertising on the site, Facebook has stated that ads must carry the 'paid for by' label if they are clearly leaning towards a political debate or are indeed funded by a political group/party.
Only this week two US giants, Walmart and Procter & Gamble fell foul of the social media platform, which stopped running ads which did not meet the new regulations.
According to Marketing week: "Non-political ads only have to run with a 'sponsored' label, but Facebook believes the ads from the major brands crossed the threshold into political speech.
"The Walmart ad features a message about bringing jobs back to the US, while P&G's was an LGBTQ pride ad. Walmart has since had its ad reinstalled, and P&G said: 'this is not a political ad' and it will be working with Facebook to understand the new policy."
YouTube
New creative suite for YouTube marketers
The new Creative Suite has two main focuses: deliver better and more actionable insights for brands – thanks to the Video Experiment and Video Creative Analytics tools – and help advertisers tell better stories with its Director Mix and Video Ad Sequencing tools.
Industry news
EU to fine Google over Android dominance
The EU is preparing to fine Google millions next month for abusing its dominance through the Android mobile operating system – specifically stifling competition and hurting consumers – ending the most significant of a trio of EU antitrust investigations into the company. The European Commission probe concluded that the US group imposed illegal terms on Android device makers, marking the most significant regulatory intervention against Google's business model. Android is used in more than 80% of the world's smartphones and is vital to the group's future revenues as more users search on their mobile gadgets.
Australia drafts laws forcing Facebook and Google to reveal data; while report claims users feel 'disempowered'
Facebook and Google could be forced to reveal encrypted data under laws being drafted by the Australian govenment. On ABC radio, the cyber security minister, Angus Taylor, said the bill would "modernise" existing laws to give security agencies access to information transferred through encrypted messaging apps.
"The key point here is that we need to modernise our laws and get access to information for holding criminals and terrorists to account for investigations and gathering evidence," he said.
"Those laws were developed during an analogue era decades ago and they are now out of date. Much data and information is transferred through messaging apps and it's digital not analogue. There've been very substantial changes in the technology and we need to update the powers."
Facebook and Google have "taken advantage" of a lack of knowledge among consumers about how their personal information is used to "rake in" data and profits on an "unprecedented scale", a report by consumer watchdog Which? has suggested. What's more, the recent introduction of the General Data Protection Regulation (GDPR) is not capable of tackling the "widespread feelings of disempowerment" regarding privacy among Britons.
Emoji 11.0 released today
157 new emojis have been released today, and for the first time will include red-hired, bald and curly-haired charcters, as well as new animals inclusing a lobster and a kangaroo. According to Emojipedia, June 5th is the first day that companies can begin to support new emojis, but tech giants like Apple, Google, and Microsoft will need to add in these new releases when they update software.
Microsoft to buy GitHub?
Microsoft is preparing to acquire popular code hosting service GitHub, according to reports. While neither party confirmed the deal, sources told each outlet that it's expected to be announced today. Microsoft might pay upwards of $5 billion for the company. The news has had a mixed response from developers, many of whom depend on it to collaborate and build their products.
---
To those that have @GitHub accounts:

If @Microsoft buys GitHub… would you continue to use it? Or would you move your repositories to a different service?

— Bryan Lunduke (@BryanLunduke) June 2, 2018
---
Yoast SEO bug causes ranking drops
A major update to Yoast SEO fixes a bug that affected the rankings of certain websites from March 2018. The founder of Yoast, Joost de Valk, personally offered an apology to victims of the error that may have suffered "Panda-like problems" and lost search rankings as a consequence.
According to Yoast: "The bug was simple yet very painful: when you updated from an earlier version of Yoast SEO to Yoast SEO 7.0-7.0.2 (specifically those versions), we would not always correctly convert the setting you had for the old setting into the new one. We accidentally set the setting to 'no'. Because we overwrote the old settings during the update, we could not revert this bug later on."
Those whose rankings have dropped since March 6th 2018 have been advised to check their Yoast SEO Media Plugin settings.
AIfred Hitchcock
In compulsory AI news – an AI has written and produced an apparently awful film according to Wired. While the results were apparently less than optimal, the very fact that the AI was at all capable of performing the myriad tasks required to make a film is a step forward toward AI creativity that is more than a little impressive.
Blockchain
There's an interesting article on blockchain and its possible uses for social media. While blockchain certainly seems to be more useful than the cryptocurrencies that spawned it, the article's ideas are well worth a read – including three main points:
Giving ownership of content back to social media users
Allowing the community to decide what content is valuable
Creating a reward system where users benefit for contributing and engaging with content
Advertising has no soul
While many would argue that advertising never had soul, it just had far more and easier access to recreational uppers, Marketing Week's interview with Sir John Hegarty states that the industry has favoured data over creativity and has lost its way. In some ways, it's easy to see that there has been a lack of overt creativity in recent ad campaigns, but while Hegarty makes some good points around risk aversion, it's difficult to see why data takes the fall and why, for example, the risk of social media backlash for outside the box campaigns may be more to blame.
It's an interview worth a read, however, and one thing we can definitely agree on is that the marketing industry as a whole needs to embrace creativity as the future.
Podcasts are in the money
MarTech Today are today reporting that ad spend on podcasts reached $314M in 2017 – an increase of 86% YOY. With one of the most engaged communities around, podcasting seems like a great avenue for brands with budget to spare – it's no wonder, then, that DoubleClick has added audio podcast ads to its offering.
Search is getting better
Search Engine Land published that 3 million fewer manual action notices were sent the previous year, down from nine to six million. While there were 45 million messages in total, those issued for webspam and breaches of user guidelines only made up a minority.
More stats
Marketing Profs (another site well worth adding to your personal feed) reports on some research in to reasons why editors aren't accepting your guest content pitches (yes, yours specifically, you should be ashamed).
Voice Interface
There's a nice addition to my 'voice is taking over the world' scrap book on the Martech Today blog – one of a growing number as we approach 2020 and the dawn of voice first search with almost no one ready. Not that I'm being alarmist, but I am beginning to wonder when the panic will set in.
Data versus Goliath
A new global survey conducted by Forbes Insights in association with Treasure Data, has found that marketers are failing to fully embrace data-driven marketing capabilities, with only 13% of companies considered leaders in leveraging customer data. Yet it's those who are embracing customer data and analytics who are seeing greater returns on investment and are likely to be disruptive leaders within their markets.
The report said: "While business leaders recognise that they must move fast to become customer-data-driven enterprises, they're nowhere close to the finish line. In fact, most are only starting to grasp the power of customer data."
Advertisers can now target by emotions and opinions
News UK is to launch a new data platform that will enable advertisers to reach audiences based on their emotions and attitudes, claming this will help to drive emotional loyalty and potentially increasing engagement by up to 45%.
Ben Walmsley, Digital Commercial Director, News UK, said: "NewsIQ UK builds upon the traditional approach to digital advertising by recognising that audiences are people, driven not just by who they are and what they do, but by what they think and feel. Preferences, opinions and emotions are fundamental factors in driving behaviours and the ability to identify these states and then build campaigns around them is going to change the way that advertisers communicate with audiences.
"The sort of emotional loyalty that we believe this platform can help create is far beyond loyalty based on pricing or familiarity. True emotional loyalty is about creating a psychological connection between the consumer and the brand and understanding the consumer's preferences, opinions and emotions is a vital step in building that relationship."
Strongest May growth for online retail since 2010
The sun was shining online in May, with UK online retail sales up +19.4% year-on-year (YoY) according to the latest IMRG Capgemini e-Retail Sales Index, making it the strongest month overall since November 2016. The footwear and garden sectors saw the biggest boosts overall. Additionally, a market conversion rate of 4.8% (compared to 4.6% last year) marked the first YoY increase for 2018, reversing a recent trend of decline.
England v Tunisia match breaks live online viewing records
England's victory over Tunisia saw three million requests to stream the match online on BBC iPlayer and BBC Sport – the highest ever live viewing for any BBC programme online.
D-day for controversial EU internet copyright law
The EU's Copyright Reform Directive — which could introduce upload filters, ancillary copyright, and restrictions on text and data mining — will go to a vote in Brussels tomorrow (20th June). The Directive, which aims to modernise copyright laws for the internet era, has been widely criticised by those in the tech industry potentially restrictive attitude towards data freedom.
Under the provisions of the new Directive (specifically Article 13) any service that allows users to post text, sound, or video for public consumption must also implement an automatic filter to scan for similarities to known copyrighted works, censoring those that match. This means online platforms like Facebook and Reddit could be forced to use 'content recognition technologies' to censor their users' content before it is published online in case it infringes copyrighted videos, music, photos, text or code.
Another contentious part of the draft Directive is Article 11, which would force anyone using snippets of journalistic online content to get a licence for the publisher first — essentially outlawing current business models of most aggregators and news apps. This has been nicknamed 'link tax' by detractors.
Creator of the worldwide web Tim Berners-Lee, and Wikipedia co-founder Jimmy Wales among others have signed an open letter to European parliament president Antonio Tajani in protest of the proposal, describing the Article 13 as "a tool for the automated surveillance and control of its users".

An extract from the open letter to European parliament

The letter also states: "By requiring internet platforms to perform automatic filtering all of the content that their users upload, Article 13 takes an unprecedented step towards the transformation of the internet from an open platform for sharing and innovation, into a tool for the automated surveillance and control of its users."

The best present for Father's Day

Weepie ad of the week has to go to VaynerMedia's Father's Day video for Stella Artois, which shows the emotional reactions of three real fathers from across the globe as they secretly listen to their children discuss tributes they had made to Dad on social media.

It cleverly homes in on the fact that while Millennials often prefer to communicate via social media, many of their parents' generation aren't as au fait with technology, so the Father's Day tributes their offspring post often go unseen.

The key message: some interactions are more meaningful when delivered in real life.

One in four marketers dismiss data-driven insights

A quarter of marketers rely on their 'gut instincts' when making decisions and planning their campaigns. The findings, which were launched in Qualtrics' 'Experience Data – The New Competitive Advantage' report, reveal that 86% of marketers admit to relying on 'gut feel' at least some of the time. Despite this fact however, 85% of those surveyed collect data from 15 or more sources in order to inform their marketing approaches.
---
Marketers certainly aren't short of data – but when so many are still relying on gut feel, it's clear there's a gap between the data they have and the data they need. The most successful marketers are closing that gap by looking at a new type of data – Experience Data (X Data). This looks beyond the traditional marketing metrics that tell you what's happened in the past and looks at the 'why' behind this data. When you can understand the key drivers behind your core metrics you can use data rather than gut feel to identify the improvements that will have the biggest impact on your organisation

Caroline Mogford, EMEA Marketing Director, Qualtrics
---
Marketers struggling to get to grips with AI
B2B Marketers are still just learning about how AI will help achieve business goals, and are, for the most part, confused about the potential impact on their marketing strategy and overall business performance. This is according to a survey by marketing company EverString and Heinz Marketing. According to Matt Heinz, president, Heinz Marketing: "These findings will help marketers understand how they compare to peers in viewing AI applications and future expectations to create value."
CMOs slow to optimise for voice search
Only 3% of chief marketing officers, have tailored their SEO strategies to optimise for voice-enabled search, though 75% say they plan to do so. QueryClick's CMO Performance Report 2018 surveyed 150 CMOs for UK brands with a revenue of more than £150 m. Almost half of those surveyed said they would optimise their SEO for voice within the next 12 months.
Lacks of optimisation costs $45 bn
Brands are missing out on a potential $45 bn in profit because they are failing to optimise media allocation, investing too much in digital display and not enough in more traditional formats, according to new research by Ebiquity, which was revealsed at Cannes.
"This research shows that brands could be delivering much more from their advertising investments," Ebiquity Head of International Effectiveness Mike Campbell said in a statement. "We're highlighting that with proper measurement and analytics, marketers can reevaluate their spend allocation to dramatically improve results."
Toddlers are tech-savvy
Two thirds of children under two are using tablets and a third can even open apps. Nick Richardson, analyst at Parents Insights, said: "Our latest data reveals a fascinating picture about how toddlers and babies as young as six months are interacting with technology – and how much their parents are seemingly willing to allow.
"It seems that tablets are the first device that parents are happy for their little ones to use but their attitudes to social media are much less liberal. We found that just 17% said they would let one of their children use social media before the legal age of 13.
"It's key information for brands to be aware of as they adapt to the way that both kids and parents consume information."
A third of marketers think GDPR will improve their offering
Awareness and preparedness for the GDPR, which came into effect last month, are at their highest level, says the DMA. Over a quarter of marketers do not believe the legislation will have a financial impact on their business and a third think it will actually benefit their offering.
Meanwhile, when asked if they were ready come 25th May, the majority of respondents said they were both aware and prepared, with 71% saying their organisations were equipped. However, a quarter revealed that 27% of marketers received no specific training prior to the deadline.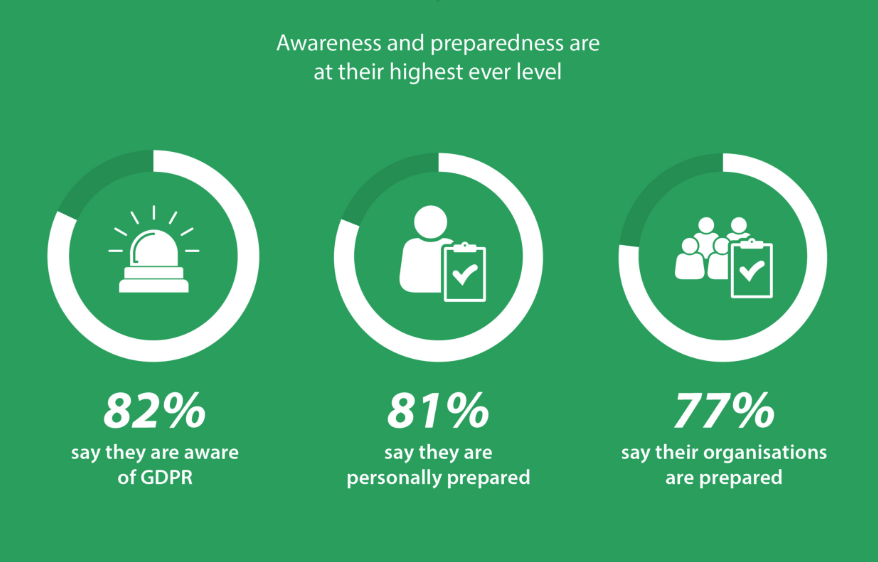 Source: DMA
Social media
Sports brands top list of most visible brands on social
Brandwatch analysed the top 100 logos featured on Twitter and Instagram using their Image Insights tool and discovered that Adidas came out top with more than 6.5 million unique images a month, followed by Nike with over 5 million. Big names like Apple, Coca-Cola and McDonalds also made the top ten, while Amazon, Facebook and Kellogg's appeared lover down the list.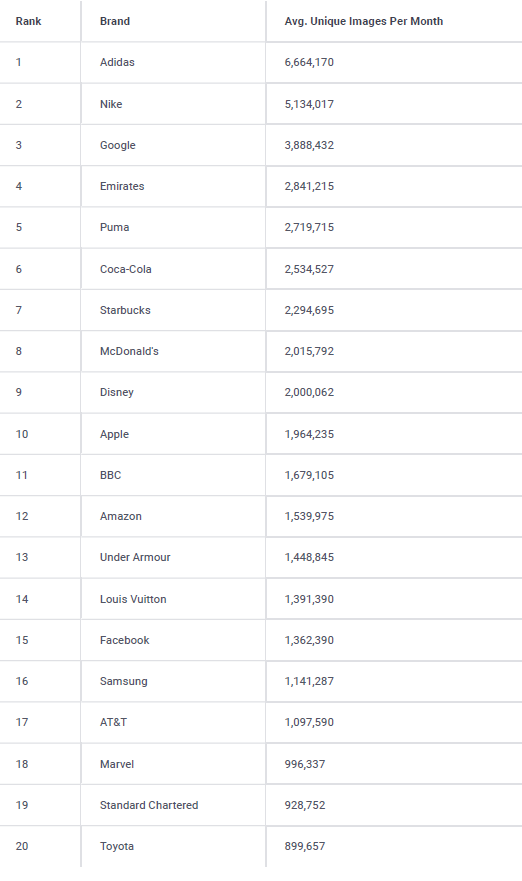 Source: Brandwatch
Influencer marketing
There's a great blog on the evolution of influencer marketing in the beauty industry on Econsultancy. While I'm by no means the target market of make-up influencers – my eyeliner is already always perfect – it is undeniable that beauty brands were in early and have made fantastic progress in harnessing the power of influencer marketing. The article – and linked to report – offer some insight in to how they've done it.
July
Google
Google Marketing Live
Google Marketing Live is covered on the Wordstream blog, with the 11 upcoming changes to Google AdWords. With larger ads, mobile speed and cross device reporting all included in an extensive list.
Speed
First up is the announcement – over at Search Engine Land – that Google is rolling out the speed update we've been hearing about.
Beginning today (9th of July), according to a newly updated blog, the update will only impact mobile searches, only affect the slowest of sites and is likely to, for now at least, 'only affect a small number of queries'. Not to be caught napping, however, marketers and webmasters would be well advised to keep working on site speed for the foreseeable future – even if they are not immediately impacted by the roll out – as Google is likely to raise the bar at some point in the near future.
Google My Business to notify businesses when they go live on services
Google has announced it's in the process of launching a new notification that informs you when your business goes live on Google services, like Search and Maps. You'll only receive live listing notifications if your business accounts are fewer than 100 listings and your user-language preference is set to "en-US." Bulk verification accounts currently don't receive this messaging.
EC slaps Google with €4.3 bn fine
Google is to be fined a record €4.3 bn over its Android operating system, the BBC has reported.
The European Commission's action followed a three year probe into claims the firm's mobile device strategy had unfairly strengthened its dominance of search. The penalty is set to be confirmed at a press conference in Brussels later. It will be the largest fine imposed by the regulator against a single firm. However, Google may challenge the ruling.
UK marketing budgets see "relentless" growth
Marketers displayed a "noticeable drive towards digital-based advertising" in Q2 2018, while spending plans for search/SEO marketing also shifted upwards, according to the latest IPA Bellwether report. However, although strengthened on the first quarter, budget growth overall remains "modest", the report states.
The IPA said the upward revisions to internet budgets have "positively impacted" the overall figures for UK companies' marketing budgets. While 23% of panellists indicated higher spending plans for overall marketing activity during Q2 2018, just below 17% pointed to lower budgets.
Google jobs rolled out in UK
Google has expanded Google for Jobs, which was introduced a year ago in the United States, to the United Kingdom. Google wrote: "We're excited to bring a new job search experience to Google to connect people in the UK to job opportunities."
Google provides special schema for job listings that can be used by publishers to enable their job results pages to show up in Google job search.
Update to slow down Chrome
The latest version of Google's browser, Chrome (which has 60% market share), includes a new always-on feature to keep hackers out, but it will make PCs and laptops slower.
In a blog post, Google has admitted the newest version of Chrome rolling out to customers worldwide is going to consume up to 13% more of system memory. Chrome software engineer Charlie Reis says his team "continues to work hard to optimize this behavior to keep Chrome both fast and secure".
Google also confirmed this is a cross-platform change and will apply to Chrome on Windows, Mac, Linux, and Chrome OS.
Google Search Console Search Analytics API allows 25,000 rows per request
Google has announced that the Search Console Search Analytics API now lets developers request 25,000 rows of data per request. Google also added 16 months of data to the Search Analytics API, so giving developers a way to get more data out of the API.
Thanks guys ! Already implemented in production 😎 pic.twitter.com/b89MA6Pvz0

— Olivier Tassel (@OlivierTassel) July 13, 2018
Google faces record-breaking $11 bn fine
The European Commission (EC) is reportedly set to hand Google a record multi-billion Euro fine tomorrow to resolve an antitrust case involving the company's Android operating system.
Google's general counsel, Kent Walker, said last week: "The commission's case is based on the idea that Android doesn't compete with Apple's iOS. We don't see it that way. We don't think Apple does either. Or phone makers. Or developers. Or users."
The EC is able to levy a fine of up to $11 bn (€9.47 bn), which is 10% of Google's parent company, Alphabet's, global turnover.
Google updates its search quality rating guidelines
Google has published a revised version of the 164-page set of search quality rater guidelines used to help human 'quality raters' evaluate online content and provide feedback to Google.
The raters are given actual searches to conduct, drawn from real searches on Google. They then rate the quality of pages that appear in the top results.
According to search engine land and Jennifer Slegg a speaker at SMX Advanced highlighted that there are several new notable areas Google wants raters to focus on. She said: "The most noticeable for content creators is that Google wants their raters to not only look at the reputation of the website itself, but also the content creators themselves.
"This is one area that many sites fall down on. They might have an 'About Us' page, but the bios of their authors are sorely lacking. It also means that those accepting contributions from those not working for the site in question need to keep an eye on the reputation of their contributors as well.
"If content is created by someone with a great reputation, it makes sense for Google to rank that content higher than from someone with a bad reputation since it is generally a better user experience for the searcher."
Google releases 'speakable' markup
Google has released new markup and schema aimed at bringing more news content to the Google Assistant and Google Home devices.
The search giant has announced new markup aimed at news publishers looking to get their content into the Google Assistant. This new markup, named speakable, enables publishers to markup sections of a news article that are most relevant to be read aloud by the Google Assistant, including devices like Google Home.
The features are now available for English language users in the US. Google said it hopes to launch the capability in other languages and countries "as soon as a sufficient number of publishers have implemented speakable."
Schema.org published the following technical and content guidelines this week:
Technical –
Don't add speakable structured data to content that may sound confusing in voice-only and voice-forward situations, like datelines (location where the story was reported), photo captions, or source attributions.
Rather than highlighting an entire article with speakable structured data, focus on key points. This allows listeners to get an idea of the story and not have the TTS readout cut off important details.
Content –
Content indicated by speakable structured data should have concise headlines and/or summaries that provide users with comprehensible and useful information.
If you include the top of the story in speakable structured data, we suggest that you rewrite the top of the story to break up information into individual sentences so that it reads more clearly for TTS.
For optimal audio user experiences, we recommend around 20-30 seconds of content per section of speakable structured data, or roughly two to three sentences.
Chrome starts telling users HTTP sites are not secure
Google is releasing Chrome 68 that will begin marking pages not using HTTPS URLs as not secure.
Instead of the small "i" icon for HTTP URLs, Chrome will add a "Not secure" label of text to that. Here is what it looks like today before users upgrade to Chrome 68. Note, most of those who download Chrome are set for automatic browser updates and thus will be upgraded to Chrome 68 automatically in the future.
According to Barry Schwartz it is strongly recommended to upgrade your website to HTTPS URLs and be secure, even if your site does not ask for payment information, logins or other private information.
Apps to be excluded from Google Display campaigns
Google is deprecating adsenseformobileapps.com to exclude apps from Google Display campaigns. The search engine issued the following announcement: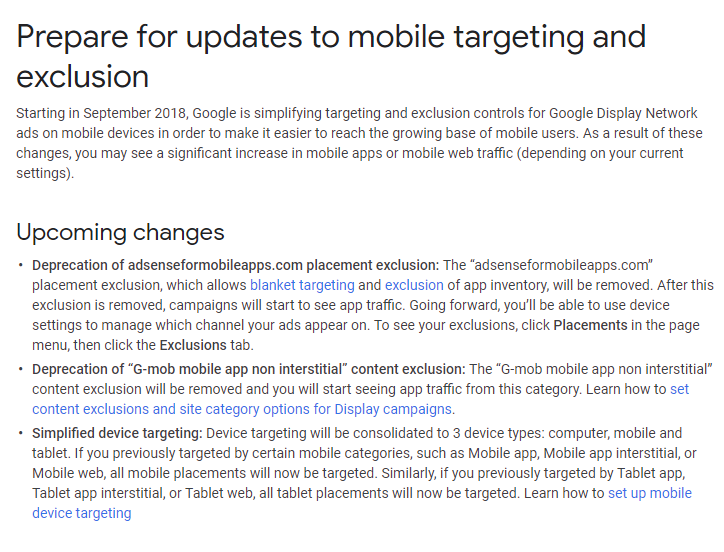 If you want to transition your campaigns before the change in September, Google has recommended the following steps:
Step 1: Remove blanket app placements and exclusions
Step 2: Update your device targeting
Step 3: Check that your granular controls are up to date
Step 4: Review your brand safety controls
For more detailed instructions, visit Google's support website.
Google confirmes algo update
Google has confirmed that it released a 'broad core algorithm update' this week. This was after the search community noticed shifts in rankings and traffic
This week we released a broad core algorithm update, as we do several times per year. Our guidance about such updates remains the same as in March, as we covered here: https://t.co/uPlEdSLHoX

— Google SearchLiaison (@searchliaison) August 1, 2018
---
As with any update, some sites may note drops or gains. There's nothing wrong with pages that may now perform less well. Instead, it's that changes to our systems are benefiting pages that were previously under-rewarded…. There's no "fix" for pages that may perform less well other than to remain focused on building great content. Over time, it may be that your content may rise relative to other pages

Google's tweet
---
Google adds dataset schema support
Google has announced support for datasets markup schema in search results so that data visualised on a web page can be better visualised directly in Google's search results.
This means that news organisations that publish data in the form of tables can add additional structured data to their existing HTML to make the dataset parts of the page easier to identify for use in relevant search features.
Google Data Editor, Simon Rogers, said: "Data journalism takes many forms, and it's not always clear from the headline that there is potentially useful data within that document or story. The way that data is presented can vary as well, and though data tables are often the most useful format for data journalists, it isn't always easy for Google Search to detect and understand tables of data to surface the most relevant results."
Industry news
Wimbledon
AI is front and centre everywhere at the moment – even on the centre court Econsultancy are reporting. Wimbledon, amongst other things, are using artificial intelligence to determine the most important events in a match from player expressions and crowd noise, which is in turn creating the highlights packages for broadcast.
Museums offer immersive experience
Econsultancy published a piece earlier today on the trend for museums to offer immersive AR or VR experiences as part of exhibitions.
While it may not scream digital marketing at first, it is the increasingly pervasive use of AR and VR in even settings like museums and exhibitions that presages the future of digital marketing. These immersive, interactive uses of burgeoning augmented reality and virtual reality technology speak to their increasing acceptance in wider society. For that reason, we can expect some more of the leading brands to begin diverting money in to some creative uses for branded content and advertising.
Schema
As part of their SMX coverage, Search Engine Land has also put together an article made up of expert opinions on schema, JavaScript and structured data – featuring, along with others, Bill Slawski, the writer at SEO by the Sea which occasionally shows up as reference material in blogs here.
Digital stats
Also from Econsultancy, a blog featuring some great stats from the week in digital. These include the news that email open rates are up from 17.3% to 18.1%, that UK brands aren't – on average – very good at 'digital transformation', and that digital ads have increase footfall by 14.2%.
In AI news from the same article – Blue Yonder predicted the World Cup winners to be Brazil, with France and Russia second and third respectively. So perhaps the AI apocalypse isn't quite as close as we feared.
Ad spend on the 'big three' platforms – Google, Facebook, and Amazon – remain strong
Google search ads continuing to generate positive performance for advertisers, despite the negative attention the platforms have received and overall investment growth decelerating for the third straight quarter.
One driver of this improved performance is the increasing role that audience targeting played in Q2, with 37% of Google search ad clicks impacted by Google's specific audience targeting products, including: remarketing lists for search ads (RLSA), customer match, and similar audiences. This rate was up from 21% of clicks a year earlier, Merkle's Q2 2018 Digital Marketing Report found.
Mark Ballard, Merkle's Vice President of Research, commented: "We predict this trend will continue as marketers increasingly adopt more sophisticated audience targeting strategies for search."
Other areas of growth for Google include Google Shopping ads, which were up 31% YoY in Q2 2018, more than five times the rate of growth for Google text ads. Google organic search visit growth improved nearly three points between Q1 and Q2 2018, coming in at 2.4% YoY growth in Q2. YouTube ad spend grew 189% from Q2 2017.
Google also maintained dominance in total site visits produced by organic search. For desktop, Google rose 2% YoY with 93% share in Q2 2018. On mobile, Google also rose 2%, accounting for 96% of organic search visits in Q2 2018.
Other findings include:
Bing and Yahoo search ad spending growth also decelerated sharply in Q2 2018, despite accelerating click growth.
Significant YoY ad spend growth for Instagram over Facebook. Facebook grew 40% Y/Y, while impressions fell 17%. At the same time, Instagram grew 177% YoY with impressions more than tripling.
YouTube showed the biggest gains in driving traffic, with 300% YoY growth. Other significant social platforms like Twitter and Pinterest delivered larger visit growth than Facebook, but still trailed Instagram and YouTube growth by a large margin.
Amazon search ads continue to grow rapidly, with Sponsored Products spend up 165% and Headline Search Ads spend up 162% YoY for the quarter. Sponsored Products continue to account for the vast majority of Amazon search investment, with 88% spend share in Q2, and they also drive the highest sales per click for advertisers among Amazon's search formats.
Pizza giant enters into AR
Domino's is embracing augmented reality (AR) with its latest national ad campaign that lets Snapchat users to play with the platform's new shoppable AR lens. It allows users to tap a button within Snapchat to quickly order a pizza without leaving the app. When a person uses the feature on their face, they'll be wearing a pair of sunglasses, which reflect a pizza in their lenses. However, when the camera flips over, they'll be able to see a floating Domino's pizza box that opens to reveal a pizza.
Meenakshi Nagarajan, Director of Digital Marketing at Domino's, said in a statement about the campaign: "AR offers us a new way to bring consumers even closer to our product, We're looking forward to continuing to test how AR on Snapchat is effective – not only for engagement, but for driving ROI."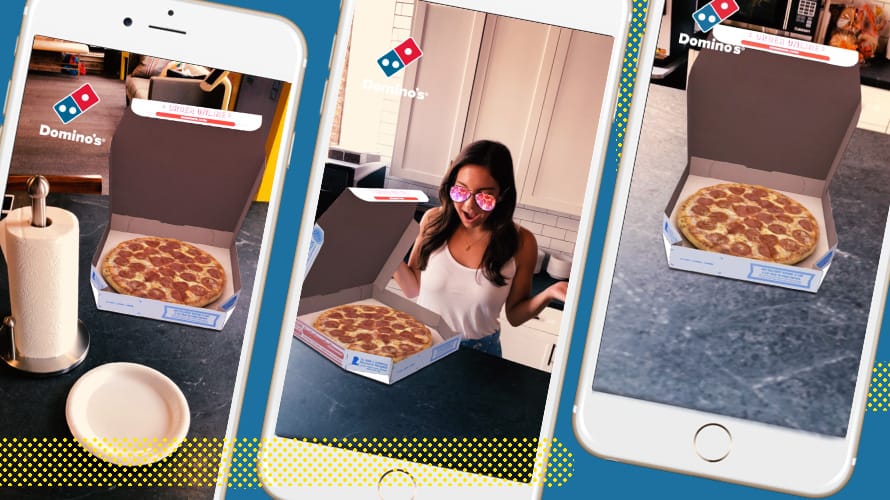 Source: Domino's/Snapchat
Digital marketers not addressing voice search
When it comes to voice search, 29% of digital marketers are not actively addressing how it will impact their industry and the way they market products and services.
Another 36% of marketers are aware of the changes brought by voice search and 25% believe they can incorporate it into their marketing strategy. Meanwhile, just 43% confess to investing into advertising with Amazon's voice search. The most popular tactic marketers are adopting to address the change is reassessing product names to reflect how users speak (32%).
Andreas Pouros, CEO of Greenlight Digital, who published the research, said: "Voice assistants aren't a gimmick. It is here to stay and is going to change the way brands reach consumers. Marketers must put their money where their mouth is when it comes to addressing these changes. To get to a point of investing, brands first need to be armed with the audience insight that can inform how and where their customers are purchasing. Only then can marketers accurately assess whether they need to adjust their marketing strategy to maximise the growth in use of voice assistants.
---
Assessing keywords and product names, and optimising websites for voice search is action that needs to be invested in – both in terms of time and money. The brands who see the value of investing now will be the ones who reap the benefits of this increasingly popular technology
---
Twitter
Robot Wars
Expect follower numbers to drop as Twitter removes locked accounts from follower numbers Marketing Land reports. While the present action will only apply to followers, the process will be expanded to likes and retweets as Twitter aims for 'accuracy and transparency'.
Instagram
Instagram expands offering
Instagram is expanding its ad offering, according to Marketing Land – including a new tool to help develop video ads for Facebook, Instagram and others.
Snapchat
Snapchat ads now use offline data
Snapchat is offering marketers the ability to make target ads based on offline data, in similar fashion to other popular social media platforms. The service will be based on its existing relationship with measurement firm Nielsen.
The pair claim that clients will now be able to purchase inventory across more than 30,0000 segments (such as age, gender and various buying behaviors on different platforms). This means, for example, if someone buys lipstick in a bricks-and-mortar store, and the purchase is logged by Nielsen, advertisers can then go on to serve them relevant ads.
"Discovering the audiences that drive engagement and offline sales has never been more critical for marketers, and we're excited to continue our work with Snapchat across both our premium audience segments and measurement solutions," said Jessica Hogue, senior vice-president of digital solutions at Nielsen.
"This integration with Snapchat will allow partners to plan, activate and analyze marketing initiatives by accessing the highest quality audience data in the market underpinned by Nielsen."
Facebook
Personal Facebook profiles dropped from sharing platforms
Facebook is taking away the ability to share posts on personal Facebook profiles using scheduling platforms, such ad Buffer and Hootsuite. This is as a result of Facebook's announced API updates in April which impact how partners like Hootsuite use their data. In a message to users, Hootsuite said: "We are actively working with Facebook to understand and mitigate these changes."
Facebook shares plummet on low forecast
As we mentioned earlier in the week, it was expected that shares in social media giant Facebook would be boosted by a renewed faith in the brand following on from the Cambridge Analytica scandal. Oh how wrong we were…
What actually happened is that Facebook lost about $119 billion of its value on Thursday, marking the biggest one-day loss in U.S. market history.
The company's shares plunged $41.24, or almost 19 percent, to $176.26 a day after the social media giant reported disappointing results. The slide is the largest decline in market capitalisation in history, exceeding Intel's $91 billion single-day loss in September 2000, according to Bloomberg data.
Founder and CEO Mark Zuckerberg saw his fortune drop by $15.9 billion to roughly $71 billion.
Facebook to change ad platform to ensure inclusivity
Facebook has signed a new, legally binding agreement with the state of Washington agreeing to remove advertisers' ability to exclude races, religions, sexual orientations, and other protected classes in certain ad-targeting sectors. The announcement was made by Washington Attorney General Bob Ferguson, who spearheaded a 20-month investigation into the social network, which first came under fire for the practice in 2016 and again last year.
Facebook says it removed its "multicultural affinity" category from its exclusion tool back in April.
Will Castleberry, Facebook's Vice President of State and Local Policy, told The Verge: "We appreciate Attorney General Ferguson's attention to this important matter and are pleased to have reached an agreement with his office. We've worked closely with them to address the issues they've raised. Discriminatory advertising has no place on our platform, and we'll continue to improve our ad products so they're relevant, effective, and safe for everyone."
LinkedIn
Video captions
You can now add closed captioning to your video when you post from desktop to help give your viewers a better experience when watching a video with the sound off and ensure your videos are accessible to all members.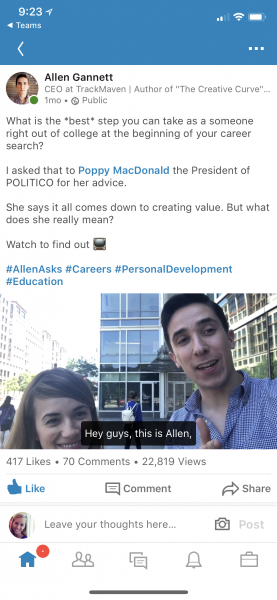 Translation of posts in-feed
Posts that are in a different language than you speak will now show a See Translation button within the LinkedIn Feed, the recent activity section on someone's profile, and the post detail page. This feature is currently available to most members on web and mobile web and starting to roll out on iOS and Android.
Share pull-out quotes from articles
You can now highlight a quote from a LinkedIn article and share it directly with your network in the Feed. Quotes can serve as a conversation starter or a chance to add your own perspective.
Save posts as draft
Self-explanatory.
Shortcut to created content
This makes it easier to access all of the content you have created via the Me tab on desktop. This will be a quick shortcut to access the articles, posts and videos you've shared on LinkedIn.
WhatsApp
WhatsApp announces new business tools
WhatsApp is introducing tools to help people and businesses communicate with each other. Following the launch of the WhatsApp Business app, its blog stated that the company had heard from people that they find it easier to chat with a business team rather than connecting through calls or emails. Therefore, the company is expanding its "support for businesses that need more powerful tools to communicate with their customers". Here's how people can connect with a business:
Request helpful information
Start a conversation
Get support
Businesses will pay to send certain messages to ensure selective and your chats don't get cluttered. In addition, messages will remain end-to-end encrypted and you can block any business with the tap of a button.
August
Google
Medic?
SERoundtable released its findings on crowd sourced data around the latest Google Broad Core Update – suggesting that the healthcare industry saw the largest impact.
Broad core update
The Broad Core Update seems to have been confirmed as an EAT (Expertise, Authority and Trust) update the focus of which was YMYL (Your Money or Your Life) sites. There are numerous reports already out, but the ever reliable sources of Moz's Dr. Pete has one, as does Search Engine Land's Barry Schwartz, who has christened the update the 'Medic Update' in his thorough and interesting blog.
More update stuff
Danny Sullivan, while confirming the global nature of the recent, confirmed broad core update, has also confirmed that the update will continue to roll out up to the middle of this week.
---
A few days. Say by middle of next week, should be fully rolled out.

— Danny Sullivan (@dannysullivan) August 3, 2018
---
The update which, from our own research and that of the industry at large, seems to have been centred around quality signals in the industries Google labels YMYL (your money or your life) – those which impact on an individual's financial or physical well-being, such as the finance and health sectors – has caused a lot of slightly panicked chatter, but the overall affect can't really be judged until the roll out has been completed.
When is an update not an update?
Search Engine Land posted a blog which looks to clarify the difference between a "Google Search Update" mentioned in messages to webmasters in Search Console and the broad core algorithm update that is currently drawing to a close. In fact, the article states, the Search Console message refers to an update to the Index Coverage report – which should now be more accurate.
Google Ads adds authentication
Google have announced that it will now be possible to add multi-factor authentication to Google Ads, allowing companies to better secure access to their Google Ads accounts.
Google harvest data ahead of Chinese launch
In the latest report by the Telegraph, Google has been harvesting data on banned words for its upcoming censored Chinese search engine.
In their latest article the paper reports on finding that Google took over the website 265.com – a Chinese directory – where all searches are forwarded to Baidu. Google monitored all of the searches however and have successfully tracked a list of words and key terms blocked by the ruling Communist Party regime in China.
The Chinese search engine project, code-named Dragonfly, has been in development since last spring and could launch within six to nine months.
Here are the key points on project Dragonfly so far:
The project has been underway since the spring of 2017
It is being built as an Android mobile app and will "blacklist sensitive queries"
Search terms about human rights, democracy, religion and peaceful protests will be blocked
It will filter out all websites blocked by China's censors, including Wikipedia and BBC News
How to find Google Image search traffic after the referral URL changes
Google Analytics has issued guidance that tells users what to expect when Google Image search engineers flip to the new referrer URL over the next couple of months.
Previously, all traffic coming from a Google Images search result would be grouped together under 'google / organic' in the Acquisition reports in Google Analytics. Soon, when the Google Images team makes their changes to the referral source URL, there will be a new Source line item for image search reflected in Google Analytics which will display as 'google images' in the Source report and 'google images / organic' in the Source / Medium report within Analytics.
Google's Analytics Advocate, Krista Seiden, said in a blog: "This is a change in the way we're processing and reporting this data and will happen automatically for all accounts. If you don't have any filters or custom channel groupings set up based on Google Organic Source or Medium, then no changes are needed and you can continue to report on the data within the Channel, Source and Source / Medium reports as is.
"If you do have special filters, custom channel groupings, or reports based on this data, then you will want to make updates as needed to capture the new Source parameter in your custom settings.
"Note that when this change launches, you may see a drop in data perceived to be coming from 'google,' since it will be reclassified as coming from 'google images.' In some cases, you may see an increase in organic traffic as we reclassify some traffic previously classified as 'referral' to 'organic.' These changes should all balance out and you shouldn't expect an overall drop or increase in total traffic."
---
You may see a drop in data perceived to be coming from 'google,' since it will be reclassified as coming from 'google images.' In some cases, you may see an increase in organic traffic as we reclassify some traffic previously classified as 'referral' to 'organic'
---
Hey Google, give me some good news
Google's Assistant is making postive news easier to find with a US-based experiment.
Ryan Burke, Creative Producer at Google, said: "'Tell me something good' is a new experimental feature for Assistant users in the US that delivers your daily dose of good news. Just say 'Hey Google, tell me something good' to receive a brief news summary about people who are solving problems for our communities and our world. The stories come from a wide range of media outlets, curated and summarised by the Solutions Journalism Network.
"They're a nonpartisan nonprofit dedicated to spreading the practice of solutions journalism, which highlights how problems are solvable and that doing better is possible. Solutions journalism empowers and energizes audiences, helping to combat negative news fatigue. It's an important part of a balanced news diet, so we're exploring how to incorporate more solutions journalism wherever you access Google News."
Google accused of illegal tracking
Google has been accused in a lawsuit of illegally tracking the movements of millions of iPhone and Android phone users even when they use a privacy setting to prevent it, Reuters has reported.
According to a complaint filed late Friday, Google falsely assures people they won't be tracked if they turn the "Location History" feature on their phones to "off," and instead violates their privacy by monitoring and storing their movements.
"Google represented that a user 'can turn off Location History at any time. With Location History off, the places you go are no longer stored.' This simply was not true," the complaint filed in San Francisco federal court said.
Advertisers get third headline for Google text ads
Google has extended the added character benefits of responsive search ads to text ads. Advertisers will now have an additional headline and description characters to play with. In total, text ads can now have up to three headlines and two descriptions, and descriptions have been expanded to 90 characters.
Google advises:
---
To get started, try adding a third headline and a second description to your existing text ads. For example, if you're a retailer using two headlines that show your brand name and official site, you can add a third headline showing shipping details or special offers
---
Google adds new 'veteran-led' attribute to Google My Business profile
Google has confirmed that it will be adding a 'veteran-led' attribute to Google My Business profiles, the second such business owner identity attribute, following 'women-led' in March.
In a blog post to announce the new feature a spokesperson for Google said: "Google is making it easier to identify your local business as veteran-led on Google Search and Maps. If your business is owned, led, or founded by a veteran, you can enable this "Veteran-Led" attribute through Google My Business, and it will appear on your Google listing alongside other details like "Has Wifi" or "Outdoor Seating."
Based on US government data, Google says that there are roughly 2.5 million small businesses owned or majority owned by veterans. That's roughly 10% of the total number of US small businesses in the country today.
Google will be adding more of these attributes over time.
Google Ads introduces 'ad strength' indicator and reporting for responsive search ads
Ad strength will now be visible when advertisers create responsive search ads as well as in a new column in the web interface according to a post by Search Engine Land.
Writing on the blog, Ginny Marvin said: "One of the loudest complaints I've heard so far about Google's new responsive search ads — which are still in beta — is a lack of reporting on which combinations work best. Another is how to tell if there is enough variety in the options advertisers provide while still being relevant to the ad group."
Google has pushed advertisers to have at least three ads per ad group for more than a year now, and responsive search ads are aimed at helping advertisers meet that goal. The ideas is that more ads should drive more impressions and clicks for an ad group overall.
Advertisers can preview some of their ad combinations as they create responsive search ads, and now new reporting shows stats on top combinations, headlines and descriptions. To see this reporting in the Google Ads interface, go to Ads & extensions and add a filter for Ad types, located under Attributes, and select Responsive search ad.
New Google Dataset Search
A new search service has been launched to allow searchers to find data from sciences, government, some news organisations. Using dataset schema, you can mark up your data to get it included in the new Google Dataset Search engine.
On its blog, Google said: "There are many thousands of data repositories on the web, providing access to millions of datasets; and local and national governments around the world publish their data as well. To enable easy access to this data, we launched Dataset Search, so that scientists, data journalists, data geeks, or anyone else can find the data required for their work and their stories, or simply to satisfy their intellectual curiosity."
It added: "We developed guidelines for dataset providers to describe their data in a way that Google (and other search engines) can better understand the content of their pages. These guidelines include salient information about datasets: who created the dataset, when it was published, how the data was collected, what the terms are for using the data, etc. We then collect and link this information, analyze where different versions of the same dataset might be, and find publications that may be describing or discussing the dataset. Our approach is based on an open standard for describing this information (schema.org) and anybody who publishes data can describe their dataset this way. We encourage dataset providers, large and small, to adopt this common standard so that all datasets are part of this robust ecosystem.
Google Search Console out of beta
The new Search Console has been officially rolled out, Google has announced. Launched at the beginning of the year, Google has been finetuning the Search Console interface based on user feedback, adding new features such as the URL Inspection Tool, and migrating key reports and features.
Google has also added a 'manual actions' section to the sidebar, making it available to users in both the old and new versions. Not all features have been migrated, however. Google said: "The old Search Console still has some features that are not yet available in the new one, we believe that the most common use cases are supported, in an improved way, in the new Search Console… When an equivalent feature exists in both old and new Search Console, our messages will point users to the new version."
The old reports are still available in the sidebar, but Google said, that after a reasonable period, this will be removed.
Google misses GDPR deadline
When GDPR took effect in May, Google told publishers and ad tech vendors it expected to implement the IAB Europe Transparency and Consent Framework (TCF) by August.
But Google's consent management solution, Funding Choices, is still not an IAB-registered consent management platform (CMP) and isn't interoperable with many IAB members, with no new timeline set for Google to launch an official CMP.
"We have been working closely with IAB Europe over the last several months to ensure our ad products are interoperable with the Transparency and Consent Framework (TCF)," a Google spokesperson told AdExchanger. "We are in the process of formalising our participation in the framework and hope to integrate as quickly as we can."
Google developed an interim solution in June so publishers with an IAB CMP can still pass consent to Google for targeted ad buys, and the company has worked out deals with some of the largest programmatic players, including AppNexus, Rubicon Project and Criteo, to pass consent.
Google's delay will be seen as a blow for in fully joining the TCF is a blow for many programmatic publishers and tech vendors.
Facebook
L'Oreal is partnering with Facebook in order to improve eCommerce performance – using AR. The collaboration will enable people to use L'Oreal's AR 'Modiface' to try out various makeup trends, choose between shades of foundation and do a host of other things I don't understand.
Facebook to reveal country of origin behind Pages
In a post shared on Marketing Week, Facebook has announced a new authorisation process for Pages 'with large audiences' which will prevent posting by those who decline to complete the process.
Facebook announced several measures to bring more transparency to Pages and their associated ad campaigns. Those included a new "Info and Ads" button that yielded information on ads run by the Page owner on Facebook and across its various properties and partner networks.
Facebook will now require people managing Pages to complete an authorisation form:
"Authorisation asks people who manage these Pages to secure their account with two-factor authentication and confirm their primary home location. If a Page manager requires authorisation, they'll receive a notice at the top of their News Feed to begin the process. This should only take a few minutes to complete."
Conservative Facebook employees create a group to complain about 'political monoculture'
Last week, Brian Amerige, a Senior Facebook Engineer, published a post titled "We Have a Problem With Political Diversity," which quickly went viral in the organisation.
He wrote that: "We are a political monoculture that's intolerant of different views, we claim to welcome all perspectives, but are quick to attack — often in mobs — anyone who presents a view that appears to be in opposition to left-leaning ideology."
Since the post went up, more than 100 Facebook employees have joined Mr. Amerige to form an online group called FB'ers for Political Diversity, the aim of the initiative, is to create a space for ideological diversity within the company.
This will be one to keep an eye on in the face of an ever-changing political landscape and as social media platforms face growing scrutiny over the way they are used in the political discourse.
Industry news
No such thing as voice commerce
Marketing Land is commenting on a report based on internal Amazon data which suggests that as few as 2% of Echo owners have purchased directly through their smart speaker. It also notes that a previous survey for NPR found that 70% of smart speaker owners had made one purchase or more – and that the truth probably lies somewhere in between. We can only assume this means everyone should abandon any plans they have for voice commerce.
I'll just leave this here…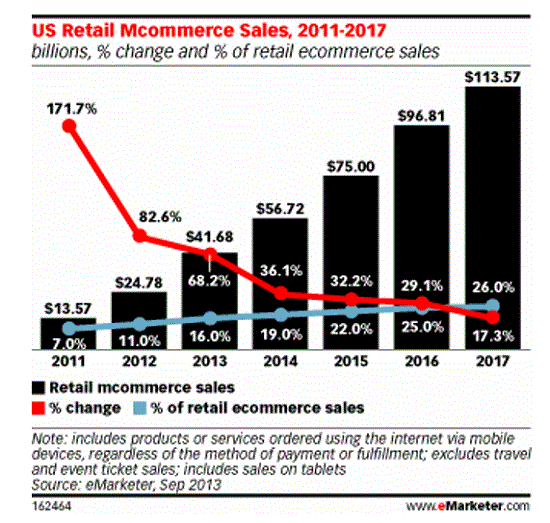 Machine Learning
Marketo published a useful explainer on existing examples of Machine Learning (ML) which covers things like your browser history, the Netflix recommendation algorithm and features a small section of script which can't adequately be explained. While we've covered aspects of this blog elsewhere, in various posts on voice search and various assistants, it's as clear explanation of ML as you could ask for if you're wondering what ML is.
Smart Speakers
Marketing Land is reporting on a CIRP (Consumer Intelligence Research Partners) report released last week that places Apple HomePod on 6% market share – with Amazon's Echo at 70% and Google Home on 24% of the US market.
China is now the largest ecommerce market in the world
China has leapfrogged the US to become the largest ecommerce market in the world and accounting for 83% of all online retail sales in the Asia Pacific region, thanks to brands including Alibaba and JD.com.
The Forrester research found that by 2022, its forecast China's $1.8 tn online retail market will be more than double that of the US ($713 bn). Among metropolitan Chinese consumers, 72% are 'Progressive Pioneers', known as the most demanding, advanced, and innovation-hungry digital shoppers.
Social media influencer told to be transparent about paid promotions
The Competition and Markets Authority (CMA) has launched an investigation into influencer marketing to gather more information on whether social media stars are being transparent about sponsored posts.
As part of the investigation, the CMA has written to a range of celebrities and social media influencers to gain further insight into the inner workings that goes on behind these posts.
A spokesperson for the Advertising Standards Authority says: "The issue of ad disclosure in social media and dealing fairly and transparently with consumers/followers is an important one. We launched our call for evidence into online labelling earlier this year as the first part of a project exploring people's ability to recognise online ads as ads, including by how they are labelled. We'll be reporting more on this in the autumn."
Mobile apps unprepared for GDPR compliance
Some apps don't seem to be taking GDPR seriously – or maybe just don't realise how much they're leaving themselves exposed, reports AdExchanger.
Although mobile apps aren't necessarily more at risk of GDPR violations, they do have specific and nuanced tasks they must complete in order to comply, and many are noticeably behind.
Senior Editor Allison Schiff says: "Mobile apps that rely on advertising to monetiae are particularly vulnerable. Developers integrate an average of 18 third-party software development kits into their apps, according to SDK management platform SafeDK, which means roughly 18 opportunities to improperly process data without consent.
"Apps have to ensure their third-party partners are also compliant – and they have to be prepared for any consequences of noncompliance on the part of their partners."
Sites to be punished by EC if they don't remove 'illegal content' with an hour
Tech companies and publishers in Europe will face fines if they fail to comply with European Commission (EC) rules on the removal of 'illegal content' (primarily terrorist propaganda).
Earlier this year, the European Commission (EC) created guidelines and recommendations but is now taking action because there hasn't been sufficient voluntary action and progress.
Julian King, the EU's commissioner for security, told the Financial Times that Brussels had "not seen enough progress" on the removal of such material and would "take stronger action to better protect our citizens". He warned that policymakers could not "become complacent" when facing such as "shadowy and destructive" foe.
The regulations will be published next month for review by the European Parliament and then EU member states.
Superfast broadband boost UK business by £9 bn
Faster broadband has driven a £9 bin increase in turnover for businesses, according to new figures.
The boost has come from the Government rollout of superfast broadband, which the Department for Digital, Culture, Media and Sport (DCMS) confirmed has now reached almost five million homes and businesses.
Digital minister Margot James said: "Our rollout of superfast broadband across the UK has been the most challenging infrastructure project in a generation, but is one of our greatest successes. We are reaching thousands more homes and businesses every week, that can now reap the clear and tangible benefits that superfast broadband provides. We are helping to ensure the downfall of the digital divide."
Ms James said the target was to ensure everyone in the UK has access to fast and affordable broadband by 2020 and there should be nationwide gigabit connectivity by 2033.
Bing
Another Marketing Land article shows how Bing is attempting to hit back in the battle of the search engines following a number of developments at the world's second favourite search engine.
Intelligent search features
Bing has announced a host of new intelligent search features – with hotel bookings, coupons and deal snippets amongst the notable additions reported by Search Engine Land.
Bing update app's Camera Intelligent Search for complex maths
With the new 'math mode' in Bing's Camera Intelligent Search feature in the iOS app, Bing can solve complex math problems for you with the snap of a picture.
Bing has released an update to its iOS search app which includes a way to snap a picture of a maths problem and get the answer within seconds. Bing also added a "Find in Page" button to help users find words within a page and the customary bug fixes with all app updates.
September
Google
Updates to Shopping ads
There have been a few updates to Google Shopping – again reported in Search Engine Land – with video now available in Showcase Shopping ads and Shoppable Image ads joining the offering.
Responsive display ads
Search Engine Land reports on the roll out of responsive display ads as the new default display format, offering some examples and reporting on the benefits as Google sees them.
Broadening of exact match
Google is to further endear itself to paid search specialists across the globe with its latest broadening of the most non-broad of keyword match types. Now broader than the broad match modified and phrase match types, the exact match will now cover 'matching meaning/intent' when the algorithm is matching ads to keywords. There is a lot of good reasoning from the Google side (15% of all searches are new, so it pays to open your ads up to these new queries), but with the 'exact' in 'exact match' already having to do an awful lot of work, it remains to be seen how far Google can push the nomenclature.
Google debuts Shoppable Image ads
This week, Google announced two new ad formats for retail and brand advertisers that will deliver shopping experiences on third-party sites, in Google Image search and in Google Search.
Showcase ads are the multi-image Shopping format that Google rolled out last year. When users click on the ads, they go to a Google-hosted landing page that features promotions, descriptions and select products from the advertiser's product feed. They typically display on brand and broad queries.
Videos are displayed in the featured image position. After clicking on the ad, the video plays in full at the top of the Google-hosted landing page that features a selection of products from the advertiser's product feed.
The option is currently available to advertisers already running Showcase Shopping ads.
Android warning: Google smartphone users alerted about increasing number of fake apps
Android users have been put on alert and warned by security experts about dozens of fake malware filled apps to stay away from.
Android is one of the most used pieces of software in the world, with more than two billion active devices running the Google mobile OS each month.
But there have been a number of high profile security alerts recently with shock threats affecting Android users.
Arguably, one of the most high profile instances was the Judy malware scam when 36.5million Android devices were feared to be infected by 41 apps.
Speaking about the warning, Top10VPN's Head of Research Simon Migliano said: "Our biggest concerns relate to the excessive permissions.
"We found apps that can be used to spy on people by tracking location, reading contacts, using the camera – even secretly making phone calls."
Google uses neural matching
Google has been using a technique called neural matching to better understand synonyms, which is said to impact 30% of queries. Danny Sullivan announced on Twitter:
Last few months, Google has been using neural matching, –AI method to better connect words to concepts. Super synonyms, in a way, and impacting 30% of queries. Don't know what "soap opera effect" is to search for it? We can better figure it out. pic.twitter.com/Qrwp5hKFNz

— Danny Sullivan (@dannysullivan) September 24, 2018
Google has announced a number of new features to mark its 20th anniversary, all of which are underpinned by AI.
A more visual way of finding content
AI will intelligently construct AMP stories and surface this content in search.
The authority of the source web page now a more important signal in the ranking of Google Image results.
Google will show more context around images, including captions and suggestions for related search terms.
Google Lens will allow you to explore within an image.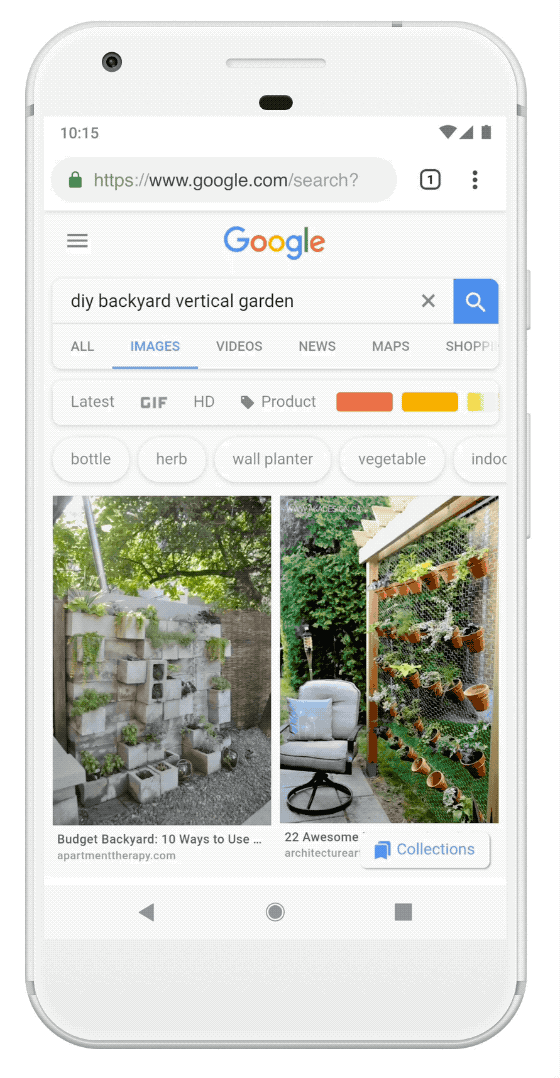 Google Lens searches within images
The shift from answers to journeys
'Activity cards' will help users resume tasks where they left off. When you revisit a query related to a task you've started in the past, Google will show you a card with relevant pages you've already visited and previous queries you've done on this topic. Users will be able to save pages to their collections from activity cards. There will also be suggestions of related topics.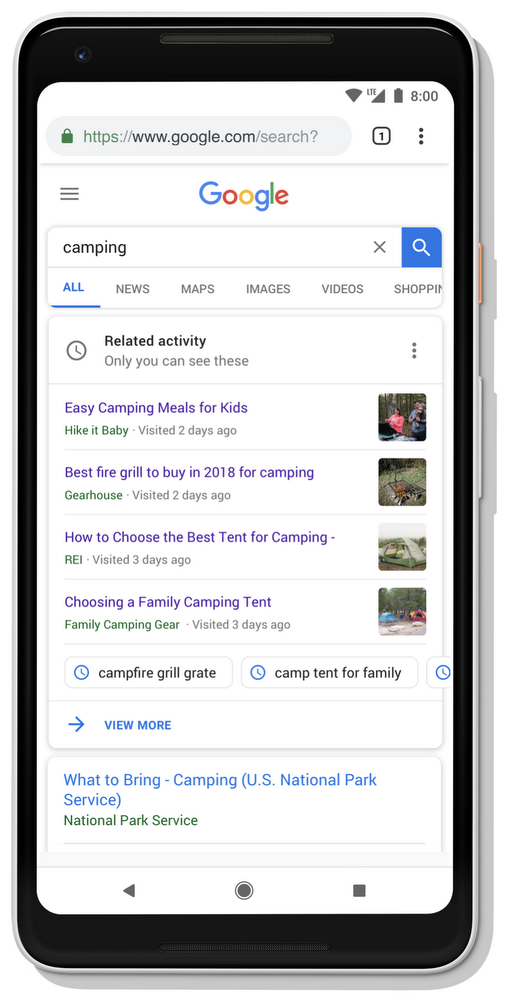 Google's new activity cards
Dynamic organisation of search results
Rather than presenting information within a set of predetermined categories, Google will show the subtopics that are most relevant to what you're searching for and make it easy to explore information from the web within a single search.
So if you're searching for pugs, for example, you'll now be able to see the tabs for the most common and relevant subtopics, like breed characteristics and names, right at the top. But if you search for something else, even a different kind of dog, like Yorkshire Terriers, you'll see options grooming tips and breed history.
Google Feed becomes 'Discover'
Google revealed that Google Feed has 800 million monthly active users globally and is an increasing source of traffic for third-party publishers. It has now announced a name change and some enhancements, and will appear on the mobile version of the Google home page.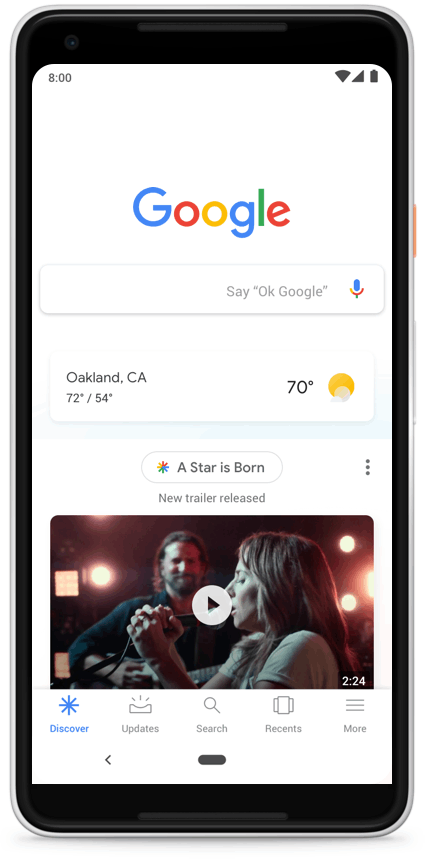 Google Discover
Signing in
Chrome 69, the latest version of Google's web browser apparently signs users into the browser automatically when you sign in to Google websites and services, which then uploads their browsing history, to Google. Cryptographer and professor at Johns Hopkins University, Matthew Green, wrote on his blog: "From now on, every time you log into a Google property (for example, Gmail), Chrome will automatically sign the browser into your Google account [his italics] for you. It'll do this without asking, or even explicitly notifying you. (However, and this is important: Google developers claim this will not actually start synchronising your data to Google — yet.)"
Update 28/09/18: Google has responded to this criticism by promising give users more control when it releases Chrome 70 in mid-October). Its blog states: "While we think sign-in consistency will help many of our users, we're adding a control that allows users to turn off linking web-based sign-in with browser-based sign-in – that way users have more control over their experience. For users that disable this feature, signing into a Google website will not sign them into Chrome."
Google Search Console
Search Engine Land features a story on a new dashboard view which has been appearing in search results if it is a query your site ranks for and you are a verified user.
Data Studio
Common sense has prevailed! There was much rejoicing in the village! Data Studio now has the option to download reports as a pdf. I'm ridiculously, and sadly, excited by this.
Okay Siri
Reported on Search Engine Land over the weekend was Google's investment of $9 Bn (possibly rising to $12 Bn) to retain default search engine status for Apple's Safari browser, the article also points out that Google paid a mere $1 Bn back in 2014. With Google now the default setting for Siri, too, it bears wondering whether the inflated price might include a cementing of that position in addition to its 1st choice status for Safari.
They also 'confirmed' a small ranking update on the 30th – which has had limited impact and, helpfully, there is no advice on what it targeted.
Industry news
What are table stakes?
I clicked on this article in Marketing Land in part because I have never heard the expression, but apparently it means 'basic'. The article links through to the full article on sister site Search Engine Land, which explains the general theory behind the apparent reduction of respect for SEOs complexity – improved general knowledge of the basics. A little knowledge, as the saying goes, is a dangerous thing.
Up to 20% of influencers are frauds
In news that will surprise no-one and confirm the suspicions of everyone else, there are a lot of social media influencers for whom 'influencer' is an entirely erroneous descriptor. An article on the Content Marketing Institute website today draws on various research to lay out the situation as things stand and offer some nice workarounds.
Search community speculates over Mobile-First Index updates
The search community has taken to Twitter and Facebook to note an increase in Mobile-First inclusion notices (we've just had ours through) from Google Search Console (GSC). It is widely believed that there will be a significant update in the Mobile-First Index over the coming weeks.
---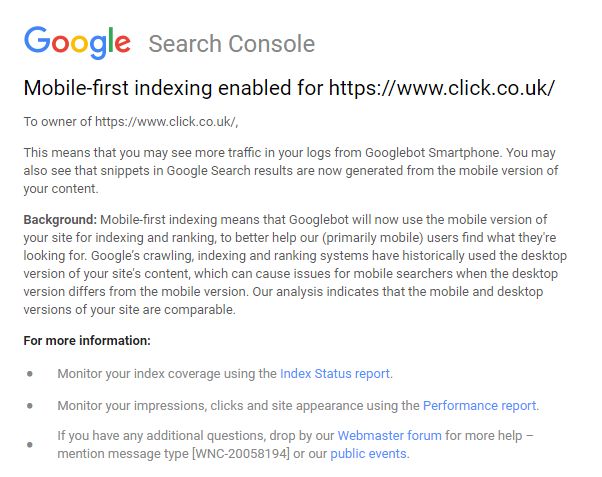 ---
In a story posted on Search Engine Journal, many SEOs are reporting unprecedented levels of email alerts from GSC that sites they are monitoring have been migrated to the Google's Mobile-First Index.
Senior Strategic International SEO Consultant at Moz, Gianluca Fiorelli, tweeted the following:
---

---
At present there is no official statement about what is going on but Google appears to have increased the size of their Mobile-First Index. We'll watch this space.
TripAdvisor goes deeper into social with relaunch as a travel 'hub'
One thing that we often talk about here at Click Consult is the way that the search marketing industry is developing and the way apps are increasingly embracing search. One such app is that of TripAdvisor who has revamped the website and moved closer to a social media platform.
According to Marketing Week the relaunch will allow users to save recommendations, follow friends and influencers and create their own "inspiring" content.
Speaking to the press about the launch CEO and co-founder of TripAdvisor Stephen Kaufer said the website is "going from the world's largest travel site to the most personalised and connected travel community ever."
Consumers unsure what GPS does for them
Just 20% of people in general say they're comfortable with the idea of brands using GPS data from their phones to target them, but when faced with more practical scenarios of how this would work the response is much more positive.
For example, 43% of people said location-based communications is helpful if it comes from a shop they already use. The findings come from Mindshare Futures' Location Matters report.
UK to remain fourth in the list of top ten ad markets in 2020
Zenith has upgraded its forecast for UK ad spend growth this year from 0.7% to 2.4% after demand from advertisers turned out to be higher than expectations. According to the media agency's latest Advertising Expenditure Forecasts, the UK is expected to remain fourth on the list of the world's top ten ad markets in 2020, despite ongoing economic uncertainty over Brexit. Ad spend in the UK was £24.21 bn last year, the report said, and this is forecast to grow to £26.07 bn by 2020.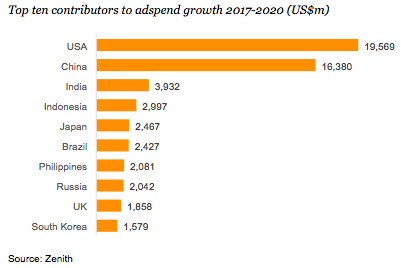 However, time to purchase is faster for shoppers who use Google search and buy on a marketplace other than Amazon, on average; while 35% of Google searches, and less than 20% of Amazon searches led, to a transaction within five days.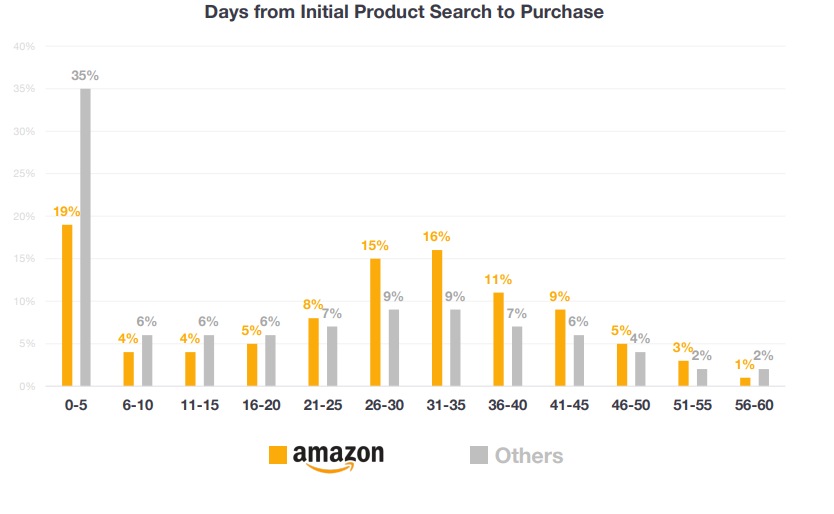 Innovative brands fare well in Most Valuable Brands ranking
Consumers place more value on innovation as food and drink is named the most innovative sector in the BrandZ Top 75 Most Valuable UK Brands ranking. Newer brands Just Eat, Innocent, Deliveroo and Brewdog have entered this year's UK list, along with bet365 and Compare the Market. Vodafone remains at number one, followed by HSBC and Shell. The top 75 are worth a combined £205 bn – just over 10% of UK GDP.
David Roth, of WPP, which co-authored the report, says: "The nation's most valuable 75 brands have all risen to the top in a highly competitive, crowded and uncertain environment. Consumers value innovation, and it is key to helping UK companies' future-proof their brands, deliver sustainable growth and increase in value; ever more vital in a post-Brexit world."
Quora rolls out broad targeting
Question and answer platform Quora has announced the launch of broad targeting to its ad offering, which it launched last year. With this targeting option, ads run across the platform and adapts its targeting as the system learns which audiences engage with the ads. The company says it now has an audience of 300 million monthly unique users, up from 200 million reported last year.
An ad on Quora
Amazon
Amazon to surpass Microsoft as 3rd highest Ad seller
Amazon will surpass Oath and Microsoft to become the third largest digital ad seller in the U.S. behind Facebook and Google. In a report from data and research company, eMarketer it was announced that Amazon will more than double their ad growth over the course of the year.
The research estimates that the business will bring in $4.61 bn from all of their digital advertising over the next 12 months, a total which equated to just over 4% of the market. If the projections are true and the growth remains on a steady trajectory, then Amazon can expect to control 7% of the market by the end of 2020. This will be seen as a major coup, but the figure will still be well short of the market leaders – Google and Facebook – who between them control nearly 58% of the market.
Twitter
Twitter brings back chronological timelines
For those out there like me that use Twitter as a rolling (live) news feed and not as a forum for discussion, the latest change is a welcome addition. Twitter users can now opt-out of the algorithm that displays what the platform thinks are the most relevant tweets to the user. Tweets will now be displayed in chronological order and this may be of some concern for the advertisers who will have to see how it impacts their visibility on the platform.
Announcing the change on their "Show the best Tweets first" setting so that when it was turned off, the user would only see tweets from followed accounts displayed in reverse chronological order. Previously, when the setting was turned off, Twitter would still display missed tweets, tweets from recommended accounts and a not exactly "pure" chronological timeline.
Snapchat
Snapchat launches shoppable ads
Snapchat is launching a new set of eCommerce advertising features, including shoppable advertisements. The shoppable Snap Ads will launch for all advertisers in October, and new product catalogues will allow advertisers to use their existing product feeds to help scale and automatically create ads for Snapchat campaigns.
Snapped
As its share price dips to half of its IPO, a 6000 word internal memo has found its way into the hands of journalists. TechCrunch are reporting on the how CEO Evan Spiegel sees the road to recovery for the social media brand – including focusing on returning to their core service of being the 'fastest way to chat' and targeting older users. Which would no doubt include people like me – who have no idea how to use, or why they should use Snapchat – but thankfully they're looking for people with buying power, which rules me out of their target demographic.
Facebook
Facebook announces stories ads
Following the launch of Instagram stories ads last year, Facebook is to follow suit with the same offering for advertisers. The format supports every objective that's currently available for Instagram stories ads, including reach, brand awareness, video views, app install, conversion, traffic and lead generation. Facebook's full suite of targeting and measurement capabilities is also available for stories ads across platforms.
According to Facebook, 68% of people say they use stories on at least three apps regularly, and 63% plan to use stories more in the future.
Again? Really?
In various, endless, news outlets over the weekend, was the report that Facebook had admitted that the data of 50 million of its users (including CEO Zuckerberg and COO Sheryl Sandburg) had been compromised following in a recent data breach.
Zuckerberg (born in 1984 – coincidence? I think not!) faced criticism as he again apologised with full android sincerity (without really offering much concrete as to what he would do to resolve issues currently plaguing his company) to Facebook users. Facebook has repeatedly come under fire this year for lax security and a seeming inability to protect its users from fake news.
Pinterest
Pinterest to hit $1 Bn?
Also in Marketing Land, there's a story on the prediction that Pinterest ad revenue is likely to reach $1 Bn by 2020 as it looks to hit half that this year. While Marketing Land goes in to a bit of detail on why, the fact that Pinterest has been at the forefront of a lot of visual ad formats (shoppable pins etc.) has been a major driving factor.
October
Bing
Bing to improve web crawler efficiency
According to a story on Search Engine Land, Bing is working on making sure their crawler doesn't miss new content and at the same time overload your web servers.
Fabrice Canel, principal program manager for Bing Webmaster Tools, provided an update on his team's efforts to improve the efficiency of their web crawler, BingBot. In a blog post Tuesday, Canel said the team has made numerous improvements based on this feedback and thanked the SMX audience for its contributions. He said they will "continuing to improve" the crawler and share what they've done in a new "BingBot series" on the Bing webmaster blog.
Bing Ads Editor now supports in-market audiences
Bing Ads advertisers can now manage in-market audiences in Bing Ads Editor according to a recent blog post.
In-market audiences, currently available only in the US, are comprised of people deemed to be in the process of making a purchase in a particular product or service category. Bing Ads' algorithms take into account numerous purchase intent signals from Bing, MSN and other Microsoft properties. It will be interesting to see how this works for users and when it is rolled out to other markets.
Bing insertion orders
Bing have been really upping their game the last few months, and with Google seemingly involved in one scandal or another lately, have been ticking along in the background, upgrading their offering in organic and paid search. The latest development – featured in Search Engine Land – is the ability to create recurring insertion orders, helping to streamline the process of ensuring your campaigns run smoothly.
Bing's intelligent search
Also on Search Engine Land, there's a breakdown of Bing's keynote at SMX East in which was discussed a desire to create 'intelligent search. The article gives a historical overview from the presentation on the various types of result, showing their progress so far. It also features the fact that Bing will index your Office 365 content – allowing you to more easily return your own information as well as that of the web at large.
YouTube
YouTube now counts ad engagement even faster
YouTube now counts 'engagement' for YouTube for action ads at 10 seconds, not 30 according to the latest news, with Google suggesting that the new attribution will better reflect the role of video in the customer journey.
In an update this week, YouTube announced it is changing the attribution criteria for TrueView for action video ads. TrueView for action ads are designed for performance advertisers and feature call-to-action banners at the base of the video ads. The announcement mentioned that two key attribution points were changing and they are as follows:
YouTube will now count an 'Engagement' whenever a user clicks or watches 10 seconds or more of a TrueView for action ad when using maximise conversions or target CPA bidding. That's a change from 30 seconds.
A 'Conversion' will be counted, by default, when a user takes action on an ad within 3 days of an 'Engagement.' If you want this changed, you will have to ask your Google rep to customise this time frame. That's a change from 30 days.
For users who click your ad, YouTube will still attribute conversions according to the conversion window you have set (the default is 30 days).
The shorter engagement-to-conversion window will mean faster ramp up times for target CPA campaigns and more current reporting, says Google.
DuckDuckGo
DuckDuckGo reaches 30 million queries per day
DuckDuckGo, the privacy-focused search engine, posted on Twitter that it has reached a new milestone, breaking 30 million queries per day on average.
The company said it took seven years to reach 10 million searches in one day. To get to 20 million searches, it took another two years. Now, less than a year later, it is now at 30 million searches per day, therefore showing a 50% growth YoY.
Speaking about the growth to Techcrunch, Founder of DuckDuckGo, Gabriel Weinberg said: "We've been growing by approximately 50% a year pretty consistently so at a macro level it isn't too surprising, just the numbers are getting bigger!
"That said it has been even increased on top of that this year, especially in the past two months."
Amazon
Large search budgets move to Amazon according to agencies
A small survey of agencies found some advertisers are making large moves to Amazon advertising according to Search Engine Land.
The reported on a CNBC survey of several advertising execs which found some advertisers are shifting large percentages of their Google search budgets to Amazon.
Executives in the survey said some advertisers that sell on Amazon are moving 50% or more of their search budgets to the site.
Advertisers shifting budget to Amazon
The shift from traditional search ad budgets to Amazon has potential implications for Google and Bing as they face growing direct competition from the online retail giant. As Third Door Media Editor-in-Chief Ginny Marvin notes in her preface to the survey findings: "The disruptive nature of Amazon's ad business is starting to show, which begs the question: has the Google-Facebook duopoly been put on notice? Perhaps it has."
Industry news
Digital stats for the week
Marketing research and business intelligence portal Statista has already released a slew of digital nuggets…
UK is a nation of smartphone addicts
With smartphones allowing us to access the internet anytime and anywhere, a recent YouGov survey looked at specific situations to reveal when people in the UK most frequently use their mobile phones in some way. These are the results: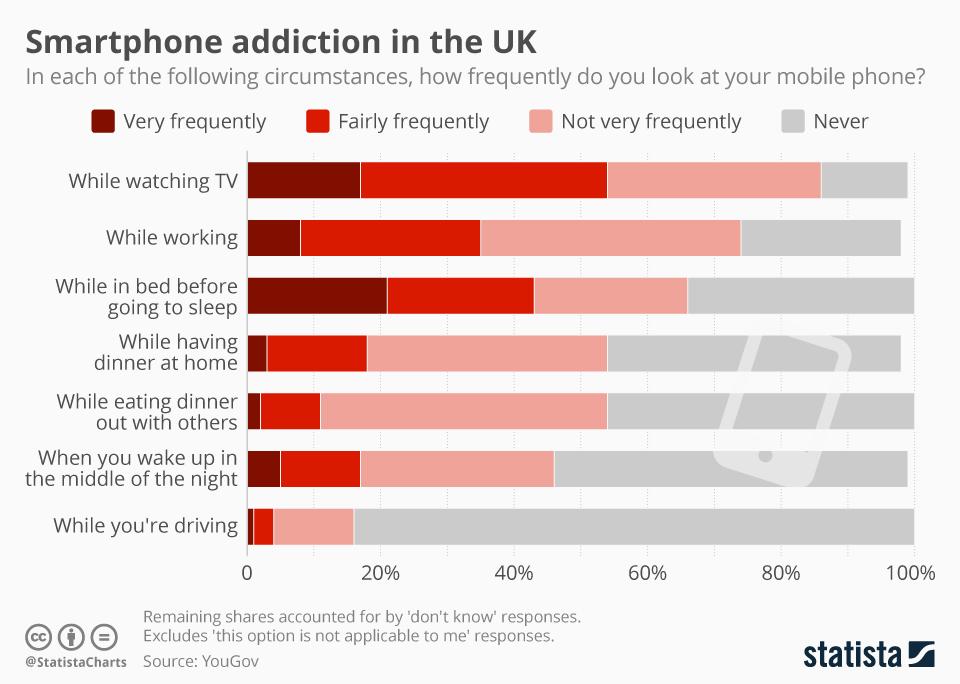 Netflix is responsible for 15% of global internet traffic
Underlining the popularity of streaming services, Netflix accounts for the most megabytes with 15%. Youtube isn't too far behind with 11.4%. Further back but still with a significant share, Amazon Prime Video is responsible for 3.7%.
Can digital technology make the world a better place?
Countless app makers, device manufacturers and internet companies have lofty aspirations to connect the planet, help people live happier, healthier, more fulfilled lives. But only 42% of consumers globally agree that digital technology can help solve the biggest problems of our time, according to a report by the Dentsu Aegis Network and Oxford Economics, which questioned 20,00 respondents from ten countries.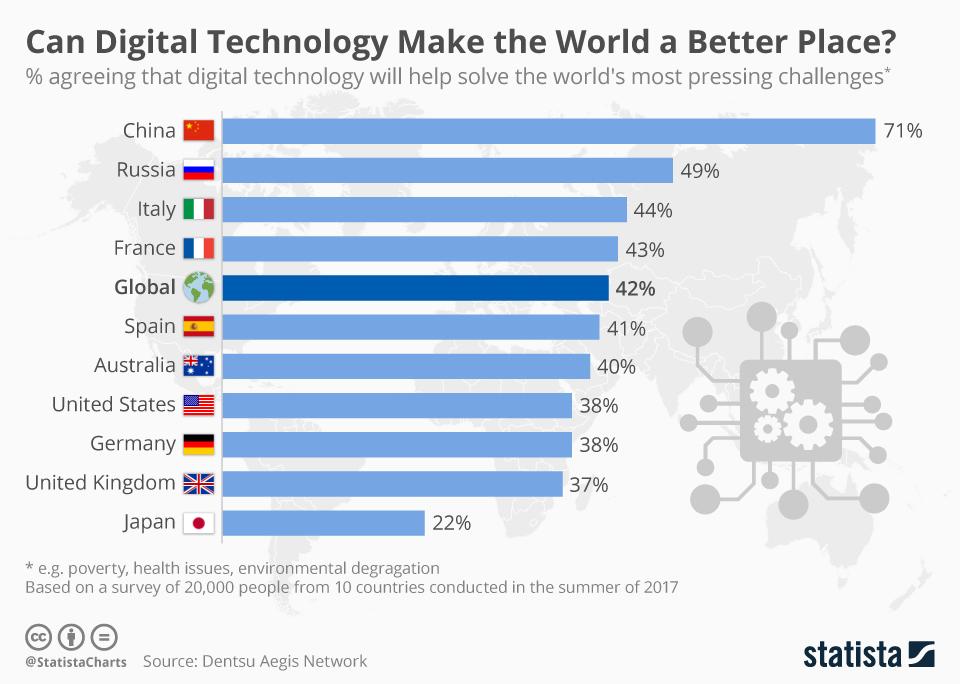 Simulmedia
In a development I'm almost certain I've seen before (possibly Channel 4? Yeah, they did something similar, but it was only for their All 4 platform), Simulmedia are opening a platform for D2C brands to programatically purchase television ads. At Click, we've been talking for a while now about the inevitable merging of digital and traditional advertising, it's great to see a big and positive step forward.
Google
Google Search Console is sending notices for slow loading pages
Google is sending out a new type of notification to those who have verified properties in Google Search Console. The new messages inform site owners about really slow pages that take too long to load. The notice, which follows the search engine's Speed Update earlier this year, references how slow specific pages are with this specific website and how to fix the issue.
Google now lets you search in image results
Google has announced the US roll-out the Google Lens button within Google Image search results on mobile. Google Lens, which was introduced in May 2017, a visual search tool allows users to learn more about the images they click on within Google Image search. Google said "Starting today, when you see something in an image that you want to know more about, like a landmark in a travel photo or wallpaper in a stylish room, you can use Lens to explore within the image."
Here is a GIF of it in action: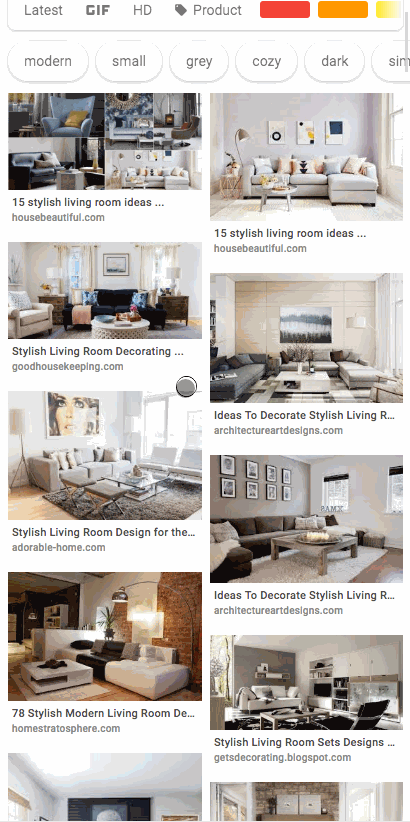 Source: Google
Google's made it easier to delete your history and control ad settings
Having faced mounting criticism about how it manages users' data, Google is now showcasing privacy settings directly within search. Google says it will take similar steps for greater transparency across some of its other products as well.
On the company's blog, Eric Miragli, Director of Product Management, Privacy and Data Protection Office, said:
---
We're also providing quick access to the privacy controls in your Google Account that are most relevant as you use Search. For example, to control the ads you see when you search, we give you access to your Ad Settings. Additionally, you can access your Activity Controls to decide what information Google saves to your account and uses to make Search and other Google services faster, smarter and more useful
---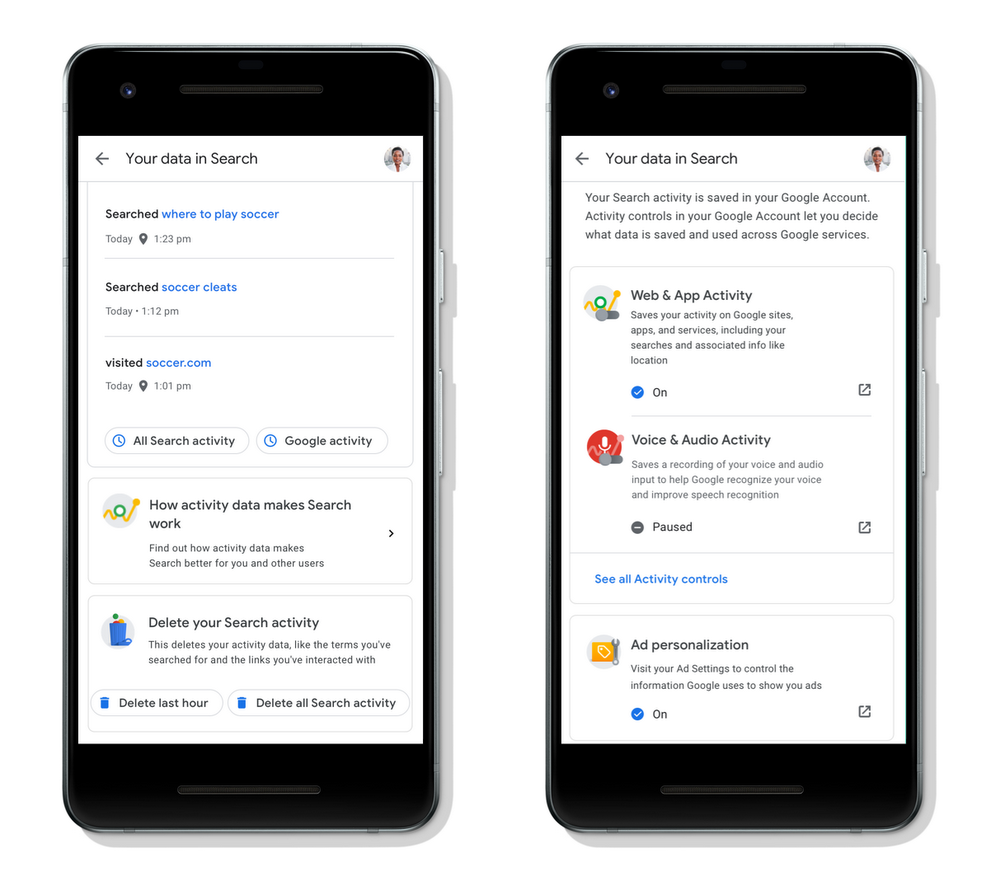 Source: Google
---
Google local pack starts to show booking buttons
Google is now pushing booking and scheduling services in local results through Reserve with Google. A 'book' or 'schedule' button to some of the local search results within the local pack in web search. These new features will be rolling out over the next few days in the US. Here's an example taken from Google's blog: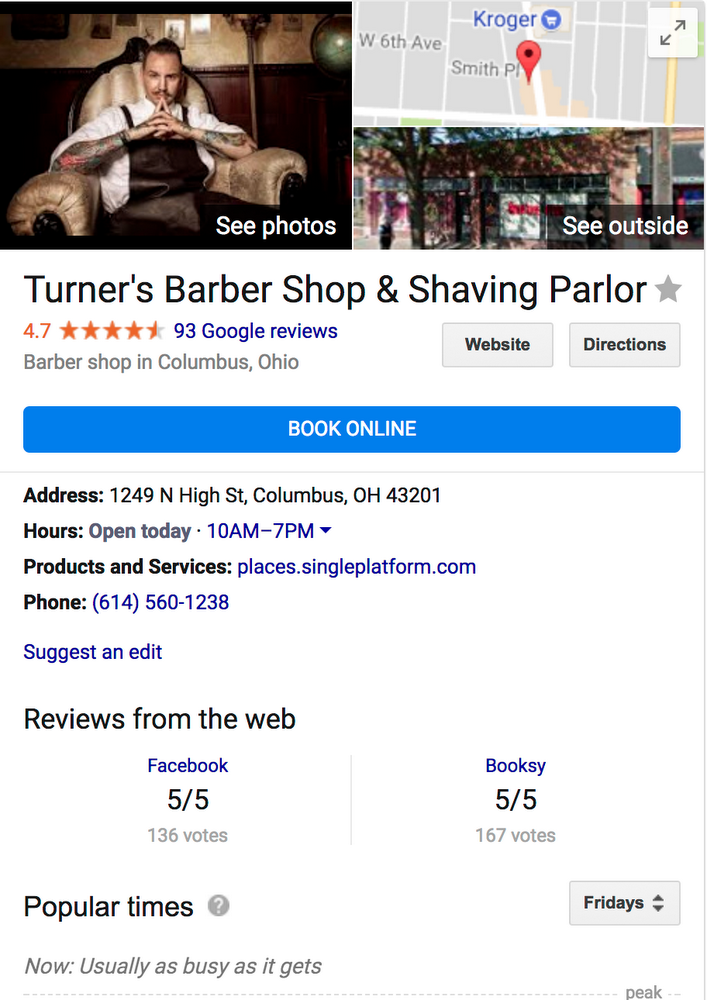 Google Duplex
Again reported in Search Engine Land, is a story on Google's Duplex – the AI powered appointment booking system. Apparently, this week, Google has added the option to allow Google Assistant to call your business in GMB (Google My Business). While it was only demoed in May, this undoubtedly represents alpha or beta testing of a tool I think may prove to be pretty important to the future of search and of SMEs.
Google Knowledge Graph
Google patent expert and all-round fantastic SEO resource Bill Slawski's site features an in-depth piece on how the Google Knowledge Graph updates itself by answering questions. Based on a patent that details the below three methods the Knowledge Graph uses to update itself, there's some interesting discussion of possible implications:
The knowledge Graph may be updated with one or more previously performed searches.
The knowledge Graph may be updated with a natural language query, using disambiguation query terms associated with the entity reference, wherein the terms comprise property values associated with the entity reference.
The knowledge Graph may use properties associated with the entity reference to include information updating missing data elements.
Google hotel results
Search Engine Land has a review of the latest update to the way Google returns hotel search results today, with an image of the new look results featuring in an overview alongside a trip down memory lane, with equivalent images from 2015 as well as a few of the tested types from the last year. With Google's rich results having cost various travel and leisure industry sites a lot of traffic in the past, it'll be interesting to see what effect this will have on various hotel room comparison sites.
Facebook
Facebook at FoM
Marketing Week is covering the Festival of Marketing and, in this article, specifically a presentation from Facebook's Planning Director – Ian Edwards. Some of the key stats reported include:
35,000 new Facebook business pages go live every day
A 'Messenger Experience' campaign by Victoria Beckham saw 60,000 consumers engage with the experience in fourteen days
21% of sales in the US are driven by email marketing
75% of European brands' marketing data was rendered obsolete by GDPR
November
Google
Google Search Console stats show directly in search results
Site owners will now be able to see a selection of stats in search results following the news that Google us rolling out the feature. The plan is designed to bring more attention and awareness to features within Google Search Console.
In a recent post by Barry Schwarz, he wrote: "Google may show verified site owners a brief dashboard of their website performance statistics from Google Search Console right in the search results, as a teaser, to get them to click into Google Search Console and learn more about their sites.
"The dashboard shows clicks, impressions and average position for the past 28 days compared to the previous time period. It also offers additional tips on how to improve their site in search. Google was quietly testing this feature a month ago, but as of this morning, it seems to be rolling out to all site owners."
He also shared the following image:
---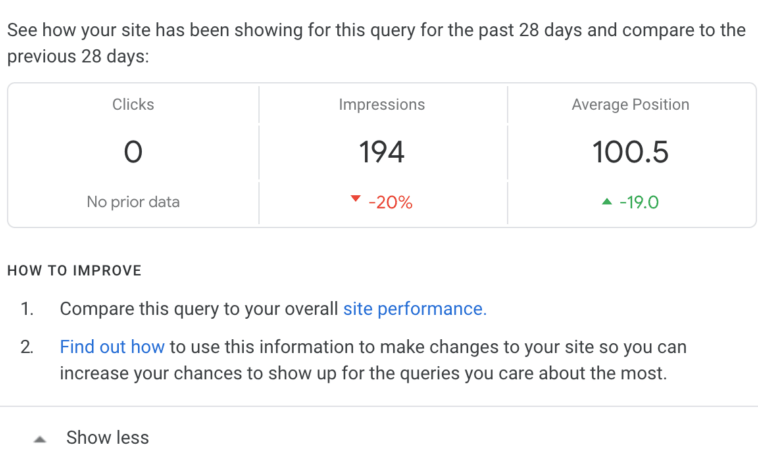 ---
To see this dashboard in the search results, you need to be signed in with the Google account that has access to the web site property in Google Search Console.
Google asks SMBs if they'll accept calls from Google Assistant
Google is currently testing business owner interest in receiving calls from an AI robot. In the latest news from the search engine giant it has been revealed that in a single market test they are asking Google My Business profile owners whether they're willing to accept "Google Assistant calls."
The company explains that this means two things: 1) let customers use Google Assistant to book reservations and appointments and 2) allow Google Assistant to confirm factual information about the business.
Google News to help publishers 'find their sites'
Google has confirmed it will be making changes to Google News to help publishers find their sites and articles in Google News.
This confirmation came in the help forums from Lisa Wang of Google after months of complaints from news publishers that their content is not showing up in Google News for relevant queries.
Google News issue confirmed. "We are working on an update which should help resolve some of the issues that publishers have raised around finding their sites or particular articles in Google News," Wang wrote. "We estimate this will be ready in the next few weeks and will provide another update at that time."
Google wouldn't clarify the issue when approached by Search Engine Land as to what this update is fixing. As users of the service here at Click Consult, we'll certainly keep an eye on developments.
PageSpeed Insights now powered by Lighthouse
Google has rolled out a new update to its PageSpeed Insights tool, the first large update since January 2018 when Google began using real user data from the Chrome browser to measure page speed of a site.
On its blog, the search engine said: "We're happy to announce that PageSpeed Insights (PSI) now uses Lighthouse as its analysis engine. This allows developers to get the same performance audits and recommendations everywhere: on the web, from the command line, and in Chrome DevTools. PSI also incorporates field data provided by the Chrome User Experience Report (CrUX). Version 5 of the PageSpeed Insights API will now provide CrUX data and all of the Lighthouse audits. Previous versions of the PSI API will be deprecated in six months."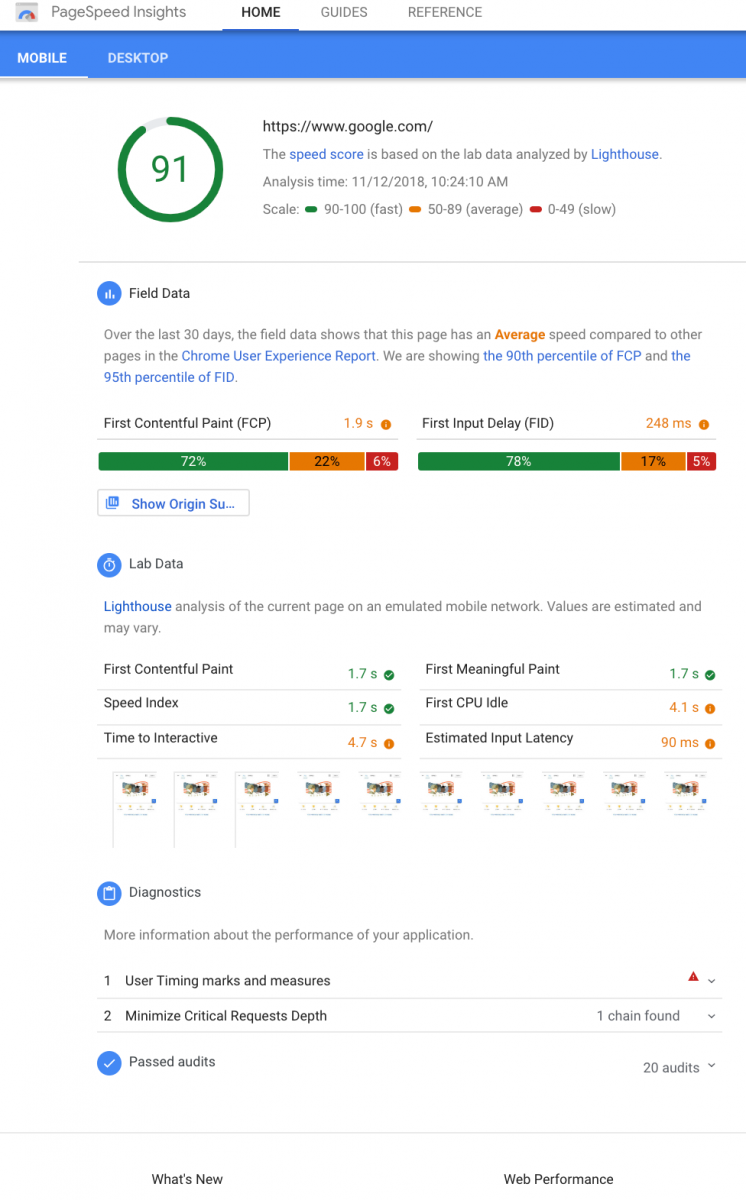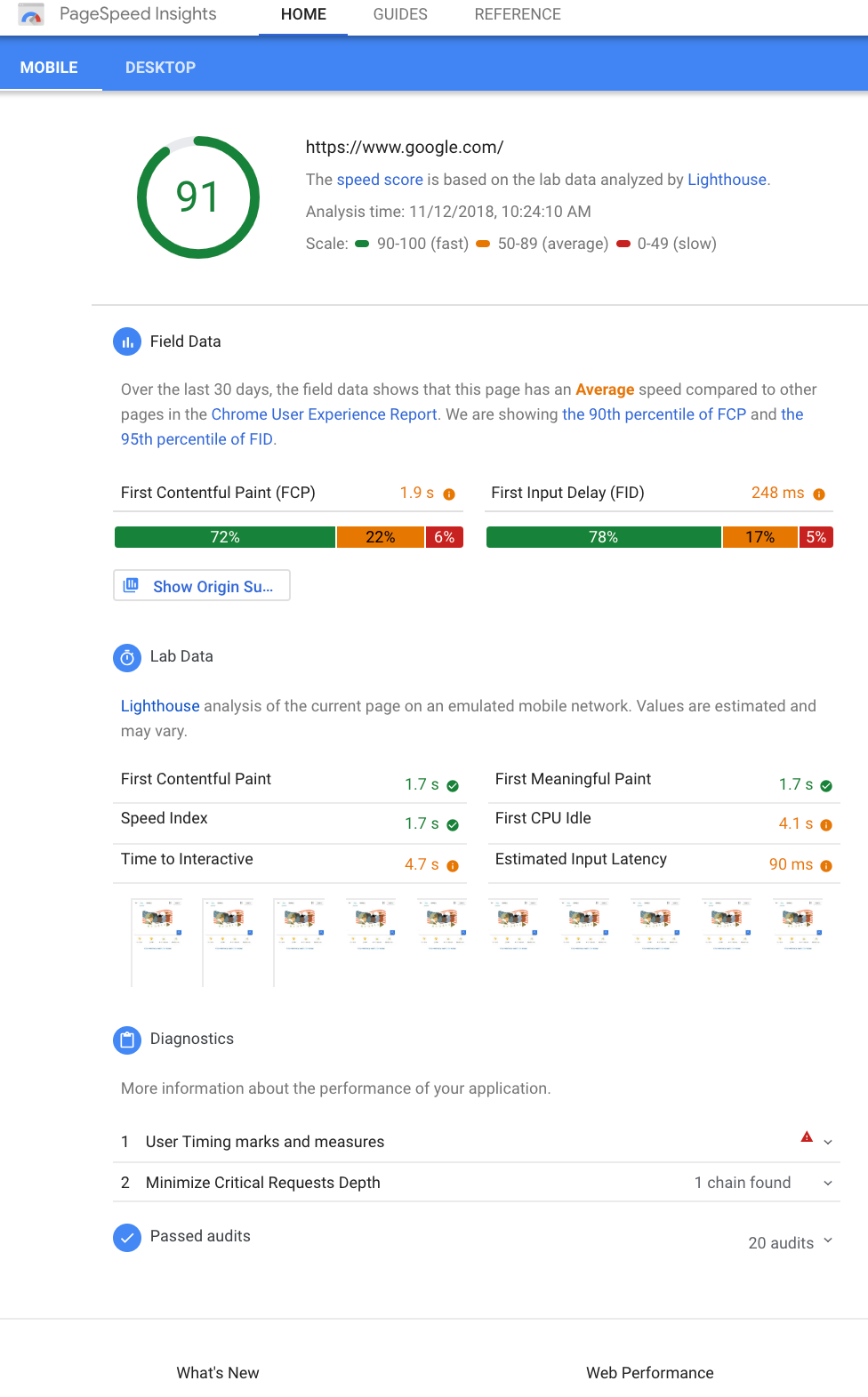 Source: Google
Diversion causes Google disruption
An internet diversion that rerouted data traffic through Russia and China disrupted several Google services on Monday, including search and cloud-hosting services.
Service interruptions lasted for nearly two hours and ended about 5:30 p.m. EST, network service companies said. In addition to Russian and Chinese telecommunications companies, a Nigerian internet provider was also involved.
Google confirmed Monday's disruption on a network status page but said only that it believed the cause was "external to Google".
Reports of slowdowns and unavailability began at 1:12pm PST, according to the Google Cloud Status Dashboard that monitors uptime for the enterprise service. However, consumer apps like YouTube were also affected with users encountering slowdowns and reliant third-party services seeing other disruptions.
Google told the Wall Street Journal that no data was compromised with encryption preventing any exploit. Meanwhile, the company currently has no reason to believe that the incident was malicious.
Search Console updates
The index coverage report in Google Search Console now uses Mobile-First indexing data for sites that have been migrated (migrated properties have been notified by email.) In particular, the error counts and new issues will reflect the status of Mobile-First indexing. Indexed page counts are not affected by this change; this is a reporting change only; it does not reflect any changes on your site.
Additionally, Google is dropping some of the old reports. Google has been posting notices throughout the old version of the Google Search Console letting users know that some of the reports are going away. The notices can currently be found in the old Google Search Console, within the Search Analytics report, Rich Results report, AMP report, Links report, Internal Links report, Manual Actions report, Mobile Usability report, Index Status report and Crawl Errors report. All these reports will be going away at some point in the future.
Google faces Russian civil case
Russia has launched a civil case against Google, accusing it of failing to comply with a legal requirement to remove certain entries from its search results, the country's communications watchdog said on Monday.
If found guilty, the internet giant could be fined up to 700,000 roubles ($10,450), the watchdog, Roscomnadzor, said.
It said Google had not joined a state registry that lists banned websites that Moscow believes contain illegal information and was therefore in breach of the law.
Google confirms 'zero results' feature for some queries
Google has confirmed that it's rolling out a new search-related feature where only a single, direct result is shown for queries related to time, calculations, and various conversions – and only on US mobile at the moment.
SERoundtable.com spotted Google experimenting with the feature earlier this year, which Google dismissed as a glitch.
Google gave the following statement to Search Engine Land:
---
As always, our goal with search is to help people quickly find the most relevant information. For queries where we have extremely high confidence that a user is seeking a calculation, unit conversion or local time, we will show a single result to improve load time on mobile. Since our initial experiment in February, we worked to remove ads and improve the triggering quality for this experience to be sure that we're serving users what they're looking for, and we will still provide the option to tap to see more results
---
Source: 9to5Google
Google's local pack adds 'sold here' label on query match
Google has added a new label to the local pack results in both desktop and mobile search. When you search for an item and Google knows the local store has that item, Google may show a label named "sold here" in the local pack's description. This is similar to the website mentions label launched in 2017 in the local pack.
The move is expected to aid local businesses who can use the 'sold here' feature to increase brand awareness and boost exposure on Google.
Google rolling out new search bar
After months of testing, Google is rolling out the new search bar for the search results page.
Google has begun rolling out a new search results page design that has the a rounded search bar that sticks to the top of the page as you scroll through the search results. Google began testing this new design back in August and is now rolling it out to all searchers.
In a post by Barry Schwartz, he said: "The main difference from the old search bar header is that the new one now will stick to the top of the search results page as you scroll down to see more search results. The old design did not do that, in order to access the search bar, you had to scroll back up to the top of the page."
Facebook
Facebook bans accounts over US midterms interference campaign
Facebook has disrupted a disinformation campaign targeting the US midterm elections first detected by American law enforcement, Sky News has reported.
The campaign appears as if it could be tied to the same Russian company that has been charged with interfering in the 2016 presidential election, although Facebook's investigation is ongoing.
In a statement published the night before polls opened, the company said it had been contacted by the police about suspicious behaviour believed to be linked to foreign entities.
Facebook said it was revealing the details of the campaign before it had all of the facts due to how soon the polls open.
Facebook "failing Black employees"
An ex-Facebook employee published a memo Tuesday saying the company is failing its black employees and users. Mark Luckie, who previously worked at Twitter and Reddit, sent the memo internally before resigning in November. He says the odds at Facebook are stacked against those communities.
Facebook is failing its Black employees and its Black users. Here's why: https://t.co/PJSRrFJZrO pic.twitter.com/LeCYxCwBpX

— Mark S. Luckie (@marksluckie) November 27, 2018
The memo's release is another headache for Facebook, which is weathering public-relations storms and a leadership exodus in the wake of a data scandal. Its publication also draws attention back to concerns over diversity among Silicon Valley employees. A 2017 analysis found that only 1% to 8% of employees were black at Facebook, Intel, Amazon, Twitter, Microsoft (LinkedIn's parent company), Google and Apple.
Facebook docs seized by MPs
A cache of Facebook documents has been seized by MPs investigating the Cambridge Analytica data scandal. Rarely used parliamentary powers were used to demand that the boss of a US software firm hand over the details. The Observer, which first reported the story, said the documents included data about Facebook's privacy controls.
MP Damian Collins, chair of the culture, media and sport select committee, later told the BBC that he believed the documents were "highly relevant" to his inquiry and has, reportedly, threatened to publish them. Facebook has demanded their return.
Instagram
Instagram: videos generate 21% more interaction than images
Quintly's Instagram 2018 study analysed 44,432 profiles and over 8.9 million posts over the first three quarters on 2018, it found that videos get up to 21% more interactions than images, despite images being the most popular type of post.
The study also found that 31% of overall Instagram posts have more than 300 characters in their post description, highlighting the recent popularity of lengthier descriptions (largely thanks to users believing that it is favoured by the algorithm).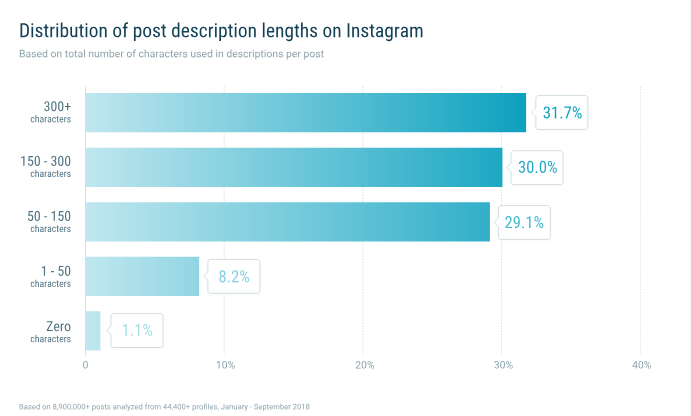 Source: Quintly
Industry news
UK advertising to "increase to £20.8 bn in 2019"
This means it will surpass the £20 bn mark for the first time, up from £19.9 bn in 2018 according to the latest media and marketing forecasts from GroupM, the world's leading media investment group.
GroupM forecasts 6.0% growth for 2018, down from 6.4% in 2017. Its 2019 growth prediction from earlier this year is shaved to 4.8% from 5.1%. A significant contributor to global advertising growth, the UK still looks to remain stable due to the high levels of digital advertising growth. Digital is around 60% of all advertising investment and accounts for all net UK advertising growth. The medium continues to grow organically, predominately from SME investment, with signs that larger advertisers are becoming more circumspect about incremental digital investment.
Quora launches Promoted Answers
With many businesses already acquiring customers organically through their answers on Quora, the platform has launched Promoted Answers to allow anyone with a Quora Ads account to extend the reach of their answers. The format provides a flexible canvas to share detailed information about a product or service that goes beyond the characters allowed in normal ad copy and helps to facilitate engagement through upvotes, comments, and follows. Promoted Answers on Quora. Promoted Answers have all the same targeting options that are available for other ad formats on Quora. When a user clicks on the Promoted Answer ad unit, they can read the full answer.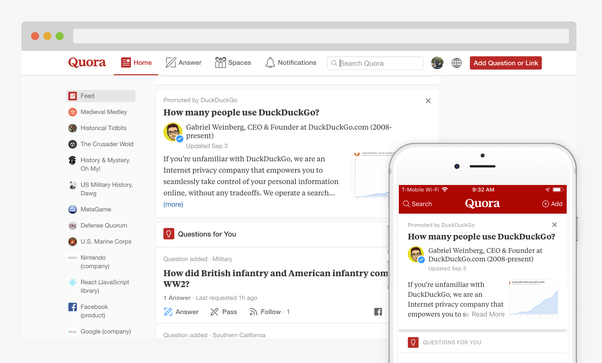 Bing
What's the most searched-for term on Bing?
Ahead of adding Bing, Amazon, and YouTube data to its Keywords Explorer, an Ahrefs study has revelased that the top keyword searched-for worldwide on Bing is…Google (and by quite a majority). Here's the full top ten:
Source: Ahrefs
Bing makes changes to Partner Program
Bing Ads is making a change to how it determines status in its Bing Partner Program, shifting it to a calendar-year evaluation. The change is scheduled to take place in January 2019.
The program consists of three tiers – Elite, Select and Partner — and includes resellers, agencies and technology providers that meet certain spend and certification criteria.
According to SEL: "Tier status for Bing partners will now be based on meeting the program requirements, based on a formula including billings and output, from January 1 to December 31 of the year. As Bing notes, the new schedule better aligns with the industry standard and advertisers' own own billing schedules.
"Partners can move up or down tier levels depending on the results of an annual performance review. Benefits increase as a member's status moves up.
"With a calendar-year focus, agencies currently enrolled in or looking to join the Bing Partner Program will likely find it easier to gauge their potential tier status in the program."
December
Google
Google updates related searches
Google has rolled out a couple of changes to the related searches section in mobile search results. Google has begun including image thumbnails next to some of the related searches in mobile search results. In addition, a featured snippet with an option to see additional details may show when you click on a related search result, rather than just taking you directly to the search results page for that query.
According to Search Engine land's Barry Schwartz: "Featured snippets are becoming more important, not just because of Google Assistant and Google Home and not just because it is the "position zero" in Google's search results but also because they now are used in related searches."
Google questioned over political bias
Google chief Sundar Pichai has faced accusations of political bias from US politicians and of having "programmed" bias against conservative views into its algorithms. Questioned by members of the House Judiciary Committee about the way his tech firm runs it business, Mr Pichai denied the accusation saying he had "issues" with studies that claimed to show the firm's search results excluded right-wing views.
He was asked by Republican committee member Zoe Lofgren why, when she googled the word "idiot" under images, a picture of President Donald Trump came up. In response, Mr Pichai explained that keywords were matched against billions of page results and ranked for relevance, popularity and how other people are using the word.
Google+ to shut down early
Google has decided to shut down the consumer version of the social network four months earlier than it originally planned after the discovery of a new bug that affected around 52.5 million users – although no third party was involved. Google+ will now close to consumers in April, rather than August. Additionally, API access to the network will shut down within the next 90 days.
According to Google, the new vulnerability impacted 52.5 million users, who could have had profile information like their name, email address, occupation, and age exposed to developers, even if their account was set to private. Apps could also access profile data that had been shared with a specific user, but was not shared publicly.
New Search Console AMP enhancement report
The AMP enhancement report will now combine some over-specific issue types into fewer generalized issue types. When the migration is complete, you will see an increase in generic issue types with a corresponding decrease in the specific issue types that were combined into the general type. As an example, the following two issues would be combined as shown:

Source: Google Support
More competition in Google Shopping
A new report from Searchmetrics has examined Product Listing Ad results in the UK, France and Germany and finds more competition since January, after the EU issued its record 2.4 billion Euro antitrust fine. The report says, "the number and diversity of comparison shopping services appearing in Google Shopping units has dramatically increased".
The report also found that comparison sites are now acting as agencies. The report notes, however, that many of the CSS providers appearing in the ad units are not "established online price comparison sites". These companies are effectively acting as agencies on behalf of merchants, many of whom are new market entrants. Searchmetrics observes that for these CSS "agencies," their own product comparison pages are irrelevant because CTRs go directly to merchant sites.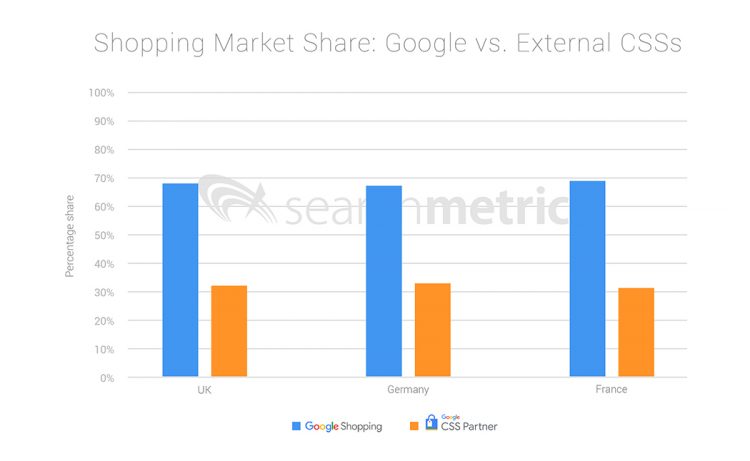 Source: Searchmetrics
Google redirecting old Search Console reports
Google has announced that it's sunsetting some reports within the old Google Search Console; many of these will redirect from the old to the new Google Search Console on 13th December. The Search Analytics, Links to Your Site, Internal Links, Manual Actions, Mobile Usability and Index Status reports are all going to redirect to the new Google Search Console equivalents.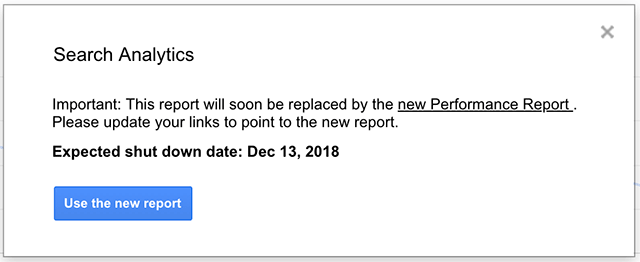 Image: Google
Google Display
Marketing Land reported, on the 14th, that conversion bidding is coming to Display campaigns. As with Google Search ads, the option will be there to skip the CPC model for Display ads, instead choosing to pay according to a target CPA. While the upper limit is $200, ruling out some big budget items, the majority of campaigns which look to promote products or services within this limit will only need 100 conversions in the last 30 days with a conversion time of under seven days for 90% of these in order to qualify.
Google Posts
Search Engine Roundtable published a blog detailing a marked drop in traffic from Google Posts since Google moved the posts to the bottom of the Knowledge Panel. One of the better offerings from the Google My Business platform, local search experts will be understandably upset – though many in the article's comments were claiming to have seen a lot of 'spammy' content in the posts.
Another update?
Go to guy for algorithm update news, Barry Schwartz's Search Engine Roundtable is reporting a possible update to the algorithm over the last weekend (15th and 16th). While the various tools are reporting slight increases in SERP flux, there seems little evidence of anything significant and – if we may be so bold as to predict Google's response – this 'is one of the many tweaks and changes made one a daily basis').
Facebook
Facebook could soon know where you're going
Facebook has filled a series of patent applications for technology that uses your historic location data to predict where you will be going next. Buzzfeed News has discovered that the social network has filed a patent application entitled "Offline Trajectories" for a technology can predict where you're going "based at least in part on previously logged location data". Based on the application's wording, it'll be able to use your previously logged location, as well as other people's, to make predictions.
Facebook offering to compete with Google Search ads
Facebook is starting to test search ads in its search results and Marketplace, directly competing with Google's AdWords. The social network has revealed that it is running a small test of ads in search results on its flagship mobile applications—both in its primary search function and its Marketplace eCommerce section. Select advertisers in the automotive and retail/eCommerce industries are participating in the test, and it is currently limited to the US and Canada.
They'll be repurposed Newsfeed ads featuring a headline, image, copy text, and a link in the static image or carousel format that can point users to external websites. Facebook declined to share screenshots as it says the exact design is still evolving. Facebook first tried Sponsored Results in 2012 but eventually shut down the product in 2013.
Facebook retargeting
Depending on uptake, the death of Facebook retargeting ads is now delayed until Spring of 2019 – when the Facebook 'Clear History' feature will be ready – according to Marketing Land.
Facebook
In what I can only assume is a 'Producers' style tax scam, Facebook has revealed information on another data privacy breach. This one, which it will be arguing with various watchdogs was reported promptly (despite a two month delay), allowed app developers access to user's photos that had been either semi uploaded or cancelled mid upload. The breach, which could cost Facebook hundreds of millions, occurred in September and Facebook has advised that it will be contacting those affected.
Instagram
Instagram testing new "creator accounts" for influencers
These profiles, aimed specifically at influencers, offer a set of tools allowing to better use the platform for their own needs. The new profile type will echo what Instagram already offers businesses since 2016, and according to Hollywood Reporter, "is meant for the traditional talent, digital influencers and artists who proliferate on the platform".
Bing
Microsoft tackles offensive search results
Microsoft has "taken action" to change its Bing search engine after it was found to give "horrifying" results for some terms. Journalist Chris Hoffman discovered Bing suggested racist topics when he looked up words such as "Jews", "Muslims" and "black people". Bing also ranked widely debunked conspiracy theories among the top suggestions for other words.
Jeff Jones, a senior director at Microsoft, said: "We take matters of offensive content very seriously and continue to enhance our systems to identify and prevent such content from appearing as a suggested search. As soon as we become aware of an issue, we take action to address it."
Industry news
Global cart abandonment rate 76.9%
SaleCycle has revealed that the average global cart abandonment rate for Q3 2018 was 76.9%. In terms of sectors, cart abandonment was highest for travel sites during this period, with a rate of 81.1%; fashion sites saw the lowest with an abandonment rate of 73.5%.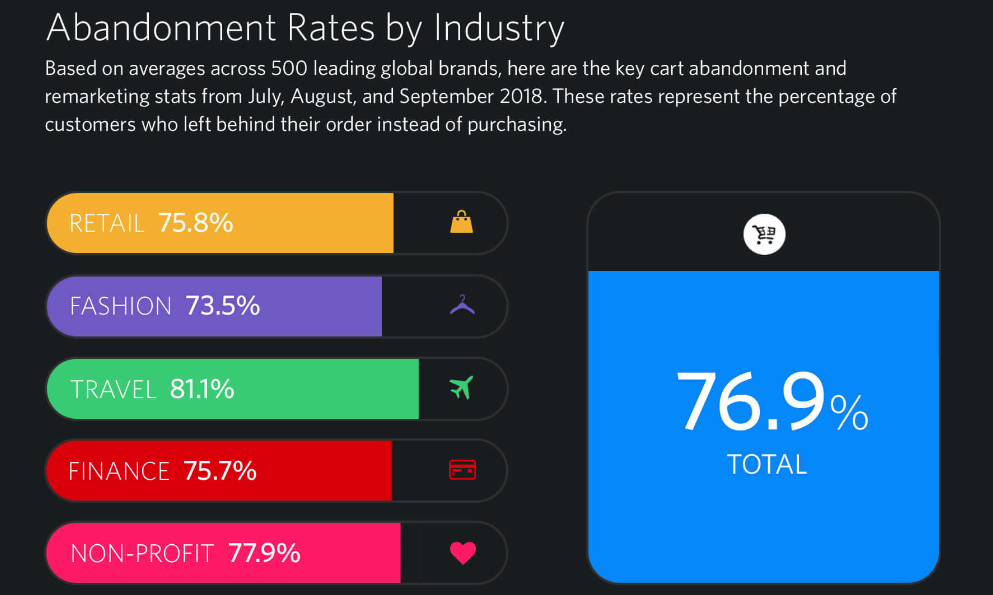 Image: SalesCycle
Physical retail still relevant for big brands
While 7% of UK shoppers browse exclusively in-store before making high-value purchases, over a quarter (28%) of consumers like to look at an item at a physical store before making a purchase – even if they have browsed and researched it online. This paves the way for 'concept stores'. Regarding the payment stage of the transaction, 32% of shoppers still prefer having the option to pay in person, underlining the importance of an omnichannel offering in this climate.
Mobile device-like targeting comes to ads on car rooftops
A San Francisco start-up the contextual targeting of mobile to digital-out-of-home (DOOH) signs, offering taxis and rideshare drivers (such as Uber's) what it calls a "digital smart screen", allowing advertisers to run targeted, geofenced campaigns. Firefly has apparently run more than 50 ad campaigns already, during a beta testing period in San Francisco and Los Angeles, with hundreds of cars on the road.
"Being the first at building out the IP is going to be the main differentiator," said co-founder and CEO Kaan Gunay. "Over half our team are engineers, and we have been extremely focused on developing core IP to make sure it's scalable."
Amp
Marketing Land features a story on the slow adoption of AMP which, with Google's major backing, was expected to be adopted relatively quickly. While the article is thin on facts and figures, it does point to some good secondary sources – including an article that makes the case against AMPs much touted rapidity and to WordPress' official AMP plugin.
Year in search trends
Search Engine Watch has a nice overview of 2018's search trends – including an upward trend in searches including the word 'good' – which should provide another nice word to drop in to concatenate formulae across the industry.
AI
Marketing Week have an article online today that is a pragmatic and non-over-the-top dissection of the benefits of AI to the consumer. In an article which remains level headed despite the history of articles dealing with AI, and the fact that it's a post sponsored by Salesforce (go native advertising), the article makes a number of good arguments dealing with some of the currently available options for brands. It also features the below graphic:
---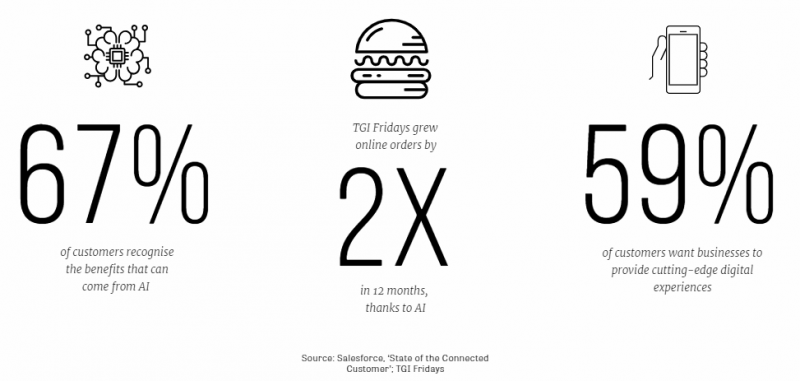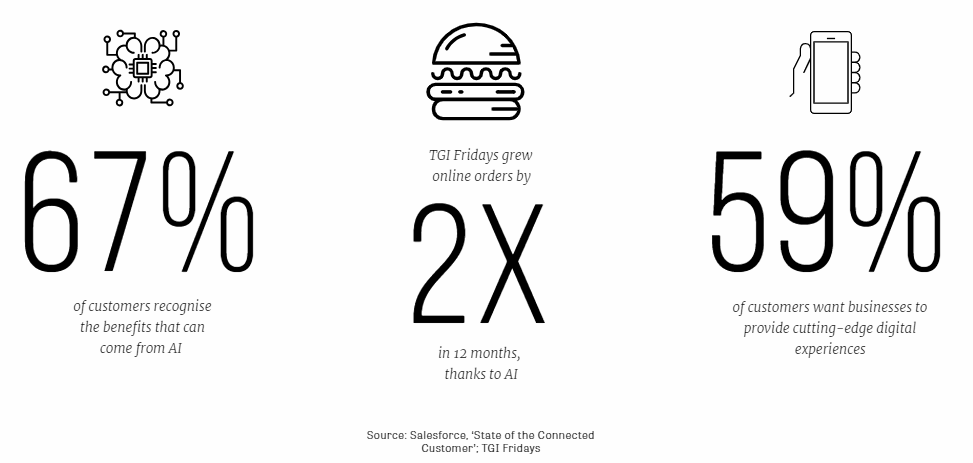 ---
Twitter
Best of 2018
Twitter has released a best of 2018 list which features a number of brands – including Heinz Ketchup, Budweiser and Bud Light and the NBA – according to Marketing Land. There's a host of 11 categories – leading to Marketing Land attempting to ask what seems to be a pertinent question: 'why should we care?' – which essentially boils down to the list of campaigns as unique ways for marketers to consider using Twitter.
And finally
It wouldn't be a year in search without, well… the year in search, and here it is…
---
---
Click Consult collectively wrote almost 50'000 words of news coverage this year. That takes a level of commitment – but a level required to stay on top of an ever changing industry. To find out what we can do for your brand, why not contact us?
Share this:
We use cookies to give you the best experience on our website. If you continue without changing your cookie settings, we assume that you consent to our use of cookies on this device. You can change your cookie settings at any time but if you do, you may lose some functionality on our website. More information can be found in our Cookie Info and Privacy Policy.