The Ultimate Guide to Google Shopping 2021
Over the last few years the way that consumer habits have changed has evolved faster than the 200 years prior. The digital age means that people want to shop on the go, based on their interests and preferences and often without actually seeing a physical product. This has lead to a rise in the number of brands who chose paid search (PPC) and more specifically Google Shopping Ads to target potential customers
---
If you have a good understanding of your audience and are able to target them at the time when they are most likely to convert then you are a long way towards increasing your revenue and customer base.
We have covered paid search extensively in blogs and eBooks and wanted to encapsulate why Google shopping is so important and why you should be considering it as part of your future strategy.
What is Google Shopping?
Google Shopping is a Google service that allows consumers to search for, compare, and shop for physical products across different retailers who have paid to advertise their products. This is also known as a Comparison Shopping Engine (CSE).
Unless otherwise indicated, offers on Google Shopping are ranked based on relevance, including your search terms and other Google activity.  Some ads data is used to improve the quality of results.
Offers that have the "Sponsored" label means that advertiser payment to Google may also influence how items are ranked and grouped. Google is compensated for clicks on these ads. For 'Buy on Google' offers that appear on Google Shopping, Google receives a commission for each purchase.
Google Shopping results show up as thumbnail images that display each product's retailer and price.
What is a Google Shopping Ad?
Shopping ads show users a photo of your product, a title, price, store name, and more. They appear across the Google Network (including GDN sites, SERPs and YouTube) and across all devices. Google ads are based on your brand's product feed and use Shopping Campaigns to promote both your on and offline inventory, boost traffic to your website or store, and aim to deliver better qualified leads and high intention traffic.
What is a Google Shopping campaign?
Google's 'Shopping Campaigns' allow you to manage and optimise your Shopping ads in order to promote your products online. Offering a flexible way to organise your Google Merchant Center (GMC) inventory, Shopping Campaigns offer a relatively simple way to create custom campaigns.
By making all of your product data accessible from your Google Ads account, Shopping Campaigns allow you to browse your product inventory, organise it and plan decisions about your ad strategy.
Shopping Campaigns employ product groups to select which products to bid on for your campaign. You can divide your stock in to custom groups (category, product type, brand, condition, item ID, etc.). The products which remain without subdivision will then remain in an 'Everything else' product group. You can then set bids per product group depending on your goals.
Once your accounts are linked, you'll need to begin a new campaign. You can do this in your Google Ads account by selecting the 'Campaigns' option from the top menu, then again from the left side menu before adding your campaign with the blue plus button.
---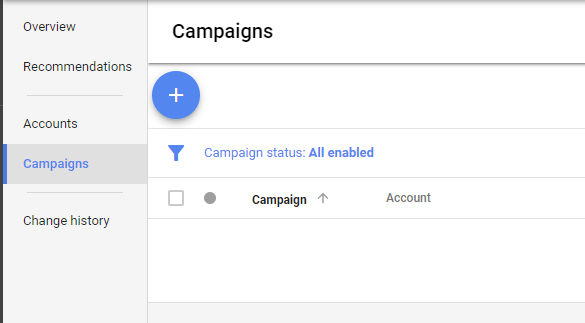 ---
This will take you to a page from which you can select your campaign type (for the purposes of this, you'll obviously need to select 'Shopping').
---

---
You will then be able to select one of the four options that present themselves:
Sales – the sales goal will steer your campaign choices in a manner designed to help you reach consumers at the point of purchase. This will allow you to:

Highlight your product/business
Increase your ROI through automated bidding
Boost sales through campaign optimisation, conversion tracking and audience lists.

Leads – the leads goal will look to nudge you toward features and settings which may help to attract people to your business by:

Showing ads to people likely to be interested
Attracting consumers by promoting your brand with Showcase Shopping Ads
Bidding primarily for clicks to improve the number of leads

Website traffic – this goal will encourage selection of settings/features which will help to increase traffic to your site:

Driving consumers to your store through Product Shopping ads
Pushing click-throughs with 'Maximise Clicks' bidding
Trying to reach as many potential consumers as possible while they browse and search

No goal – while you can select 'Create your campaign without a goal', it doesn't remove your ability to add a goal later, essentially this option removes the guidance aspect of the above options
Once you've selected your aim, you'll be asked to select your GMC property and your target location.
---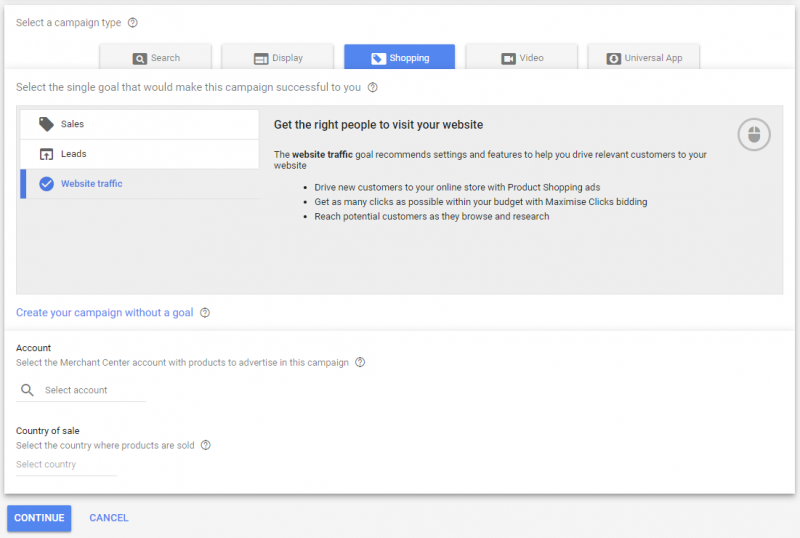 ---
As the majority of Shopping Campaigns are to increase sales, we're going to proceed from here as though creating a 'Sales' targeted campaign (though much of the process remains the same).
Once you click continue, you will be presented with a number of options boxes; the first of which is 'Shopping Campaign settings'.
---

---
The settings offer you the chance to assign a name and, if you need to, any inventory filters you want to add to the campaign, as well as adding custom URL parameters if there is a specific URL you want to send consumers through before they reach your landing page (if you are carrying out monitoring or tracking beyond that in Google Ads and Analytics).
---

---
Bid settings allows you to select a specific bidding strategy and, for some, a maximum cost per click (CPC)
Maximise clicks – sets your bids automatically to earn as many clicks as possible for the total budget. You can set a maximum CPC with this option to limit the cost, but this can impact the number of clicks.
Target ROAS – ROAS, or 'return on advertising spend' will set your bid to attempt to maximise conversions. You can set a percentage value for this, though the percentage is not a guarantee of success.
Manual CPC – allows you set your own maximum CPC for your ads, removing the automated aspect.
---

---
The next thing to consider is budget. Budget is where you set the maximum spend for the day. While the spend may exceed or fail to meet this value on certain days, Google guarantees that your monthly spend will never exceed the daily spend on the account multiplied by the average number of days in the month.
You can choose either standard (evenly over time) or accelerated (as fast as possible) spend for whichever budget is selected by expanding the 'Delivery method' link.
---

---
Campaign Priority
This aids Google when it comes to deciding which bid to use if you have the same product in multiple campaigns. The campaign with the highest priority will decide the bid where applicable, otherwise it will default to the highest bid where all priorities are equal.
---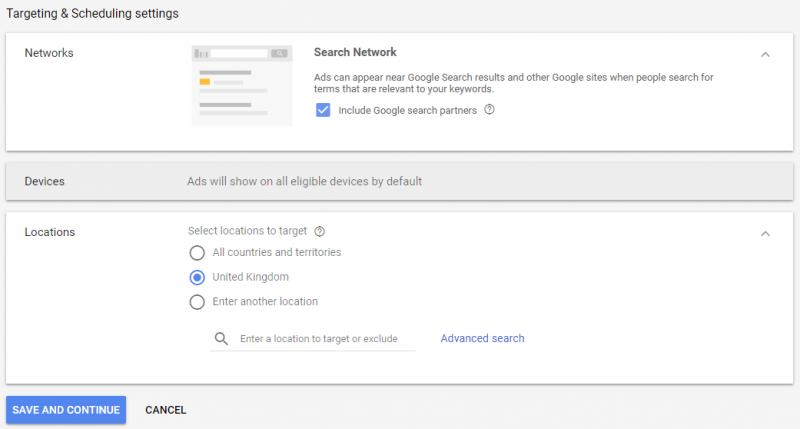 ---
Targeting & Scheduling settings
This section allows you to opt in to or out of the Search Network (appropriate Google partners), and to select a target location.
Ad group creation
The following options screen gives you two types of Shopping Campaign to choose from:
Product Shopping – which uses a single product from your feed to be promoted.
Showcase Shopping – which allows you to select an array of products to better represent your brand as a whole.
---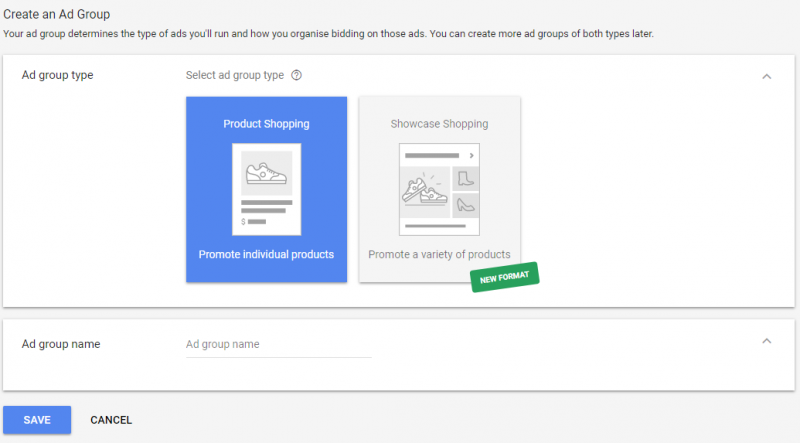 ---
Why use Google Shopping?
Shopping campaigns allow you to advertise specific products in the form of product listing ads (PLAs), a powerful way to showcase your products across Google to drive high quality traffic to your site. PLAs can include a product image, title, price, extensions, promotions and your domain name.
There are many benefits to running a shopping campaign, including:
More traffic and sales – Many brands experience significantly higher click-through rates (CTR) on PLAs compared to text ads that are shown in the same search engine results page. Conversion rates are also typically higher due to the visual and product-specific nature of the ad.

Better qualified traffic – You can increase the quality of your traffic by featuring product-specific calls to action in your ads. This increases the likelihood of shoppers making a purchase on your site after clicking on your ad.

Increased exposure – PLAs can appear on a search results page alongside a text ad from the same site. It is also possible to show up to eight PLAs for one site at the same time, to maximise your brand exposure. This is the only way more than one ad can appear on Google for the same website.

Need to compete – PLAs are such a successful ad format that most searches relating to products have PLAs on search engine results pages (SERPs). This reduces the amount of space available for traditional text ads making it much harder for ecommerce websites to compete with text ads alone.
According to Google the reason so many advertisers choose Google Shopping is:
Powerful: Google Shopping applies Google's search technology to help you find and research products from online stores across the web and then points you directly to where you can buy them.

Comprehensive: Find everything from common to unusual products.

Fast: Almost instantly after entering a search, you'll see photos of relevant products and links to more information, including the stores that sell them.
How to optimise a Google Shopping Campaign
Your business can grow substantially by using the right techniques, so there's no excuse for wasting the potential of your Shopping Campaign by doing half a job.The following are some of the key pieces of Google's advice for Shopping Campaign optimisation that are worth stating:
Use structured data markup – by ensuring you use the right structured data markup, you 

can indicate to Google how your landing page elements match up with those in your product feed. This also allows you to enable automatic item updates and prevents your items being disapproved.

Triple check your landing page – if the landing page is unavailable at the point of crawling, that item will be disapproved, if the landing page data doesn't match, it can be disapproved, if you've somehow blocked robots.txt, the item will be disapproved. It's vital you ensure that everything is in place and available and accurate for both Google's crawlers and your consumers.

Remove crawl rate limitations – if, for any reason, you are limiting crawl rates on your site, 

remove the limits, if the Googlebot struggles to crawl the site, it can cause issues approving the feed.

Enable automatic item updates – automatic item updates can prevent your items being 

disapproved if a change to your site slips through the net. It should never be used as your primary update method, however, as it will only update when Google crawls your site.

Ensure that your products IDs are accurate – your product's unique identification numbers 

(especially GTINs) are important for ensuring your ads are served to the right audience. While incorrect IDs may not result in disapproval, Google will struggle to show the ads for the right Searches.

Create your feed immediately after you update your database – if you have changed any 

information, whether temporarily for a sale, or permanently, make sure your feed follows quickly:

Resubmit your feed after any site updates

If you update your site multiple times per day, submit your feed multiple times per day

Use the Content API for Shopping – this allows you to provide updates for individual items as well as update data almost immediately (as soon as the product information changes in your own system).
How to get listed on Google Shopping
In order to get listed on Google Shopping the first thing to consider is setting yourself up on the Google Merchant Centre. 
A Google Tool, Merchant Centre allows you to upload your brand's products and data to make it available for Google Shopping and other services. In order to advertise specific products in SERPs (see below), you will need to: have a Merchant Center account, upload your product data, and create a Shopping Campaign in Google Ads.
To begin with, you'll need to log-in or sign up to Google Merchant Center (GMC). The latter involves a few simple steps – including naming your store, agreeing to the T&Cs and verifying your site through either uploading an HTML file to your site, placing an HTML tag in your header, or via your Analytics or Google Tag Manager account.
You'll then need to go through the following steps:
Optimise your product imagery

Collect and input your product feed data

Link your Google Ads account

Create a Google Shopping campaign

Place bids on your Shopping campaign

Target and schedule your Shopping campaign

Build ad groups
What can you list on Google Shopping?
Sellers and advertisers who feature their products on Google Shopping are participating in commercial activity. They must comply with Google Shopping policies that spell out what can and cannot be listed on Google Shopping.
Google Shopping will remove items that don't comply with these policies and may suspend a seller who violates these policies.
Advertisers provide details about their products and update their listings on a regular basis. After an advertiser updates a listing, there may be a slight delay before the new information shows up on their listing on Google Shopping.
Final thoughts
Google Shopping Ads and Campaigns should now be an absolutely integral part of any online retailer's growth and marketing strategy. 
Offering fantastic opportunities if done correctly, this service is growing and improving all the time – with far more options to improve targeting, organisation, creation and measurability now than during the period they were referred to as product listing ads (PLAs). 
The importance of Shopping Campaigns is likely to grow as Google moves more and more into the retail sector itself, so it's best to get learning and advertising now, to avoid a much steeper potential learning curve later on.
The more information you place in you ads the more likely you are to generate a conversion. In the webmasters guidelines, Google suggests that when a user does a search within Google Shopping they'll see a variety of filters (like price, size, technical specifications, etc.) that can help them to quickly narrow down to the right product. When viewing certain apparel product detail pages (like dresses, coats and shoes), they'll also see items that are "visually similar" to the item they've selected. 
By adding in information and filters the user is more likely to get to where they want to be, e.g.  you should make it easy to narrow results by category. For example, a search for "bulb" shows results for both the plant and lighting categories. By clicking on the desired category, the user will see results only in the category they've selected.
---
For more actionable insights – on PPC or SEO or any other aspect of search marketing, sign up to our blog, or check out our large and growing collection of resources.
Share this: