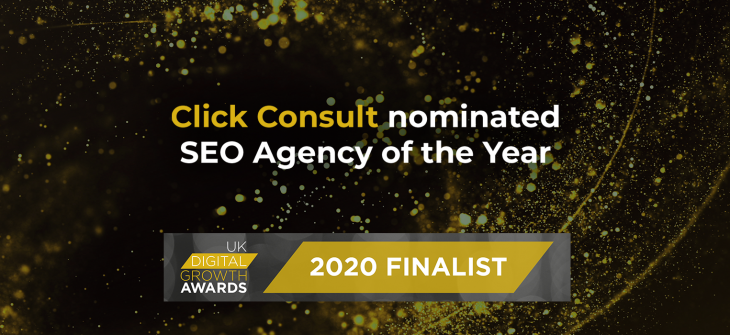 Click Consult nominated for two Digital Growth Awards
We are delighted to announce that we have been nominated in two categories at the UK Digital Growth Awards 2020, including SEO Agency of the Year, a title we are defending from 2019
---
It has been a busy few weeks here at Click Consult and today is no different as we are delighted to share with you the news that we have been nominated for two Digital Growth Awards.
The awards which celebrate and reward excellence in UX, CRO and Search to drive tangible growth and results for clients which is why we are so thrilled to be nominated. The whole industry is facing challenges at the moment, as are many brands and businesses. Here at Click Consult we've taken a proactive approach to continue driving the business forward amidst all the uncertainty and that is why it is especially nice to see our work has been shortlisted in the following categories:
Integrated Digital Agency of the Year
SEO Agency of the Year
Speaking about the latest nomination, Click Consult CEO, Matt Bullas said: "We are really pleased to get another two agency nominations and hope that we can bring home the top honours.
"Our teams have done some great things and our dedication to performance and giving back to the industry is unwavering. It's nice to see our transition is being noticed.
"In the last 12 months we have seen the agency grow into a truly global company with clients and opportunities across the world – something which we hope has been picked up by the judges.
"These honours aren't possible without clients putting their faith in us and the teams here at HQ working hard to deliver performance based results across multiple channels."
Due to the ongoing impact of Covid-19 the UK Digital Growth Awards will this year be presented online. The digital ceremony takes place on Wednesday 21st October.
Share this: