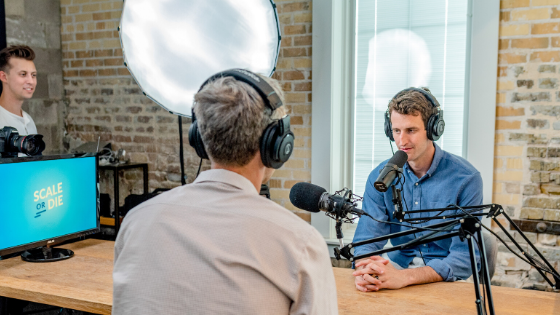 The rise of podcasts and optimising them for search engines
Over recent years large numbers of brands and SMEs have incorporated podcasts into their marketing strategy, due to their increase in popularity and the values they can present for the profile of your business
---
According to a survey carried out by Ofcom in 2019, over 7 million people listen to podcasts in the UK alone each week, with half of that figure reportedly coming in the past 2 years.
With podcasts now providing the ultimate platform to grow your audience, generate traffic to your website and help you become an authority within your industry, many brands and SMEs are now looking at how best to optimise a podcast for search engines.
Over the past year, Google has made it possible for podcasts to appear in search engines, which has resorted in the term 'podcast SEO' becoming a familiar term within the digital marketing industry. The ability for podcasts to appear in search engine results SERPs has enabled brands to be discovered through an avenue which once was seen as an almost impossible task. 
With podcasts now being seen via a simple Google search, it's important you utilise this opportunity and expand your business. With this in mind, we wanted to share a few ways to best optimise your podcast for search engines.
Choose your keywords and titles carefully
One of the most important factors to consider is the all important keywords you're going to use. In ways the title can be seen as the keyword but to optimise each episode as much as possible, you want to choose one keyword per episode, which has a high search volume and is relevant to the podcast episode. Similar to SEO across the board, you should aim to select  keywords which don't have much competition, to better your chances of appearing in SERPs.
It's also important to remember that the first thing a user will see when your podcast appears is its title. It's for this reason that you need to use an engaging and clear title, which will appeal to your audience. If a user doesn't find the title of your podcast intriguing, the chances are they won't consider listening to it.
Create a metadata plan for each episode
The metadata for each podcast episode will allow you to give a brief description regarding what the episode covers. It's through the metadata that you can try and predict what your audience will be searching for, as well as including the all important keyword. 
Before just uploading metadata on the spot, it's important to plan each episode in advance and the metadata you're going to use. It's this description that search engines will read, so it's crucial to not only include a relevant keyword, but also try and understand what your audience might be searching for online.
Be clear when speaking to increase your potential reach
Google announced that they can now understand what is being spoken about within a podcast. It works by using an index which allows Google to pick out key parts of the podcast and in turn, make it easier for your episode to appear in SERPs when relevant searches are made. For example, if you were to select a few keywords to mention within your episode, it's likely that Google will read this and reflect the results on its search engine.
It's also important to make sure any speakers are clear and the sound is high quality, purely for best practice reasons. If someone is listening to a podcast which is muffled or broken, it's unlikely they will listen to any of your other episodes, not to mention Google being unable to index the episode.
Optimising Spotify for an alternative angle
SEO is not just limited to Google, especially when it comes to the world of podcasts. Spotify spent much of 2019 increasing the visibility of podcasts on their platform. This has led to some key tips on how to optimise your podcast for Spotify.
Firstly, think about how users find podcasts using the platform, of course we already know your podcast can be found on search engines, but there's also the option to use categories once users are on the platform. These categories are also referred to as genres and have a very broad range so it's important you research competitor podcasts and your desired audience.
Next, it's time to think about your aesthetics. Although podcasts are audio it's important to use an eye-catching image to head your podcast. The image should be relevant to your podcasts content in order to appeal to relevant listeners. Your description should also reflect the content in the specific episode, but we have already discussed this above when we looked at metadata.
Finally, ensure you are actively providing new material to maintain interest. Then keep an eye on the statistics, understand how users are listening, for example, if the majority of listeners tune out after 10 minutes consider reducing the length of your upcoming podcast. 
Utilise the power of your social media channels
If we take a look at some of the most popular podcasts currently in the charts, you'll see a recurring theme based around the social media content published alongside it. You'll notice that those who crossover their podcast content with their social content tend to have a more loyal follower base, and it gives you the opening to build your listeners by having their friends notice and tag along.
It's important to take the conversations talked about in the podcast and follow them up on various other channels – get people to upload photos relating to what was talked about, have people send in their questions via Twitter or Instagram, give your pod an official hashtag for people to use or even read out listeners tweets in the podcast itself to encourage engagement.
It doesn't have to stop there, if you talk about a certain celebrity or person in your podcast, follow up the show by uploading a clip from that section onto social media, tagging the person you talked about and who knows they might respond or share! 
There is a correlation between Twitter follower numbers and the appearance in the top Podcast charts. Podcasts such as "Athletico Mince" (76.4k followers), "My Dad wrote a Porno" (127.3k), "No Such Thing as a Fish" (68.9k), "The Guilty Feminist" (70.6k) and "Gromophone Pod" (60.3k) all utilise the above mentioned social media marketing techniques, which has resulted in a large follower base, but also bigger listener numbers on Spotify and Apple, hence the appearance in the top charts.
The true importance of optimising your podcast
Not only can a podcast reach a new and wider audience like we have previously mentioned, they can help propel your business to the forefront of its industry. By sharing relevant and high quality content, you can attract the type of audience you desire and help generate traffic to your business as a whole.
As well as the steps we've mentioned in this post, it's important to make sure that you're sharing content on a regular basis, uploading to as many platforms as possible and where possible publishing transcripts with episodes. 
---
Need help with your search marketing? Why not get in touch? Or subscribe to our newsletter for industry leading insights.
Share this: