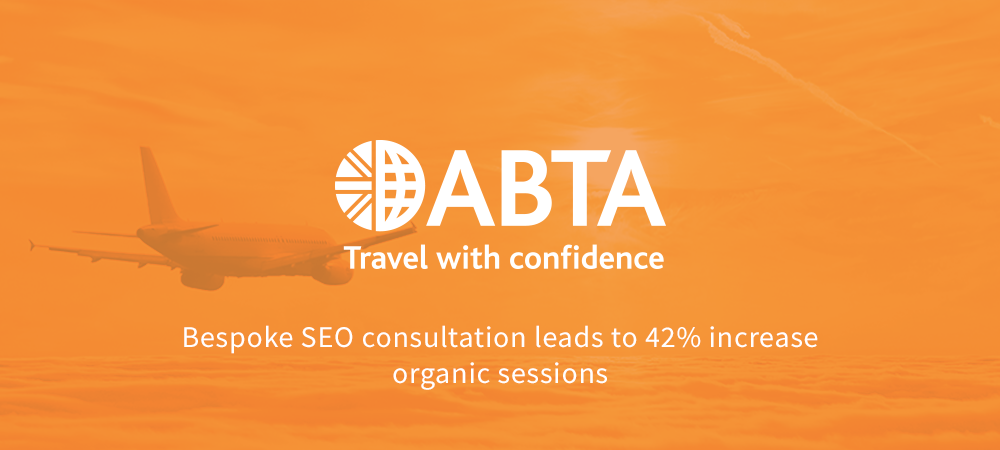 Our team of organic search experts designed and implemented a bespoke strategy leading to major gains across the board for the UK's travel and trade association
---
About ABTA
ABTA is the UK's largest travel association representing around 1,200 travel agents and tour operators that sell £32 billion of holidays and other travel arrangements each year. ABTA's purpose is to support and promote a thriving and sustainable travel and tourism industry. The ABTA brand stands for support, protection and expertise. These qualities are core, as they help ensure that ABTA Members' customers travel with confidence.
---

---
How we helped
ABTA approached Click Consult in September 2014 with the goal of increasing organic traffic across devices and platforms, improving positioning in SERPs for selected keywords, and increasing conversion in the form of 'enquiries' on-site through technical SEO consultation.
Using a combination of industry leading and in-house tools, our team of organic search specialists were able to assess all areas of ABTA's site. Then, following detailed research, we provided a tailored technical on-page SEO strategy to resolve existing problems with site coding and move ABTA forward with its organic search ambitions.
---
We were impressed with the attention to detail demonstrated in the strategy planning for the campaign. The level of knowledge they achieved in such a short time helped considerably in achieving targets.
---
The results so far
As well as 21 first page listings for industry keywords, we have achieved a number of fantastic year on year results for ABTA, including:
33.8%
Increase in Overall Sessions
42.2%
Increase in Organic Sessions
47.7%
Increase in Mobile Sessions
497.3%
Increase in Organic Mobile Sessions
62%
Increase in Conversions
Download this case study