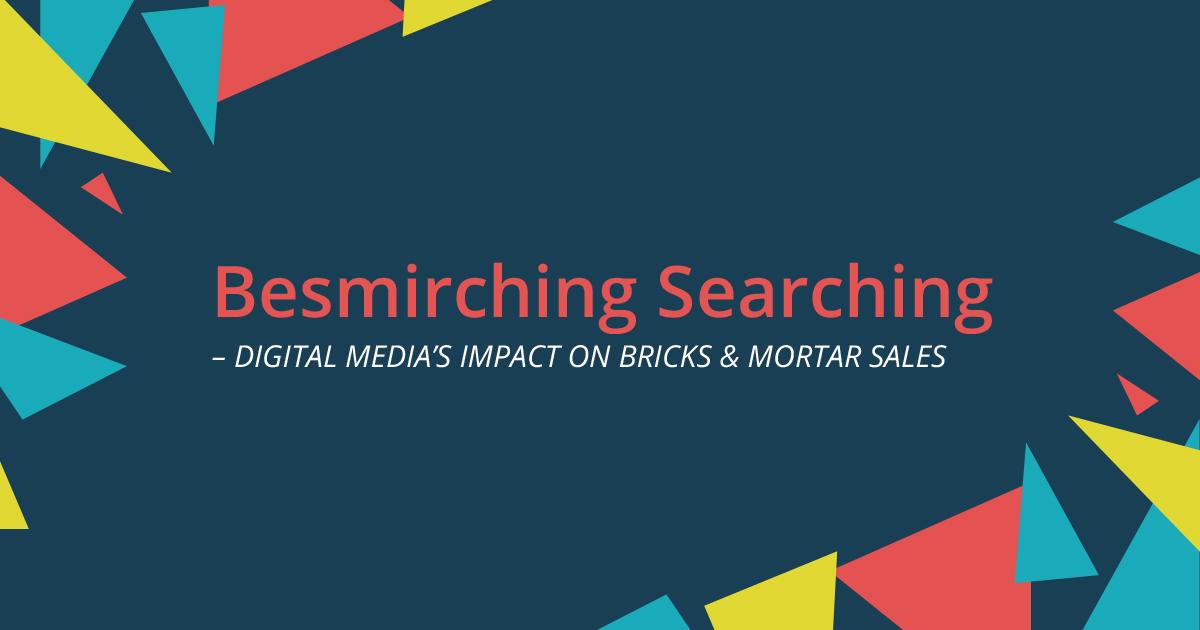 Besmirching searching – digital media's impact on bricks & mortar sales
Jan 2nd, 2020
As always here at Click Consult we try to bring you the very best insights from across the industry. We publish a range of articles in our Benchmark Search Magazine and here is one from the latest issue, written by Managing Director at CollidaScope – Lawrence Janes 
---
It's well-known that digital advertising in all its forms has grown exponentially over the last two decades, and the effect it's had on how business's plan and buy their advertising, along with the business results it can generate have been transformational. Yet there's a major business sector – FMCG and grocery – which when it comes to successfully using digital media has struggled to generate profitable outcomes. Why is this and how can it be fixed?
Money, money, money
According to WARC (World Advertising Research Council) by the end of 2019 world advertising expenditure will have reached some US$618.7bn, an increase of 2.5% on 2018; and is set to rise a further 6% to US$655.8bn during 2020, buoyed by the forthcoming Tokyo Olympics and US Presidential elections.
Of these vast sums of money, digital media by the end of 2020 is expected to account for nearly 53% of it, propelled by the rapid growth of social media ads on mobile devices, which in themselves now represent nearly 60% of all internet spend.
Within these spends, products and brands we buy every week in supermarkets, the FMCG and grocery sector – represents nearly 40% of all expenditure – US$242bn, of which around a third, US$79bn, is spent on digital media, the vast majority through Google and Facebook. Yet it's reported in a study by global consulting firm AlixPartners, that 60% of this spend fails to deliver any noticeable ROI – and this includes trade spend such as online coupons and the like. Furthermore, when it comes to Google and Facebook some US$30bn of spend provided either a negative return or one that wasn't even measured, with 'just' US$25bn yielding a positive ROI.
FMCGs' digital money problems, problems, problems
The situation is not helped by the fact that, according to AlixPartners' study, some US$8bn of FMCG digital spend performance has not even been measured, which only goes to underscore why the sector seems to be having a problem in this area. 
Broadly-speaking, and with some notable exceptions, the world of FMCG and grocery seems to have been chasing the promise of sales growth through some kind of digital nirvana perhaps seen in other sectors, but have ended-up simply throwing money at the problem, leading to billions in wasted investments, keeping the shareholders of Google and Facebook happy, but not their own.
There is some hope, fortunately as the AlixPartners' study does say that FMCGs are beginning to monitor their digital returns more carefully and believe they are 70% more efficient now in driving the returns they do get.
Learning from some traditional techniques
Doubtless success for FMCGs in this area is achievable over time. One way is to become more precise and targeted with their methods to generate greater opportunities for consumer and shopper engagement. 
There's much to be learnt from some of the targeted mailings both on and off-line based on actual shopping behaviours that are seen through the likes of retailer loyalty schemes such as Tesco Clubcard, Sainsbury's Nectar, Carrefour Le Club and the like. Ads and promotional offers are targeted based on shoppers historic purchasing behaviours both on-line and in bricks and mortar providing 'next best product to buy' suggestions, rewards and special offers for loyalty. In their sophistication, they go beyond the 'buyers of this bought that' messaging typically seen on eCommerce sites; or retargeting and programmatic efforts across digital display on websites and social media.
Working out digital media's impact on bricks and mortar sales
This is the missing link for FMCGs. As a sector whose sales are on average around 90% off-line they need to think of digital advertising in a different way to sectors who can transact largely on-line.
Digital has to be thought of as part of their media mix that can engage people and encourage them to purchase both off and on-line. 
We've developed methodologies that has enabled our clients, regardless of sector, to be able to measure the sales impact of their digital activities both on and off-line, and the  relationship they have in terms of singular and combined effects, with the rest of their media and promotional mix. 
When viewed in this light, the ROI of digital media is transformed, especially in FMCG. Generally speaking some 30% of sales generated by, for example an eCommerce banner on a supermarket website, occur not on the site it appears, but subsequently in the bricks and mortar store of the supermarket.
In another case social media posts for a biscuit manufacturer that talk of promotions in a particular supermarket, are four times more likely to generate a sales in-store than on-line. 
For a snacking brand digital point-of-sale was more effective in the bricks and mortar store than the actual in-store point of sale, with eCommerce activities producing 89% of incremental sales compared to only 11% coming from traditional in-aisle activities.
---

---
Key to digital success for FMCGs
Rather than looking for a digital nirvana, the grocery sector is far more likely to grow their businesses using digital as a tactic to encourage both on and off-line sales. This means adapting their mix of digital media, messaging and targeting to suit this objective, linking digital and traditional worlds.
In this way, digital becomes as an effective and efficient medium for FMCGs as it is in other sectors.
Thinking of things in reverse for a moment though…it'll be interesting to see how Amazon performs in this space – their on-line moves in grocery are well-documented, their strategy of buying bricks and mortar grocery stores such as Wholefoods, less so. We better watch this space…