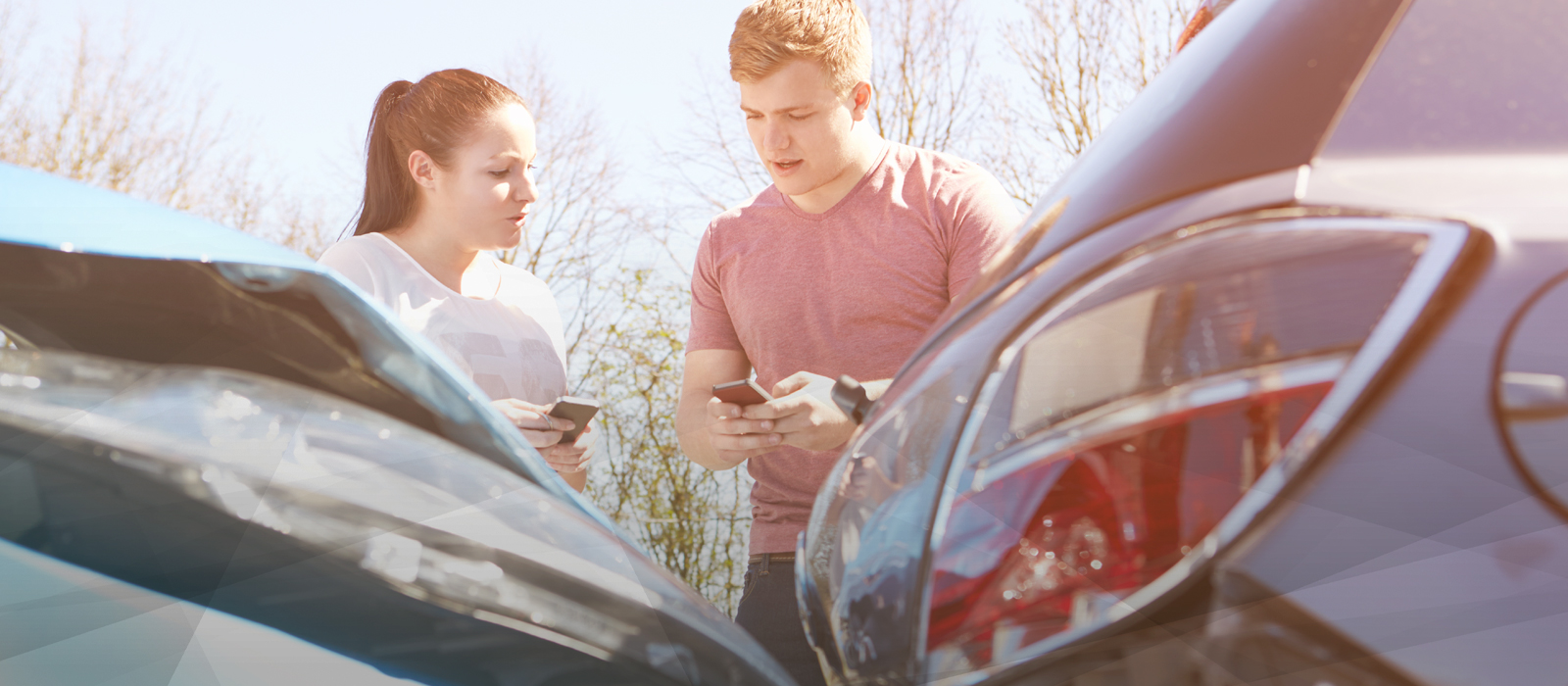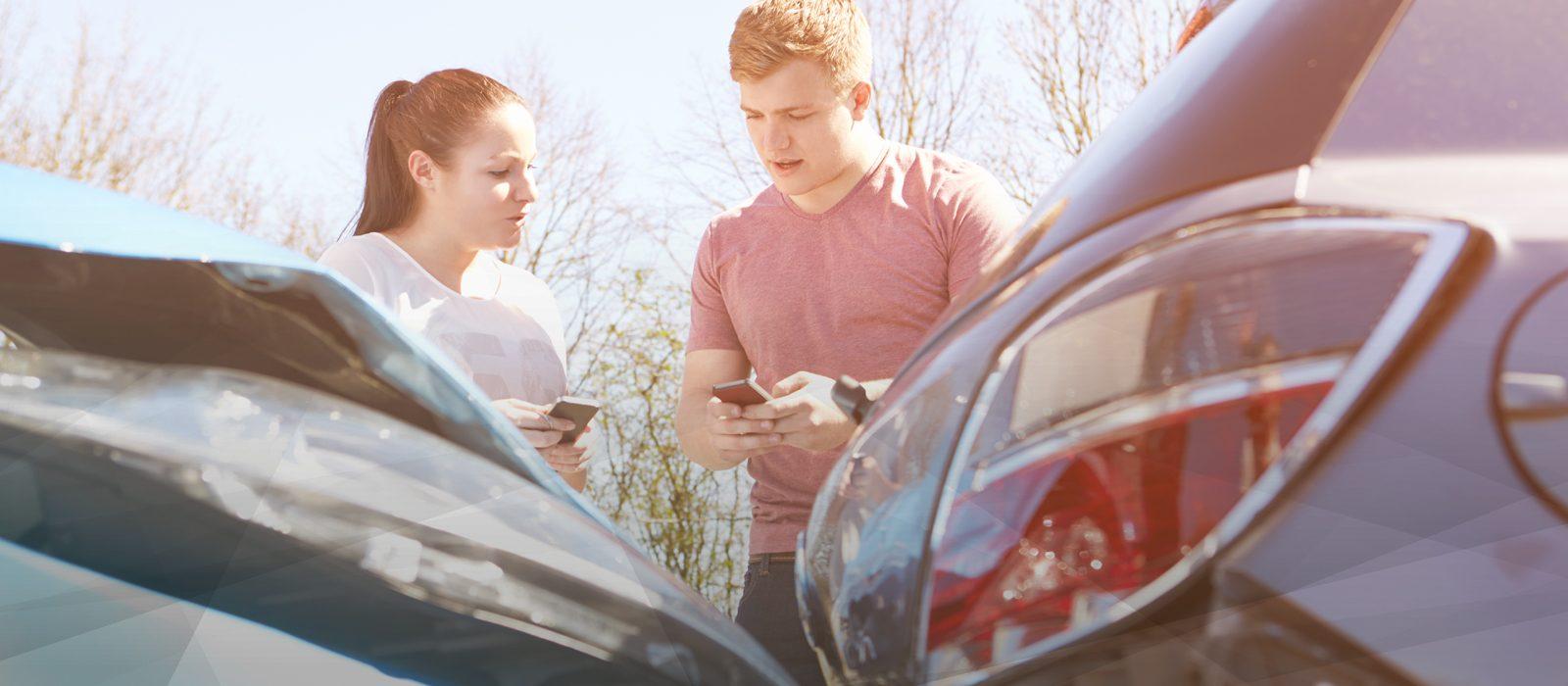 Go compare the car insurance market
Mar 4th, 2015
The term 'car insurance' is one of the most highly contested in the SEO industry, with some of the country's leading companies ploughing millions into their quest to be P1 in Google's search results. The reasons for this are clear, with Google AdWords data suggesting that there are 450,000 local monthly searches on average centred on the head term [car insurance] in the UK, 815,500 local monthly searches around the top five search terms and 1,249,280 local monthly searches around the top 100 traffic driving terms per month.
---
Leading the way on content
Go Compare currently rank on top for the head term 'car insurance', a position which they have now occupied for some time. So how have they achieved this?
One of the core reasons is good quality content which is well optimised for SEO. An examination of their car insurance landing page reveals that they have plenty of content above the fold and an in-depth explanation of their offering which contains just enough keyword references to ensure it is relevant to the search terms without being spammy. In total there are over 500 words of copy on this page, written to a very high standard.
Another interesting feature on the homepage is a feed of the latest content which has been posted in the 'Covered Mag' blog section. This ensures that Google finds new content every time that the car insurance page is crawled, perhaps in an attempt to encourage Google to crawl the page more regularly and adhere to the Google Panda algorithm preference for fresh content.
Long tail keywords are also catered for with their own in-depth landing pages which are accessible via the guides page.
Each of these long tail landing pages are given just as much attention as the homepage, using the same design template used and the content is both substantial (over 500 words) and also keyword optimised without being spammy. As 60 of these long tail pages are accessible via the guide page, this is a level of content optimisation that would be difficult to replicate without substantial investment.
All of these long tail focused landing pages are of course housed under the /car-insurance/ folder, ensuring any links which point to these pages helps to boost the overall reputation and authority of the root channel level folder.
A similar approach to content appears to have been taken by both MoneySuperMarket (the 2nd highest ranker for 'car insurance') and Confused (3rd) with a substantial amount of content well optimised towards the target keywords on the homepage and also across a large number of longer tail landing pages which are again accessible via a guides hub (MoneySuperMarket & Confused).
Tesco (in 4th place) have made a similar effort on their car insurance product page but don't have the same levels of long tail coverage under their car insurance folder, which could explain why they are currently behind the big three price comparison websites.
Those below the top four such as Aviva, the RAC and surprisingly Compare the Market simply don't put the same levels of investment into their on-page content and this could help to explain why they're currently trailing. Go Compare and MoneySuperMarket in particular are excelling in this area and are a perfect case study in how to produce high quality content on a website which works well for both SEO and customers.
---
Links
However, content is of course not the only consideration. An examination of the linking profiles of the competitors who rank in positions 1 to 5 for the head term 'car insurance' (Go Compare, MoneySuperMarket, Confused, Tesco and Aviva) provides a fascinating picture with MoneySuperMarket having substantially more links pointing to their domain than all of the other competitors according to Open Site Explorer: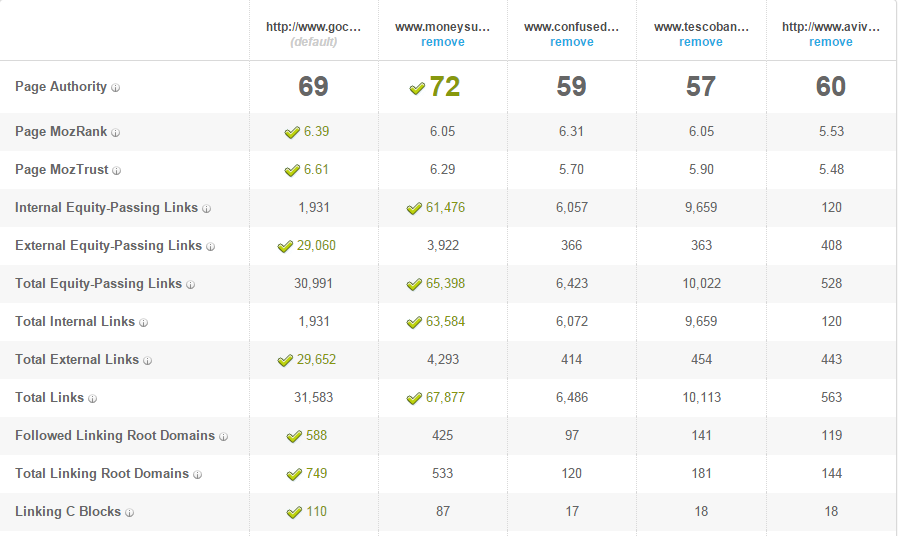 Source: Open Site Explorer
Despite having far more individual links, MoneySuperMarket actually has a smaller number of linking root domains than Go Compare (which ranks top) according to this data. This metric appears to be a better measure of ranking positions, with Go Compare having the largest number of referring domains, followed by MoneySuperMarket. The only anomaly in this is Confused, who rank in 3rd place despite having fewer linking root domains than Tesco or Aviva. This can potentially be explained by the fact that they have more in-depth on-page copy under their car insurance channel folder than those behind.
A high link to domain ratio such as MoneySuperMarket is normally considered a sign of spammy linking practices, but this is not reflected in the overall score given to MoneySuperMarket in Link Detox. Despite still being viewed as a high risk domain, their overall risk score (1,161) is actually lower than that of Go Compare (1,449) and Confused (1,470), and also significantly less than that of Tesco (2,543) or Aviva (2,560).
The high risk nature of Aviva's linking profile is demonstrated in Search Metrics, which reveals that the domain suffered a significant search visibility drop in August 2013:
Aviva

This does not correlate with any known relevant algorithm update released by Google, but the visibility drop is very significant.  It's interesting to note MoneySuperMarket also appears to have suffered a visibility drop at the same time:
MoneySuperMarket

Conversely, Go Compare, Confused and Aviva all began an upward trend for search visibility during this period:
Go Compare

Confused

Tesco

It's entirely possible that both MoneySuperMarket and Aviva were punished for their unnatural linking profiles at this point, which would explain the drop in visibility for both of these domains and the rise in visibility for Go Compare, Confused.com and Tesco. However, Confused have subsequently lost visibility and suffered similar losses to both MoneySuperMarket and Aviva.
Although MoneySuperMarket's search visibility has since returned to previous levels, there has been no such improvement from Confused or Aviva. This could suggest that MoneySuperMarket has successfully disavowed the highest risk links in their profile (if indeed they were issued with some form of manual action), while Confused and Aviva's efforts to address the same issue having so far been less successful.
This is where we should sound a note of caution. When it comes to assessing the linking profiles of these competitors, there is no way of knowing what links have or haven't been disavowed. It's entirely possible that Go Compare did not suffer the same visibility drops over this period due to on-going efforts to remove the highest risk links from their profile.
---
Pesky penguins
Given the significant efforts which have been made to improve linking profiles over the past decade for major competitors in this industry, it should come as little surprise to discover the impact that this has had on rankings. Indeed, many of the old school tactics which have been employed by competitors in the past which are now frowned upon by Google continue to have a lasting impact for many, with Confused and Aviva not being the only competitors who have failed to recover from this.
Another high profile victim is Direct Line, which suffered a severe drop in search visibility near the end of May 2013. This coincided with Penguin 2.0 and, despite visibility increasing slightly in August 2013, they've never recovered to previous levels, which suggests that efforts to clean up their linking profile have so far been unsuccessful:
Direct Line


Be Wiser were also hit by Penguin 2.0 at this point and suffered a big drop in visibility. Just like Direct Line, they have so far not recovered as a result of an apparent failure to clean up their profile and partake in more future-proof styles of outreach:
Be Wiser


Compare The Market have also struggled to overcome Penguin related issues, suffering a substantial drop on the back of Penguin 2.0 at the end of May 2013. Given their resources, it is surprising to find that it took them until October 2014 to recover any significant search visibility on the back of this drop. This, combined with their previously mentioned poor quality on-page efforts means that Compare The Market are the sleeping giant of the car insurance industry and it is frankly surprising that they are not making more of an effort to compete with their similarly sized rivals MoneySuperMarket, Go Compare and Confused when it comes to organic search rankings.
Compare The Market

---
Manual actions
Legacy linking issues also appear to have caused numerous manual actions across the portfolio –  it appears that Aviva, MoneySuperMarket and Go Compare are not the only victims.
Churchill also appear to have been a victim of a manual action, suffering a severe drop in visibility in March 2014 which does not coincide with any known algorithm changes:
Churchill

There was a small uplift in July 2014 suggesting that disavow efforts may have been made. However, they have yet to recover the search visibility which was lost in the initial drop.
Co-operative Insurance suffered a similarly sharp drop in visibility near the end of February 2013 which again does not coincide with any known algorithm changes. Unlike Churchill.com they have subsequently recovered all of the search visibility which was lost and are currently at a level of performance which is higher than that recorded prior to the hypothesised manual action:
Co-operative Insurance


This goes to serve as proof that it's possible to successfully recover from a manual action and achieve levels of search visibility which surpass previous levels. However, Co-operativeinsurance.co.uk still have a long way to go before they are able to compete with the major industry players when it comes to on-page content quality.
---
Are there opportunities to compete?
The sheer volume of links and remarkably high standard of content adhered to by the leading players means that this is a market which is almost impossible to enter from scratch and dominate. However, there are still opportunities to take significant traffic from long tail terms.
An examination of the term 'classic car insurance', which generates 18,100 searches, shows that niche brands are still able to compete and succeed.
For instance, Footmanjames.co.uk currently rank top for this phrase with lancasterinsurance.co.uk in 2nd place ahead of MoneySuperMarket (3rd) and Confused who are lagging behind in 6ht place. It appears that these niche players have managed to take a lead in this area due to it being their primary business focus. In addition, both produce comparable levels of content to MoneySuperMarket and Confused.com on their landing pages and surpass them in terms of sheer link numbers pointing to the classic car insurance focused landing pages according to Open Site Explorer: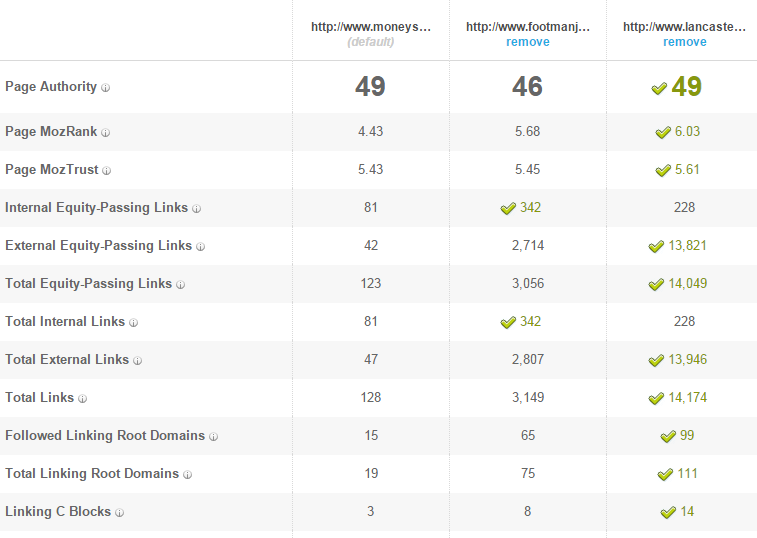 They have achieved this by focusing their whole business on this one particular long tail keyword and variants of it. The chances of either Footmanjames.co.uk or lancasterinsurance.co.uk being able to replicate this level of high quality content or generate these link numbers for all variants of the car insurance term are remarkably slim given their comparatively smaller resources. However, by placing their entire SEO focus on this niche, they've been able to stay ahead of the key industry players on this one particular term.
---
The elephant in the room
The one big competitor we've not yet mentioned is Google itself. Since 2012 in the UK, the search engine colossus has featured their own car insurance price comparison service prominently ahead of the organic listings in a sponsored ad box which sites just underneath the PPC listings: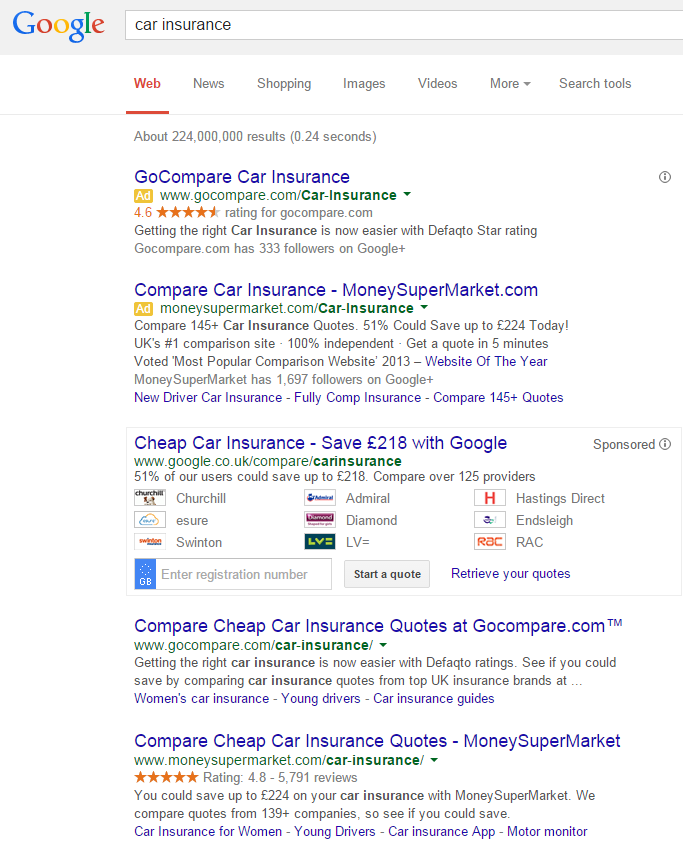 Of course this pushes the organic listings further down the visible page which means that just the top three positions now show above the fold on the majority of monitors. This figure drops to just two organic results above the fold on mobile devices, which are making up an increasing amount of online traffic. Indeed, John Lewis noted that mobile traffic made up over 50% of traffic to its website for the first time on Boxing Day 2014 (http://internetretailing.net/2015/01/mobile-e-commerce-traffic-passes-50-on-boxing-day-real-growth-in-november-benchmark-indicates/). This makes it more important than ever before to feature in the top two positions in organic listings.
However, even if a company can secure a position in the top two places there are no guarantees that they will get the same Click Through Rate (CTR) which they would previously have achieved prior to Google Advisor infringing into the market as without accurate data sources it is impossible to predict whether there is enough affluence towards the Google brand to encourage users to click on the Google listing rather than an organic result.
There's another reason why certain long tail terms are worth the effort: Google Advisor does not currently feature in the SEO results for certain long tail options such as 'temporary car insurance':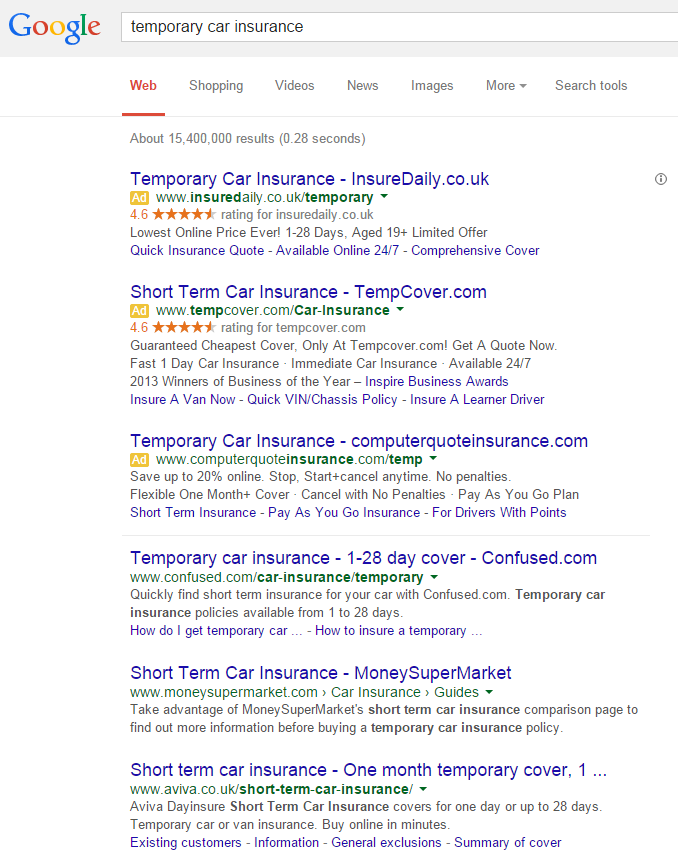 This is likely to be insufficient product offering at the moment, and is unlikely to remain this way in the longer term.
---
Penalty summary