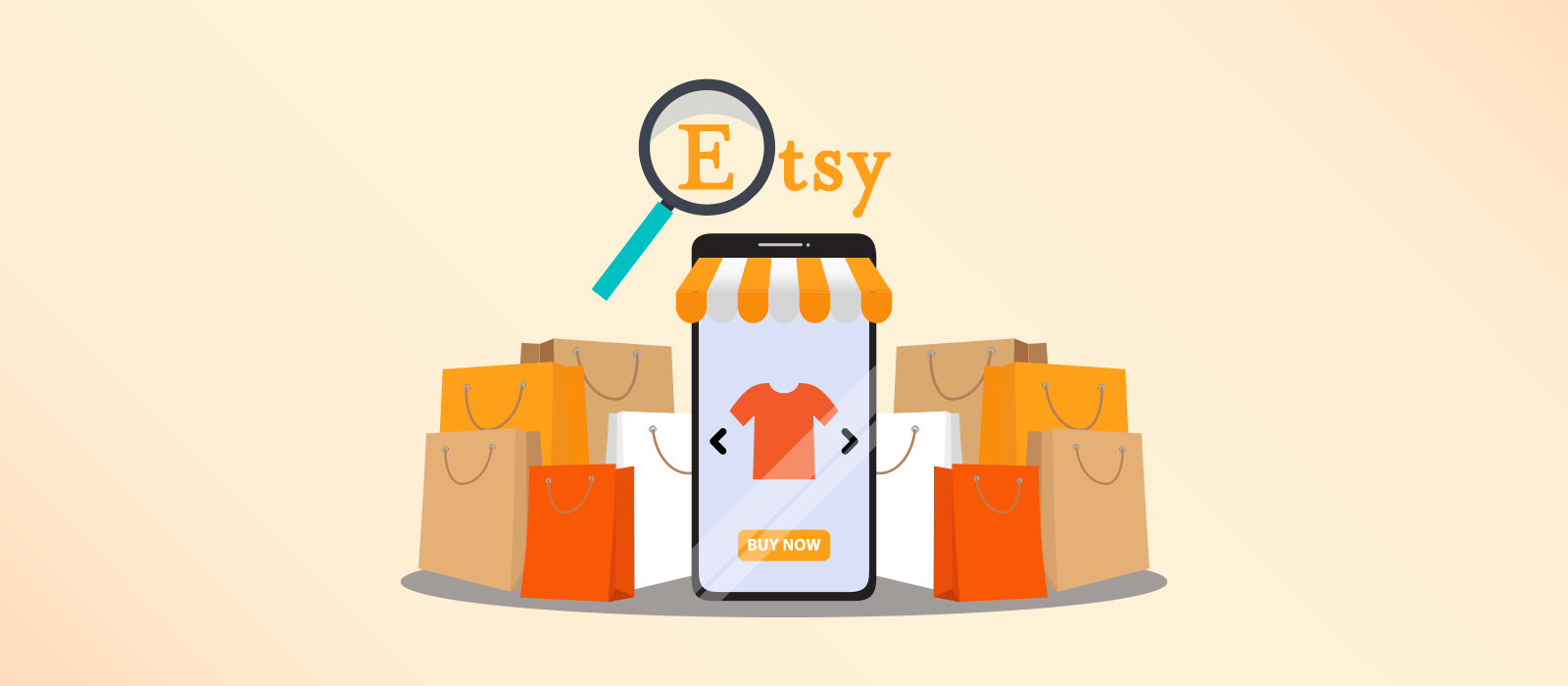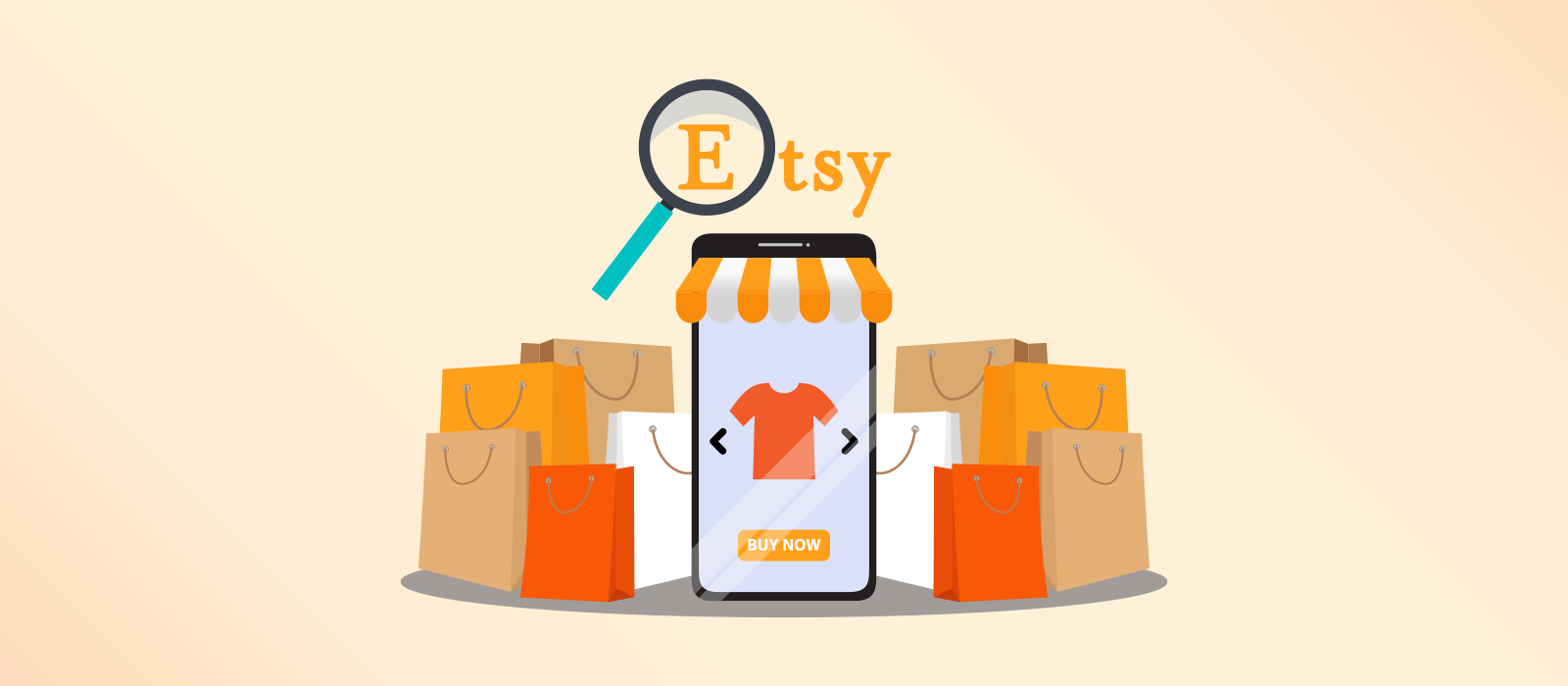 Shop Improvement and SEO for Etsy
Jan 29th, 2021
Etsy is one of the world's largest, and fastest growing eCommerce platforms. It has a particular focus on helping small businesses set up and run online stores selling handmade, vintage and craft items
---
While this might not be the best platform for some businesses to operate, 2020 saw a huge increase in the number of independent sellers setting up on the site. Revenues raced to an all-time high, as did the number of site visitors.
The way the site works, with its own built-in search bar, means that many in the industry feel that search engine optimisation or organic search best practices are wasted on this site. It is a question we often get asked here at Click Consult, and is something which, in truth, we haven't given much thought to in the past.
That being said, the following blog will look to outline how you can improve the shopping experience for your user, and generate the maximum amount of traffic to your page or product pages as possible.
To make sure that you have all of the information you could possibly need, we have trawled through Etsy's own on page optimisation tips in relation to shop improvements, and also highlighted some of the best practices we feel are beneficial to the entire industry, and those looking to gain a digital advantage.
Here's what we found…
Why SEO?
Search Engine Optimisation (SEO) is a powerful process that can help improve the visibility of your shop and item listings in search engine results for sites like Google, Bing, and Yahoo. If you are able to help the user find your store or Etsy page in the SERPs then you are one step closer to a sale and one step ahead of the competition. 
Many of the sellers on Etsy will offer a similar range of products, and it can be hard to stand out if you aren't optimising your pages as you should be.
Research the market and offer a great product
Etsy says that offering something unique, interesting, and desirable is the first step in drawing in shoppers. Before contemplating whether or not to optimise your searches for SEO, take a look at the items in your shop and consider what makes your item or shop different from everyone else's.
You can't climb ahead of your rivals on the SERPs (search engine results pages) unless you know where you sit in the marketplace. With search visibility an increasingly make-or-break factor in business success, you need to keep a close eye on your current and potential competitors' SEO activities to find out where the marker is set  – so you can go one step further.
Like any form of research, competitor monitoring should be carried out on a regular basis – and this is particularly important in the ever-evolving world of search marketing. But where do you start?
First identify your current and potential competitors. You can use keyword rank monitoring tools to uncover who should be on your radar –  they may not be who you'd first assume!
Once identified you can follow their keyword targeting and link-building strategies with information that's in the public domain. You can also monitor their social media engagement techniques and find inspiration for improvement and growth across the platforms.
Businesses should also identify opportunities to enhance their range of products or services and make their site more competitive.
Target your keywords
A critical step in improving your shop's SEO is to find the best possible words to describe your shop and your items. Think like a shopper: what words would you search when looking for your products or shop? The exercise of selecting keywords is also helpful when you choose tags for your item listings (which help your items get found on Etsy search).
These are the four simple steps we recommend:
Think like a customer – pick short and long tail keywords likely to be searched by your buyer personas.

Look for gaps – in a crowded marketplace it can be difficult for newcomers to compete against established companies. So don't compete, find where they aren't present.

Rank for priority – it is counterproductive to spread yourself too thin, so choose your targets wisely and look for the golden ration of high volume, low competition.

Consolidate gains – if you begin to rank for certain terms, don't rest on your laurels but continue to target these keywords as you expand your target list.
The keywords you use in your tags, titles, categories, and attributes work together to match your listings with shoppers' searches. When there's a match to a search query, your items have the potential to appear in the search results.
Etsy search gathers all the listings that have keywords matching a shopper's query. Then rank those listings so shoppers see the items most relevant to their query. Using strong keywords in your listing creates an opportunity for your items to be shown in search results. Here are some tips on the dos and don'ts making the most of keywords in your shop:
Do use all 13 tags. Each tag you add is an opportunity to be matched with a shopper's search.

Do use multi-word phrases. Your tags can be up to 20 characters long. It's better to use multiple phrases than to load your tags with single words. For example, "custom bracelet" is stronger than "custom" and "bracelet" and frees up another tag for you to use.

Do consult your Shop Stats. Refresh the tags on listings that are getting less traffic and diversify the terms you're using.

Do consider synonyms and regional phrases. If shoppers use regional spellings like jewellery in their search, we'll still show them listings tagged "Jewellery." However, we don't account for some regional phrases. For example, if you sell flip flops and a lot of your customers are in Australia searching for "thong sandals", you should add "thong sandals" to your tags.

Do target "long tail" keywords. Instead of trying to compete for popular, generic searches, like "tote bag" or "diamond ring", prioritise less popular phrases that describe what's really special about your products. For example, "canvas tote bag" or "natural diamond ring". Shoppers who know what they want to buy often use more specific searches — and you can deliver just what they're looking for.

Don't repeat tags. The 13 tags you add should all be as unique as possible. For example, having tags such as "octopus art print" and "animal wall decor" will get that listing in front of more potential buyers than "octopus art" and "octopus print". We'll share more tips on diversifying your tags below.

Don't repeat categories and attributes. The categories and attributes you add act like tags, so if an exact phrase appears in your categories, you don't need to add it as a tag. For example, if your item is in the Statement Ring category, you don't need to add "statement ring" as a separate tag.

Don't include misspellings. Etsy search redirects shoppers to the correct results if they make a common mistake so you shouldn't misspell keywords on purpose to reach shoppers who've made a tiny typo.

Don't add tags in multiple languages. The titles and tags you add should be in the language you choose when setting up your shop. We'll translate what you enter when we look for listings that match the search query. If you speak multiple languages, you can choose to translate your listings yourself. If you add your own translation, you can also add translation for your titles and tags.

Don't worry about plurals. When a shopper enters their query, we look at the root words for the phrase the typed in and match them to the root words in your listings' keywords. For example, a search for "diaries" would still be matched with listings with the tag "diary" because they have the same root word.
Think about attributes
On Etsy, attributes play a distinct role in powering category-specific filters that connect relevant listings to relevant shoppers. Collecting this structured data across millions of listings helps provide a better search and browsing experience for buyers, and typically results in more visits and sales.
Attributes are additional types of information which sellers should provide about their products while creating or editing a listing to help describe what they're selling so that buyers can easily find just the right item. Attributes differ from open-field listing tags because they're limited, and category-specific. They're created by Etsy based on extensive research into buyer search behaviours. As attribute options are limited to a structured set of data, like a fixed list of colour options or types of gemstones, they can be surfaced to buyers across different types of shopping experiences in a more systematic way.
The words and phrases that appear in attributes can help a listing match with a shopper's query in Etsy search results. Attributes are also used to create category-specific filters, which buyers can use to narrow down their results while shopping. These are the filters that appear in the sidebar of search results. The only way for a listing to appear in filtered search results is if it contains that attribute. Providing accurate attribute information also allows Etsy to show your listings to buyers in more places across the site, including relevant recipient or season-specific shopping experiences and targeted marketing initiatives.
"Attributes are like free 'super tags'," explains Jenny Benevento, Senior Manager of Etsy's Taxonomy team. "They're extra category-specific keywords, which you can add on top of your 13 open-field listing tags to help your items appear in relevant searches and browse experiences." The Taxonomy team uses search data, buyer interviews, merchandise research, and analytics to discover what shoppers want to know about items on Etsy. 
Based on those findings, they are continually adding attributes across categories to help items appear in relevant searches. Attributes are often introduced first within popular, listing-dense categories in which buyers may be overwhelmed by the volume of search results as a way to streamline relevant results.
Think about your shop title
Your shop title is a bit of text that appears under your shop name on your shop homepage. It can be up to 55 characters.
Your shop title will also become the "page title" for your shop page. This is the text a person sees in the search engine that links to your shop.
You can edit your shop title by going to Shop Manager and clicking the pencil icon next to your shop name under Sales Channels.
Etsy recommends briefly describing your shop and the items you sell. Some sellers make a tagline or slogan. Also consider including your full name or your business name in your shop title if potential customers are likely to search for you that way.
Think about the shop navigation and why customers are there
Once you've identified your audience you need to make sure that the content you produce connects with them. If it addresses the needs of your persona(s), it will be read more and shared more, helping it to rank better in search engines. You also need to think about the navigation and menus that you use for your Etsy store.
You can edit your shop sections by going to Shop Manager > Listings. Find Sections in the right toolbar and click Manage to edit them.
Like your shop title, Etsy uses your section names to create the page titles for each of your sections' landing pages. The page title is the text a person sees in the search engine that links to your shop. Search engines only show about 66 characters for a page title, and Etsy limits section names to 24 characters. Etsy will automatically include your shop name in the page title.
Briefly describe the kind of items in each specific section. Using "category style" names for your sections that include your keywords not only helps a shopper navigate within your shop, but also can help shoppers find you in search engines.
People search for a variety of reasons including;
Understand a product category

Learn about a product or solution

Find the best deal

Locate a product or service that's advertised
As above, a basic buyer's journey includes the following stages:
Awareness > Interest > Consideration > Purchase > Post Purchase > Re-Purchase
You can think about this before beginning a piece of content. Is your persona:
Looking for a general category of information? (Awareness)

Looking for a solution to a specific problem? (Interest)

Looking for an enterprise solution? (Awareness-Interest)

Identifying and comparing specific products or vendors? (Consideration-Purchase)

Looking for help with one of your products they already own? (Post-Purchase)

Looking to replace or upgrade a product, and planning to remain loyal to you? (Re-Purchase)
Are you itemising products and listings correctly
Two important SEO elements for your listing pages are your item title and description.
Item title
Your item title is used to create the page title for your listing page. Search engines only show about 66 characters for a page title, so Etsy has automatic rules to determine how much of your item title will be used in the page title.
Clearly describe your item at the beginning of the item title. Use keywords you think a shopper may search. Your title is also a factor in the search engine on Etsy, so a good title serves double-duty!
Item description
The first 160 characters of your item description is used to create the meta description for your listing page. The meta description is the text shown under your page title on a search engine results page.
Your description is important beyond the first 160 characters, too. Search engines look at a page's full content. Be sure to describe your item well, using your keywords and providing details about the item.
Briefly describe your item in the first sentence of your description. Use keywords that you think shoppers will search to find your items.
Inbound links and referrals
Some people running stores on Etsy will be graced by the same kind of customer time and time again so understanding their audience is easy. For others it may be more difficult and that could be for a number of reasons such as the products they sell or their recognition in their own marketplace. For this reason it is vital that businesses build communities and, in truth, a digital profile that will perform best in SERPs.
Inbound links, and a healthy backlink profile, are vital to this and by getting other businesses, bloggers, news publications and websites to link back to your store, your visibility and rankings are sure to increase.
Building legitimate inbound links, or backlinks, is an important strategy for marketing your website for two reasons:
They can drive referral traffic to your site

They can help you rank higher in the SERPs (search engine results pages)
Links are still a vital signal to Google about the relevance and importance of a website. A good backlink comes from an authoritative website (one with a high domain authority, or DA), using anchor text that appears natural in the context of the content on a page.
The way to earn genuine, high-quality backlinks is by sticking to the following rules  – which are basic good practice for online marketing in general:
Creating your own unique, engaging, high quality content

Build a genuine community which interacts with your website, your social channels and one another

Develop and maintain authentic relationships with relevant influencers
A strategic exercise that ticks all of these boxes is campaign outreach, which involves forging relationships with influential bloggers, capturing data, creating and distributing high quality, shareable content and amplifying its reach through social and 'earned media'.
There are benefits for both parties: the blogger receives high quality content which is bespoke to their own and to their audience's needs. For the client, the exchange of content helps to boost their brand awareness and strengthens their website's organic search (SEO) profile by creating strong, natural backlinks.
---
For more information on our SEO services, use our contact form to get in touch and see how an award winning SEO agency can put you in front of your competition…