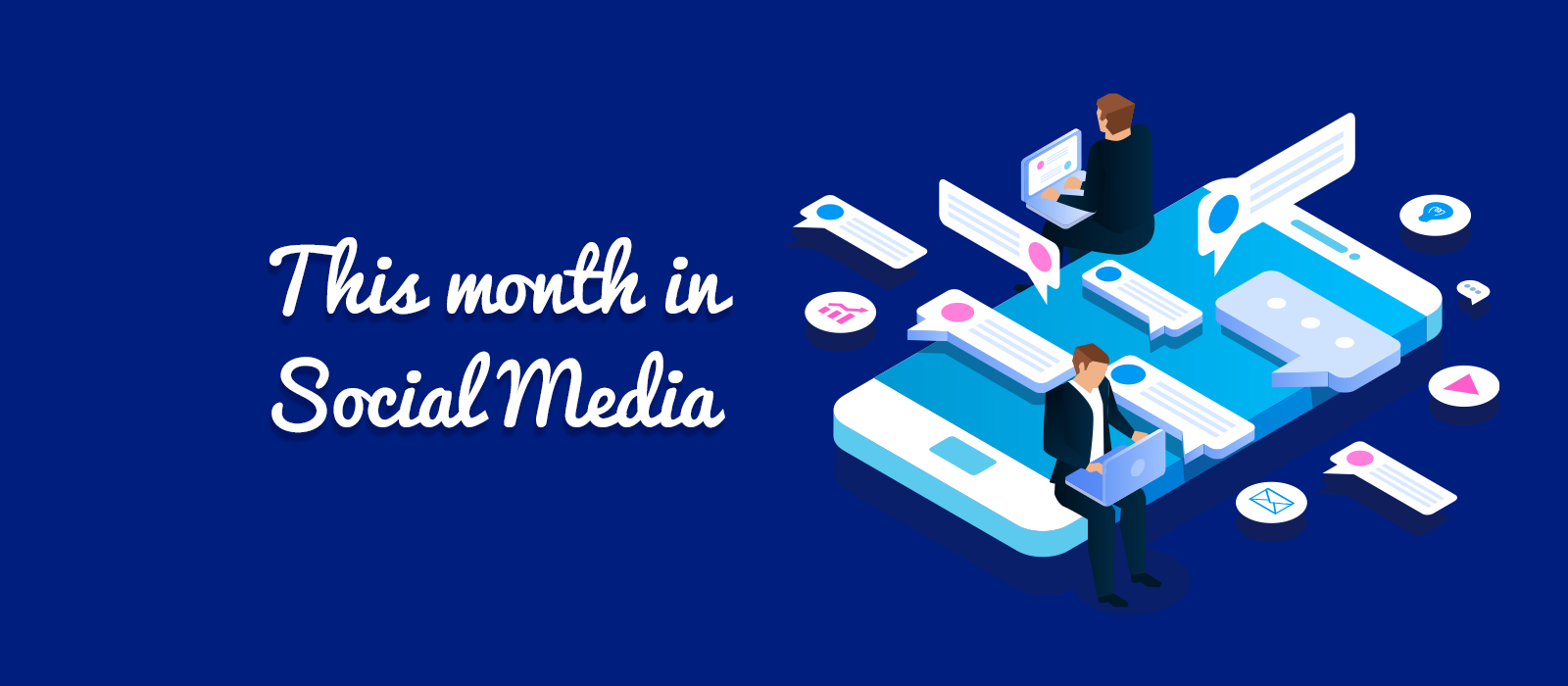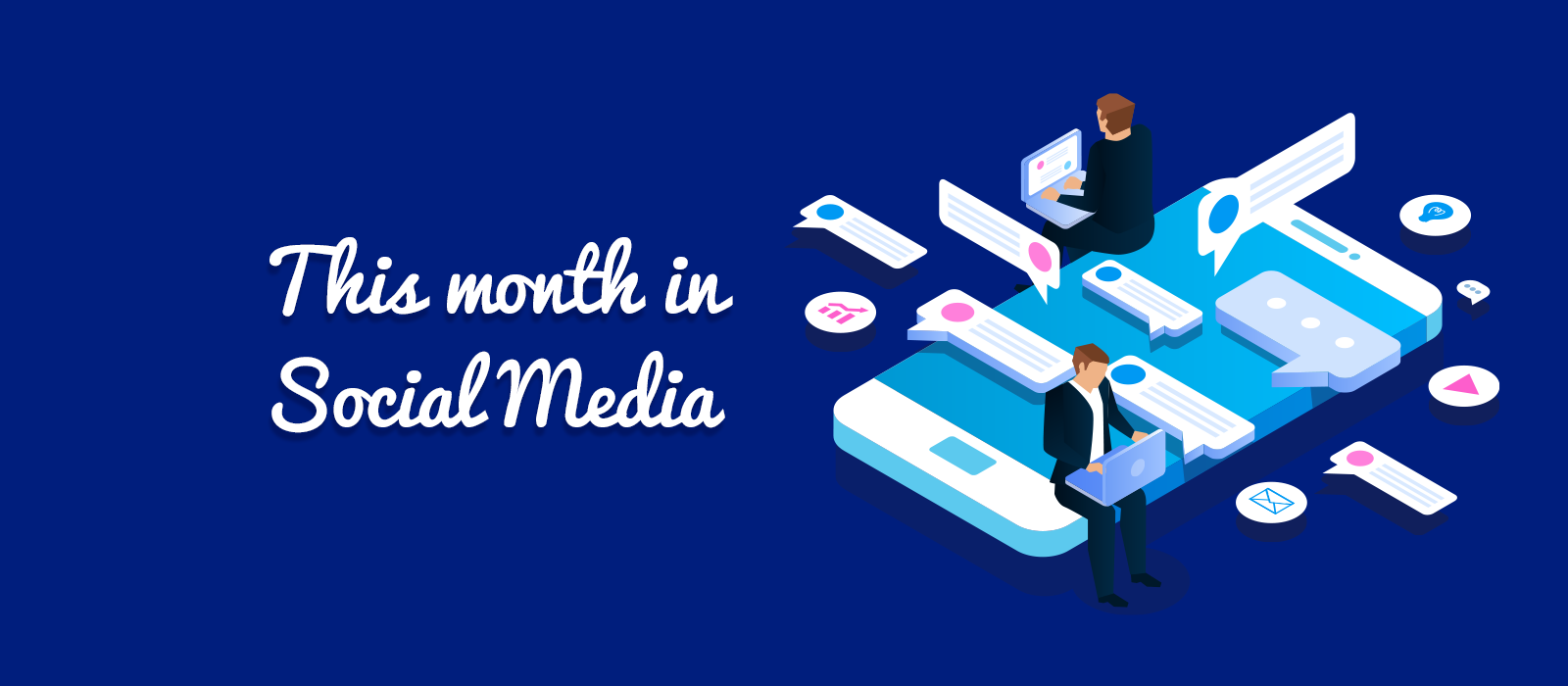 This month in social media (May 2020)
May 27th, 2020
It seems like the main focus throughout May on social media is how businesses can adapt to life post-pandemic, with many social channels releasing new updates tailored around supporting this. Updates such as new Instagram stickers to easily shop at small businesses is an example of this. 
---
Recent data from Hootsuite showed that 76% of people are using their smartphones more since the onset of COVID-19, with a lot of that being social media, so it's important to keep on top of your strategy. As we are also adapting, we thought we'd update you on some of the bigger stories from the world of social media throughout the month.
Facebook introduces Shops on Facebook and Instagram
This is possibly the biggest news from the month and the year so far, and one that certainly changes the eCommerce world. Facebook is beginning to roll out their new Shops feature, which will also be on Instagram, allowing businesses to set up shops directly on the platforms, and for customers to purchase through it without being redirected.
Customers will be able to browse the collections, get inspired by what others have purchased and purchase on the platforms themselves, and for those brands who are working with influencers will now be able to be tagged by the influencer, particularly on IG Live, allowing for people to purchase from there too. Pretty exciting right? It's being tested in the US first but it won't be long before we're all using it naturally.
LinkedIn's "Virtual Events" has now launched
With many agencies, businesses and brands having to cancel their conferences and exhibitions during the current pandemic, LinkedIn is determined to ensure these aren't completely forgotten about.
So what is involved? LinkedIn Virtual Events will now allow pages to live-stream to their page's followers, or certain event attendees live from wherever they desire. The stream itself can be seen by inviting page followers, or via direct-invite, and can also be promoted using paid-target and advertisements, to be seen by people outside of your network. If you are on LinkedIn personally, and want to find new events to attend to broaden your knowledge in a certain industry, then you're in luck, as this is possible through LinkedIn's organic discovery features. This news comes just as it has announced that the platform has blocked 7.8 million fake accounts during the second half of 2019.
Twitter's new conversation updates
It seems the most of Twitter's updates in these recent social media blogs have revolved around the conversation aspect of the app, and the latest two updates are no different. Firstly, it has announced that those using the platform on the iOS app can now see retweets with comments (or quote tweets it was once called). If you click on the number of retweets a tweet has had, you will now see two tabs at the top of the page, with one focusing on the retweets with comments. This is something that has been talked about quite a lot, with many third party Twitter bots creating URLs for users to see these comments, which have often been hard to find in the past.
The second big news from Twitter recently, is one that is currently in the testing phase, which allows for accounts to limit who can reply to public threads. So if you're asking a question to someone, but you want everyone to see, you can now request it so that only the people you have tagged can reply, whereas everyone else can still like, read and follow.
Facebook acquires Giphy for $400 million
Everyone uses GIFs, which means everyone has used Giphy, which is the platform behind the majority of GIFs you see through social media and messenger platforms. Well, Facebook (as usual) has purchased the platform for a hefty sum of money.
With 50% of the GIFs being used on Giphy coming from Facebook platforms anyway, such as WhatsApp and Instagram, it seems like a natural purchase and one we can hope to see new updates and features from. Their plans are to focus on Instagram, and start to integrate GIFs into direct messages and their Stories feature. Expecting to see more from this soon.
---
Check out how our social media marketing team can enhance your online visibility, and keep abreast of the latest social media, SEO, PPC and content marketing stories by signing up to our newsletter at the top left hand side of this page.