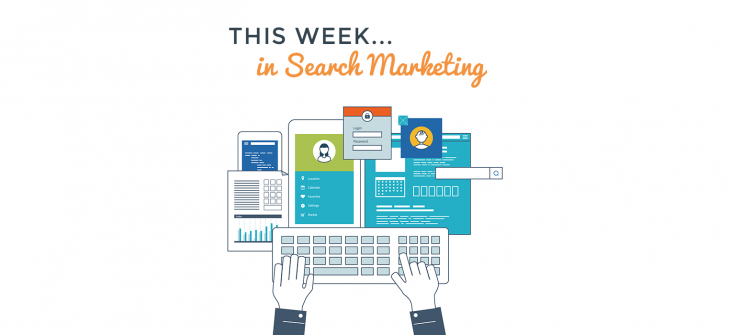 This week in search marketing [17/02/2020]
Feb 19th, 2020
An unconfirmed Google update a leap forward in natural language search from Microsoft and a host of other news in this (late again, sorry) week in search
---
Friday
Google adds new image license metadata for licensable image label
Google is beta testing a new way for sites to display licensing information about content that appears in Google Images.
Google has launched a new structured data element for image license metadata that allows Google Images to show a licensable image label in the search results.
The CEPIC, the European picture agency, wrote about this on its blog saying "We are happy to share now that Google Images is releasing a metadata framework through Schema.org for licensable images. Google will also be supporting the IPTC metadata standard. Content creators and distributors will be able to include the licensing information for pictures on their site, and it will be reflected on Google Images."
Google published the technical details for this meta data over here. Google offers two ways that you can add metadata. You only need to provide Google with one form of metadata to be eligible for the Licensable badge, and any of the following methods is sufficient, Google said.
Structured data: Structured data is an association between the image and the page where it appears with the mark up. You need to add structured data for every instance an image is used, even if it's the same image.
IPTC photo metadata: IPTC photo metadata is embedded into the image itself, and the image and metadata can move from page to page while still staying intact. You only need to embed IPTC photo metadata once per image.
Google said "The new badging and license information display isn't live yet, but you can prepare your content for it now." But this is coming soon and if you mark up your images, Google may show the information in image search when this goes live.
Google: Spam less than 1% of Maps content
Google posted about how it continues to build out Maps with community content on Thursday. It cited the myriad contributions made by its more than 120 million Local Guides. It also discussed spam, which it said represents less than 1% of the 20 million daily contributions it receives on Maps.
To combat listings spam, policy-violating images and fake reviews, the company says it uses "a combination of people and technology." In addition to community reported spam (e.g., reviews), Google says its machine learning models "watch out for specific words and phrases" and various content patterns to detect suspicious content.
Despite Google's claims of diligence, there's a perception in the local SEO community that Google pursues spam and fake content inconsistently, in fits and starts. Indeed, there are local SEOs who say Google tolerates "dangerous" levels of spam in many sensitive categories, such as healthcare.
Of course, Google disputes such claims and cites internal data to argue that it's diligently fighting local spam. In 2019, Google says it:
Removed more than 75 million policy-violating reviews and 4 million fake business profiles.
Took down more than 580,000 reviews and 258,000 business profiles that were reported directly.
Reviewed and removed more than 10 million photos and 3 million videos that violated content policies.
Disabled more than 475,000 user accounts.
Bing announces refreshed Bing Webmaster Tools
Bing Webmaster Tools to make for a faster, cleaner, responsive and actionable toolset for SEOs and webmasters.
The new toolset promises to offer a faster, cleaner, more responsive and even more actionable set of features for SEOs and Webmasters.
Bing is not just releasing a user interface update, but this first release will have three main new features:
(1) Backlinks: The inbound links report in the current portal has been integrated with the disavow links tool, which are now a part of the new backlinks report in the refreshed portal.
(2) Search Performance: Page traffic and search keywords reports are also integrated as one and are a part of the new search performance report.
(3) Sitemaps: The sitemaps page is the refreshed and looks new.
Bing said, "We are delighted to announce the first iteration of the refreshed Bing Webmaster Tools portal. We are releasing the new portal to a select set of users this week and will be rolling out to all users by the 1st week of March."
Wednesday
Vast majority of Amazon advertisers plan to spend more
Eighty-one percent of current Amazon advertisers plan to increase their ad spend on the platform in the coming year, according to a Marketing Land survey of digital advertisers released Wednesday.
Of those planning to increase their Amazon ad budgets, 41% said they plan to spend as much as 25% more than the previous six to 12 months; 22% plan increases of 25 to 50%; and 10% expect Amazon budgets to increase by 50% or more.
These growth expectations are in line with the trends we saw forming in their last survey of Amazon advertisers in 2018. Amazon's ad business grew 40% year-over-year in 2019, to roughly $14 billion, but it is still very early days for the platform.
Tuesday
Google Search Console Change of Address tool adds redirect validation & reminder
Google has some new features in Search Console to help you move your site. Google announced two new features to the Change of Address tool within Google Search Console. These new features include redirect validation for top five URLs of the moving domain and a reminder at the top of both the moving domain and the destination domain within Google Search Console.
Google added redirect validation for top five URLs of the moving domain. The tool will show you the redirect flow, validate the flow, show you some examples and give you recommendations of any problem redirects. Google will also show you a reminder at the top of both the moving domain and the destination domain within Google Search Console.
Monday
Google Ads offers more granular conversion actions for leads and sales
Google is testing more granular options for tracking website conversion actions in Google Ads. The current list of options for tracking website conversions has five options: purchase, lead, page view, sign-up and other.
The new set of options is divided into two sections: sales categories and lead categories.
In addition to "purchase", those tracking sales actions can also opt to track ad clicks that result in and "add to cart", "begin checkout" or "subscribe" action.
For lead generation, advertisers can set up the following actions: submit lead forms, book appointment, sign-up, request quote, get directions or outbound clicks.
According to Search Engine Land: "The new more granular options can make it easier for advertisers to track micro-conversions and optimise campaigns for various stages of the customer journey. This also plays into the availability of Conversion Action Sets, introduced last year, that allows you to group conversion actions together."
Google Partners clarifies why clients may be listed as 'eligible users'
Here's how to see who counts toward the new 50% certification rule and what to do about it, according to Ginny Marvin.
"We strongly recommend that any user who can edit campaigns should be certified," Google.
There is a lot about the coming changes to the Google Partners program eligibility requirements that agencies aren't happy about. Among them, the requirement that at least 50% of the eligible users listed in their manager accounts will need to earn Google Ads certifications (up from just one certified user with standard or admin access). The new requirements, announced last week, are set to take effect by the end of June.
The issue isn't that the certifications are regarded as weak indicators of a user's proficiency with using Google Ads products to create value for clients, though many hold that view. The concern about this new threshold is that the list of eligible users in manager accounts often includes numerous client representatives and others who aren't involved in campaign management.
---
Keep up to date (mostly) with the latest search marketing news by subscribing to our newsletter, or check out our (thankfully less time sensitive) resources for actionable insight. Or contact us to see what we can do for your brand.