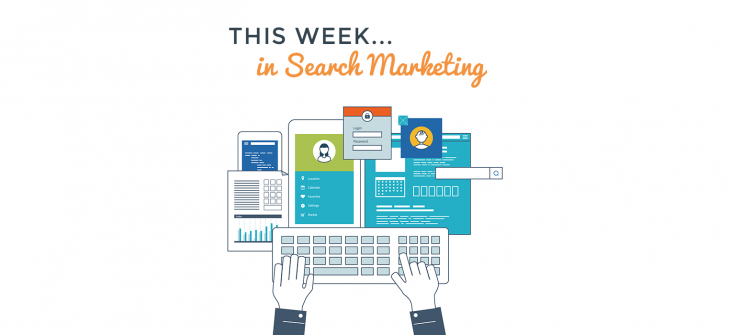 This week in search marketing [23/03/2020]
Mar 23rd, 2020
We explore the search and digital marketing news landscape as it is impacted, like every other area of life, by the global Coronavirus crisis…
---
Thursday
Google asked to delay third-party cookies removal
A business group within the World Wide Web Consortium (W3C) is planning to ask Google to delay the third-party cookie phase out in Chrome in light of the widespread disruption caused by the ongoing Coronavirus situation.
A member of the ad tech group told AdExchanger that the plan is to request that Google extend the deadline, which was somewhat tentative to start with, by between six and 12 months. The petition could be sent as soon as early April. Google announced its plan in mid-January to eliminate third-party cookies in Chrome by 2022, and said that trials for click-based conversion measurement (minus third-party cookies) would start by the end of the year.
Pinterest launches 'Today' tab
The visual search-based social media platform has fast-tracked the launch of the Today tab, "a new source of daily inspiration with curated topics and trending Pins", in response to all-time high in activity, as people around the globe search for inspiration during self-isolation. The platform says there were more searches and saves of Pins over last weekend than any other in its history,
It says: "We're featuring expert information from the World Health Organisation and Centers for Disease Control on topics like handwashing during the Coronavirus epidemic over the following weeks. In addition, we're also showing kid-friendly baking ideas, self-care tips, family-favourite movies and comfort food recipes based on trending Pins from what others are saving… More than ever, people are looking for ideas for activities to do at home — cooking quickly and easily, crafts and lesson plans for kids, tips for growing vegetables, and more."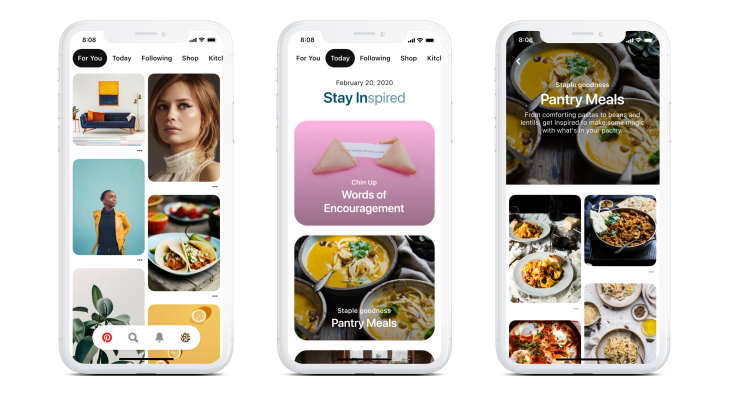 Snapchat publishes Corona impact stats
Snapchat has released research about the impact of the Coronavirus pandemic on society's everyday living, based on a survey of users, aggregated and anonymised location data and the top trends from search, stickers, public and Our Story post captions.
The results clearly show a trend for social distancing. High schools (-86%) and Universities (-73%) are the most impacted but quickly followed by entertainment venues (-59%), movie theatres (-40%) and bars (-29%). Travel is also heavily impacted with airport traffic being down (-22%) and hotel visits (-22%.)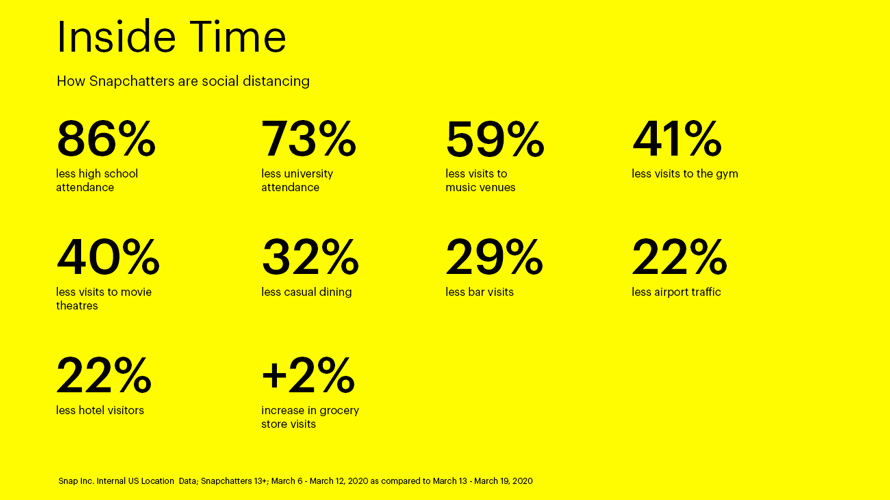 Wednesday
Google bans ads for Government documents or services
This May, Google will be enforcing a new policy in Google Ads that will affect all businesses running any ads for "documents and/or services that can be obtained directly from a Government or a delegated provider".
What this means that advertisers can no longer advertise documents or services that help people acquire, renew, replace, or look up official documents or information such as driving (and other) licenses, travel documents, passports, etc.
Google will start to enforce the new policy on 26 May 2020, and full enforcement will begin around five weeks later.
Tuesday
Beware, your analytics data is probably skewed
Search Engine Land is warning marketers that that surge in people working from home Brett Patterson, Digital Analytics lead at Siteimprove has this very important tip regarding analytics data. Brett says: "Internal traffic is not internal! With so many employees working remotely right now, this may influence your digital analytics data! Your typical filter won't catch workers working remotely, unless they are possibly using a VPN or other remote network connection. This means your employees [or your clients' employees] might be counted in your analytics metrics, even though you had previously created a filter for this."
Brett further recommends placing an annotation in your analytics account – and to keep this in consideration when measuring and reporting out on your digital marketing efforts.
Twitter: usage up, adspend down
Twitter is seeing a lot more usage amid the COVID-19 lockdowns across the world – but that doesn't, however, mean that Twitter's making more money as a result, according to a new update from the company.
As reported by Bloomberg, Twitter has this week withdrawn its revenue and operating income guidance for the first quarter of 2020, as well as its outlook for expenses, headcount, and capital expenditures for the full year due to the rising impact of COVID-19.
"Twitter had a strong start to the year before the effects of COVID-19 began spreading more broadly, including a successful Super Bowl and overall strength in the US. The COVID-19 impact began in Asia, and as it unfolded into a global pandemic, it has impacted Twitter's advertising revenue globally more significantly in the last few weeks," said Ned Segal, Twitter's Chief Financial Officer. "We have made solid progress on our consumer and revenue product priorities and we remain confident in our opportunity and strategy. We hope everyone stays healthy and safe."
Monday
Ad spend to grow; but slow
Worldwide ad spending is still expected to grow compared to last year, says research firm eMarketer, but it has lowered its growth projections by nearly 3%. It will increase by 7.0% to $691.7 billion in 2020 over the prior year, down from the earlier growth estimate of 7.4% to $712.02 billion.
The updated spend projections include digital, directories as well as print, out-of-home, TV and radio advertising.
MediaRadar reported that the hospitality, film and tourism industries are, predictably, the most likely to strip back on industry ad spending from last year, calling them "at-risk".
It seems inevitable that "out-of-home" advertising – such as billboards and public transit ads – will be impacted due to isolation and social distancing.
eCommerce boosted
Data from Quantum Metric indicated that eCommerce sales for retailers that also have bricks and mortar locations " saw an average revenue weekly growth rate increase of 52% and an 8.8% increase in conversion rates" in the first two months of 2020. This figure is only 18% in the UK.
50% of Chinese and 31% of Italian consumers say they're using ecommerce more frequently and for items they'd usually buy in-store, such as groceries.
Respondents from affected regions have revealed their lifestyle changes, opinions and reactions brought about by the pandemic in a new study from Ipsos MORI.
Google removes right-sidebar Featured Snippet
The right-sidebar fFeatured Snippet variant of Google search results has been migrated into the main results column, a Google spokesperson has confirmed. This change means those who used to have a right-sidebar Featured Snippet as well as appearing in the main results will now only have one link on page 1 of the SERPs instead of two – and also impacts other organic results by pushing them down the page. The move is part of Google's Featured Snippet deduplication, which began in January this year.
Mordy Oberstein, CMO of RankRanger, spotted the update had rolled out Thursday.
Seeing a multi-day fall-off in MozCast, but same end point — as of yesterday, something like 1% of SERPs with Featured Snippets had them on the RHS. A week ago, it was more like 30%. https://t.co/BYyGWRd83Q

— Dr. Pete Meyers (@dr_pete) March 19, 2020
Facebook "knew for years about inflated ad metrics"
Facebook executives knew the company overestimated the potential reach of ad campaigns, marketers who are suing the platform allege in new court papers.
"Facebook's internal documents show that Facebook personnel knew for years that the Potential Reach metric that it provides to Facebook advertisers on its advertisement purchasing interfaces (including on Ads Manager and Power Editor) was inflated and misleading," the marketers allege in an amended complaint filed Thursday with US District Court Judge James Donato in San Francisco.
The new complaint marks the latest development in a lawsuit initially filed in August of 2018 by advertisers who alleged that Facebook induced them to purchase ads and pay higher prices for them by inflating the number of users the ads could reach.
Facebook maintains that its estimates weren't guarantees and that no customers have suffered harm.
---
To keep up to date with the latest search news, you can sign up for our newsletter, or check out our resource section for more actionable advice. Alternatively, contact us to see what we can do for your brand.