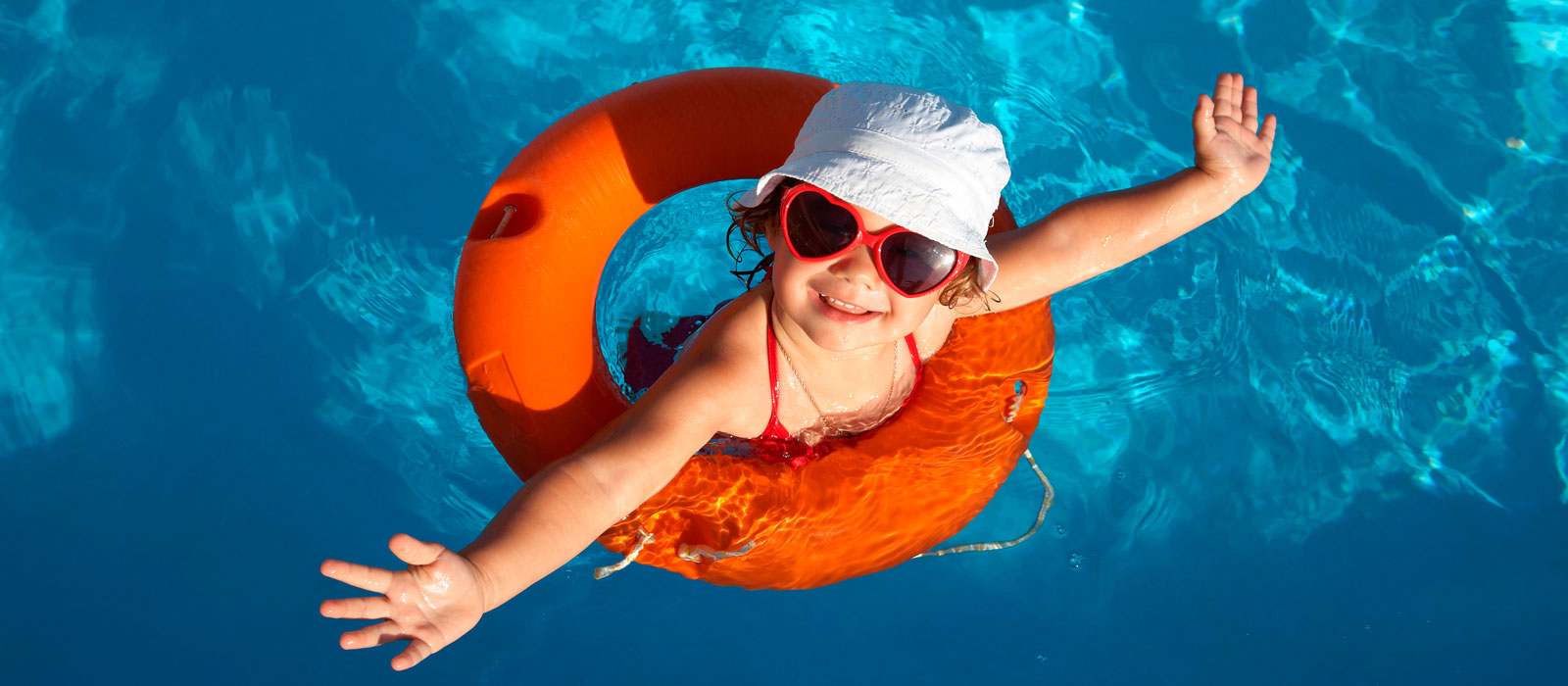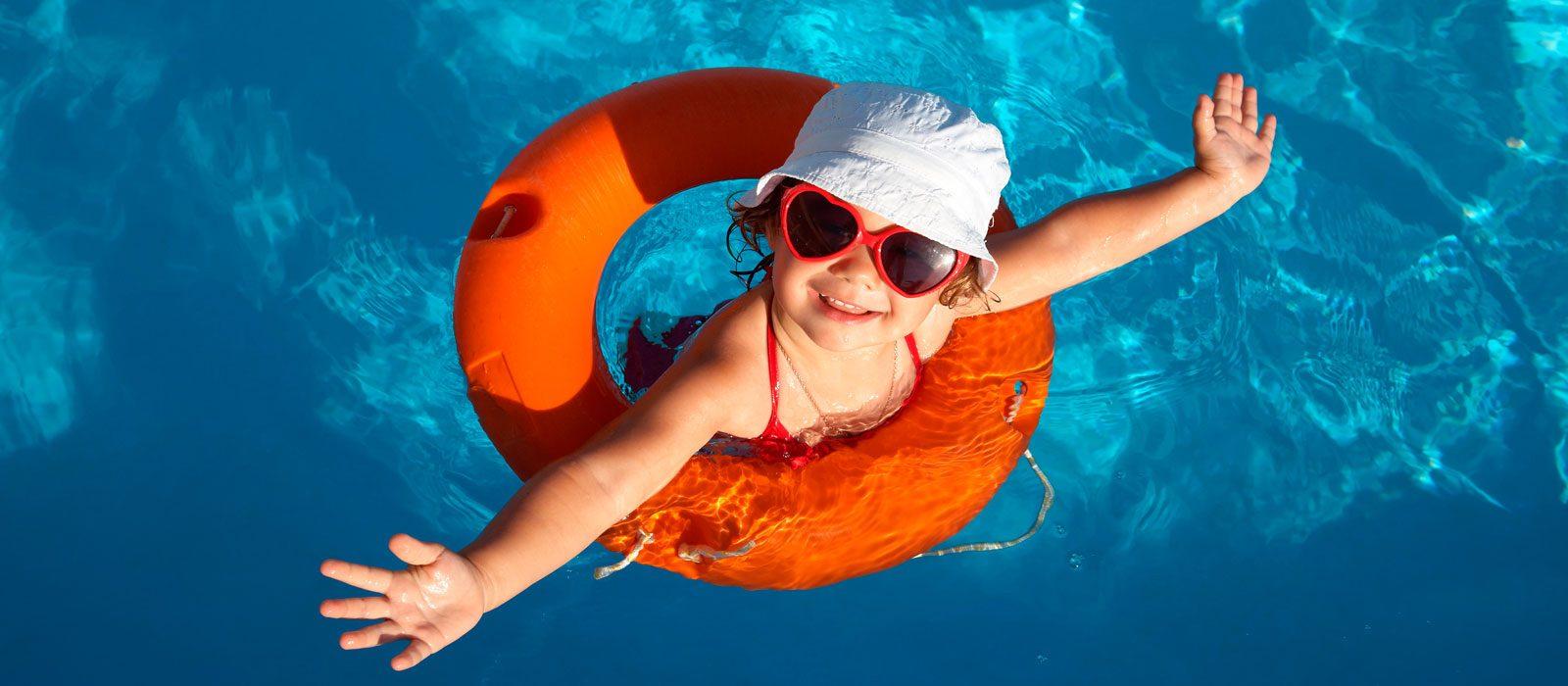 Which travel insurer is winning on the SERPs?
Mar 11th, 2015
The vast majority of us spend a significant amount of time throughout the year fantasy shopping online and planning our next vacation. Unfortunately, travel insurance is a must-buy product for such occasions, which is why it is such a significant search term in Google
---
Who is missing the SEO boat?
Data from Google Adwords suggests that there are 711,240 local monthly searches on average for the top 100 search terms in the industry, with a whopping 45.76% of this being focused on the head term 'travel insurance'. The next biggest term is 'holiday insurance', and together these two terms make up 57.02% of local monthly searches according to Google data.
We take a look at some of the core industry players who are underperforming on this channel and work out how they could improve.
---
The benchmark
Firstly, it is important to understand what these key players have to contend with from the competition, with the significant search volume potential naturally making this channel a key focus for large financial institutions and price comparison websites.
MoneySuperMarket is currently dominating in terms of organic search positions on the head terms, with them holding 1st position on both 'travel insurance' and 'holiday insurance'.
One of the key reasons for this appears to be their linking profile, with data from Open Site Explorer showing that there are 61,568 equity passing links pointing at the MoneySuperMarket travel insurance product page compared to just 1,097 for The Post Office who rank in 2nd place on the head term, and 9,839 links pointing to Tesco Bank's travel insurance page which currently ranks in 3rd place.
This is a staggering amount of links, and it is frankly unlikely that all of these are still counted by Google as being part of the MoneySuperMarket linking profile. As was noted in our analysis of the car insurance market, MoneySuperMarket appears to have suffered a drop in search visibility in August 2013 before making a swift recovery to previous levels in March 2014:

These visibility fluctuations do not correspond with any known relevant algorithm changes and it is entirely possible that this was some form of manual action penalty. If this is the case, then it is more than likely that a disavow will have been submitted to Google to ensure that the highest risk links are no longer counted as being part of the linking profile. Nevertheless, given the gulf in sheer link numbers, MoneySuperMarket will undoubtedly still have more links pointing to their travel insurance landing page than any of their competitors.
Links are clearly not the only reason for MoneySuperMarket's performance, as proved by Tesco Bank ranking behind The Post Office despite having significantly fewer links. This leads to another core reason for MoneySuperMarket's superior performance, which is content, with their product page, featuring significant amounts of well optimised and high quality content which is clearly focused on the target terms.
In addition to this, there are a further 46 landing pages underneath this channel folder (accessible via a guides hub) which are focused on longer tail terms, ranging from those with significant search volume such as travel insurance over 65s (3,600 local monthly searches) to those with smaller search volumes but are still useful to their customer base such as volcanic ash travel insurance (90 local monthly searches). Each of these landing pages has between 300-500 words of copy and is perfectly optimised for SEO in terms of keyword usage.
Of course this all adds the perceived quality of MoneySuperMarket's offering in the eyes of search engines as all of these long tail landing pages sit underneath the /travel-insurance/ channel folder in the URL structure. As well as benefitting from the superb high quality content, the channel level folder will therefore also benefit from the flow of links to any of these longer tail guide pages.
On top of this, the travel insurance product page is mobile responsive (even if the guide pages are not) and MoneySuperMarket are also the only competitor in the top 10 currently utilising reviews structured data mark-up which may well bring a click through rate increase: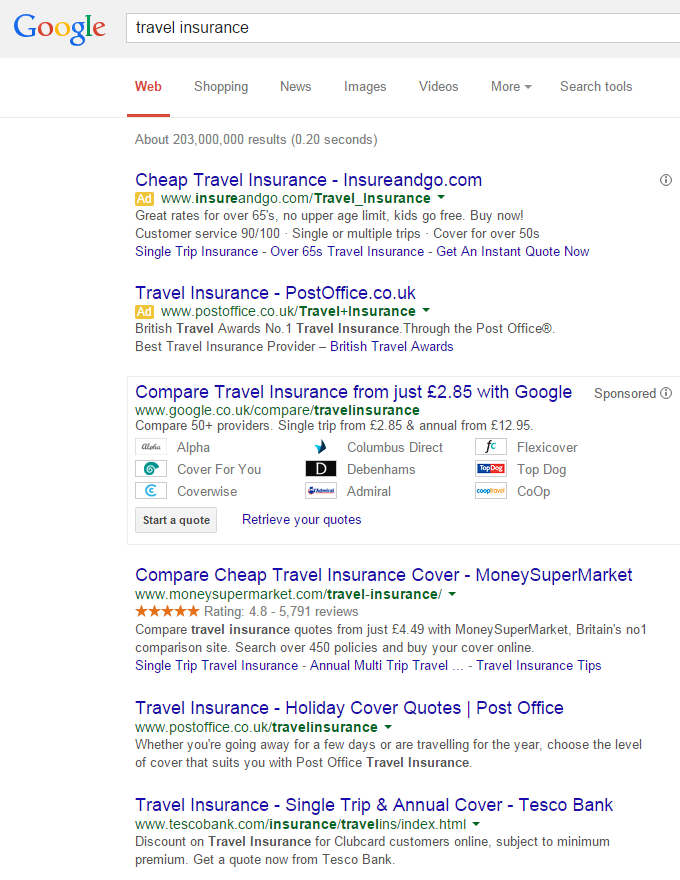 Given all of this, it is unsurprising to find that they are currently in 1st position for the majority head and longer tail terms. So what do the competitors need to do to catch up?
---
Insureandgo.com
Insureandgo.com are not currently fulfilling the full potential of their brand, as they are languishing in 79th place on the head term 'travel insurance' and 71st place on 'holiday insurance' despite being highly prominent for PPC activity.
Data from Search Metrics suggests that they have lost a significant amount of search visibility over the past 12 months. This has been a gradual decline, but there were notable dips in January 2014, June 2014 and November 2014. None of these drops coincide with any known relevant Google algorithm update which suggests that there may have been some form of manual action:

It is entirely possible that this is in relation to their linking profile, which is considered to be a high risk by Link Detox, with the tool considering 29% of the links in their profile to be a high audit priority and a further 45% to be medium priority:


This is further corroborated by manual examination of their linking profile with the majority of their links coming from low quality blogs which appear to have been set up for link distribution rather than for the purposes of engaging site visitors.  These blogs feature a number of the key features which are likely to lead search engines to assume that unnatural means of link generation have been used.
Content is another potential bug bearer for Google, with there being just 80 words of copy on their homepage which is primary used as a landing page for travel insurance given the focus of the business.
There are similar issues long tail focused landing pages which are dedicated to single trip, annual multi-trip, backpackers, cruise, over 65s and winter sports travel insurance products.
---
Virginmoney.com
One competitor who is doing a better job of the on-page copy is Virgin Money, with the content on their travel insurance dedicated landing pages being far more substantial than that on Insureandgo.com.
Virgin Money did in fact benefit from a significant search visibility increase in April 2014 shortly after the 'unnamed update' announced on 24th March 2014 which was rumoured to be a softening of the Panda algorithm:

However, using archive.org it becomes clear that there are very few differences between the landing page in March 2014 compared to the same page 12 month previously in March 2013 with it appearing that the improved on-page copy did not arrive until after July 2014.
This leaves their linking profile as a possible reason for this visibility increase, with the size of this increase appearing to be consistent with the lifting of a manual action. This is once again supported by a manual inspection of the linking profile, with the majority of links being generated from low quality blogs as well as directories and press release sites, all of which can set off alarm bells with search engines if done on a large scale as appears to be the case.
There is also a very high focus on exact match keywords in the linking profile; with close to 57% of the links being exact match keywords such as 'travel insurance', which itself makes up 30% of the profile to the travel insurance page. Of course, it is impossible to know how this distribution would have changed if a disavow file has been submitted. However, it should be noted that in an un-disavowed view, the Virgin Money domain profile does not appear to be as high a risk as Insureandgo.com, with just 18% of the links being a high audit priority with 60% being medium priority:

However, it appears that Virgin still have a number of on-page issues which will be hampering their performance, with long and complicated URL structures featuring unnecessary folder levels. This will be distancing the product landing pages from the authority of the root domain and also making link generation harder to accomplish.
Additionally, unlike Insureandgo.com, Virgin does not have a responsive mobile design in place. This is believed to have become an increasing ranking factor as the number of mobile user's online increases.
---
Saga.co.uk
Saga's search visibility had generally been on the up until June 2014 according to data from Search Metrics. This drop came shortly after the launch of the Panda 4.0 algorithm which was designed to assess the quality of on-page content:

This theory is lent credence by a review of their on-page copy, which is both thin and under optimised. There are further pages underneath the travel insurance folder level in the URL targeting longer tail terms such as single trip and annual travel insurance but these pages all suffer from the same content quality issues. On top of this the pages are not mobile responsive which results in a poor user experience on mobile device, and the on-site design leaves much to be desired.
Saga are unlikely to win any prizes for their linking profile either, which is considered a high risk domain by Link Detox, with 26% of their links considered to be a high audit priority and a further 54% considered a medium audit priority:


As a result of all of this, Saga are well and truly being beaten in their own back yard, with MoneySuperMarket 1st place for the term 'travel insurance for over 65s' and Saga languishing in 29th place.
---
Tescobank.com
Tesco Bank is currently the closest to 1st position on the head term 'travel insurance' ranking in position 3 behind MoneySuperMarket and The Post Office. On top of this, their search visibility has been a steady incline over the past two years:

This has occurred despite the fact that travel insurance is not specifically mentioned in the overly complex URL structure (http://www.tescobank.com/insurance/travelins/index.html) which has an unnecessary folder level (/insurance/) and the company is also appearing to focus their efforts on getting the index.html version of the URL ranking.
The on-page content is currently adequate although not up to the standards of MoneySuperMarket and does not feature the many different long tail focused landing pages under the product folder level, with the multi-trip travel insurance and travel insurance with medical conditions product offerings covered in additional tabs on the main product landing page. One positive however is a responsive design which works well on mobiles.
We have already noted that Tesco Bank has substantially fewer links than MoneySuperMarket to their travel insurance product pages (9,839 links compared to 61,568 links), and the quality of the links in this profile must also be called into question with Link Detox considering them to have the highest risk profile surveyed so far as part of this analysis with 27% of the links a high audit priority, and a further 43% being medium priorities:


Like Saga, the linking profile is mainly filled with low quality blogs and directories and also features a site wide links on a low quality villas blog which will likely be frowned upon by search engines.
---
Sainsburysbank.co.uk
Sainsbury's are another supermarket brand who are attempting to make their mark on the insurance industry and they have certainly achieved that, having what Link Detox considered to be the riskiest profile so far with 40% of their links classified as being a high audit priority:


This appears to be due to the nature of the links relied upon, which are largely placed on directory and press release submission websites. There was a search visibility drop for the domain in February 2013 and it is possible that this was some form of manual action as a result of this, as it does not correspond with any known link focused update:

There was also a swift increase in visibility in May of that year which corresponds with the link focused Penguin 2.0 update. This suggests that Sainsbury's may be another domain who has submitted a disavow file to Google previously to remove the highest offending links from their profile.
However, it must be considered a possibility that this February 2013 search visibility drop was caused by content as it came shortly after the Panda #24 update. The content on the Sainsbury's site is still very thin and under optimised and they appear to suffer from the common supermarket problem of not featuring exact match anchors in URL structures which are overly complex and feature a number of unnecessary folder levels (http://www.sainsburysbank.co.uk/insuring/ins_travelinsurance_trv_skip.shtml).
Nevertheless, Sainsbury's have subsequently recovered and are now in 11th place on the head term 'travel insurance'. If a disavow has been submitted, it is difficult to comment on what is required from the linking profile moving forward other than that state that the mistakes of the past should be avoided. However, it is possible to comment that Sainsbury's should place significant focus on improving their on-page optimisation efforts.
---
Coverforyou.com
Coverforyou.com is the self-proclaimed fastest growing travel insurance provider in the UK. However, this is not reflected in their ranking positions or their search visibility, with them currently not in the top 100 search positions on the head term:
There was however a sharp increase in search visibility in October 2013 which occurred shortly after Penguin 2.1. This was likely a result of their linking profile which Link Detox considers to be lower risk than any of the other domains reviewed so far:

However, the relative freshness of their site means that they have fewer links than any of the other competitors analysed, and the majority of these are brand focused which will have put them in good stead at a time when Google was coming down hard on those with higher risk profiles.
Search Metrics suggests that search visibility spiked again in December 2014 after the Penguin Everflux algorithm was rolled out, but this spike has not remained constant with search visibility having since returned to previous levels. If Google has indeed shifted to continuous updates rather than infrequent large scale changes with Penguin, then this would seem to corroborate this and it will be interesting to see how this changes in the coming weeks.
One area where the site is currently lacking is content, and it would be advisable for this to be the next area of focus if rankings are to improve moving forwards.
---
Columbusdirect.com
Columbus Direct is the only competitor other than MoneySuperMarket to implement star rating mark-up. However, their lowly search position on the head term (54th place) means that this is unlikely to be bringing them any benefit as of yet.
What this does point to however is the technical on-page effort which they have made with a fully responsive site. What attention needs to turn to now is content, an issue which appears to have impacted on their visibility previously with a drop in visibility occurring in February 2013 just after Panda #24 was rolled out. An analysis of the site at this time reveals why this was such an issue, with a very poor on-page user experience compounded by heavily duplicated on-page content:

Although the on-page user experience has subsequently improved, the content is still very thin and under optimised which does not correlate with the site returning to previous visibility levels in October 2013.
This could suggest that the drop in February was due to a manual action resulting from their high risk linking profile, with 33% of their links considered to be a high audit priority and a further 43% considered to be medium priority:

Indeed, it is significant that the increase in visibility in October 2013 came shortly after Penguin 2.1 was rolled out. However, it should be noted that visibility subsequently returned to previous levels after a dramatic drop at the beginning of February 2014. It is possible that a manual action was removed before more of the same link building styles resulted in it being reinstated just five months later.
---
Can anyone compete?
Based on this analysis, it is frankly unsurprising that MoneySuperMarket are currently in 1st place on the head and majority of tail terms in their industry. They are simply doing the best job both on and off page and their rivals have much work to do in both of these areas if they are going to compete.
One potential weakness which MoneySuperMarket has not addressed is their lack of responsive design on long tail landing pages which could harm their performance on terms such as 'travel insurance over 65'. This could open opportunities for brands such as Saga if they can quickly adopt a mobile optimised design for their website and significantly improve their on-page content. This would also require significant link generation efforts to be made to drive links to this long tail focused landing pages; all of which would be a massive ask in the short term.
As we discovered in our analysis of the car insurance market though where niche providers such as Footmanhames.co.uk were ranking P1 on long tail terms such as 'classic car insurance' by devoting their entire resources towards longer tail terms, this may be the only way to take the top positions given the resources that major players such as MoneySuperMarket are able to invest into head terms.
Relatively new entrants such as Coverforyou.com who do not suffer from the same legacy link profile issues as the established players could be dark horses though moving forward and it will be fascinating to see if they progress over the coming year.
---
Penalty summary