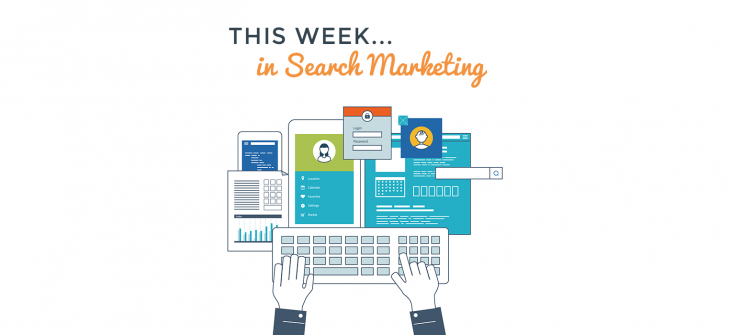 This week in search marketing (02/07/2018)
Jul 2nd, 2018
The best thing about our industry is that it is constantly evolving. The developments that brands and businesses make, the new technologies they embrace and the knowledge that they share means that we are all working towards a brighter future. With that in mind here are the latest developments from the world of search marketing
---
Thursday
US Declaration of Independence labelled hate speech by Facebook bots
Facebook's content-cleansing bots have flagged the United States Declaration of Independence as hate speech, proving that there can be difficulties in AI and machine learning.
One Texas newspaper, posted "small bites" from the Declaration on its Facebook page in the lead-up to the USA's July 4th Independence Day, "To make it a little easier to digest that short but formidable historic document".
But as the paper detailed on July 2nd, "The first nine parts posted as scheduled, but part 10, consisting of paragraphs 27-31 of the Declaration, did not appear. Instead, the paper received a notice from Facebook saying that the post 'goes against our standards on hate speech'."
The offending paragraphs were as follows:
"He has abdicated Government here, by declaring us out of his Protection and waging War against us.
"He has plundered our seas, ravaged our Coasts, burnt our towns, and destroyed the lives of our people.
"He is at this time transporting large Armies of foreign Mercenaries to complete the works of death, desolation and tyranny, already begun with circumstances of Cruelty & perfidy scarcely paralleled in the most barbarous ages, and totally unworthy the Head of a civilised nation.
"He has constrained our fellow Citizens taken Captive on the high Seas to bear Arms against their Country, to become the executioners of their friends and Brethren, or to fall themselves by their Hands.
"He has excited domestic insurrections amongst us, and has endeavoured to bring on the inhabitants of our frontiers, the merciless Indian Savages, whose known rule of warfare, is an undistinguished destruction of all ages, sexes and conditions."
It'll be interesting to see, with the  advancement of technology, how historical documents and books are transcribed, sorted and displayed in the future.
Tuesday
Google My Business Insights adds queries used to find your business
Google My Business is rolling out a new report in the Insights section of the console that is designed to show businesses how people are searching within Google Maps or Google Search to find your local listings. It is called the "queries used to find your business" report, and it shows the most popular queries for your business by unique users within a time frame.
Monday
Facebook issues warning to brands over their use of 'politically-fuelled' ads
Under new rules aiming to clean up political advertising on the site, Facebook has stated that ads must carry the 'paid for by' label if they are clearly leaning towards a political debate or are indeed funded by a political group/party.
Only this week two US giants, Walmart and Procter & Gamble fell foul of the social media platform, which stopped running ads which did not meet the new regulations.
According to Marketing week: "Non-political ads only have to run with a 'sponsored' label, but Facebook believes the ads from the major brands crossed the threshold into political speech.
"The Walmart ad features a message about bringing jobs back to the US, while P&G's was an LGBTQ pride ad. Walmart has since had its ad reinstalled, and P&G said: 'this is not a political ad' and it will be working with Facebook to understand the new policy."
UI reporting and opt-out available on Bing Ads Automated Extensions
Bing Ads have announced this week that there are now 10 Automated Extensions available on their platform formally known as Annotations.
After renaming the platform, Bing will add reporting on all Automated Extensions in the web user interface (UI) and the ability for advertisers to opt out of them.
The current Automated Extensions are available in Bing Ads:
Automated Location Extensions.
Consumer Ratings.
Dynamic Ad Enhancements.
Dynamic Callouts.
Dynamic Partner Data Enhancements.
Dynamic Sitelinks.
Dynamic Structured Snippets.
Longer Ad Headlines.
Previous Visits.
Seller Ratings.
According to SearchEngineLand: "The information Bing Ads shows in Automated Extensions gets pulled from a variety of sources, including website content, ad descriptions, search query, Shopping feeds, third-party consumer reviews, and even Twitter.
"The idea is that automating the extensions saves advertisers the time of creating them on their own while providing the extra information in the ad and performance lift ad extensions can deliver."
Google introduces Smart Campaigns for small businesses
Following on from the news last week that Google was retiring the DoubleClick and AdWords brands to streamline entry points for advertisers and ad sellers, the search engine has announced their first major roll-out under the Google Ads brand.
Google wants to help simplify their products for the businesses that operate on a smaller scale and as such has launched Smart Campaigns.
Smart Campaigns will be the default campaign type for new advertisers in Google Ads. The campaigns are almost entirely automated, from ad creatives to delivery optimisation, based on the product or service being advertised and the goal the advertiser sets.
Smart Campaigns are designed to work with Google My Business for both ad creation — images, location addresses and so on — and soon, landing pages. For businesses that don't have websites, Google will create and host auto-generated and optimised landing pages.
The goals will include phone calls, website visits and requests for directions.
---
To keep up to date on the latest trends, best practices and opinions in search marketing, subscribe to our blog – or contact us to see what we can do for your brand.