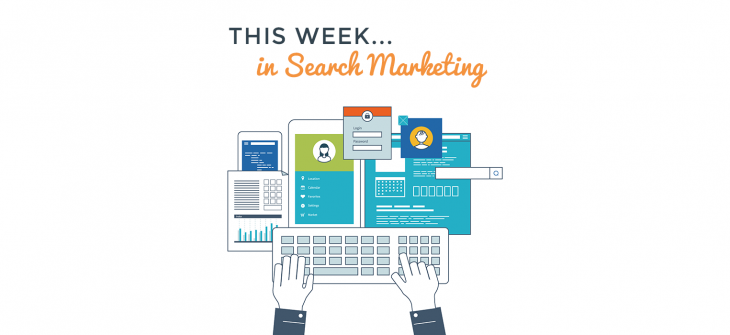 This week in search marketing [21/10/2019]
A round-up of this week's search marketing news…
---
Google Ads testing new lead form extensions
The function is currently in beta. Lead forms work only as extensions to a Search campaign, so all bidding and targeting options are determined by the campaign your form is attached to.
submission pic.twitter.com/vlF00UANlQ

— Steven Johns (@stevenjohns21) October 19, 2019
Total fee of Top 100 Agencies £3.2bn – Econsultancy
The UK digital marketing industry has continued to grow over the past 12 months, and remains confident for growth over the coming year, despite political and economic uncertainty, changing supplier relationships and fears over maintaining talent. The total fee income of Top 100 agencies is £3.2 billion with 90% growth over five years

The industry is worth £3.2 billion according to the fee income of the agencies participating in the report. This continues the 90% growth trajectory seen over the last five years.

Google launches YouTube Search for Beginners series

The search engine is a fully animated series for anyone who is eager to learn the basics of creating an online presence and the right Google Search tools.

New videos will be out every two weeks and will touch on topics such as:

1. How Google Search works
2. Frequently asked questions related to search and discoverability
3.How to change what's showing up in snippets in Google Search
4. How to correct inaccurate information about a business
5.How to set goals for a website
6.Tips for hiring a web developer
7.Tips for hiring an SEO specialist
8. Top 5 things to consider for a website
9. And much more
Facebook expands search ads availability
Facebook is now making search ads available to all businesses, while its also adding search ads to its Automatic Placements option.
According to Facebook:
"All new ad campaigns using Automatic Placements will automatically include the Facebook Search Results placement. You can also manually select the placement when setting up your campaign. Once you opt-in, ads will be eligible to appear on search result pages which includes general search and Marketplace search – and will both respect the audience targeting of the campaign and be contextually relevant to a limited set of English and Spanish search terms."
The new search ads are designed to "fit the experience on the given search results surface", whether that be general or Marketplace. They look similar to News Feed ads and have the same transparency and controls, including a "Sponsored" label so it's clearly marked as paid placement.
By opening up this ad placement to more advertisers, Facebook is giving marketers direct access to users who are actively searching for their product or service on the platform.
eCommerce ad spend on social outpaces search
Product ad spend growth on social overtook search in the third quarter, with advertisers spending 39% of their search budgets on Shopping campaigns and 37% of their social budgets on product ads in the third quarter of the year, according to new Kenshoo data. The relative slow in Shopping campaign spend meant it had less overall impact on search spend, which grew 7% year-over-year and just 2% from the second quarter of 2019. Paid social spend increased by 32% year-over-year, driven by Instagram, video and product ads.
---
Keep up to date with the latest news as well as our other blogs and resources by signing up to our mailing list – or contact us today to see what we can do for your brand.
Share this: