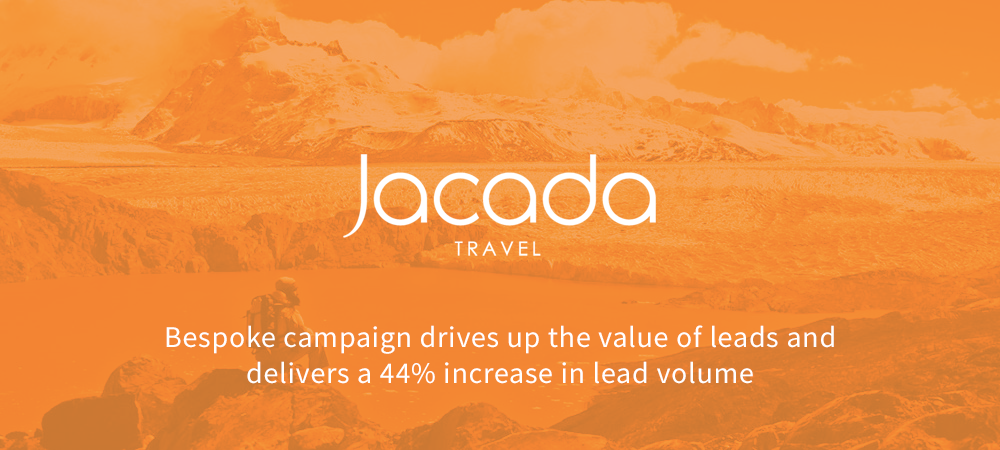 We drove up the value of leads that Jacada Travel obtained from paid search, as well as helping the luxury trip provider to expand into the new target markets of Australia and New Zealand and establish new destinations including Iceland and Angkor Wat

---
About Jacada Travel
Jacada Travel offers personalised luxury holidays and safaris, which are customised from start to finish down to the smallest detail, from flights and accommodation, to expert private guides and restaurant reservations.
Offering holidays in countries across Latin America, South Africa and South East Asia, Jacada deals with destinations ranging from Machu Picchu in Peru, to safari lodges in South Africa, and cruises to Antarctica and around the Galapagos Islands.
---
---
How we helped
Jacada is a London-based company with established markets in, Europe, Asia and the USA; we helped them to expand into the new target markets of Australia and New Zealand. Alongside this we also helped establish new destinations, for example, Iceland and Angkor Wat in Cambodia.
Because of the high-end nature of Jacada's business, throughout our paid search campaign, we used advanced targeting techniques to focus on specific luxury resorts by name. We were also able to successfully set ads to appear at particular times of the day across the globe to ensure we appeared to the relevant market at the most opportune time.
We also drove up the value of leads by leveraging multi-person holiday keywords that would be more lucrative, such as honeymoons and family holidays.
---
We've been impressed by the way Click quickly grasped the positioning of our business and focused our PPC campaign around our objectives. Click didn't just view our PPC campaign in isolation, but looked at our business strategy as a whole and how paid search could fit in with and complement other areas of our marketing activity
Alex Malcolm, Managing Director and Founder, Jacada Travel
---
Results so far
Since we began working with Jacada on their paid search strategy in 2013, we've seen some impressive results:
33.7%
YOY reduction in cost per acquisition (February 2014 to February 2015)
34%
YOY increase in conversion value (January 2014 to January 2015)
44%
YOY increase in leads (October 2013 to October 2014)
Download this case study