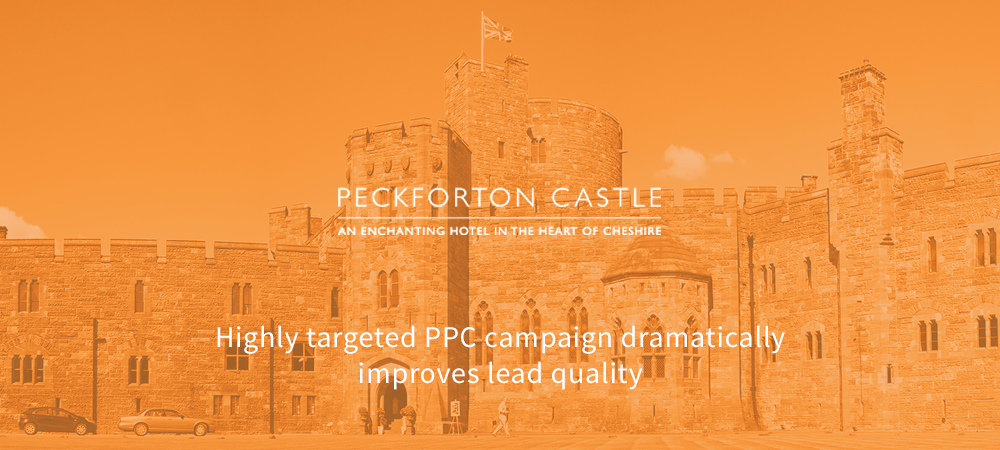 Click Consult has had a major impact on the paid search campaign of Peckforton Castle, one of Cheshire's most prestigious wedding and conference venues
---
About Peckforton Castle
Dating back to 1851, Peckforton Castle is a luxurious wedding and conference venue located in the heart of the Cheshire countryside. The castle was awarded Grade I-listed building status by English Heritage in 1952 in recognition of the part it played in the World War II evacuation scheme when it was used as a hostel for 200 physically disabled children from the London area.
In recent years, the castle has been used as a shooting location for major films and television programmes, including Robin Hood, Sherlock Holmes and Doctor Who. Today the castle boasts an award-winning restaurant and a lavish spa, as well as an offering of adventurous activities, such as Land Rover experiences, falconry and mountain biking.
Peckforton Castle prides itself on being a family-run business that treats every guest like royalty.
---
---
How we helped
Peckforton Castle came to us because, although they were generating leads, they wanted to improve their quality.
With the aim of generating high quality leads, we set about restructuring the business's online marketing campaign. Our initial research revealed that budget was being wasted on irrelevant, non-performing keywords. We performed in-depth keyword analysis to identify the right keywords for Peckforton Castle's PPC in order to make the most of their budget. We agreed a feedback loop with Peckforton Castle to monitor the quality of leads.
---
Having worked with previous PPC specialists with 'good' results, we wanted to find a company that could achieve 'great' results for our business. Click Consult are currently doing this through a more streamlined targeted approach, which consequently is having two main benefits, maximising our PPC budget and driving our enquiries to levels we have not seen previously
Matthew Naylor, Director of Sales & Marketing at Peckforton Castle
---
Results so far
Having refined the relevancy of the keywords, the click-through rate has improved by an impressive 115%. As a result of structuring the campaign, we got the cost per click at an all-time low, having fallen by 75%. In our work with Peckforton Castle to date, the conversion rate increased by 10.1%, increasing the profitability for every booking. The quality of leads and average client spend have also both increased. The success of our efforts so far proves that choosing the right keywords goes a long way in helping to attract the right audience.
---
10.1%
increase in conversion rate
115%
increase in click-through rates
75%
reduction in cost per click
53.8%
reduction in cost per acquisition
---
Continuing our success
We are striving to maintain and build on the impressive results we have seen in the short time we have worked with Peckforton Castle.
We continue to optimise and restructure the business's online marketing campaign in order to maximise their budget. Our plans include further fine-tuning of the keyword list, for example expanding on the list outside of Chester and Cheshire.
Download this case study