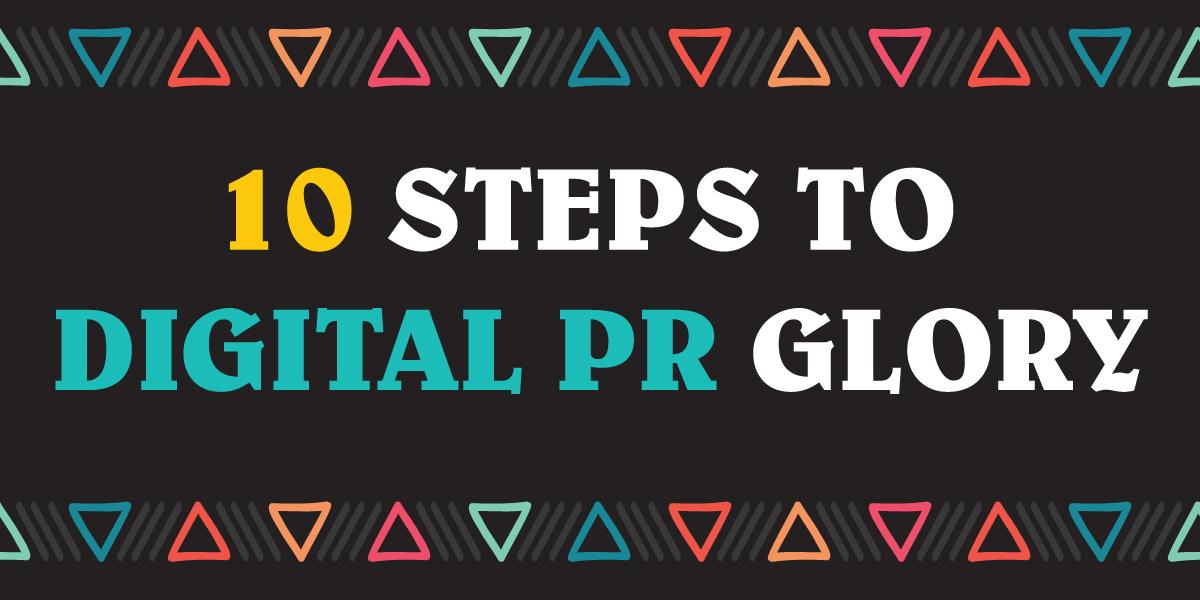 10 Steps to Digital PR glory [infographic]
Jul 10th, 2019
As digital marketing transforms, it's no longer enough for a business to rely solely on its brand name to boost performance. Digital PR has now become one of the key areas within your online strategy as news pieces are no longer accessed just from a newspaper and are instead making their way onto your audience's social feeds and across their smartphones
---
A solid Digital PR strategy is imperative for any good marketing campaign if companies want to ensure their story is the piece that is picked out from the crowd, and selected by journalists to be featured in the wider media.
PR is all about influencing, engaging and building a relationship with members of the public across a range of platforms to enhance your brands' reputation through an honest and distinctive brand voice. If you manage to find the right news hook, your brand can reap the benefits by connecting with the masses and growing your business online.
Adopting a Digital PR strategy that fits into your brand isn't always easy, however. It's important that your approach doesn't focus on selling your brand, but instead focuses on being able to find a newsworthy story that stands out from the rest, evokes trust and harnesses engagement.
It's also important that your news is worthy enough to be shared across the spectrum of your audience, and interesting assets such as a videos, quizzes or interactive infographics can sometimes be the perfect way to do this – engaging not only consumers but the journalists that will be the ones deciding whether or not to publish your piece.
Why is Digital PR important?
A website's ability to rank in Google is largely dependent on the quality of the websites linking to it (ie, its backlink profile).
Google analyses the link profile of websites in its index and penalises those that it considers to be in breach of its guidelines, ie, those that it deems to be engaging in manipulative link building techniques to achieve rankings and grow traffic.
So a website which has backlinks from a source of high authority, such as national press, are seen by Google as a valuable and user friendly source of information and are rewarded with better rankings, PR is the driving force behind these.
Why choose us?
At Click, we offer PR services already to a wide range of clients, creating unique strategies and campaigns for each with the focus on building your voice. As a fully integrated agency, we utilise multiple channels and an array of skills to ensure performance and maximum exposure. Some of our focus points are:
An ability to understand the complex media landscape
Establishing relationships with media editors
Using journalistic knowledge for brand development
Rich media identification and curation
Creating newsworthy and impactful articles
Our team have put together the following infographic highlighting the 10 steps you need to know for PR glory. Why not take a look?
---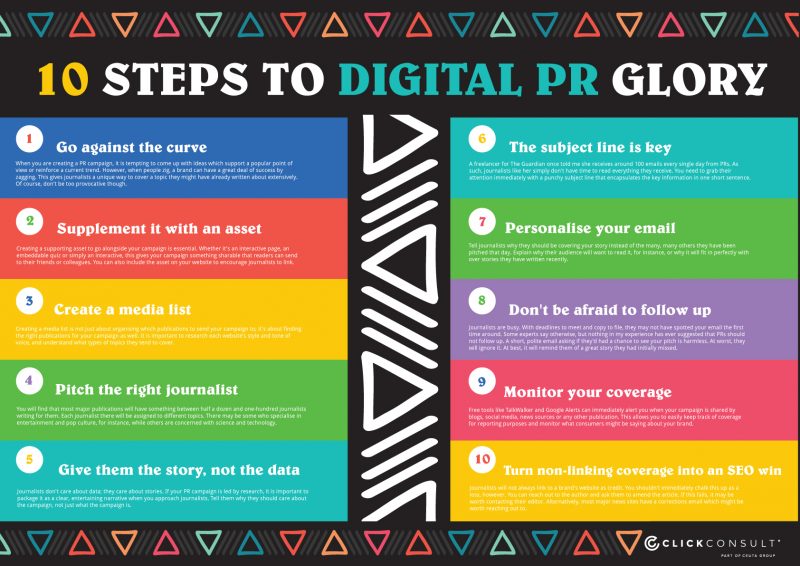 ---
Explore some of the creative work we've produced for our clients, including eBooks and infographics. Need some advice on improving your brand's online visibility? Contact us today – we'd love to hear from you!