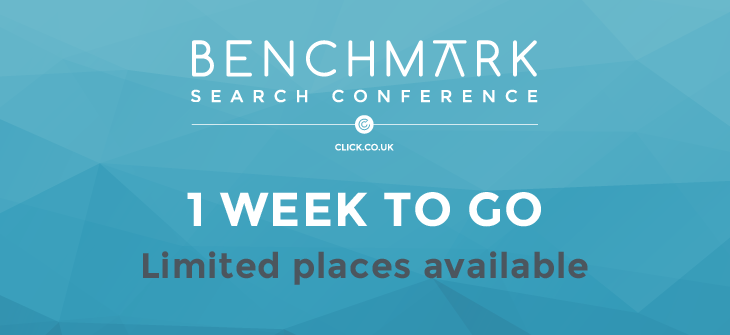 A day of cutting edge search insights
Jun 12th, 2015
Like the Pied Piper of search marketing, we've rounded up the industry's top speakers and we're bringing them to Manchester this month to share their knowledge and insights with you

---
Our Benchmark Search Conference on 30th June promises to be an inspiring day – a chance to hear about cutting edge trends, share actionable insights and network with some of the best search marketers in the business.
Here's the programme for our one-day event at Manchester's Bridgewater Hall:
Unifying search with performance media – Jon Myers (VP & Managing Director EMEA, Marin Software)
Search reimagined – James Murray (UK Search Advertising Lead, Microsoft)
10 steps to CRO success – Alan Reeves (Paid Search Director, Click Consult)
Understanding your digital audience and the phase they are in – Bas Van Den Beld (Founder and Chief, State of Digital)
How to do your social media in 30 minutes a day – Warren Knight (Author, Leader, Speaker, Think #Digital First)
Making SEO effective in a large corporate business – Colin Woon (SEO Manager Marketing & Consumer, O2 UK)
Enterprise SEO – Nick Wilsdon (SEO Lead Global Channels Optimisation, Vodafone)
A guide to multilingual content marketing & how I annoyed a French blogger – Gino De Blasio (Search Marketing Strategist, Click Consult)
How categorisation affects anything and everything in search – Dixon Jones (Marketing Director, Majestic12 SEO)
Generating #awesome relationships to maximise SEO – Paul Morris (Head of Digital & Social Media, The Co-Operative)
Lighting Up The Dark – Harnessing the Power of Consumer Connections – Rupert Staines (European Managing Director, RadiumOne)
---
Sign up today!
If you're a senior digital marketing professional responsible for your company's SEO and/or PPC, you should get your name down for Benchmark today.
Tickets are complimentary, but they must be secured in advance. Sign up now and we'll see you there!