SEO For Gyms – Guide To Beefing Up Your Organic Presence
Feb 11th, 2022
An in-depth look at the visibility and organic performance of the top gym companies in the UK – who comes out on top in this particular example of the survival of the fittest?
---
It's been a good while since we examined this topic (seven years), and in that time the total membership of UK gyms has risen from an estimated 13 to 15% of the population, the number of gyms has swollen to more than 3,500 and the gyms, now we put the top five companies (by market share) to the ultimate test of their fitness – is their SEO shredded?
I'll preface this by saying – the following won't be exhaustive (exhausting maybe), but we're going to try to identify the areas that need to be improved on the current industry leader's sites and, hopefully, it'll give you an indication of areas you can look at on your own site.
Overview
It will come as no surprise that SEO for gym brands is a mixture of local and national SEO, brand building and niche positioning. While the brands are competing in the same space, they're not necessarily competing for the same audience. For that reason, while we're not comparing apples and oranges, we are going to be comparing granny smiths and pink ladies, so to speak.
What is most surprising at first impression, however, is the amount that Virgin Active relies on paid search for its traffic, and how much Pure Gym is spending on paid search despite its strong overall organic performance – tools estimate around $120,000, or about 8 times its closest organic competitor, and more than twice Virgin Active, the second highest spender.
---

---
David Lloyd Leisure Ltd
https://www.davidlloyd.co.uk/
Ahrefs Domain Authority: 68
Semrush Authority Score: 59
Positioning: 'Family-oriented premium offering'
General observations
Operating a hundred sites around the UK, David Lloyd boasts 700,000 members, holds about 5-10% market share (depending on the source) and is one of the best-known brands in UK fitness. This may well explain why 50% of the site's traffic comes from direct sessions, less than 22% of traffic comes from organic search and why 86% of this subset is branded search terms (estimates from Semrush).
---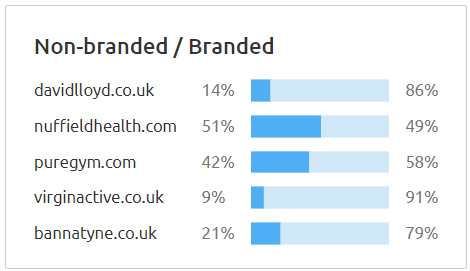 ---
However, this does suggest that there's much more that could be done by the company – which has a good (for what they're worth) authority score, as well as a backlink profile that, from its growth, is almost certainly being actively worked on.
---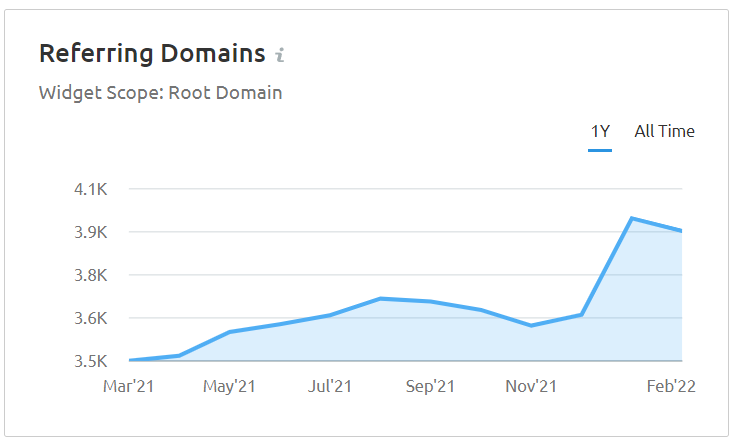 ---
Local SEO
Local search terms, for example, is an area of particular weakness – the brand is bidding on local terms as part of its paid media strategy, so it's clearly an important part of their overall strategy, yet the location pages are thin and non-specific, with most failing to climb above page 2-3 for their 'gym [location]' search terms the various facilities are yet another page deep.
Schema
From a schema angle, the site manages the minimum you'd expect – it features org schema on most pages and the HealthClub markup on the location pages. However, there's a lot of work that could be done to build up the meta data of the site and improve the signals it's sending regarding the location, classes and facilities on offer at each site.
The basics
There's also still some work to do on the basics – the page titles and meta-descriptions, for example, regularly exceed the character limit which increases the likelihood that they'll be rewritten by Google or that they will display in a sub-optimal manner in the SERP.
---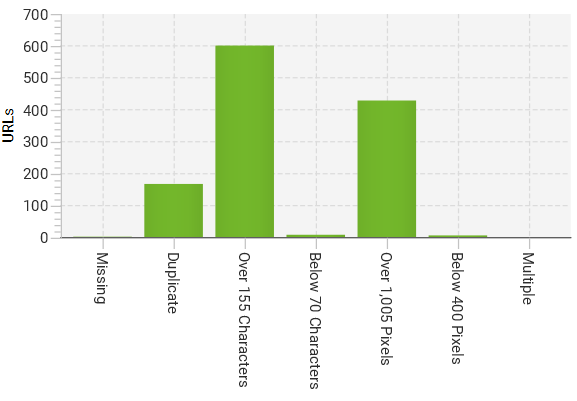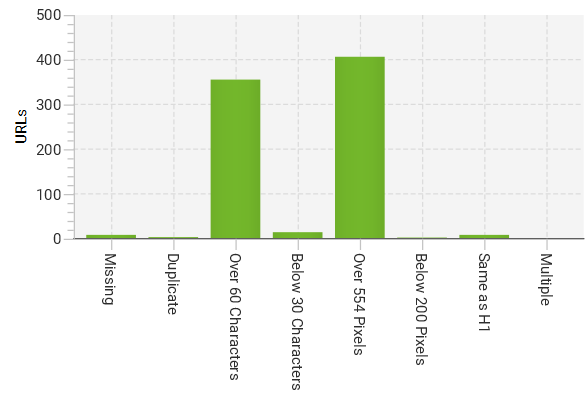 ---
There's also, likely due to the website's styling (H tags are not for styling!), a lot of H1 duplication across the site.
---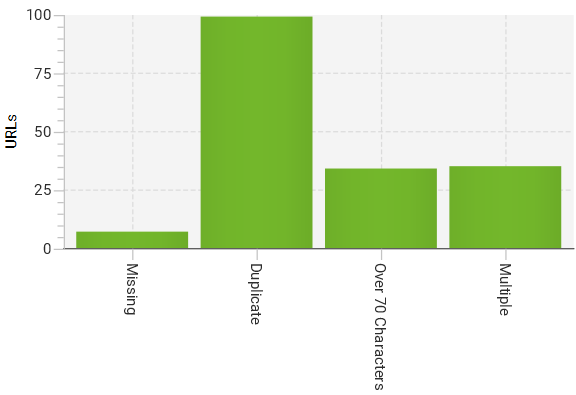 ---
While the robots.txt is fine (they could add pdfs to their disallows, but it makes no odds really), it points to an incomplete set of sitemaps (blogs are not listed, also, the blog is on a subdomain!) which likely won't impact on rankings, but does make things harder from a diagnostic standpoint – there is a separate robots.txt for the blog subdomain which points to two secondary sitemaps, but both of those are empty.
---
---
Performance
There's also room for improvement in terms of performance – again, this is often overblown, it contributes to ranking only slightly, but it also contributes to UX – with the site mostly red in Lighthouse Reports:
---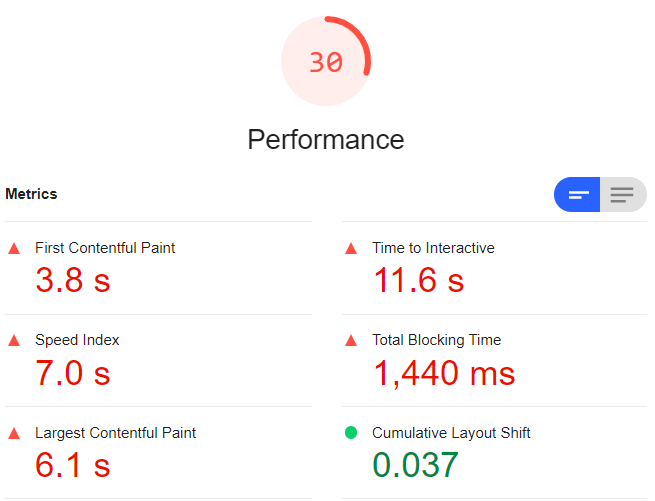 ---
Although the site is by no means poor, there is still considerable work to be done that could potentially improve business outcomes – and which may even save some of their paid media budget and help them to move on from the Covid related problems that have plagued the industry.
Nuffield Health
https://www.nuffieldhealth.com/
Ahrefs Domain Authority: 76
Semrush Authority Score: 64
Positioning: Health & Wellness
General observations
While the person that wrote the robots.txt file for Nuffield Health remembered to try blocking all SEO tool crawlers, they seem to have neglected a lot of other far more important work for the UK's largest health charity. I'll preface this by saying two things: 1) the site is huge, so I'm going to miss stuff and 2) one of the reasons for this is that along with its position as a major gym and fitness centre provider, it also deals with a lot of other aspects of health.
The sheer size of the site (some 19,000+ pages) is going to at least partially explain the fact that it's the only one of the sites examined that has estimated non-brand traffic that exceeds its branded traffic (even if only by 2%).
---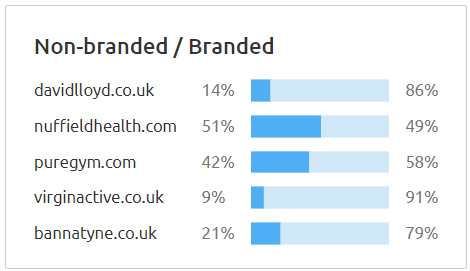 ---
Again, it looks like there's active work being done on the link profile – with a 75% drop in backlinks between January and February of 2022 difficult to explain any other way than by intent.
Local SEO
Nuffield performs reasonably well for local search terms, with the site ranking on or near page one for the majority of 'near me' and 'gym [location]' keywords. In addition, the individual pages are slightly better built out than those of David Lloyd, but could still benefit from further work. Although not shifted another page deep, the amenities here are described in no more than 20 words.
Schema
Again, schema is overlooked beyond the basics here. For instance, as a health website, authority is important – yet there is no effort to integrate the thousands of consultant profiles into the overall meta data of the site. Similarly with locations, there is ExerciseGym schema, but nothing further.
The basics
While whoever is looking after the site has spent time on almost 20,000 meta-keywords, there are more than 2000 missing meta-descriptions and a further thousand in excess of the character limit.
---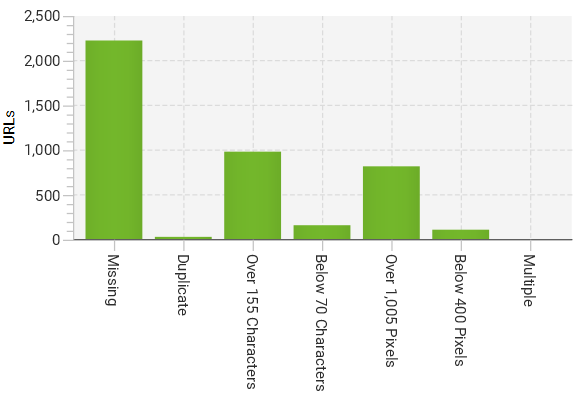 ---
There are just over 6,000 duplicate H2 tags (I'll say it again – stop using H tags for styling!), and almost 2,000 pages with 95%+ duplicate content matching at least one page (often in excess of 100). 16% of all images (more than a thousand) are missing alt tags and a number of other niggles (like almost 2,000 URLs with parameters).
Performance
As with the David Lloyd site, there are issues with site performance – and as with that site, there's a fair amount that could be done relatively easily with lazy loading, asynching some render blocking scripts, assigning images specific dimensions and more.
---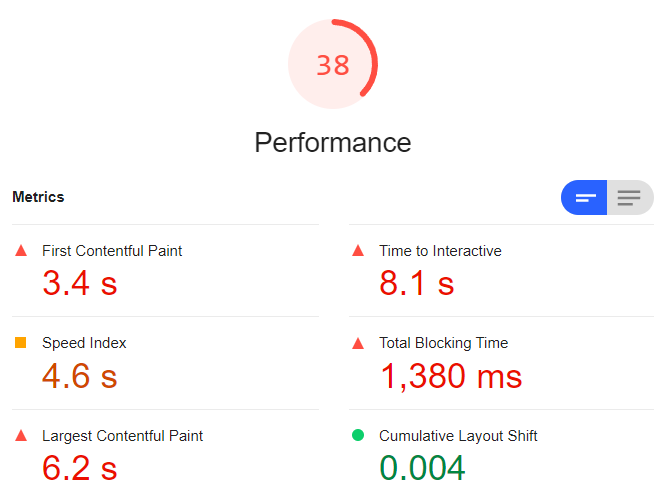 ---
The worst bit
For the Nuffield site, while it performs reasonably well, is littered with basic errors that are holding it back from reaching its potential. However, the worst aspect of this is navigation – there are whole sections of the site I probably wouldn't have seen if I hadn't have crawled it. Not orphaned, exactly, but accessible in the most arcane ways, are a host of informative articles and guides, there are sections of the site you simply can't reach from other parts and vice versa.
Although the site is huge, it's probably worthwhile considering the potentially huge benefit that Nuffield could achieve by remapping the site to be more intuitive. Don't get me wrong, that's a huge task, and I wouldn't fault the person/people currently in charge of the website – I have no idea of the time or budget allocated to the task, but there is so much potential for the site that it would be a shame if they don't look into it.
PureGym Ltd
https://www.puregym.com/
Ahrefs Domain Authority: 71
Semrush Authority Score: 57
Positioning: Low Cost
General observations
Having acquired the LA Fitness brand in 2015, PureGym now has 260 gyms nationwide, 1 Mn members and a 32% market share of the 'low-cost fitness market'. With the largest estimated paid media budget of the five brands, PureGym are clearly taking their digital presence seriously, but also the gym performs extremely well for local queries ('gym' [location]' and 'gym near me'). Nevertheless, like its major competitors, there's still work to be done.
---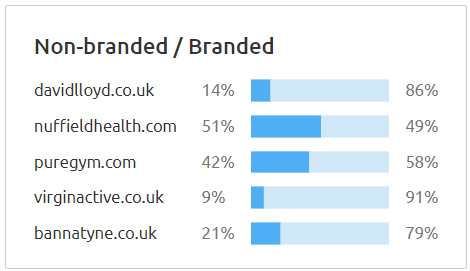 ---
It's difficult to say for definite whether there's work being undertaken to improve their link profile – a spike in October/November of 2021 corresponds to news around a potential IPO and also a change of plans. Nevertheless, there's been a fairly steep increase in the number of backlinks since the end of 2021.
Local SEO
As mentioned, PureGym performs well with the majority of local search terms, generally in the top half of the first page (and in more position one terms than the rest of their competitors). As with both David Lloyd and Nuffield, however, there are improvements that could consolidate that position. For example, the location pages make up a third of the brand's 1883 low content pages.
Schema
As well as thin content on more than 40% of all pages, the site also lacks all but the most basic schema markup. There is no meta-data to bolster author, location or any other page – in fact the site even uses corporation instead of the ExerciseGym option as its main schema type.
The basics
Approximately 53% of the site's page titles either exceed (8.5%) or fall below (45%) the recommended character limits, while just under 50% of the site's pages lack meta descriptions. In addition, there are more than 300 pages showing as duplicated (90%+ identical to another page on the site) and 44% of the site's pages contain fewer than 200 words.
---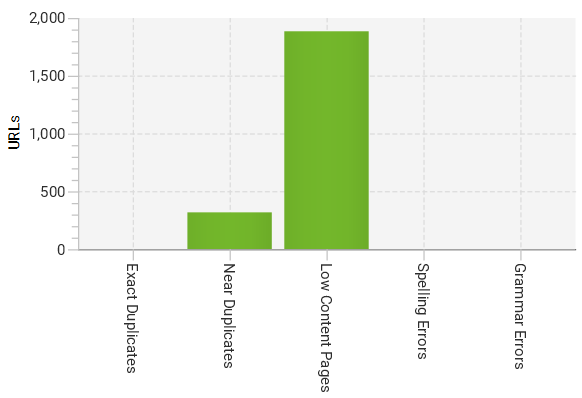 ---
Performance
In terms of performance, the PureGym site outperforms the competition by a good amount – though there are still gains to be made. By reducing unused JavaScript (keep the script files unique per template so that the site is only loading appropriate code), assigning height and width dimensions, deferring off-screen image loading etc.
---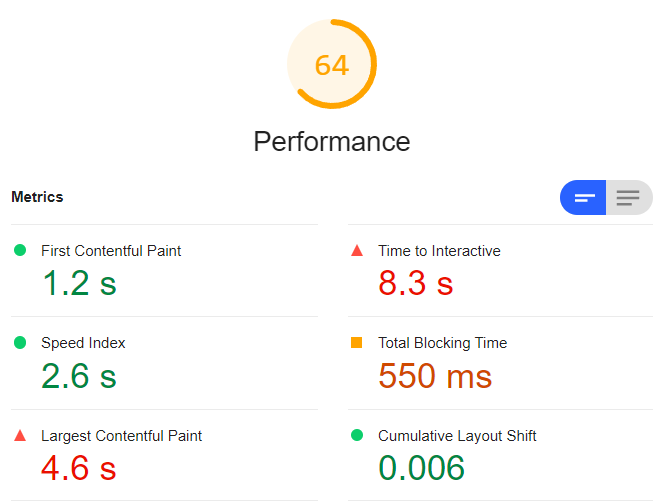 ---
Overall
PureGym is certainly the top performer in terms of its organic strategy – as can be seen from the rankings it is achieving, but there's plenty that could be done to ensure they remain the top of the pile in future.
Virgin Active Ltd
https://www.virginactive.co.uk/
Ahrefs Domain Authority: 63
Semrush Authority Score: 51
Positioning: 'Health Club'
Given Virgin Active's paid search budget, the second highest of the five (which includes some relatively expensive competitor terms), it's reasonable to assume that they are spending a fair amount on their digital performance in general.
---

---
Indeed, their link profile begins to climb from the end of 2021 (again, it could just be the 'end' of COVID, but the velocity is quite pronounced), yet their overall domain authority scores (again, as much as those matter) have remained pretty flat. In fact, despite what they're spending, tool estimates suggest that the majority of their sessions still comes from direct traffic (55.27%).
---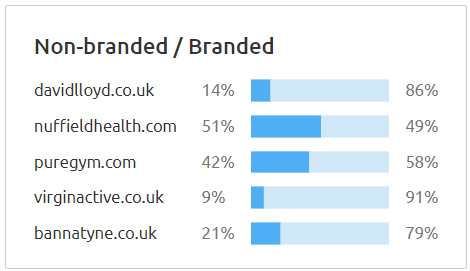 ---
While their site is one of the smallest, they've not made the most of what could be an advantage for them – although they have sped the site up by delivering images via a CDN.
Local SEO
As with the rest of the sites, location pages are not being used to the best of their abilities and, again, most of the 182 low content pages (26% of the site) are location pages. Again, the facilities are each in a child folder relating to their location, burying their offering a further two levels below their location. I've mentioned this a lot, so one potential fix is to include the facilities on the same page either within a concertina or just below the fold and hash link to the sections from the main area of the page.
Schema
Virgin Active has no schema that I could see on the template pages – not even the standard Yoast plugin basics.
The basics
The club pages are all virtually duplicates of one another, a quarter of the site has fewer than 200 words per page, there are 39 pages (just under 4% of the site) returning 404 response codes – most of which are either clubs, club facilities or club timetables which likely have updated pages to which they could be redirected. 10% of the site's page titles are too short, a further 2% are too long – so there's a greater chance of them being rewritten. 2% of meta descriptions are missing and a further 3% are duplicates while 30% of H1s are duplicates and a further 18% of H2s.
Overall, there are a lot of really simple fixes that, while they may not be important individually, can deliver results cumulatively.
---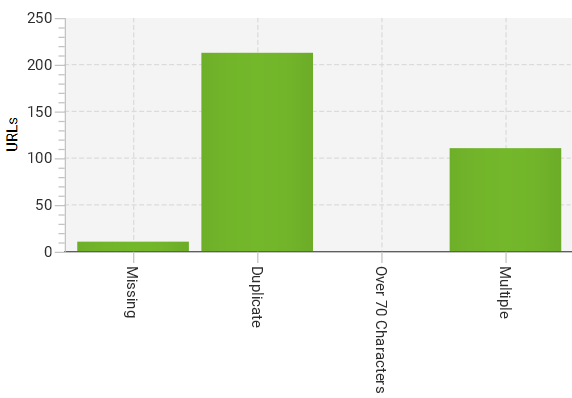 ---
Performance
Unfortunately, Virgin Active's performance scores are among the worst of the bunch (except cumulative layout shift – go CDN!). Again, there's a lot of unused code being loaded, they could potentially minify the html and asynch some of the third-party code. Again, there are lots of little fixes here that could potentially add up to big gains.
---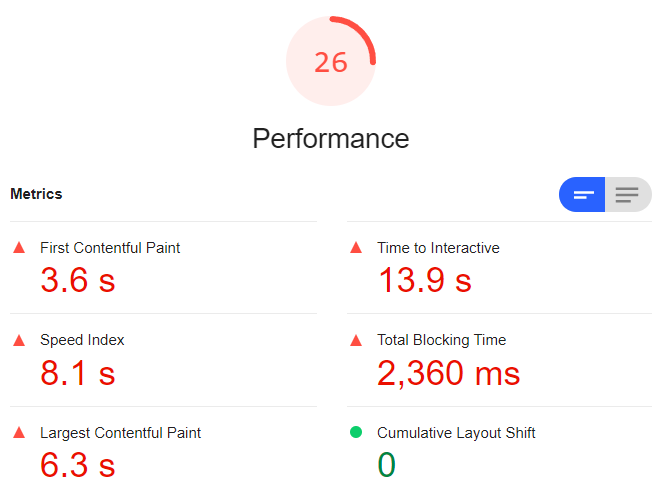 ---
Overall
Virgin Active may be spending $50K p/m on paid search, there is a question mark over whether they are investing properly in their organic performance – and it may be the case that they need to up their SEO budget or redirect some of their PPC spend to fixing some of the issues currently present on the site.
Bannatyne Fitness Ltd
https://www.bannatyne.co.uk/
Ahrefs Domain Authority: 59
Semrush Authority Score: 54
Positioning: Health Club
General observations
Tools estimate Bannatyne Fitness spends nothing on PPC, and – to be honest – they may be matching that with their SEO budget. In fact, if anything makes the case more strongly for traditional brand salience and positioning, it's how well this site performs relative to the issues present on the site. I'd be interested to see how well they would perform if a brand like PureGym opened up premium PureSpa spin-offs.
For now, however, I have nothing but respect for the keyword research and targeting that has led to them to rank so well for some high-volume facility or treatment specific keywords. While much of their traffic still comes from branded keywords, there are some excellent treatments that are bringing in numbers – I may have no idea what a lava shell massage is, but there are 1,300 monthly searches a month that will see Bannatyne Fitness appear between positions one and three.
---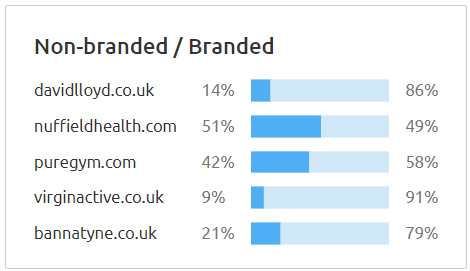 ---
Local SEO
Unlike most of the competition, the local pages are not in the list of low content pages on the site. Like the competition, the location pages do feature in the list of duplicate pages on the site. Nevertheless, there is enough there, including at least passing mention to available classes and facilities (with classes then given a more detailed sub-page of their own), for them to perform fairly well for location-based queries featuring [health club] and [spa].
Schema
There's little schema to mention. As with many of the sites reviewed, there's standard org schema on the location pages, but the site fails to use any meta-data on staff profiles or classes. Again, the lack of thought around schema represents a missed opportunity.
The basics
As with the majority of the competition, there are a lot of basic issues with the site – a quarter of page titles are too long, two thirds of meta-descriptions are missing, a third of pages have no H2s and more than half of those that do are duplicates. 15% of images are missing alt-text, 90% of pages are missing canonicals, the robots.txt is essentially empty and there is no sitemap.
---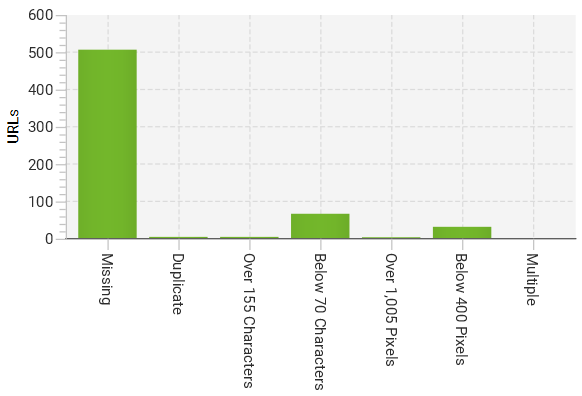 ---
Performance
Bannatyne Fitness' site suffers from the majority of the performance problems outlined when reviewing the others – however, there is also the fact that the site is not using HTTP/2.
---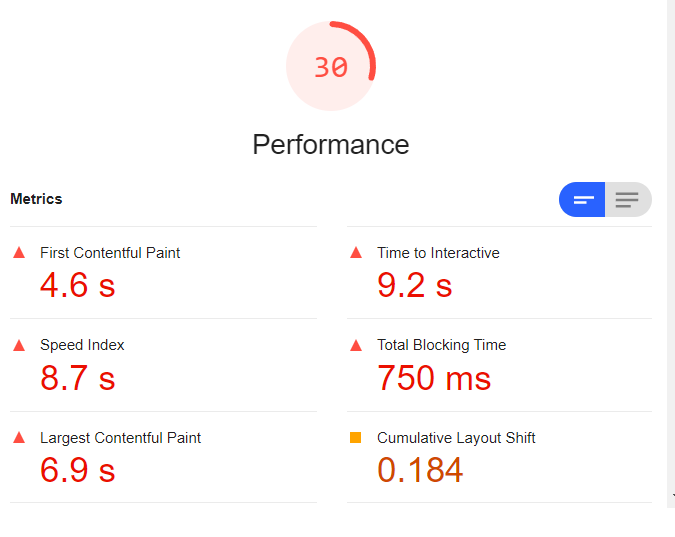 ---
Overall
As stated in the general observations, this site looks uniquely as though it is not currently being optimised, or is working with such a low budget that dozens of relatively easy fixes are as yet untouched. Nevertheless, it is performing reasonably well as things stand – but its rankings are here for the taking should any competitor notice a gap in the market.
Final thoughts
Overall, there is a lot of work to do on each of these sites and while gyms are very much reliant on their physical presence, there is clearly huge search volume available for the first of the competitors to take their online presence to the next level.
As things stand, PureGym is the stand-out performer, but even they have plenty of room for improvement. So, while these five brands are currently market leaders, they really need a work out plan before they can properly flex their digital muscles (sorry).
Obviously there are things I can't check – I don't have access to analytics or search console, or their control panels or a host of other things that would help build out a full picture (how did the migration go when PureGym bought out LA Fitness, for example, or did they lose anything when moving from http to https?), but clearly there's work to be done and it will be interesting to see who makes the first move.
---
Want to see how Click Consult can help you compete in a competitive vertical? Contact us today!