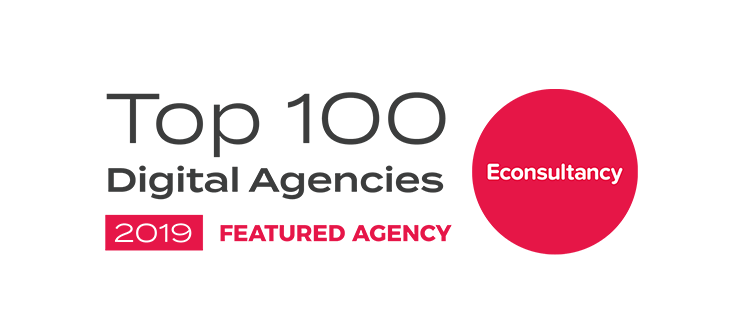 Click Consult Featured in Econsultancy Top 100 for 6th Year Running
Oct 18th, 2019
2019 has seen a small drop in ranking, but a huge increase in performance for Click, with some of our biggest clients coming on board outside of the judged period
---
CEO Matt Bullas said: "While our ranking has dropped a few places, our continued inclusion in this top 100 – against international multi-agency groups – has always been a point of pride. Not only this, however, we were able to retain our place among some of the most recognisable agencies in the world while we worked to shift our agency into the next gear – something which has seen us land contracts with several top global brands. Not only am I happy with this, I think it represents a really great springboard for us to and have no doubt we'll be rising through the ranks in the coming years."
Running for its 17th year, Econsultancy's "Top 100 Digital Agencies" report features the largest digital agencies, ranked by their UK income from digital activities. The report features analysis and commentary on the state of the industry, as well as information on each of the Top 100 agencies.
In addition to featuring agencies ranked by fee income, the report also includes a 'State of the Industry' report. While total fee income for the Top 100 agencies surpassed £2.8 bn last year, even in an uncertain climate the top 100 agencies have increased their earnings to more than £3.2 Bn in 2019.
Other findings from the 'State of the Industry' section include:
The top 10 agencies are responsible for 57% of the total fee income of the Top 100.
Full service/marketing agencies dominate the ranking with 62% of the total fee income of the Top 100.
Finance and retail are the clients most often represented by the top agencies – with 69% working with the former and 66% with the latter.
All in all, Click Consult is amongst fantastic company in the top 100, and operating in an industry that bucks general trends in terms of expected performance during a turbulent time politically and economically. With a growing team and ever more top tier clients, we're delighted with our performance between the 2018 and 2019 reports.
---
Keep up to date with all of the latest industry news and views by signing up to our newsletter, or check our library of resources for more actionable insight. Alternatively – contact us today to see what we can do for your brand.