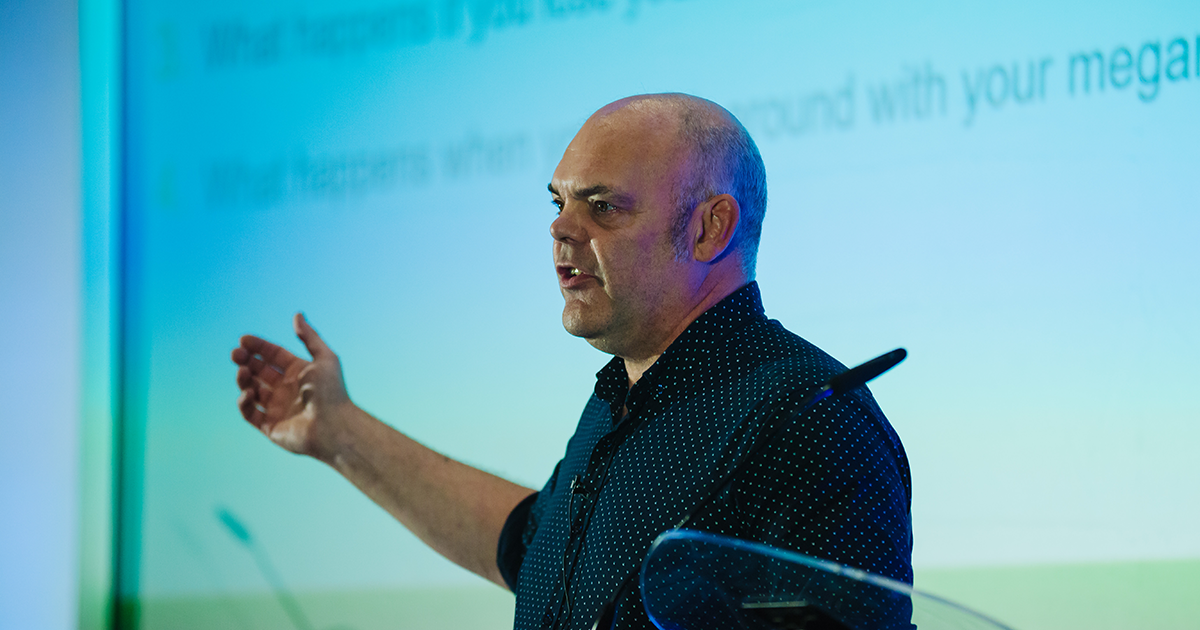 Martin Williams 'Do We Learn More from Our SEO Failures than Our Successes?' Talk – Benchmark 2019 Reviewed
Nov 1st, 2019
SEO Manager for AO.com, Martin Williams took to the Benchmark stage in 2019 to discuss how big brands can learn from their mistakes and how a trial and error approach has seen his team become one of the best in the business
---
Williams began his talk by listing four questions that had arisen from problems that he had encountered, and that he had subsequently worked on to achieve the best results. The questions, which provoked some laughter from the audience, were as follows:
What happens when you move from one domain to another and get it wrong?
What happens when everybody on the SEO team leaves?
What happens when you lose your best content?
What happens when muck around with your megamenu?
These questions were formed from research into problems that Martin had encountered, and he went on to say that the reason he was making his conference debut was that after years of visiting other conferences he had been left short of answers, but that at one conference in 2018 and someone suggested that he should give it a go. Martin proceeded to tell the packed conference hall that one of his greatest fears was heading into the office and finding that 'Google has trashed your rankings', a show of hands revealed that this was something many in the audience had also feared.
Martin went on to explain that brands face huge losses financially if their visibility drops, and that this was a genuine concern within the industry. He then said that this had actually happened when they moved to AO.com from appliancesonline.co.uk
---
---
Williams's spoke about how brand went from a visibility of 20000 to zero overnight as a result of penalties, bad links and not having the correct strategy in place. He then mentioned the need to run full audits, prepare for possible algorithm changes and build links naturally to get back to the top of the market. He also touched on the fact that if you are the only one in your market that is making mistakes or neglecting SEO then you are already behind the competition when the algorithm changes or the market evolves.
---
---
In order to adhere to the 'white hat' SEO that so many people talk about and to build clean links, Martin told the audience that much of the evergreen content that his team had produced was still gaining links five years after it was produced, and that his team had really focused their efforts on doing exactly what Google wanted from them. To solve the problem of losing his SEO team, he said that he took the opportunity to 'up-skill' his other staff, notably the paid search team and turned them into experts. He implemented a three stage plan, looking at keyword research, using advanced SEO tools and running industry analysis and the results were astonishing.
By utilising some of the people that you have, or by using a dedicated agency to implement your strategy, you have a far higher chance of seeing an upturn in your rankings and overall performance. Martin also talked about keeping good content and losing or updating existing content that has become dated or irreverent – as well as the issues that come with site setup and managing your menus.
All in all, this was a highly informative talk and a great debut from Martin. We thoroughly recommend watching the video above and checking out the slides.
---
Benchmark is growing, and the quality of talks remains fantastic – so if you'd like to be there in 2020, let us know! Or contact us to see what we can do for you!