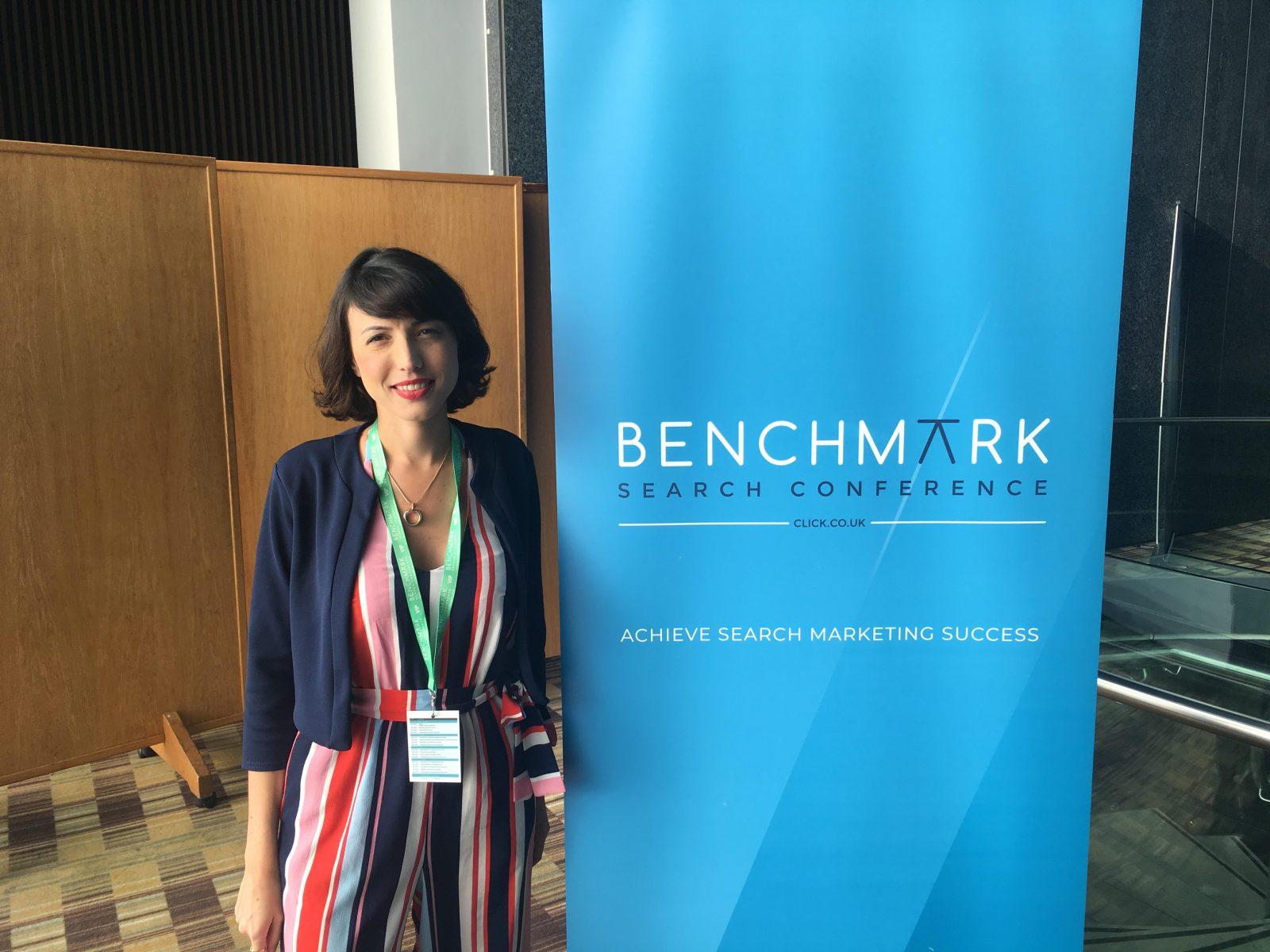 Page Speed Politics: Building a Business Case to Actually Get it Done – Victoria Olsina's Benchmark 2018 talk review
Oct 17th, 2018
SEO Consultant and Speaker from Barclays, Victoria Olsina used a topical approach to help the audience understand the complexities of page speed and its rising importance
---
Starting her talk on a political note, Victoria revealed to the crowd that she was born in Alta Gracia, Argentina, the very same town as Che Guevara, leader of the Cuban Revolution.  Victoria then told the crowd that she was at the conference to talk about the industry as a whole, not just the banking sector, and how big businesses could implement Page Speed improvements to boost their performance.
Following on from the introductions, Victoria told those at the conference: "2018 is the year of Page Speed, it is a time when all of those in the industry are focusing on this metric, leaving the rest of the world to focus on Brexit and Trump."
The key was now that it was more about relevance to businesses and not that it was a new development. Google has been talking about it and first introduced Page Speed as a ranking factor back in 2010.
This year however, there were two huge updates. Victoria said: "The first is the mobile first index which is the way Google now indexes and crawl websites based on the mobile content and then in July 2018 we have the speed update which states that mobile page speed will be a key factor for your mobile rankings.
"This obviously affects visibility and your SEO team or agency has to constantly improve Page Speed."
Harnessing her inner Donald Trump, she added: "It is my mission to make page speed great again!"
Emphasising the importance of Page Speed, Victoria told the audience: "Page Speed is like a neglected child. You ask who is responsible for Page Speed and the answer is everyone, but when you ask who's measuring it you have to ask again because nobody is. In truth this should be the SEO team, which begs the question: How do we measure it? Well, surely there is an app for that?"
Victoria said that her goal was to measure 200 pages per week, her businesses top 20 and the top 20 pages of her nine biggest competitors. The snag was that when she tried to use GT metrics she realised that she couldn't do a bulk upload or download, meaning that every week the task was manual –not very 'speed' efficient.
Victoria decided to 'Google' the solution to this, sure that there would be a quicker, more efficient way to sort the problem and run the analysis, yet she was greeted by the same response – 'You can use the API.'
Laughing as she read this quote, she said: "I started reading a lot of documentation a lot of resources and I found this phrase 'you can use the API' – True you can use the API, but only if you know how to code. Unless you know how to code this can be regarded as fake news.
"I used the Google Page Insight tool and wanted to look at mobile Page Speed, mobile visibility and desktop Page Speed, but the problem was that nobody understood the data. I had to make it look nice to get buy in from those at my organisation and this is where the politics comes in."
Asking the audience who they needed to impress and convince of using Page Speed as an effective tactic, she said that there were three groups:
Stakeholders
Project owners
The Boss
For the metaphor of the 'Boss', Victoria used a picture of Vladimir Putin and said he needed to be convinced and that the 'Boss' would always have three questions:
How much is the metric (index) in terms of time?
What is the commercial benefit?
What do we need to make it happen?
The questions were very sad for Victoria, as they were more about the cost and not about SEO, proving that Page Speed is neglected and only the SEO team cares. Stakeholders care far more than the boss about traffic, conversions and profit – all of which are vital to forming a business case. Based on the 'Bosses' questions Victoria then decided to build a business case. She knew that the crux of her talk would therefore be about selling the idea of Page Speed to businesses, despite the fact everyone should be doing it because Google says so!
How much is the metric (index) in terms of time?
Seconds is an easy metric to track and understand and you can see the improvement of Page Speed quickly. Here warning here was that you need to start small and track just a few pages to start with and build up.  According to Google the three things that you should be tracking to do this are the Lighthouse Index, Speed index and the First contentful paint
Victoria brought up an image of a competitor analysis to highlight the importance of getting your Page Speed sorted and named her 'base client' as Donald Trump and renamed the three competing agencies as his enemies, Stormy Daniels, James Comey and Kim Jon Un. She said that if you could see where you were being outperformed by your rivals and could report back to Putin (the boss) you would please them and the shareholders.
---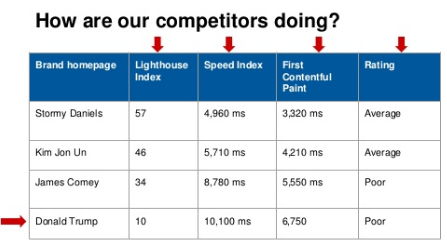 ---
When you have the competitor analysis completed you can answer the second question – What is the commercial benefit?
The commercial benefit of upgrading the page Speed from 10 to 4 seconds in the case Victoria put forward was around a 30% increase in organic traffic and five times the revenue.
Victoria said: "These figures are pretty good and I went to Putin (the boss) and said making these changes will make you £20m, I thought he'd be impressed but in truth, he asked about how much it would cost and what we needed to make it happen."
She said that in order to achieve what the boss wanted she had to take charge. Her advice was simple. The SEO factor is the most important so when you are working with others and you are the SEO then you have to take charge or somebody else will and Page Speed is an SEO task.
Victoria said: "Go to every meeting, every week and make sure your voice is heard! You have to write and implement a list of changes."
The 10 things that she listed to make changes to in terms of boosting your Page Speed were as follows:
Optimise images
Leverage browser caching
Eliminate render blocking JavaScript
Eliminate render blocking CSS
Minify JavaScript
Minify CSS
Enable compression
Avoid landing page redirects
Prioritise visible content
Reduce server response time.
She then explained that you should make the following chart to prioritise these changes and see them implemented.
---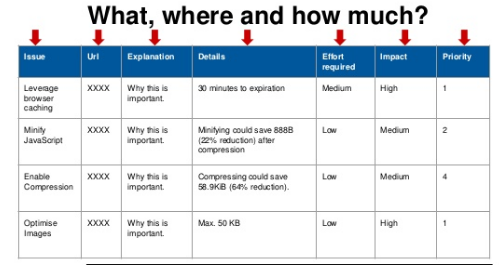 ---
If you run a points based system and say that you are 30 points behind your competitors, then it is best to roadmap your changes. After the first batch you see where you have caught up and then make another list of tweaks and changes. Implement these and move closer again to the competitors, this is the message – Page Speed is all trial and error and is never finished. A performance team should sit within the tear responsible for your SEO and that is why performance marketing is becoming a large factor in search marketing.
---
Watch Victoria's Benchmark 2018 talk, or view her slides, below:
Page Speed Politics: Building a Business Case to Actually Get it Done
---
You'll be able to see reviews of all of the Benchmark talks on our blog in the coming weeks, but to ensure you're up to date with all things search, sign up to our blog. Alternatively, see how we can help to build your brand online by contacting us today.