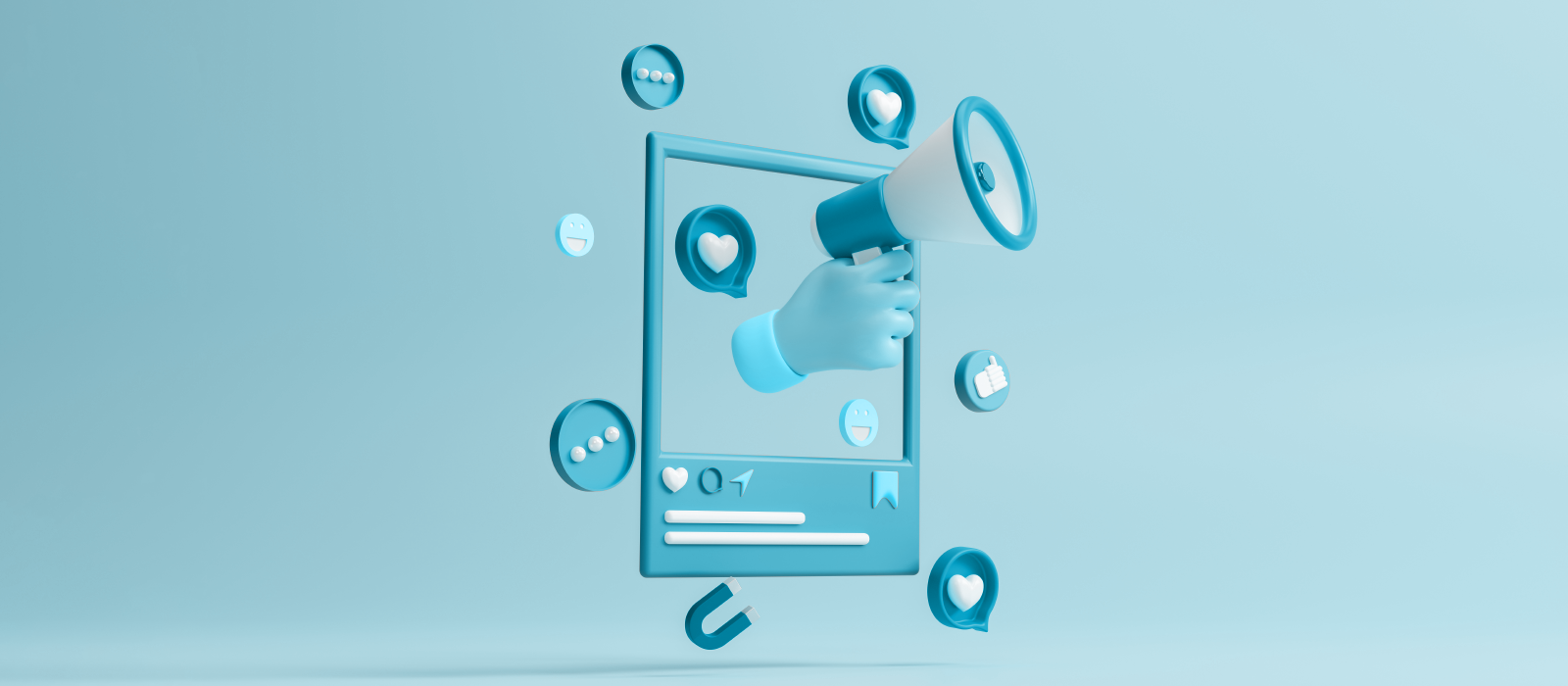 Social media by Justin Bieber- why it won't work for all
Jan 9th, 2014
With over 47 million followers on Twitter (around one million more people than live in Spain), would it be fair to say that Justin Bieber has social media marketing nailed, then?
---
Well the young Canadian pop star certainly knows what his audience wants, mainly information about his new music (and I use that term loosely), tour dates and general musings from someone that his army of 'Beliebers' adore. And that complete understanding of what works for your audience is certainly something every brand that does social MUST do.
However, following the Justin Bieber model for social media marketing won't work for all. Below is a list of some of the Bieb's social tactics and why you and your brand probably shouldn't adopt them:
---
Bad grammar
It's fair to say that Bieber won't be getting head hunted by a publishing company if his music work dries up.

Considering that most of his followers are still at school, they can forgive him for the odd spelling mistake, overuse of capital letters and general grammatical error. Will your brand's followers be as sympathetic? Don't bank on it.
---
Frequent posting of music videos
I must have been unconscious the day generic, auto-tuned dross became adored by millions, but there's no denying that Bieber's 'music' is popular. And he has built his fan base on his songs and his fans come to his social pages to consume more of them.
So that new one from the Arctic Monkeys is "getting you through the day"? Great, but save this for your personal account, don't share this on your brand's profile. Followers of a brand that specialises in forklift trucks, for example, probably won't care what music you're social executive is into.
And unless you've got Celine Dion working in Sales or Roger Daltrey in Packing, NEVER post any self-produced music videos, either!
---
Saying "hello" to a particular city
Young Justin is often on the road all around the world, delighting thousands of screaming adolescents crammed into vast arenas.
Whenever he reaches the next destination on his tour schedule, he'll often say hello to the place (or any of his followers that inhabit that particular location, I'm not really sure who he's addressing directly).


Posting "Hello Slough" or "WE ARE IN THE HOUSE, WIDNES!" when your brand is on its next business trip probably won't cause the same amount of interest as Bieber's travel updates.
---
Overusing hashtags
Ah yes, the hashtag. Designed to see tweets, Facebook posts and Instagram photographs related to a particular event or topic, but also quite often used willy nilly. I mean, come on, #me next to an Instagram selfie?! God help us.
Bieber is partial to a hashtag, too:

Ok, so it is important to tailor your posts to increase their visibility on Twitter. But using too many (anymore than two and you're overdoing it) or irrelevant tags in your brand's posts (e.g. "What a long day that was #tired #shattered #whenisitbedtime") will be detrimental to your credibility and your tweets are more than likely to be ignored when someone is scanning a timeline.
---
Vague posts
In the past I've posted things on social sites that I've thought "this is so witty and clever, this will get a tonne of shares," before checking my phone to realise that it was actually about as successful as a Greek economist.
Clearly, we can't all be as interesting as Justin Bieber. How else could he get 135,000 retweets for a post as vague as "All love" or 93,000 off one that simply stated "LOL?" He must be REALLY interesting.
It's hard to imagine most brand's being able to get a similar response by throwing out a post that just states "All stock" or "ROFLCOPTER."
---
Lots of self-promotion
Check out this message to the Beliebers:

'Me' was used once and 'I' was used twice in just that one tweet (had the young man had more characters to play with, I'll wager he would have stuck in another 'I' before the word 'thought' to complete his hat-trick).
His followers want to know what he's thinking and what he's doing. Your followers will want to know about your brand specifically a lot less. By all means, the odd post every now and then to promote an award you've won or a sum of money you've raised for charity is absolutely fine. Just don't spam their timelines with constant sales pitches; just like your blogs, your social accounts should not be your showroom.
---
Asking random questions
This one is slightly more difficult to be flippant about because a lot of brands actually employ this tactic, too!
Bieber can afford to pose questions such as "What are you all doing?" on social media. He probably posted it whilst in a lift or waiting for someone to finish using the toilet to pass the time. He of course doesn't really care what exactly his 40 million followers are doing and it's safe to assume he isn't going to reply to each response to display his interest. However, his followers lap up mundane rubbish like this and it's successful.
Unless you're Coca Cola, McDonalds or another global brand, you're not going to get the same kind of response to questions like these that a pop star will. You don't care, no one is buying the fact that you're pretending to care and it just makes your brand look boring and as if you've got nothing valuable to say. To be honest, even if you are Coca Cola or McDonald's, asking questions like this will still appear tedious.
---
Informal profile pictures
His Facebook profile picture archive is littered with images that look like they could've been taken from a clothing catalogue. One of his recent Twitter profile images was of him with a baseball cap on back-to-front with his tongue half sticking out of his mouth. These kind of images work for artists and they drive Bieber's fans wild.
Your brand's social accounts shouldn't be like this. You should select images that in some way incorporate your name and logo. As for your employees who may have work associated social accounts, unless they can pull of the 'cap on the wrong way around with a sticking out tongue' look and you're happy for that image to be associated with your brand, it's best to keep things a bit more formal.
---
Follow people in great numbers
Take a look at how many people Bieber is following on Twitter: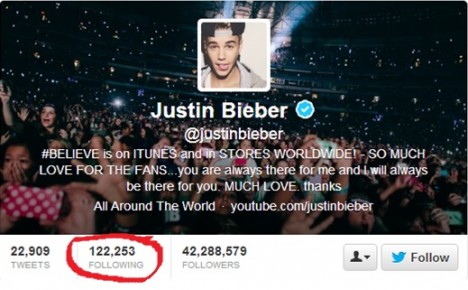 122,000+?! I personally follow about 400 accounts on Twitter and I find half of them annoying and rubbish!
If you click on his following list, you will see that many of them are hardcore 'Beliebers' with profiles that are shrines to their idol. Paper bags could well be essential everyday items to a Belieber along with his latest album, just in case the man himself starts to follow them and they begin to hyperventilate.
For brands, following too many accounts will prove to be a nightmare. You need to be strategic about who you follow, which will help to ensure that you make your timeline as lean as possible, populated with only the most valuable content. Just because we're British, you don't have to be so polite that you must follow everyone that follows you, either.
Of course, if anyone has setup a fan account for your brand and has your logo tattooed onto their body, then yes go ahead and follow them. To be honest, if they've got the logo of your skip hire business or your accountancy firm emblazoned into their flesh, it's probably best just to keep an eye on them…
---
Uploading topless pictures
And finally. Every now and then Bieber, a heart throb to millions of teenagers worldwide, will upload images of himself without his shirt on. Fair play to him, he is from Canada, a country not renowned for being particularly balmy. But he's willing to brave the cold for his followers, knowing full well that it's the kind of content they will adore.
Your brand's followers? Well unless you've got a head of department that is chiseled from the marble of Zeus, perhaps it would be best to keep bare chests away from your profiles.