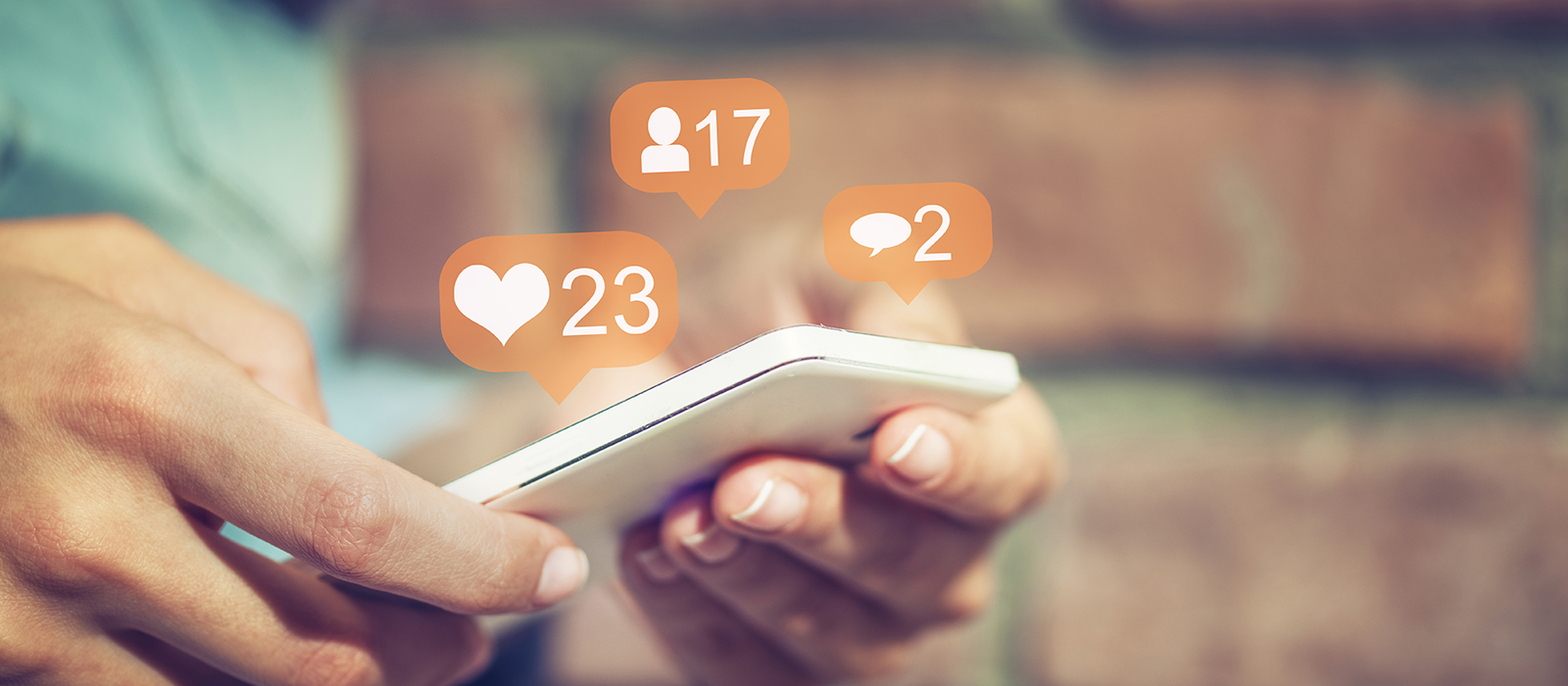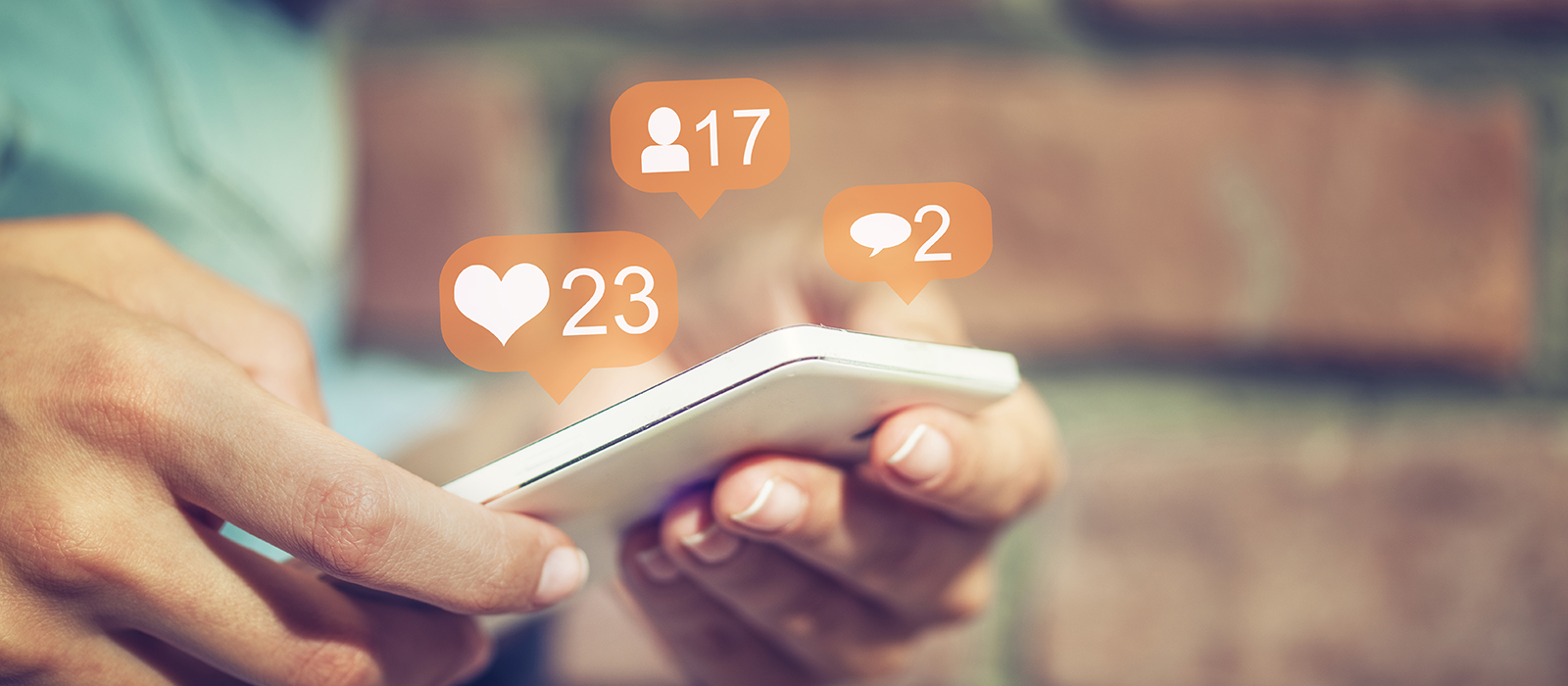 Social media marketing in strange times
Apr 22nd, 2020
As COVID-19 turns our world upside down, social media consumption has soared across the globe, as we turn online for our news, entertainment and to stay in touch with family and friends. According to a recent GlobalWebIndex report published in March, 44% of us are spending longer on social media (eg, Facebook, Instagram, Twitter, etc) due to Corona. 
---
Engagement rates are also on the up, despite an initial dip in mid-March, research by social analytics provider, Rival IQ, has found, to some of the highest all year. So what are the benefits and advantages of social media in the economic downturn – and who's getting it right (or wrong)?
A cost effective way to stay connected with customers
With marketing budgets inevitably under strain at the moment, organic social media has very few overheads and is a powerful way to stay in touch with and maintain relationships with your customers. In these uncertain times, people look for stability and reassurance – and social media makes it easy to deliver those things, helping to build trust and long-term loyalty.
As well as posting regular updates, you can pin important information, such as changes to opening or delivery times, to the top of your social profiles and update them quickly and easily in real time.
In addition, the  popularity of messaging apps has opened a new channels for businesses to offer faster communications, customer experience and customer service: consumers are increasingly migrating from conventional social networks to messaging apps like Wechat, Slack, Apple iMessage, and of course, Facebook Messenger. Chatbots can be set up to automate these features but, where there are resources available, direct one-to-one chat can help to give brands an accessible human side.
Adapting your creative
A number of brands have found success by adapting old creative to tell new stories and convey new messaging in light of the COVID-19 outbreak. Doncaster Council did this brilliantly a few weeks ago, using the analogy of of an exploding whale, illustrated by existing memes and gifs, to tell a cautionary tale of ignoring expert advice to demonstrate its message to #StayHome: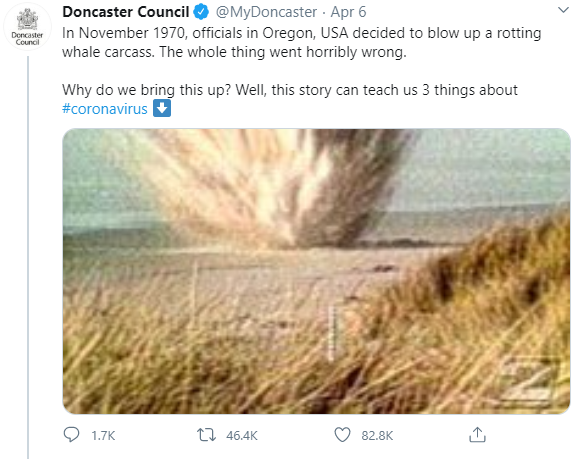 The story @MyDoncaster told in a nutshell… In 1970, a 45-foot sperm whale has washed up onto the beach of Florence, Oregon, USA. Officials faced the conundrum of how to get rid of it, to save it rotting away where it was and causing an offensive smell over the Christmas period. It was decided that the best course of action would be to blow the whale up using dynamite. The engineer ignored the advice of an ex-member of the military who said a few sticks would do the trick and decided to use half a tonne. On November 12 a crowd of spectators watched the whale explode.
Recalling the  what happened next, on Twitter, Doncaster Council said: "The huge amount of dynamite sent massive chunks of blubber flying through the chilly air, and it rained down around the terrified onlookers… To cap everything off, the main bit of the whale stayed exactly where it had been. The problem hadn't gone away, only now there were thousands of bits of problem spread for miles around."
How the Council's story ended: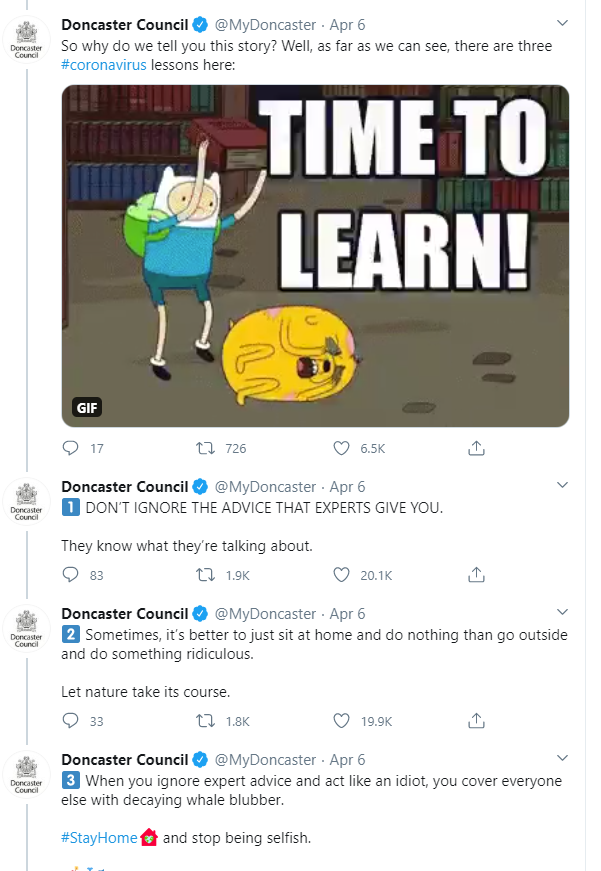 The story unfolded over a thread of 15 connected Tweets, lasting from 9.48am to 7:26pm to create a funny, clever and  – perhaps above all – engaging campaign with the ultimate pay-off of driving home its important message.
Being prepared to adjust your strategy
Brands need to bring today's context into their content, said Noah Mallin, chief of brand strategy at Gen Z-focused content creator IMGN Media. "More people respond if you acknowledge the situation. It makes people feel like the brand is living in the world we all live in."
IMGN Media, which operates social media meme accounts and creates content for brands' social media handles, had planned an entire campaign around what to wear for date nights. They scrapped the campaign when the implementation of social distancing made it irrelevant.
But the new idea acknowledged the current reality. The team refocused the creative around looking good when you meet someone on Zoom: a campaign saved – and probably improved – by tweaking it to match the context of the current situation.
Showing empathy – and inspiration
Solving problems is the cornerstone of content marketing and now, more than ever, people are turning to social media for inspiration on coping during the lockdown. Last month, after experiencing a massive surge in traffic, the visual search-based social media platform fast-tracked the launch of the Today tab, "a new source of daily inspiration with curated topics and trending Pins", in response to all-time high in activity, as people around the globe search for inspiration during self-isolation.
It said at the time: "We're featuring expert information from the World Health Organisation and Centers for Disease Control on topics like handwashing during the Coronavirus epidemic over the following weeks. In addition, we're also showing kid-friendly baking ideas, self-care tips, family-favourite movies and comfort food recipes based on trending Pins from what others are saving… More than ever, people are looking for ideas for activities to do at home — cooking quickly and easily, crafts and lesson plans for kids, tips for growing vegetables, and more."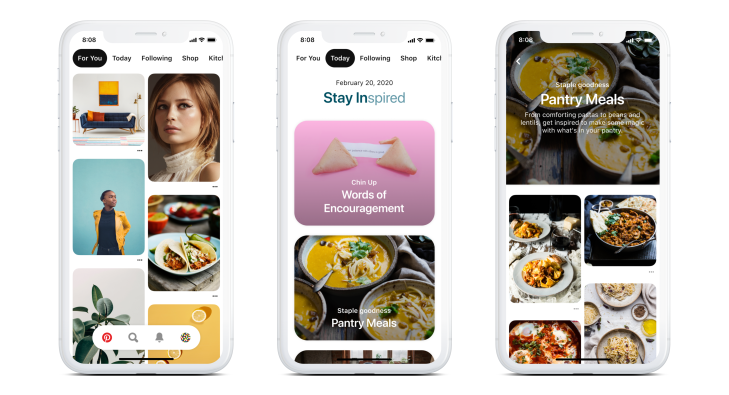 Another really good example is Brewdog: faced with a potential downturn in requests for ale, the brewing company quickly adapted their manufacturing process to produce a product much in demand: hand sanitiser. This diversification was beneficial for brand equity, profits, and consumers – probably even winning them new customers – and demonstrates what creative thinking and a thorough knowledge of consumer behaviour can achieve.
---
---
https://twitter.com/BrewDog/status/1240208876408123393?s=20
Another beer company – Busch beer – has taken an innovative, empathetic campaign approach to those indirectly effected by COVID-19, with a competition offering 250 couples whose wedding plans have been delayed  a year's worth of Busch beer as consolation prizes. To enter the contest, couples must post pictures of themselves on Twitter or Instagram with details about how and when their celebrations will continue, with the hashtags #BuschWeddingGift  and #Sweepstakes.
Your wedding plans may be on ice for the time being, but we wanna give you a wedding gift of ice-cold Busch. FOR A YEAR.

Post a photo of yourselves and tell us how you're planning to celebrate, along with #BuschWeddingGift and #Sweepstakes for your chance to win. pic.twitter.com/qkgVXvCsZa

— Busch Beer (@BuschBeer) April 15, 2020
OK, these couples' problems are not life-threatening, but the consequences of the lockdown have still had emotional and financial consequences, and Busch seems to have read the mood right among its target audience, with more than 10,000 mentions of the hashtag on Twitter and Instagram within less than a week.
Use social listening
Social media isn't just for bsuinesses to push out information: you can use social listening to track industry conversations linked to COVID-19. These insights will alert you to potential risks (fake news, shift in public perception, etc) and provide you with a benchmark as to what other industry players are doing in terms of positive communication and concrete initiatives.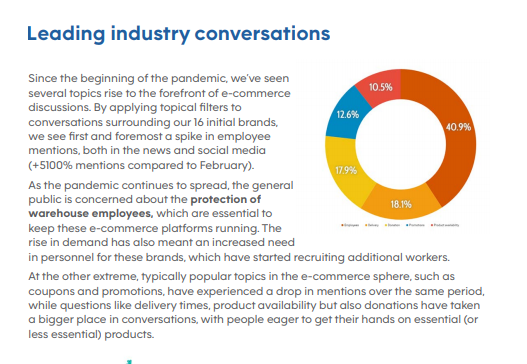 Source: Talkwalker
Getting it wrong – fake news and tasteless campaigns
Unfortunately, the downside is the boom in fake news. While business, health organisations and celebrities have been using social media to give a platfrom to from everything from health and safety tips and survival strategies for working for home, to activities for families stuck inside during self-isolation and simple messages of encouragement.
However, it has also provided an environment in which fake news can flourish (including the bizarre claim that mobile phone masts are at the root of the pandemic). Globally, around two thirds expect social media companies to be providing fact-checked content and to be filtering "fake news". Misinformation, especially about COVID-19, can cause panic at a time when people are already anxious – and reading the situation wrong can easily cause offence, whether or not offence is intended Whether you have a business or a personal profile, you should refrain from posting anything that appears to minimise or make light of the situation.
Online fashion retailer Boohoo has been criticised for a social campaign promoting  fashion face masks. The £5 masks came with messages such as "Eat, sleep, isolate, repeat" or "If you can read this, you are too close".
A nurse working at a Manchester hospital, told the BBC: "It's disgusting that they are trying to cash in on the crisis especially when so many NHS staff don't have enough PPE. They should hang their heads in shame."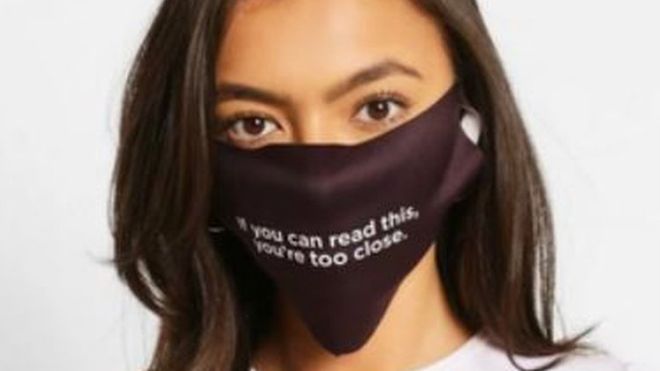 Source: BBC
Boohoo has apologised and removed the masks from sale, insisting the masks were not designed for "protection".
The takeaways
A study by the Digital Marketing Institute found two thirds of businesses who spent just six hours per week on social media reported improved lead generation. This a figure that highlights not only the importance of using social media but the difference it can make to your business.

Even if your industry is less affected than others by this crisis, active communication and brand monitoring is essential to spot any outstanding issues and address them. Due to lockdown, people are hyper-connected and quick to post negative comments on social media. 

Online conversations can provide you with key insights as to the products and services people are looking for, which can inform your product and communication strategy.

Brands and industries that are able to connect thoughtfully with their followers are weathering the storm so far.
---
Find out how we can help kickstart or improve your social media marketing strategy, by contacting us today. If you want to read more about growing your Facebook audience, download our free resource