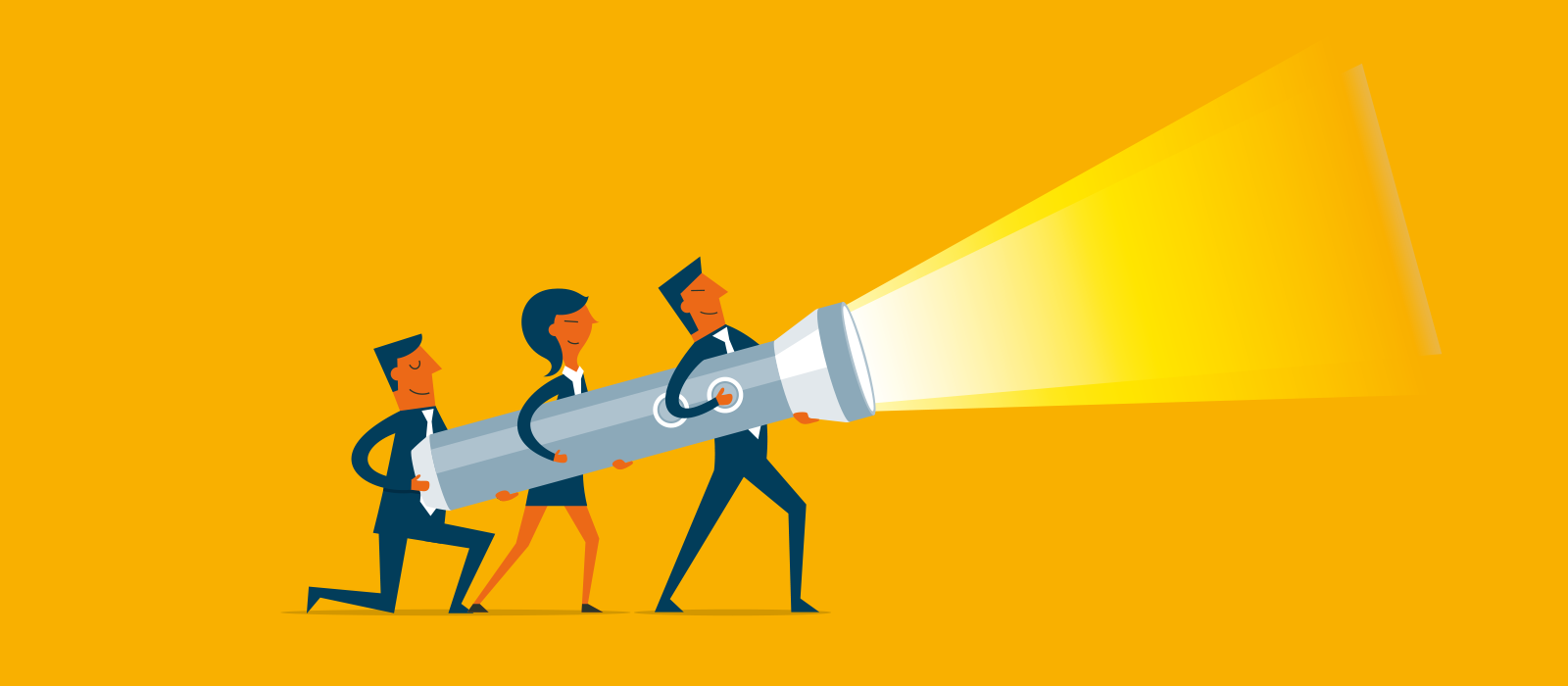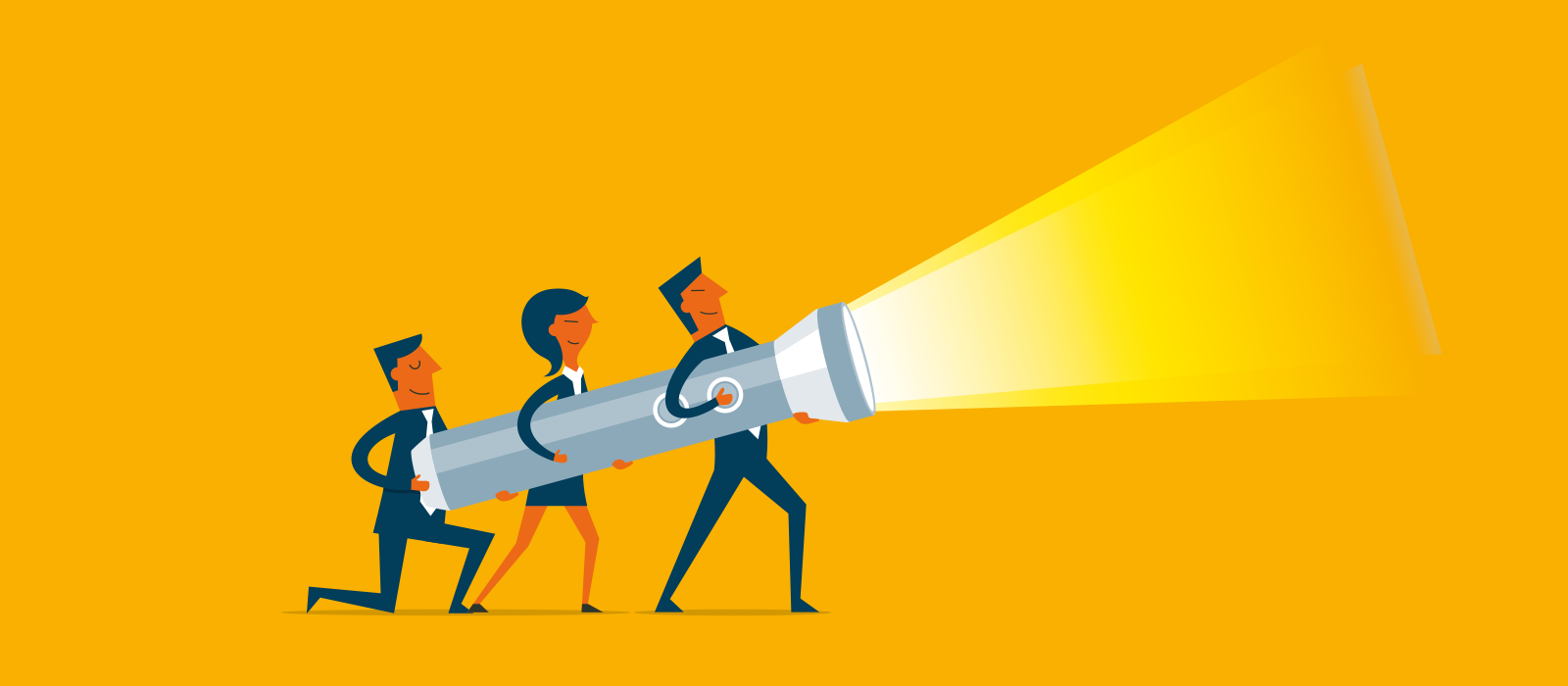 This month in search marketing [June 2020]
Jun 2nd, 2020
The latest search and digital marketing news brought to you by Click Consult…
---
Tuesday, 30th June
Google tests showing Analytics data in Search Console with 'Insights'
Google is testing a new feature in Google Search Console called Google Search Console Insights. It gives Search Console users deeper reporting into the performance of the site and its pages, including page views, average time on page, referring sites information and more from Google Analytics.
Google Search Console Insights. Google has not officially announced anything about Google Search Console Insights, but Search Engine Land obtained information on this new feature from various sources. Users can get Google Analytics data right in Search Console, including:
Pages views overall.
Page views of individual pages.
Average time spend on the site overall.
Average time spend on individual pages.
Traffic to your site from organic search versus social versus direct traffic.
Top referring links from other web sites.
Newest referring links from other web sites.
Social media traffic broken down by each site, such as Pinterest, Instagram, Facebook, Twitter, etc.
Monday, 29th June
Microsoft launches a free Search and Social campaign management platform for SMBs
Microsoft's Digital Marketing Center is moving past pilot stage, the company announced Monday. The platform is designed to help small and medium-sized businesses manage digital campaigns across multiple networks from one interface.
Digital Marketing Center enables small businesses to manage organic social media and paid search and social campaigns across Microsoft, Google, Facebook and Instagram, and Twitter's ad platforms. The product came out of the company's experimental project lab, Microsoft Garage.
Similar to Google Smart campaigns, which aim to simplify campaign set up and management for SMBs, Digital Marketing Center uses Microsoft AI to power ad keyword and audience targeting and bidding. Advertisers set their goals, location targeting and budgets.
Unlike Smart campaigns, in Digital Marketing Center, advertisers can choose to build their own ads, use automated ad copy or modify auto-suggestions.
Budgets are automatically optimized across channels and platforms.
Friday, 26th June
Bing brings visual search to product ads
Bing has added new visual search features to its sponsored Shopping results, the company announced Thursday. Users can click on the visual search icon in the Shopping search bar or in a product result to search for visually similar items. This feature has launched for clothing and shoes, with an expansion into home decor planned for the near future.
Facebook will show users a pop-up warning before they share an outdated story
Facebook announced Thursday that it would introduce a notification screen warning users if they try to share content that's more than 90 days old. They'll be given the choice to "go back" or to click through if they'd still like to share the story knowing that it isn't fresh.
Facebook acknowledged that old stories shared out of their original context play a role in spreading misinformation. The social media company said "news publishers in particular" have expressed concern about old stories being recirculated as though they're breaking news.
"Over the past several months, our internal research found that the timeliness of an article is an important piece of context that helps people decide what to read, trust and share," Facebook Vice President of Feed and Stories John Hegeman wrote on the company's blog.
Google will now auto-delete your location history after 18 months
Ahead of next week's California Consumer Privacy Act (CCPA) enforcement deadline of July 1, Google announced a number of new privacy updates. The company doesn't mention CCPA in its blog post, but the timing is probably not entirely coincidental.
The primary announcement concerns Google Location History and a new 18 month, default auto-delete policy. Location history is opt-in (it wasn't always). But if it's turned on, user location data will now automatically be deleted after 18 months. Users can also delete their location data manually or set auto-delete to happen at three month intervals.
Today, auto-delete must be activated by the user. That will no longer be the case going forward. This is part of a broader set of moves by Google to give users more control over their (location) data over the past year or so after several location-data related scandals.
Wednesday, 24th June
Google upgrades enterprise messaging capabilities in Maps and Search
Google Messaging has been a better idea than experience, perhaps until now. The company announced that it was upgrading the capabilities of messaging for enterprises in Maps and Search.
Google said today that it was expanding the business categories that would have access to messaging. It was also adding product features: "smart replies, visual product carousels, and unique welcome messages." Google says that messaging on its platform (Android and Maps for iOS) can also smoothly transition from automated replies to a live agent if needed.
Google agrees to start paying for news content
European news publishers and governments have been trying to get Google to pay them to license content for years. There have been legal and legislative fights and tortured battles over copyright laws. After fighting the idea of paying publishers to display or link to their content, Google is now ready to comply.
Google said earlier in a blog post that the company would begin paying "for high-quality content for a new news experience launching later this year." It didn't disclose any further information beyond the fact that the program will be part of "an enhanced storytelling experience that lets people go deeper into more complex stories."
Google says it has signed licensing deals with both local and national publishers in three countries so far: Germany, Australia and Brazil, "with more coming soon." Specific deal terms have not been disclosed, nor have any selection or participation criteria beyond the phrase "high quality."
Tuesday, 23rd June
Microsoft launches a free Search and Social campaign management platform for SMBs
Microsoft's Digital Marketing Center is heading into a pilot stage that is accepting new participants. The platform is designed to help small and medium-sized businesses manage digital campaigns across multiple networks from one interface.
Digital Marketing Center enables small businesses to manage organic social media and paid search and social campaigns across Microsoft, Google, Facebook and Instagram, and Twitter's ad platforms. The product came out of the company's experimental project lab, Microsoft Garage.
Similar to Google Smart campaigns, which aim to simplify campaign set up and management for SMBs, Digital Marketing Center uses Microsoft AI to power ad keyword and audience targeting and bidding. Advertisers set their goals, location targeting and budgets.
Unlike Smart campaigns, in Digital Marketing Center, advertisers can choose to build their own ads, use automated ad copy or modify auto-suggestions.
Budgets are automatically optimized across channels and platforms.
Google confirms fixing issue with indexing Disqus comments
Google's Martin Splitt confirmed earlier this week that Google has fixed an issue with indexing and ranking some content found within the Disqus commenting platform. It is not clear how many sites were impacted by this issue, but Google said it is now resolved.
It is not exactly clear how long Google had issues indexing Disqus comments. When Disqus first launched, I know many blog platforms that wanted their comments visible to Google had to use workarounds to get them indexed. But as Google became better at rendering JavaScript, it began to index most Disqus comments by default. But not all.
Monday, 22nd June
Former Google ad boss to launch new search engine Neeva
Over the past two decades, various upstart search engines have tried to take on Google and largely failed – including Microsoft's Bing. And notwithstanding the recent crop of privacy search players lead by DuckDuckGo, the time may finally be ripe for a true competitive challenge.
That challenge may come from Sridhar Ramaswamy, who formerly ran Google's massive ad business. Ramaswamy left Google in 2018 and was succeeded by Prabhakar Raghavan, who now runs Google search. Ads is also part of Raghavan's new charge.
Ramaswamy is getting ready to unveil a new search engine and direct competitor to Google called Neeva, according to the New York Times.
The first major differentiator is that it will not have advertising and be subscription-supported. It will not track users and it will be personalized. Personalization will reportedly be accomplished without data mining. Neeva has so far raised $37.5 million and has 25 employees.
Neeva won't reinvent the search wheel; it will sit on top of existing content and data sources: Bing search results, Apple Maps, weather.com and other data sources. Neeva will also search personal files like email and "local" documents along with the web.
Google launches Keen, a new personalized search-discovery-social mashup
To the extent that tech pundits continue to compare Google's new Keen search and social discovery site to Pinterest, and users also think of it that way, it's probably destined to fail. Google famously doesn't promote and ultimately shutters most of these "experiments."
For Keen to survive, let alone succeed, Google will need to reframe and differentiate it from Pinterest — as a tool for persistent, personalized search and as a broad content repository for later consumption. It recalls the days of personal start pages and personalized content archives like iGoogle and Yahoo's MyWeb and MyYahoo or Mozilla's newer Pocket, which I'll get to in a bit.
Keen was developed by Google's Area 120 group. It was created in conjunction with Google's People and AI Research team, "dedicated to human-centered machine learning systems," project co-founder CJ Adams wrote in an inaugural blog post.
Thursday, 18th June
Youtube brings products to YouTube for action ads
YouTube says the number of advertisers using TrueView for action, the ads designed for performance advertisers with calls-to-action, increased by more than 260% last year. Now it's bringing product selection to these ads.
In a new test, ecommerce advertisers can show products in their TrueView for action ads. When the users click on the expansion arrow in a TrueView for action banner, a selection of products appears below the video.
This test essentially merges the TrueView for action banner with the product listings of TrueView for shoppinng ads. You'll need to have your Google Merchant Center account linked to your Google Ads account.
Wedesday, 17th June
Nextdoor rolls out free Business Posts
Nextdoor introduced Business Posts this week. This is one of a number of tools and features the company has rolled out to support small business owners during COVID-19.
Business Posts are free to owners but require a claimed local business page to begin. They appear in the Nextdoor neighborhood newsfeed.
The company says Business Posts will "reach all neighbors within two miles of your business." That appears to be the maximum radius, so it won't address the needs of all service area businesses. I imagine, however, that Nextdoor will make adjustments as they look at the data and receive feedback from business owners.
Businesses get two posts per month for free. The company was silent on whether there would be a paid option for greater frequency.
Google adding local store details to Shopping
Google announced several features and updates Wednesday aimed at helping small and brick-and-mortar businesses re-emerge as local economies begin reopening.
Noting some of the ways changing consumer behavior during the coronavirus pandemic has impacted local businesses, Google said searches for "curbside pickup" and "in-stock" surged by more than 70 percent in recent months. And searches for local services have risen by 50%.
There is now another reason for retailers to update their Google My Business listings and create local product feeds. Starting today, local store information including product availability, locations and options such as curbside pickup or delivery will appear in the on Google Search Shopping tab in all countries where it's available.
Google fast-tracked adding free listings to Google Shopping in April due to the coronavirus crisis. The local inventory information will be available for both ads and free listings in the Google Shopping tab.
Yelp offers upgraded COVID reopening tools for local businesses
Yelp has arguably gone further than Google in providing specialized communication tools for local businesses during COVID-19. And Tuesday, the company announced a number of new features specifically for businesses and restaurants reopening now.
Described as "phase two" of its COVID tools rollout, Yelp is introducing a new COVID-19 section on business profiles, which expands upon the previous COVID-19 banner rolled out in March. It offers a larger canvas to communicate changes, updates and important health and safety information to customers.
Restaurants, for example, can communicate whether they have resumed dine-in service or have outdoor seating. Other categories of businesses can also indicate whether they offer virtual classes or online consultations.
Tuesday, 16th June
Local SEOs most focused on link building, Moz report finds
In addition to organic tactics, nearly 80% of local marketers are buying ads on Google. That's 10% more than last year, according a newly released survey of 1,300 local marketing agencies, small businesses (SMBs) and multi-location enterprises from Moz.
The survey asked a wide range of questions; among other topics, about the impact of COVID-19 on marketing budgets. The majority (70%+) said they were dealing with cuts, though "74% believe that business-as-usual will return within a year of safety orders being lifted." Paid media, social and localized web content were more often cut than SEO, though local link building was in the middle of the list.
Asked what SERP features they were most focused on, these marketers responded: 1) featured snippets, 2) local packs, 3) Google Business Profile and 4) "we don't have a SERP feature strategy." Consistent with the zero-click narrative, 77% of respondents said they agreed with the statement that Google (Business Profiles) are "the new homepage" for local businesses.
Monday, 15th June
Facebook intros new knowledge panel-like information boxes
Facebook has introduced knowledge panel-like information boxes into its search results for certain queries. The information within the boxes are sourced from Wikipedia.
Facebook's search engine has focused primarily on connecting users with content that lives on its platform (the pages of other users, brand pages, local businesses and so on). However, Facebook CEO Mark Zuckerberg has said, "Search for Facebook is going to be a multiyear voyage"; that was back in 2014.
While it's unclear whether these kinds of features were what he had in mind back then, they may aid Facebook's current efforts against misinformation by making it easier for users to look up sources without having to leave the platform.
Thursday, 11th June
Google webspam report released – our top takeaways
Google discovers more than 25 billion spammy pages a day, according to its annual webspam report released this week. The company also published a companion post on why it's important to keep spam out of search results.
Our Director of Search, Alan Reeves, highlighted the following as the key takeaways:
More than 25 Billion pages Google discover each day are spammy
More than 99% of visits from SERP lead to spam-free experiences
Link spam continued to be a popular more than 90% of link spam was caught by Google's systems, and techniques such as paid links or link exchange have been made less effective.
User-generated spam didn't grow in 2019 and Hacked spam, while still a commonly observed challenge, has been more stable compared to previous years
Had an increase in spammy sites with auto-generated and scraped content with behaviors that annoy or harm searchers, such as fake buttons, overwhelming ads, suspicious redirects and malware.
Google received nearly 230,000 reports of search spam in 2019, and we were able to take action on 82% of those reports we processed (doesn't say how many processed).
Google sent more than 90 million messages to website owners to let them know about issue, 4.3 million were related to manual actions
(Apparently) the new rel= attributes were well received and adopted by webmasters around the world!
Google to allow removal of counterfeit goods from search results
Google is now allowing users to report counterfeit goods within the organic/free Google search results for removal. This works similar to the DMCA process, where you can request removal of stolen copyrighted content from Google's search results.
Google Ads already prohibits such products from being advertised on Google and it describes counterfeit goods as goods that "contain a trademark or logo that is identical to or substantially indistinguishable from the trademark of another. They mimic the brand features of the product in an attempt to pass themselves off as a genuine product of the brand owner.
Google has told Search Engine Land that this is fully manually at the time being. Similar to DMCA request takedowns, this is a manual process. Google will require you to submit a takedown request, a Google employee will review the request and decide to take down the content or not.
But overtime Google will use these submissions to develop ranking algorithms and systems that will help Google further limit the visibility of sites that are consistently found to be selling counterfeit goods. This will help Google more algorithmically stop counterfeit goods from getting into the Google organic results.
Google Search Console performance report gets recipe filters
Google has added new filter options to the performance reports within Google Search Console. If you use recipe markup, Google may give you the ability to filter your performance report within the "search appearance" options.
You can access the filters by logging into Google Search Console. Then click on the "performance report" and then select the "+New" option to select "search appearance…" Within those options, you might see two new filters for recipe:
Recipe Gallery
Recipe rich results
Tuesday, 9th June
Head of Google Ads to run Search
Google announced Prabhakar Raghavan, former head of Google Ads, is changing roles to head Google Search while simultaneously overseeing Ads. The move diminishes the traditional separation of product teams and has SEOs concerned about how it might affect organic search results.
The past and current behaviors, along with the perceived failsafe of historical separation of Google products, is why many veteran SEOs recoiled when they read the announcement that Google was promoting the head of Google Ads to be the head of Google Search. The announcement was made even worse when they learned the new head of Google Ads would be reporting to the head of Google Search.
Google lets you text 'Plus Codes' that reveal your exact location
If you struggle to share obscure locations with your friends and family on Google Maps, there's a little-known feature that just might help.
"Plus Codes" are digital addresses that Google gives locations, and you can use them to pinpoint places that otherwise don't appear on its apps. The codes rolled out in 2018 work on both iPhone and Android across Google Maps, Chrome and the Google search engine itself.
It's thought that the codes could be handy for people indulging in remote walks and camping for example, and could even act as a safety feature.
Monday, 8th June
Twitter puts fact-checking label on tweets linking 5G with coronavirus
Twitter is adding fact-checking labels to tweets that wrongly link new superfast 5G mobile networks with the coronavirus.
Instead of deleting or hiding such tweets, Twitter is showing a message on them that reads "Get the facts on Covid-19." When clicked on, users are taken to a page titled "No 5G isn't causing coronavirus" which debunks the conspiracy theory by linking to credible media websites and other official sources.
In a statement sent to CNBC, a Twitter spokesperson said: "We're prioritising the removal of COVID-19 content when it has a call to action that could potentially cause harm. As we've said previously, we will not take enforcement action on every Tweet that contains incomplete or disputed information about COVID-19."
Friday, 5th June
Bing Webmaster Tools new Site Scan feature finds SEO issues
There is a new feature that was just released in the new version of Bing Webmaster Tools, it is called Site Scan. Site Scan is a site audit tool which crawls your site and checks for common technical SEO issues.
You can access this in the new Bing Webmaster Tools over here.
Bing said "Site Scan is an on-demand site audit tool which crawls your site and checks for common technical SEO issues. Fixing these issues will make your website search engine and user friendly. With this tool, you can improve your website performance not only on Bing but on other search engines as well."
How does it work. You go to the Site Scan feature, then click on "Start new scan." Enter in the name of the scan, the scope of the scan, the limit of pages you want Bing to scan and even more.
Search Engine Land have outlined the details of the report here and the types of result that you can generate.
What does it tell you. The scan detail report will find common SEO issues. It will give you:
Scan Status
Number of pages scanned
Number of Errors
Number of Warnings
List of issues found, their severity and the number of pages affected
The report is broken down into:
Errors: These are the most critical issues we found on your website. You should prioritize resolving these issues as they can impact indexability of your website.
Warnings: These are the issues with medium severity which might impact your SEO health.
Notices: These are lowest severity issues or recommendations which you can investigate after solving all the errors and warnings.
SEMRush drops paid guest blogging service after Google policy scrutiny
SEMrush, a very popular SEO toolset, came under scrutiny in the SEO industry this week when its content marketplace added guest blogging services that highlighted natural links as a benefit to the service. This ultimately resulted in SEMrush dropping the service from its website.
SEMRush removed the guest blogging page from its site, which previously said: "The Guest Posting service from SEMrush Marketplace provides you with a cascade of high-quality, natural links to your site, boosting your rankings and helping you get more organic traffic. Without doing any research or routine work yourself, you can order unique content with an integrated backlink to your site, which is then placed on a relevant site within your niche."
Google My Business offers more flexibility with business hours
Google My Business has launched a new feature to give local businesses more flexibility with their business hours that reflect ways they're adapting for social distancing as they start to reopen.
You can now set up "more hours" in Google My Business with special times for seniors, pickup, kitchen, and more. You can even set these hours by day of the week and multiple times per day.
How it works. You will need to login to your business profile in Google My Business.
On your computer, sign in to Google My Business.
If you have multiple locations, open the location you'd like to manage.
Click Info.
Next to "More hours" click Edit Edit pencil.
In the "More hours" box under "Add hours," click on the type of hours that are applicable.
Next to the day of the week you want to change, check the box and enter your hours.
After you entered all hours, click Apply.
---
 
---
Some of the options can be seen above.
Thursday, 4th June
Google launches featured snippet to web page content highlight feature
For the past couple of years Google has tested highlighting content on a web page based on clicking on a featured snippet from the Google search results. This was being tested both on desktop and mobile.
This is now live and works on most Google featured snippets and on most web browsers. Danny Sullivan from Google said on Twitter this feature went live last week after years of testing. Danny said "we've done this regularly with AMP pages since December 2018. We tested with HTML pages last year, as noted. We now do it regularly HTML pages, since last week."
Wednesday, 3rd June
Smart Bidding is becoming smarter
In our weekly catch up with Click Consult's Head of Paid Media, Dave Karellen, he noted that the largest update so far this month was that smart bidding was getting smarter.
He said that this is, for once, on the surface at least, is a wholly positive move as it gives businesses more flexibility to adjust bid strategies.
Dave referred to the update from Google, which said: "Today's guidance revision is a huge leap forward and highlights in no uncertain terms the confidence our Product Team has in our bidding strategies.
"We've historically had a conservative view on how frequently customers can change targets. This will no longer be the case for Google Ads or SA360 automated bidding. From now on "customers should feel comfortable changing CPA and ROAS targets as frequently as they would like, with changes of as large a magnitude as they would like in order to meet their business objectives (e.g., to adjust to a changing market, or to manage spend). We recommend customers make target changes that are aligned with their business objective (e.g. to adjust spend or optimize to a new ROI goal), and use tools like target simulator to forecast the impact of a change.
"'Changing targets does not put the bidding strategy back into learning mode. The bid strategy is always 'learning' by definition, and constantly updating predictions as conversions are reported.""
Tuesday, 2nd June
Did you see Google local ranking changes in early May? It could be a bug…
At the end of April and in early May, the local SEO community were noticing a lot of ongoing fluctuations and volatility with the Google local search results both in Google Search and Google Maps. It turns out, this was not the result of an algorithmic update but rather a bug.
Danny Sullivan of Google said last week, "Just wanted to update. Thanks for the examples. They helped us find a bug that we got resolved about about [sic] two weeks ago, and that seems to have stabilised things since."
---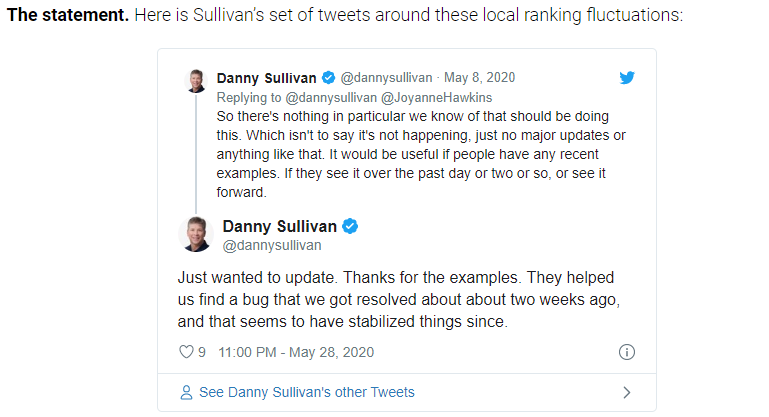 ---
Sometimes, just sometimes, changes you see in search rankings have nothing to do with you. Sometimes Google makes mistakes. The local rankings have been much more stable over the past couple of weeks since Google fixed this particular bug.
Monday, 1st June
Survey looks at how the global lockdown is changing user behavior and digital consumption
The outbreak of the COVID-19 pandemic has pushed the world to stay inside their homes. This has further forced them to spend more time reading, streaming, and consuming online content. As per a report, the number of minutes spent by readers on news sites has increased by roughly 46% when compared to the data pertaining to the same time last year. With social distancing and self-isolation being practised by a major part of the world's population, this has become the new normal.
Social media apps, online games, streaming content, and other digital media content together have managed to take away the maximum share for the time users are spending in the Lockdown period.
Here are the key findings:
Social media apps, online games, st

reaming content, and other digital media content together have managed to take away the maximum share for the time users are spending in the Lockdown period. 

Ecommerce

 is the "new normal", we will see a huge shift in the buying-selling sector after the world has recovered from COVID-19.

Apps and services with a subscription model are seeing a rise in their revenue.

As per a 

report

 by the Guardian for the UK, 

Facebook

 has witnessed 300 new local 

Coronavirus

 support groups, whose combined membership now totals more than a million people.

More detailed pointers on how global lockdown is changing user behavior and digital media consumption.
---
Need help with your search marketing? Why not get in touch? Or subscribe to our newsletter for industry leading insights.