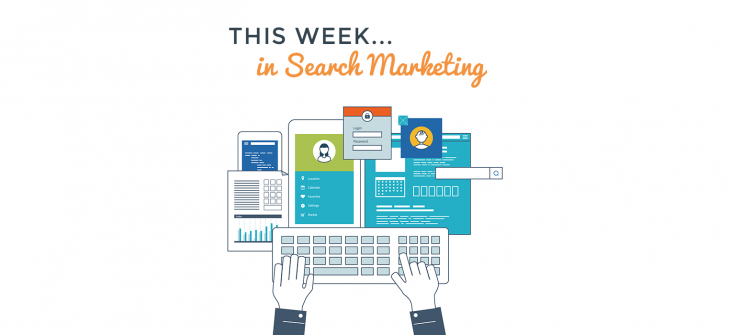 This week in search marketing [04/03/19]
Mar 4th, 2019
Your weekly news round-up from the world of organic and paid search (SEO and PPC), social media and content marketing…
---
Friday
Twitter Launches New 'Timing is Everything' for video
Twitter has launched a new analytics tool to help video publishers maximise their engagement, conversation, and viewership on the platform. You can also click on the chart to schedule media tweets in time slots that show the most engagement: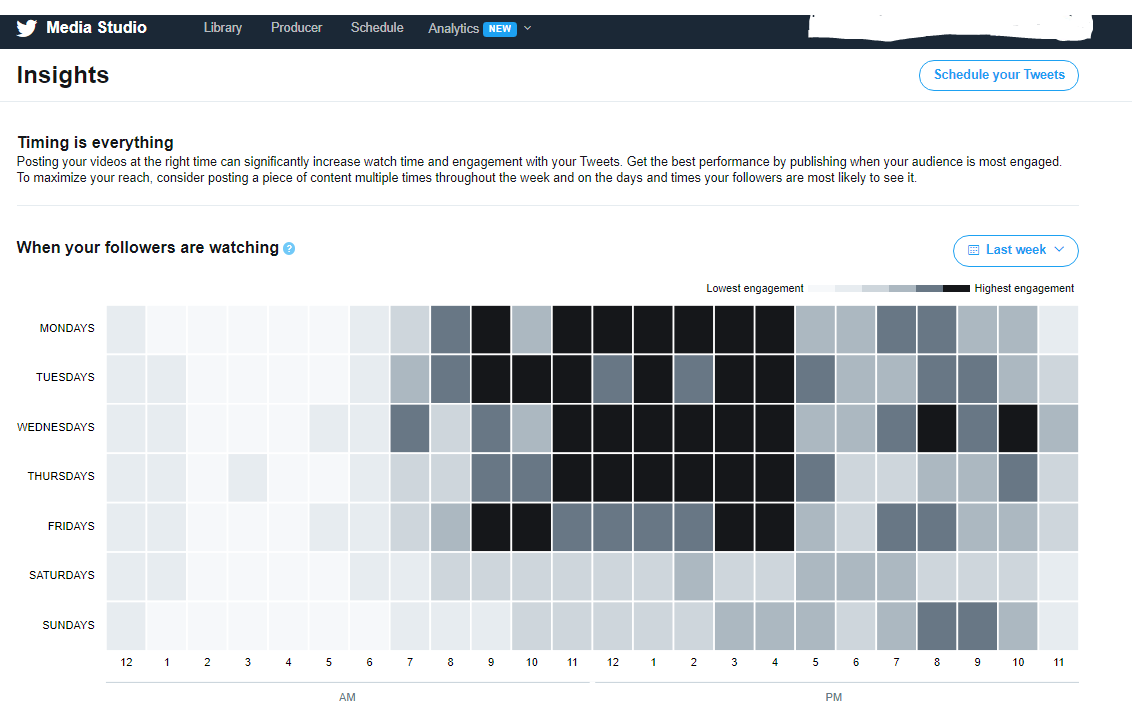 The chart shows when your followers are watching any video on Twitter, but not specifically your own videos. The tool can be found under the Analytics menu within Media Studio and is only available for accounts with 1,000 followers or more.
Thursday
Google Ads moved to first-price auctions
Google will move to first-price auctions for Google Ad Manager, its publisher exchange and ad server, by the end of 2019. At that time, it will also run a single, unified auction and remove last look, a significant shift that will resonate across the $48 billion programmatic landscape. The move only affects display and video inventory sold via Ad Manager, with no impact on auctions for ads on Google Search, AdSense for Search, YouTube, and other Google properties, and advertisers using Google Ads or Display & Video 360 do not need to take any action.
Google Ad Manager's Sam Cox said: "With this change, every offer from programmatic buyers will compete in the same unified auction, alongside inventory which is directly negotiated with advertisers. An advertising buyer's bid will not be shared with another buyer before the auction or be able to set the price for another buyer. The buyer that wins the auction pays the price they bid. By simplifying our auction in Ad Manager, we can help make it easier for publishers and app developers to manage and get fair value for their inventory.
"Since the change from second to first price will require both buyers and sellers to make changes in their programmatic strategies, we'll give everyone time to prepare over the next few months before we start testing. During this time, publishers and app developers will need to rethink how they use price floors and technology partners will need to adjust how they bid for Google Ad Manager Inventory."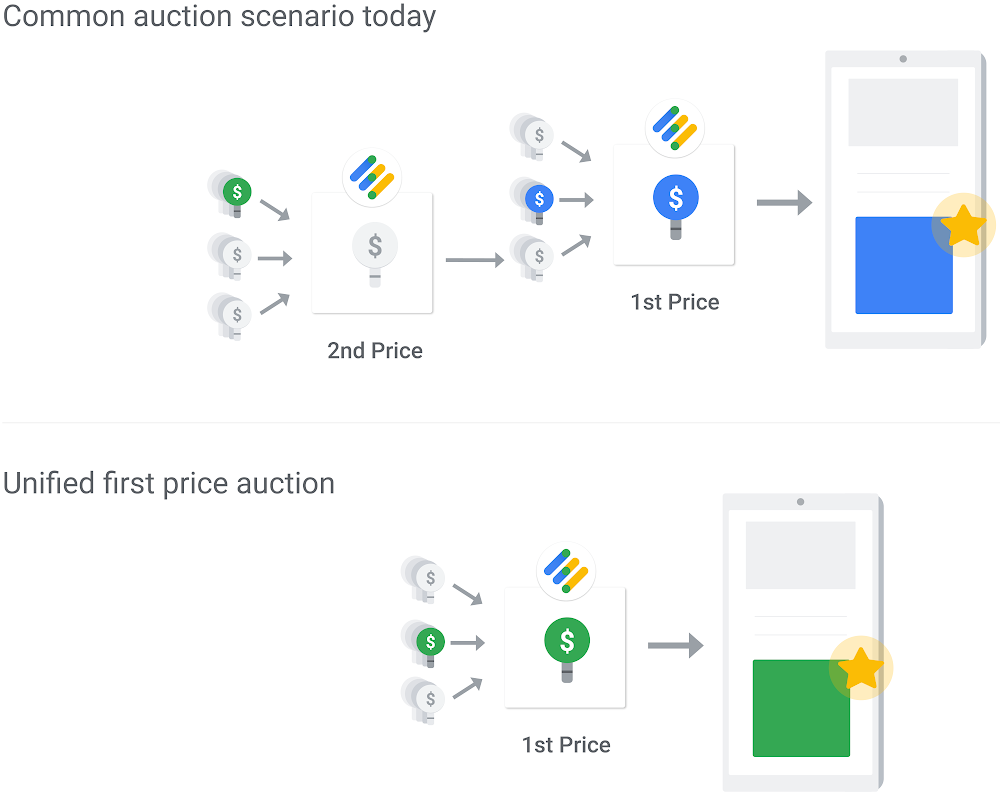 Source: Google
Data focus grows for marketers
Marketers, publishers, marketing service providers, and technology developers expect their spending on data and data-related services to increase in 2019, according to 'The Outlook for Data 2019: A Snapshot Into the Evolving Role of Audience Insight' the fourth annual benchmarking report conducted on behalf of the IAB Data Center of Excellence. The vast majority of survey participants noted that cross-channel data measurement and attribution, and audience identification/matching are the most important areas of focus for them in the coming year.
Orchid Richardson, Vice President and Managing Director, IAB Data Center of Excellence, said: "While the industry is becoming more sophisticated in its application of data in marketing, communications and analytics, rapid growth in data analytics and solutions also presents challenge
53% of industry executives noted that the threat of heightened government data regulation was the main potential threat to deriving value from data.
Wednesday
Moz's DA 2.0 has officially come into effect
Moz's Domain Authority (DA) score is one of the leading predictive indicators used to assess a website's ability to rank higher in search results relative to its competition. Domain Authority can be used by SEO professionals to gauge the strength of websites relative to competitors, thereby guiding decisions on keywords, topics, technical site issues and link building.
"Domain Authority 2.0 is built to scale and enables increased reactivity to changes in search engine algorithm updates," said Russ Jones, Principal Search Scientist at Moz. "Much like Google's recent efforts, Domain Authority 2.0 seeks to root out manipulation and give webmasters a clear picture of their site's strengths."
Agencies and in-house search marketing teams who use Domain Authority scoring to report progress month-over-month to stakeholders may see a significant change in their Domain Authority score. Moz has developed "Guide to Domain Authority 2.0" and a webinar to help marketers and SEO professionals prepare for the change.
Google introducing shoppable ads on Google Images
The new format enables you to highlight multiple products available for sale within your sponsored ad among Google Images results. Google is currently testing this on a small percentage of traffic with select retailers, surfacing on broad queries like "home office ideas", "shower tile designs", and "abstract art".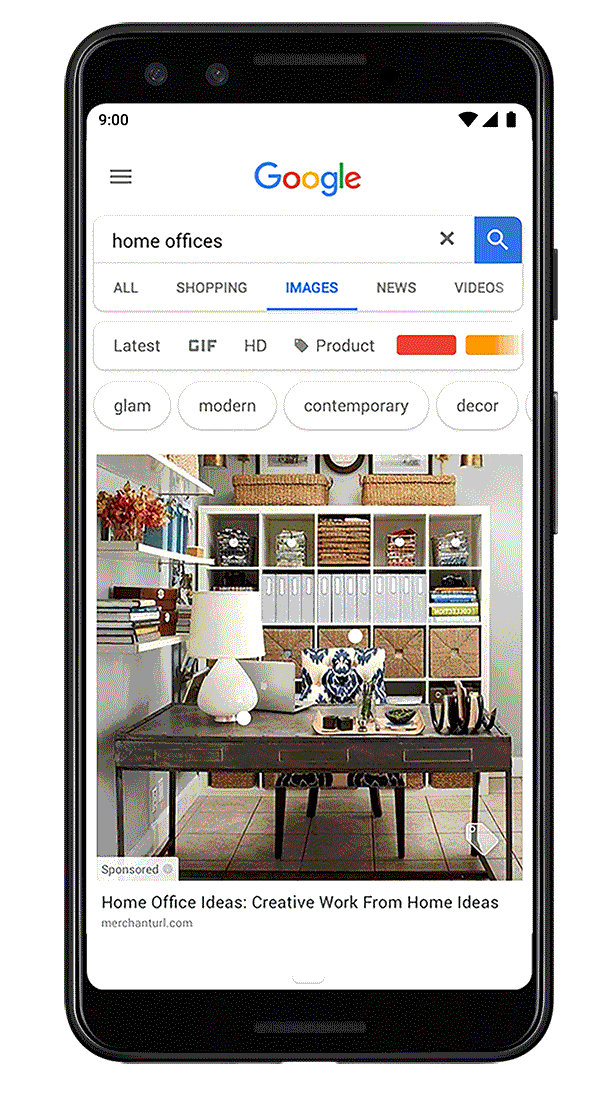 Source: Google
Surojit Chatterjee, Vice President, Product Management – Shopping, said: "A recent study shows that Google is the first place US shoppers go to discover or find a new brand or product. But shoppers aren't just doing their searches on Google.com. We've seen that 50 percent of online shoppers said images of the product inspired them to purchase, and increasingly, they're turning to Google Images."
Google is also bringing Showcase Shopping ads to Google Images as well, offering shoppers "a more inspirational and rich visual experience".
Website Hack Trend Report 2018
More than half of sites hacked in 2018 were done so for SEO reasons, according to malware removal specialists Sucuri. These hacks target web sites in order to try to manipulate the success of a site's SEO campaign and boost its rankings in Google, Bing or other search engines.
The report shows that 51.3% of all infection cases in 2018 were related to SEO spam campaigns, which is up 7.3% from the previous year, making it one of the fastest growing families of hacks in the past year. The "SEO spam family" as Sucuri defines it "is comprised of attacks that specifically target the manipulation of search engine optimisation".
Tuesday
Algo update on 2nd March?
SERoundtable's Barry Schwartz had been speculating about an unconfirmed Google algorithm update on March 2nd. He said: "We had one on February 27th and February 22nd and now another unconfirmed one on March 2nd. They seem like tremors, maybe tweaks to previous updates. We have both chatter and trackers showing the updates."
Image from SEMRush, via SERoundtable
Google Ads API out of beta
Google has announced the production-ready release of the Google Ads API and advising businesses to start using v1 in their production systems as the v0 beta version of Google Ads API will sunset on 30th April, 2019.
The Google Ads API is the replacement of our AdWords API and brings significant advances in innovation and developer productivity. It can be accessed via gRPC with our client libraries and JSON REST for debugging. We are working on getting the last few features released so that all the features in the AdWords API also exist in the Google Ads API. In addition, new features are being added to the Google Ads API that will not be available in the AdWords API:
Google Ads Query Language makes querying more flexible.
Querying returns objects that can immediately be updated in the API.
Coding becomes easier as interacting with lists is more intuitive.
Querying and managing budgets is available to everyone for accounts using consolidated billing.
You can query, apply, and dismiss Recommendations.
Most resources can be mutated synchronously through a single service.
Querying change status in the API is more detailed.
New feature in GMB can display up to 10 business offers
A new feature in Google Posts can display up to ten offers from your business. Senior Product Manager for Google My Business, Amir Fish said:  "We're making offers more prominent on Business Profiles on Google. The new layout introduces a dedicated space for business owners to feature their most recent offers—making a quick decision for their potential customers even easier."
How do you use it? When creating a post in the Google My Business App, you'll see an option to categorise it as an offer. From there, you can tailor the details to your specific needs. An offer can include a description of the promotion, a coupon code or any terms and conditions useful to your audience. You can surface up to ten unique offers in the carousel, providing a list of choices.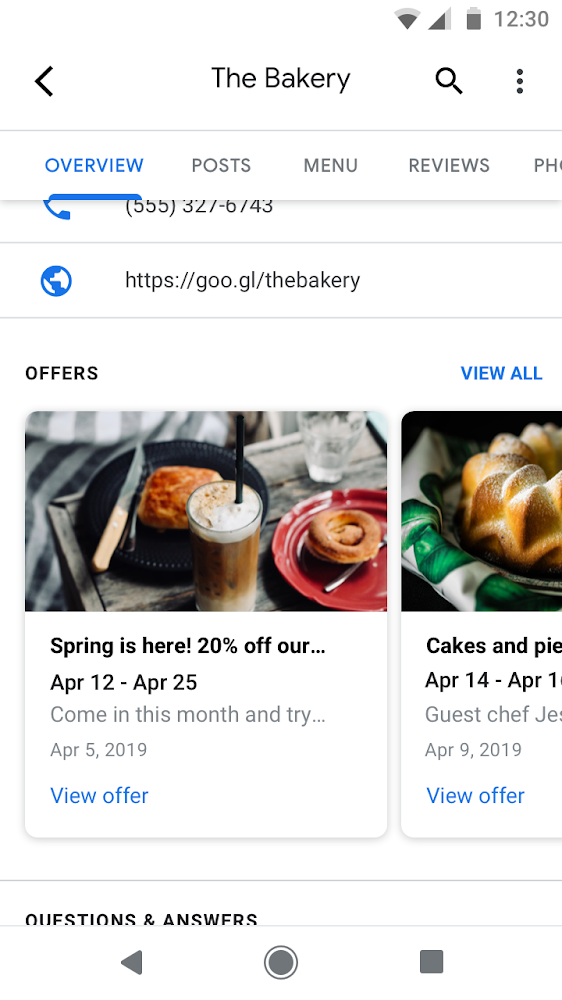 Source: Google
Monday
Google Ads to retire 'average position' metric
Google has confirmed it is to sunset the 'average position' metric in Google Ads in the third quarter of 2019, having last year rolled out Impression (Absolute Top) %" and "Impression (Top) %, which describe what percent of your ads appear at the top of the page and absolute top of the page which "give you a much clearer view of your prominence on the page than average position does".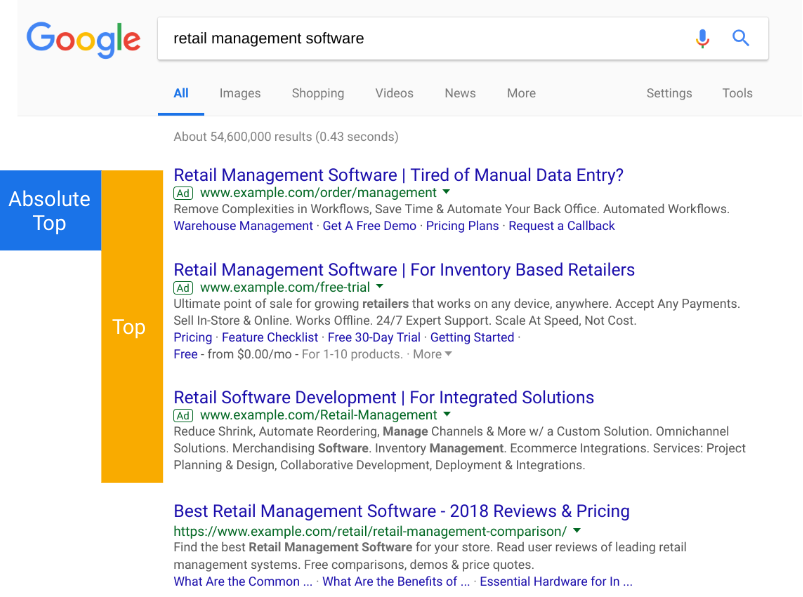 Source: Google blog
It also introduced Search absolute top impression share" and "Search (Top) IS, which show what percentage of the total available metrics your impressions represent and which it says "are the best metrics to use if you want to optimise for position".
Ginny Marvin at Search Engine Land wrote "Change is constant in search advertising, but average position has one of the few constants for more than 15 years. Yet, with the removal of right rail ads, in particular, its utility has sharply declined in recent years."
Google reacts to EU Copyright Directive
Google has issued a statement reacting to the finalised text of the new EU Copyright Directive, urging policy makers to take into consideration any " unintended consequences that may hurt Europe's creative economy for decades to come".
The controversial Directive has been criticised by consumer associations, creators, publishers and academics who warn that it will effectively act as a censorship machine, limiting the ability of millions of people – from creators to everyday users – to upload content, while also threatening to block users in the EU from viewing content that is already live.
---
The Directive creates vague, untested requirements, which are likely to result in online services over-blocking content to limit legal risk. And services like YouTube accepting content uploads with unclear, partial, or disputed copyright information could still face legal threats… [the lastest version of the Directive] hurts small and emerging publishers, and limits consumer access to a diversity of news sources. Under the Directive, showing anything beyond mere facts, hyperlinks and "individual words and very short extracts" will be restricted. This narrow approach will create uncertainty, and again may lead online services to restrict how much information from press publishers they show to consumers. Cutting the length of snippets will make it harder for consumers to discover news content and reduce overall traffic to news publishers, as shown by one of our recent search experiments
---
Keep up to date with all things digital and search marketing by signing up to our blog, or check out our resources to take your efforts to the next level with our industry leading insights.