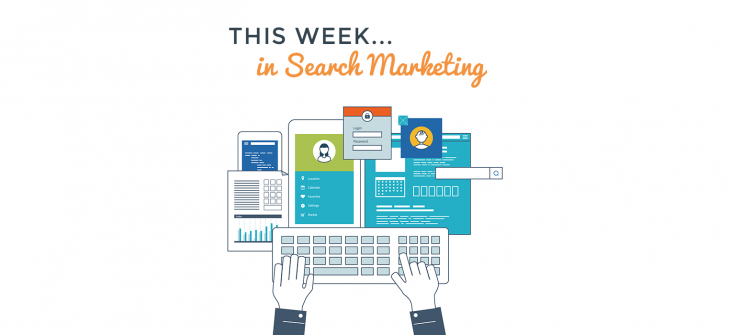 This week in search marketing [10/02/2020]
Feb 13th, 2020
An unconfirmed Google update a leap forward in natural language search from Microsoft and a host of other news in this (late again, sorry) week in search
---
Thursday
Google Update
In a shocking announcement of stunning clarity – Google's statement on update rumours goes as follows:
"We do updates all the time."
Wednesday
Turing-NLG
Posted on Monday (but I only spotted it today), Microsoft's announcement on deep learning and Natural Language Generation is pretty impressive. The efficacy it is reporting is incredibly promising for things such as voice search as well as, obviously, natural language search. While I haven't had a chance to look in to it yet, it would be interesting to see how/if/when they intend to introduce this to Cortana. The Microsoft digital assistant performs consistently well against competition, but this could potentially make a big difference.
LinkedIn
In good news for B2B sales, there's been an update to LinkedIn to provide better integration with Salesforce. The update, covered by Marketing Land will no doubt please countless dependent on the platforms.
Tuesday
Search Console Update
Search Engine Land featured an article on a new update to Google Search Console. The new features – which include a new performance report for rich results – aim to give webmasters better oversight of rich result performance.
IAB Annual Meeting
A PR features on the IAB site following their 2020 Annual Meeting that details their response to the peculiarities of the current era in data privacy (with similar percentages of surveyed individuals stating that they want a personalised experience and are concerned with data privacy). Seemingly provoked by the news of Google's imminent third party cookie cull, the IAB seems bullish in the PR, with one of the featured quotations stating:
"The cookie's death can lead to a better future for digital media globally. It's an opportunity to change the practices, controls, and value surrounding personal data to favor consumers. IAB and IAB Tech Lab have already been hard at work, engaging our members to define practical solutions," said Dennis Buchheim, EVP and General Manager, IAB Tech Lab. "In the coming year, Tech Lab will undertake one of its most comprehensive initiatives to create technical standards, guidelines, and potentially a compliance program to support members – and consumers."
Facebook AR
The latest AR purchase by Facebook was reported on TechCrunch. Because Facebook are in no way potentially evil super-villains that will one day force us to mine component minerals to upgrade Mark Zucherberg's latest giant robotic skeleton over which he will stretch his skin suit, they were happy to provide the following quote to TechCrunch:
"We acquire smaller tech companies from time to time. We don't always discuss our plans."
However, despite such an elucidating response, there are questions as to the potential use of the software company Scape Technologies which works on computer vision. While it may be something as simple as the social media Billionaire needing to update his ocular software, there are plenty of potential uses in both AR and (with Occulous Rift in mind) VR that could present themselves which, combined with 5G, could mean that both AR and VR may become a lot more common much sooner than expected.
Monday
Google Update
There were big reports over the weekend of pretty intense fluctuations across virtually all monitoring widgets – covered here on Search Engine Land – which has resulted in a swathe of 'we lost', 'we gained' posts. While there will obviously be people worried – large scale fluctuations were an inevitable following the introduction of BERT as Google refines its ability to 'read' both queries and users. While it may turn out otherwise (there has been no word from Google to confirm or deny as yet), the ever sensible Marie Haynes (quoted in the linked article) has the right approach:
---
The algo checker tools are mostly showing big spikes over the w/e. Spot checking, we have a few clients with small gains, but most are showing no obvious change from regular traffic levels.

We'll keep watching, & report in newsletter if it does look like a significant update. pic.twitter.com/gK5V4Hf33K

— Marie Haynes (@Marie_Haynes) February 10, 2020
---
Custom CSS limit increased by 50%
With AMP uptake not what one might have expected from something which has had the full weight of Google hurled behind it, I wonder whether the news featured in SERoundtable that the AMP team is increasing the CSS limit from 50kb to 75kb may be something to ease the concerns of developers unimpressed by the sparse appearance of AMP content. Either way, the change should be in place by the end of February.
CTR Stats
AWR have released an analysis of CTR in December 2019 (versus November 2019). As the piece doesn't state if it's using relative difference or absolutes, it's difficult to judge the analysis as to how much they should concern people; however, it does demonstrate that CTRs dropped across most verticals at the end of 2019. It's also difficult to judge the piece as the data comes before the BERT roll out, and (potentially) two updates. It will certainly be something I'll keep my eye out for in future, though.
---
Keep up to date (mostly) with the latest search marketing news by subscribing to our newsletter, or check out our (thankfully less time sensitive) resources for actionable insight. Or contact us to see what we can do for your brand.