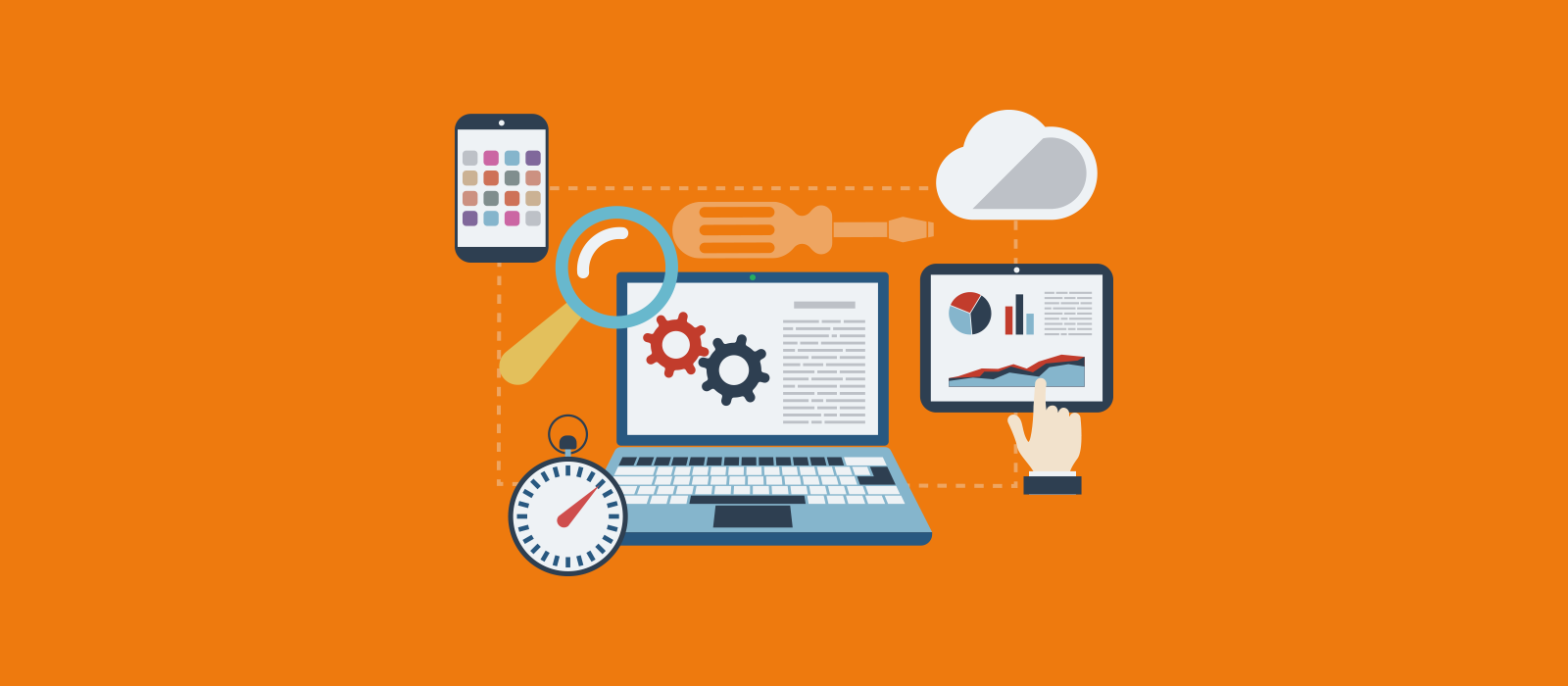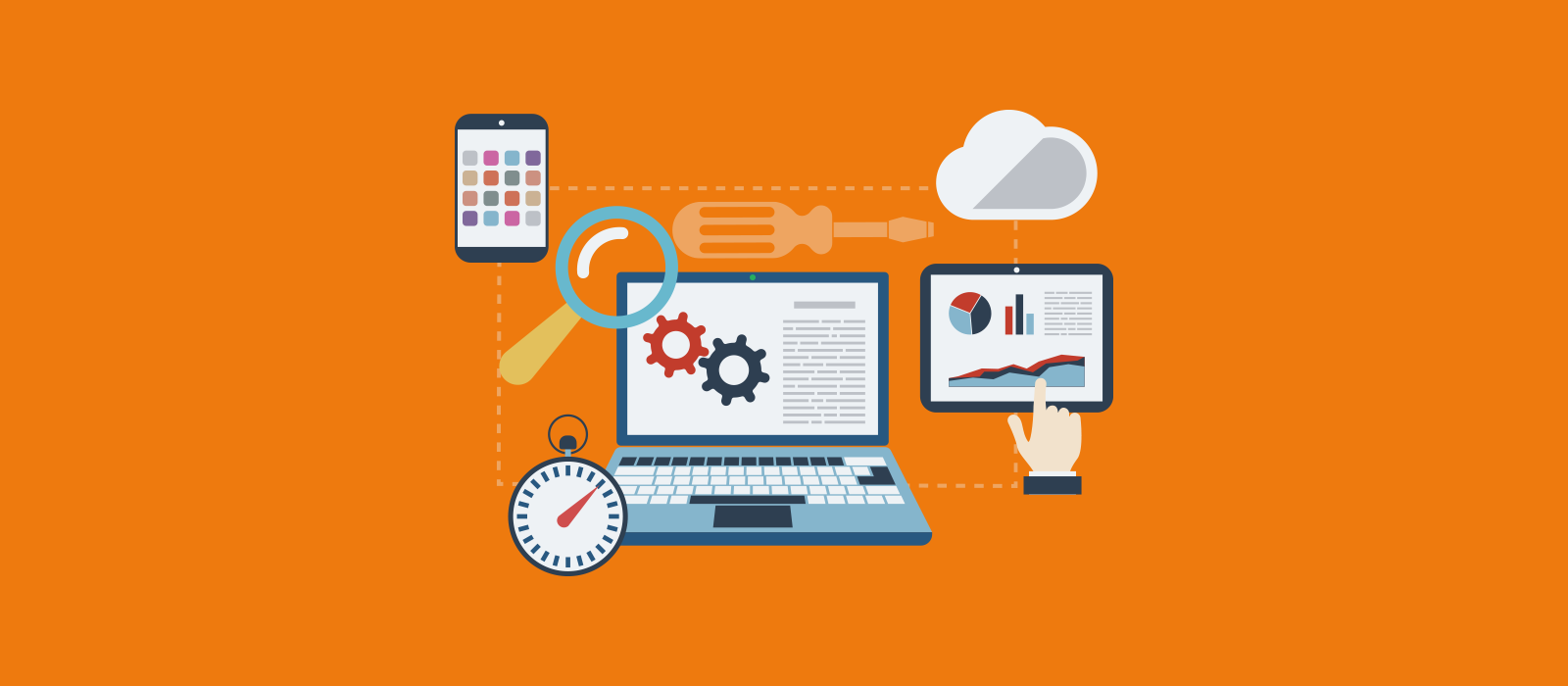 This week in search marketing [21/01/2019]
Jan 21st, 2019
Your weekly news round-up from the world of organic and paid search (SEO and PPC), social media and content marketing…
---
Friday
CTRs on organic results on the decline
Research from SparkToro's Rand Fishkin and Jumpshot shows a drop in organic click through rate (CTR), on both desktop and mobile across the UK and US, with ads (PPC) and answers beginning to take some of their share (see tanles below). According to Fishkin, this is due to "Google siphoning away large percentages of traffic to their own properties and answers in the SERPs."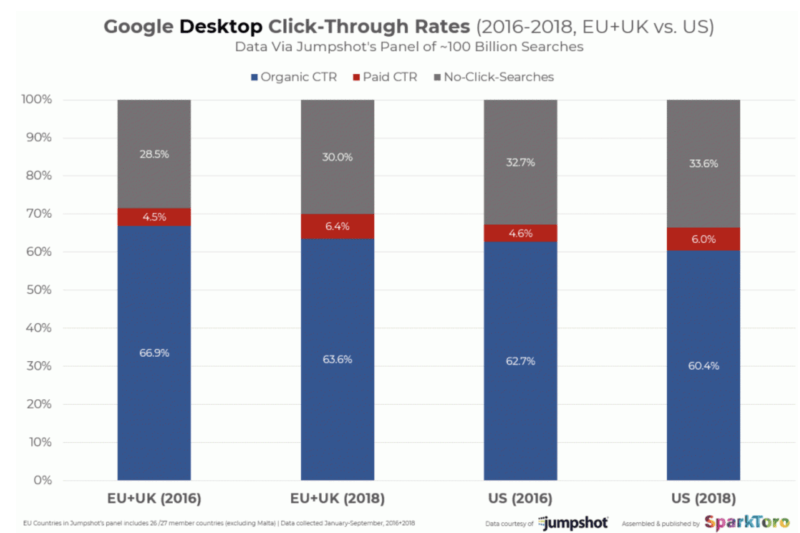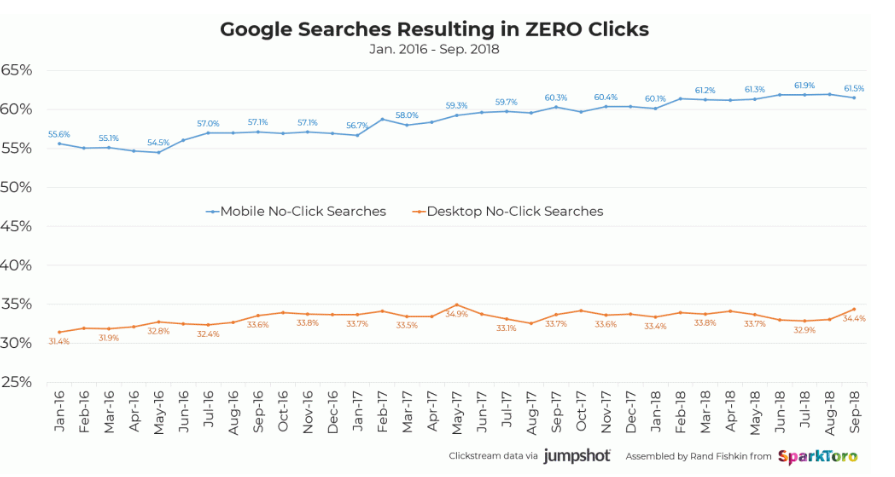 The steeper decline on mobile could be because carousels, answer boxes, local packs and ads dominate mobile search results.
Twitter testing 'original tweet' tag
Twitter is taking a step to try and make it a little easier for you to identify the originator of a tweet thread, in the event that it isn't obvious. The company is testing a new tag that appears under a tweeter's name and leaves no doubt that person is the original tweeter. The tag appears to have been rolled out  only to a small percentage of Twitter users.
"Twitter's purpose is to serve the public conversation. As part of this work, we're exploring adding more context to discussions by highlighting relevant replies – like those from the original Tweeter," Twitter's director of Product Management Sara Haider told TechCrunch in a statement.
Thursday
Google experts to take over paid search campaigns
Google has begun notifying some advertisers that it will take over management of their campaigns unless they opt out. Google's email says Google Ads reps will start making changes to advertiser accounts if advertisers don't opt out.: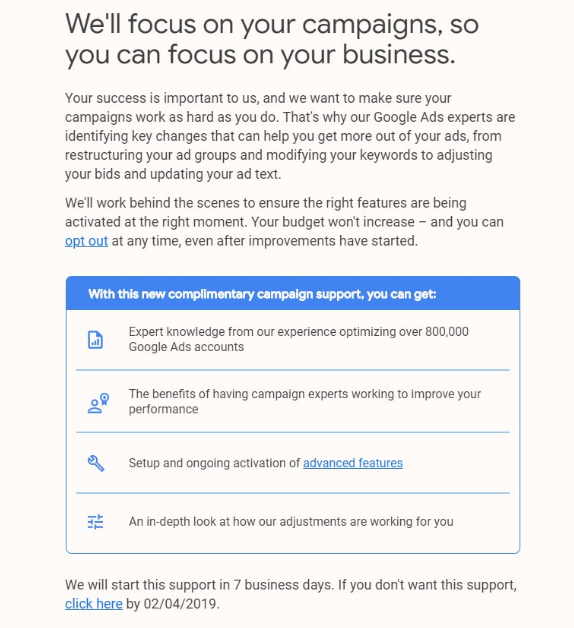 A Google spokesperson told Search Engine Land, "Our sales teams are always looking for ways to help customers get the best results from Google Ads. We are rolling out a pilot program that we believe will help businesses optimise their accounts. As always, we build customer feedback into the final product. Customers are in full control of the account and can accept or reject recommendations as they desire."
Facebook tightens up on content quality
Facebook has introduced a Page Quality tab "designed to help people who manage Pages understand how well their Pages comply with our guidelines… To start, we're including content removed for policies like hate speech, graphic violence, harassment and bullying, and regulated goods, nudity or sexual activity, and support or praise of people and events that are not allowed to be on Facebook."
It includes two sections:
1. Content we recently removed for violating a subset of our Community Standards and;
2. Content recently rated "False," "Mixture" or "False Headline" by third-party fact-checkers.
Here's a screenshot: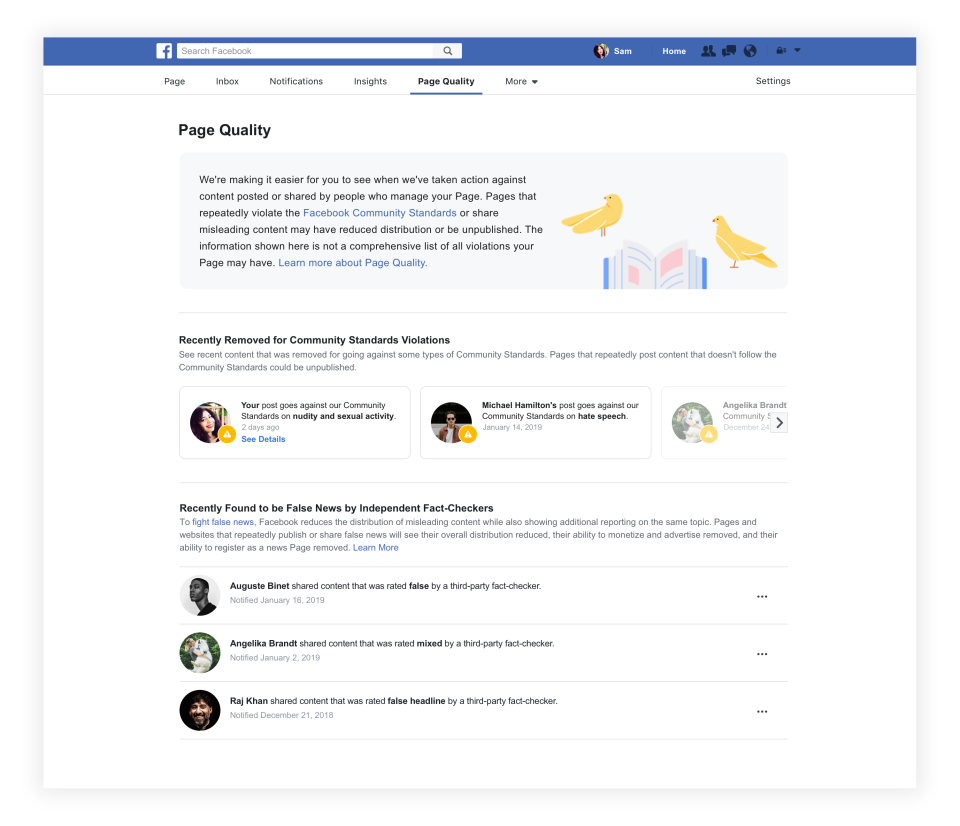 The platform also said it will be removing Pages and Groups that are connected to ones that are violating its standards.
LinkedIn introduces interest targeting
The addition to its ads offering to allow advertisers to "own the conversations on the professional topics that matter to your audience".
With interest targeting you can:
Serve relevant ads and content that match a member's professional interests.
Deepen your influence with the buyer committee within your target accounts.
Reach those interested in pursuing a higher education certificate program.
Interest targeting will be available to all advertisers over the next week.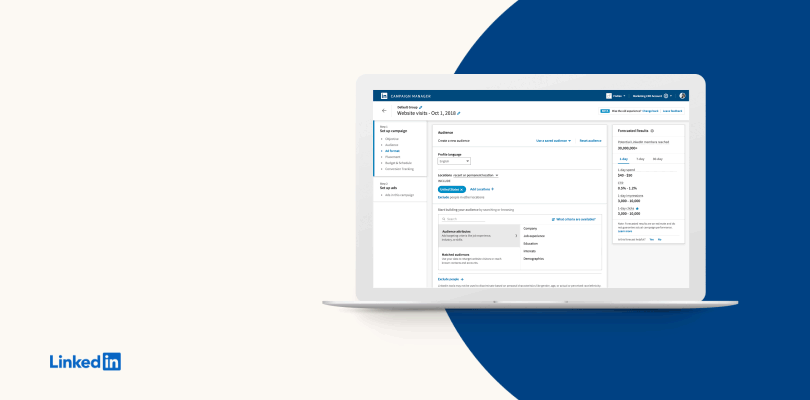 Wednesday
New Twitter interface
Twitter is rolling out a new interface for web-users that comes with some shortcuts, an updated trending section and a newly-designed emoji button. "A new Twitter is coming. Some of you got an opt-in to try it now. Check out the emoji button, quick keyboard shortcuts, upgraded trends, advanced search and more," the company tweeted early on Wednesday.
With this update, Twitter has kept in mind little aesthetic updates to make it easier to see who all are involved in a conversation. "These changes, alongside the way Twitter's desktop version has condensed from three columns into two, should make it easier to both read and send tweets," The Verge reported.
A new https://t.co/fHiPXozBdO is coming.

Some of you got an opt-in to try it now. Check out the emoji button, quick keyboard shortcuts, upgraded trends, advanced search, and more. Let us know your thoughts! pic.twitter.com/G8gWvdHnzB

— Twitter (@Twitter) January 22, 2019
GMB update
Google has released an updated version of its 'Google My Business' (GMB) app to allow users to share the service-areas and information about their business via Maps and Search, increasing their chances to be discovered. Google will guide new users through the setup process with prompts for local service area businesses and existing GMB users will now be able to edit their business information from the app dashboard.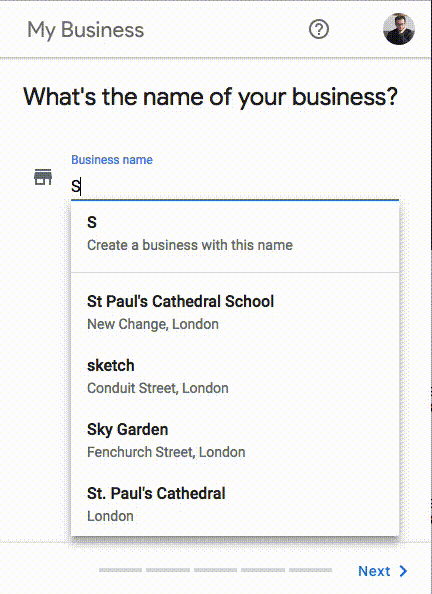 Tuesday
Google fined €50 million for breach of GDPR
Google has been slapped with a major fine by France's National Data Protection Commission (CNIL) over a lack of transparency, incomplete information, and failure to properly obtain user consent as required by GDPR.
In the first major enforcement of the EU's General Data Protection Regulation (GDPR), France's CNIL. said it had levied the record fine for "lack of transparency, inadequate information and lack of valid consent regarding ads personalisation".
The enforcement action stems from two complaints made by None of Your Business (NOYB) and La Quadrature du Net (LQDN) on the 25th and the 28th of May, 2018. These organisations accused Google of lacking the legal basis for collecting and processing user data in connection with their ad personalisation system.
This enforcement has already sent shockwaves through the internet as it has massive implications for companies reliance on Terms of Service Agreements for all sorts of data collection.
---
People expect high standards of transparency and control from us. We're deeply committed to meeting those expectations and the consent requirements of the GDPR
Google statement
---
Streaming giants including Amazon, Apple, Netflix and Spotify have been accused of breaking the EU's data regulations.
Facebook gets interests data wrong 27% of the time
Three quarters of US Facebook users say they didn't know that the platform classifies and half say they aren't happy about this.  In addition, 27% of Facebook users say the platform's classification of their interests is inaccurate. These statistics are based on a study from Pew Research Center, who asked a representative sample of users to reflect on the data that had been collected about them. The findings of this study are particularly relevant to Facebook marketers who target ads to users based on their interests.
Monday
Google News
After Google blogged last week to reiterate its advice around doing well in Google News has caused the SEO community to speculate the search engine is gearing up for a crackdown on publishers in Google News for violating their guidelines.
The post was followed up by a tweet from Danny Sullivan:
This is a reminder that these are important guidelines to follow, which is an important part of helping publishers in Google News with these issues. We do take action on violations.

— Danny Sullivan (@dannysullivan) January 17, 2019
"No fixed timeframe" for algorithmic impact
Google's John Mueller has confirmed that "there is no fixed timeframe for algorithmic changes to take effect", tweeting:
"There is no fixed timeframe for algorithmic changes to take effect, past the need to recrawl and reprocess pages from the site. In general, these are not penalties, so instead of just waiting, I'd recommend getting objective input from peers early on, eg, by posting in a forum."
Third of marketers unsure of 2019 strategy
Thirty six percent of business leaders are apparently currently unsure about their digital marketing strategy for the year ahead.
A survey of 1,021 UK workers carried out by digital marketing agency MarketingSignals.com has revealed that more than a third (36%) of business leaders are unsure about their digital marketing strategy for the year ahead.
37% of respondents admitted they aren't answering potential customer questions adequately enough on their own website, and 32% said they aren't actively retargeting visitors to their website; 29% said their website isn't fully mobile responsive; and 22% said they were not optimising their Google My Business listing.
---
Keep up to date with all things search by signing up to our blog, or check out our resources to take your efforts to the next level with our industry leading insights.