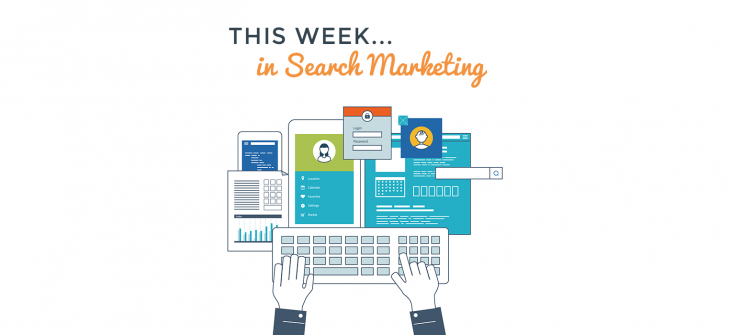 This week in search marketing [24/02/2020]
Feb 24th, 2020
Another week, another week in search, here we bring you the roundup of everything, SEO, PPC, Social and more…
---
Thursday
TikTok "fundamentally parasitic" says Reddit CEO
TikTok is one of the hottest social media platforms but the CEO of Reddit had some harsh words for the popular app, calling it "fundamentally parasitic" at an event Wednesday.
The comments from Reddit CEO and co-founder Steve Huffman were some of the more controversial offered up during a panel discussion with former public policy exec Elliot Schrage and former Facebook VP of Product Sam Lessin. During a brief conversation about the feature innovations of TikTok, Huffman pushed back hard on the notion that Silicon Valley startups had something to learn from the app.
"Maybe I'm going to regret this, but I can't even get to that level of thinking with them," Huffman said. "Because I look at that app as so fundamentally parasitic, that it's always listening, the fingerprinting technology they use is truly terrifying, and I could not bring myself to install an app like that on my phone."
"I actively tell people, 'Don't install that spyware on your phone,'" he later added.
Wednesday
Google Mobile-First indexing to be applied to all sites within a year
Google is sending out notices via Google Search Console with "Mobile-First indexing issues detected" alerts. In those emails it communicates the issues Google has when it comes to moving that site over to Mobile-First indexing. It also says "Google expects to apply Mobile-First indexing to all websites in the next six to twelve months."
It is clear that Google is trying to be proactive and notify sites that are not yet moved over to Mobile-First indexing with specific advice on what those sites need to do to become Mobile-First indexing ready.
Tuesday
New local SERPs live in Europe
In April 2019, Google was experimenting with a new local SERPs that highlighted alternative directory sources for the same query. At the time, we saw an example in the wild for Germany. Now, an updated version of the SERPs featuring branded directory buttons appears to be live in the UK, Belgium, Spain, Greece, and France – if not already throughout Europe.
This change in the SERPs grows out of Google's continuing effort to comply with the European Commission's antitrust decision in shopping search. It's also an attempt by the company to preempt a separate antitrust action in local search.
Yelp previously criticised these types of screens as a return to Google's "rival links" remedy, which was originally proposed in 2013 and ultimately rejected by the European Commission.
It remains to be seen whether this approach is acceptable to the European Commission. Part of that will depend on whether the buttons drive meaningful traffic to these publishers. If so it could revive the fortunes of at least some of them, which have continued to see declining traffic as Google My Business and zero-click search grab more user focus and engagement.
Monday
Facebook's "Pronunciations" program aimed at speech recognition tech
In an attempt to improve its speech recognition technology, Facebook is recruiting users to be part of its "Pronunciation" program connected to the company's Viewpoints market research app. Facebook is asking qualifying participants to record the phrase "Hey Portal" followed by the name of a friend from their friends list. Users who qualify to be part of the program will earn up to $5 for voice recordings, reports The Verge. The $5 payment is earned via points collected within the Viewpoints app, and the program is open to U.S. users over the age of 18 who have, at least, 75 connections on Facebook.
Twitter testing new tools to fight misinformation
As the 2020 election draws nearer, Twitter is experimenting with a new feature to help curb misinformation on the platform. The site is trying out brightly coloured labels that are placed beneath lies and misinformation shared by politicians and public figures, reports NBC News.
The company confirmed to NBC that the labels are "one possible iteration" of new policies it plans to launch on March 5. A Twitter spokesperson told NBC, "We're exploring a number of ways to address misinformation and provide more context for tweets on Twitter."
A new way to thread Tweets
In other Twitter news, the site is rolling out a feature that lets you add, "A new thought to an old Tweet" so that you can thread Tweets posted days apart. To access the feature, compose a Tweet on the mobile app, and then, before posting, pull down on the composer window to view older Tweets and an option to "Continue thread" — from there you can select a previous Tweet to continue the thread. The feature is rolling out slowly on iOS, according to TechCrunch.
---
To keep up to date with the latest search news, you can sign up for our newsletter, or check out our resource section for more actionable advice. Alternatively, contact us to see what we can do for your brand.