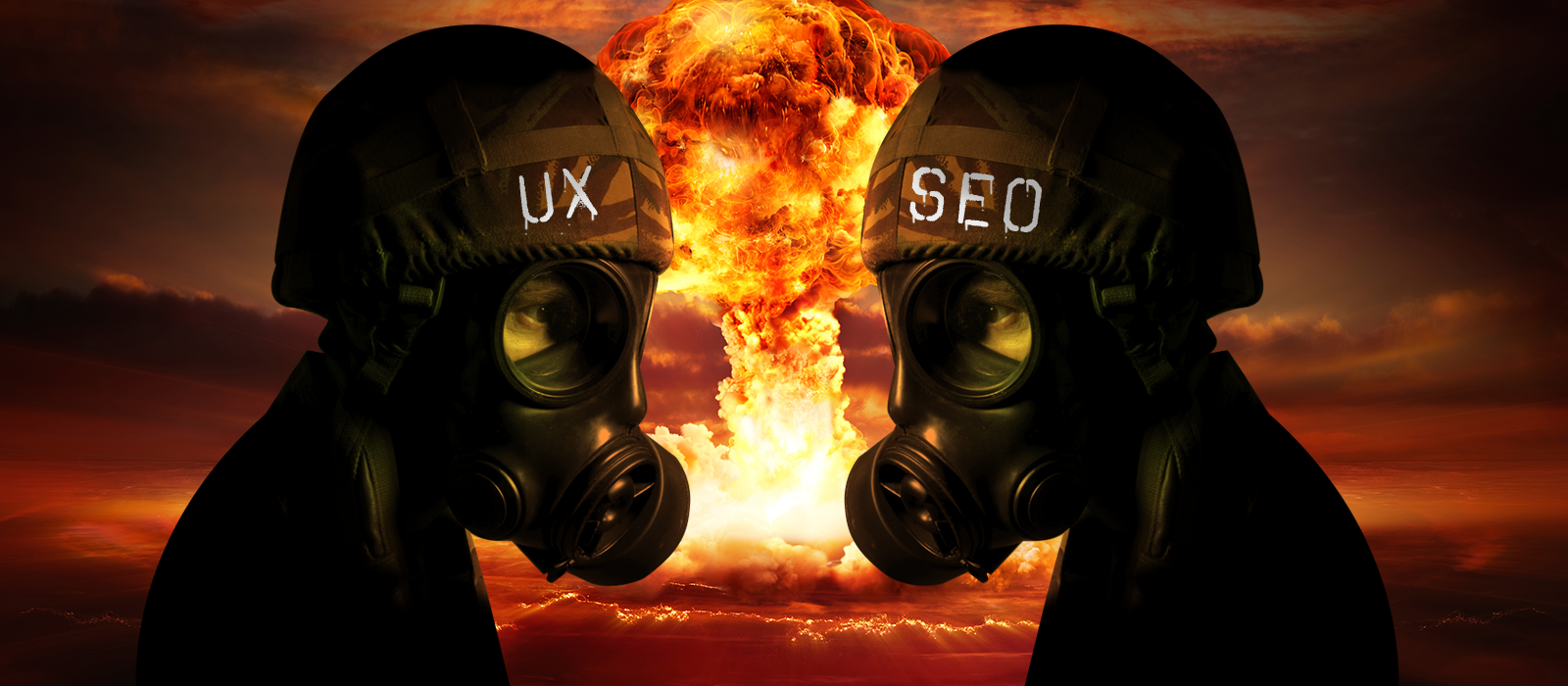 Website Warfare: UX vs. SEO
May 3rd, 2016
User experience and search engine optimisation have long been seen as adversaries. However, when executed correctly, together and in good measure, these old foes can live harmoniously on page one of the SERPs
---
Think of it like this, your website serves as your (virtual) storefront, open 24/7 to literally anyone. It could be the best looking website the world has ever seen in terms of design and usability – if only the world (including search engines) could actually find it… Enter SEO.
The ultimate goal
We all have one simple objective, and that is to attract visitors and convert them into customers. Easy enough…
However, Google is notoriously ambiguous when it comes to the roll out of their elusive algorithm updates and it's an SEO's job to ensure a website is adhering to Google's best practices in order to reach its full potential – after all, potential customers need to be able to find your site. On the other hand, a UX designer's primary role is to ensure the layout and usability of a site is effortless for the end user.
Both fields are imperative to the success of a website, yet both hold opposing priorities – the prime example being Parallax websites.
Wait… what are parallax websites?
With over a billion websites on the Internet, competition is high and everyone wants to be seen and heard. With web designers and developers constantly seeking new ways to get noticed, 'normal' websites have evolved and by the power of the computing Gods, parallax websites were born.
Check out Rimmel's parallax website here.
Sure they're trendy, leaving you gazing into your monitor, periodically wiping away saliva from the corner of your mouth due to the sheer awesomeness of depth perception, but do they adhere to Google's best practices?
Parallax sites use a visual effect that was initially used in videogames, whereby the background images move at different speeds – it's basically amazing.
Why are parallax sites bad for SEO?
Parallax sites are great for giving visitors the wow-factor, guiding them through your site and encouraging them to stay longer. However, where SEO is concerned there are plenty of downsides to such a beautiful and easy to navigate creation.
The most obvious difficulty being that search engines index individual pages and parallax sites use a scrolling technique that doesn't necessarily require the visitor to click through internal links. This effectively lessens your chances of ranking for various keywords because there are fewer pages. Of course, there's the option to utilize fragment identifiers to act as a shortcut to a part of the parallax site, which is great for UX – but search engines take no notice of these.
SEO 101: meta data
No meta data, no problem… said no-one ever.
Without meta data, the chances of driving visitors to your website significantly diminish; and to make matters worse, as a parallax site is effectively a one page website, you are only really able to give a top level description of what your site is without appearing keyword-stuffed or spammy.
Parallax sites are notorious for using multimedia to show off fancy new technologies and the media-heavy nature has a direct effect on page speed time. In this case, the tortoise doesn't win the race.
What about "Mobilegeddon"?
For those unfamiliar with the phrase, this is one of those aforementioned updates, and an important one at that. With the advancement in technology, and the shift in consumer behaviour, having a mobile-friendly site is vital to your sites' ability to rank.
Yes you guessed it! Parallax sites don't work on mobile – at least not in the same way they work on desktop versions. But no doubt, someone locked away in an office will be working endlessly to find a way for parallax sites to be compatible with mobile devices.
But until that day comes, it's better to be safe with a mobile friendly site that search engines can crawl and index, rather than feel the wrath of a potential penalty.
Although, parallax sites probably aren't the best idea for lesser-known brands that rely heavily on organic traffic, that's not to say they can't be used in other (short term) ways like content marketing assets, or micro sites to promote a campaign.
All things considered, SEO and UX are equally as important for different reasons and one shouldn't necessarily have precedence over the other – if anything it's an even greater reason for both to work in unison.
---
If you'd like to know how Click Consult can help you to combine SEO and UX to better manage the customer journey and reach your brand's full potential, why not contact us today.