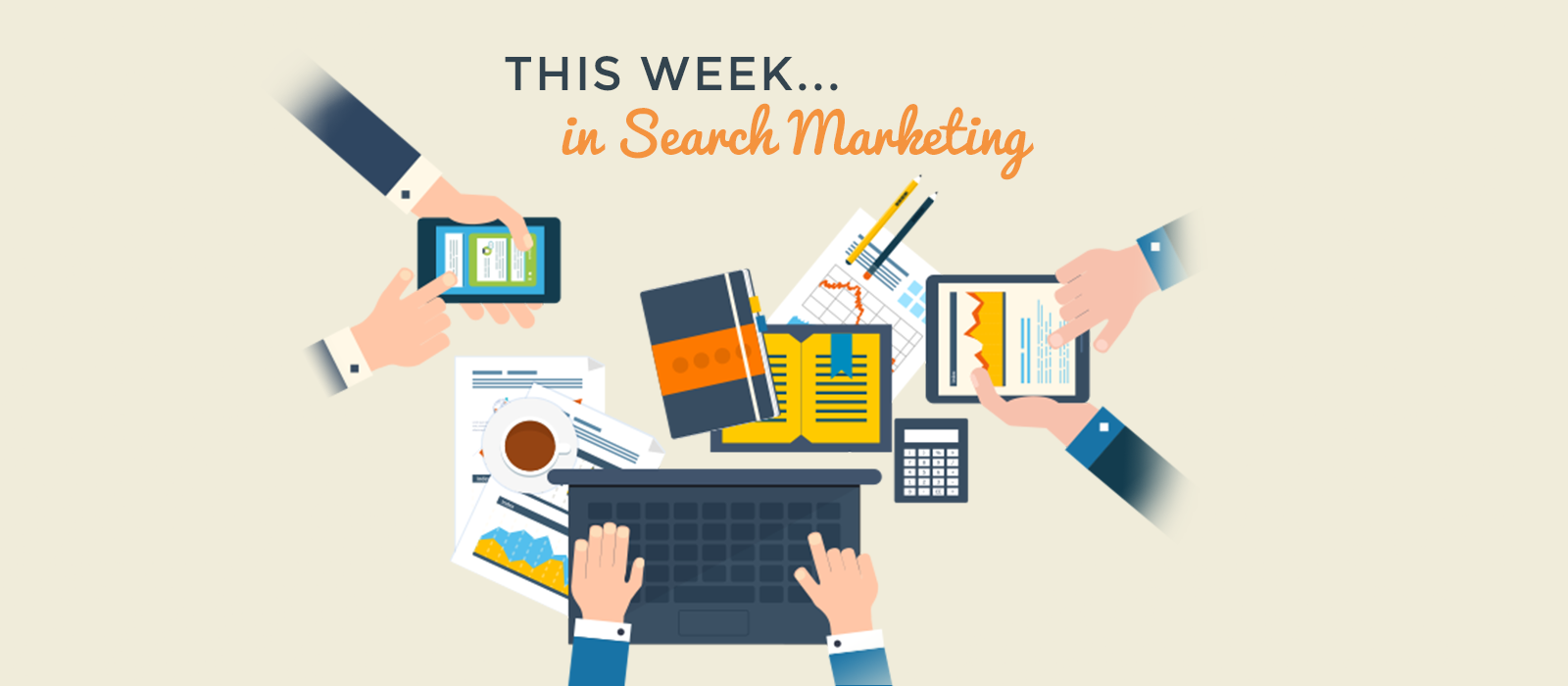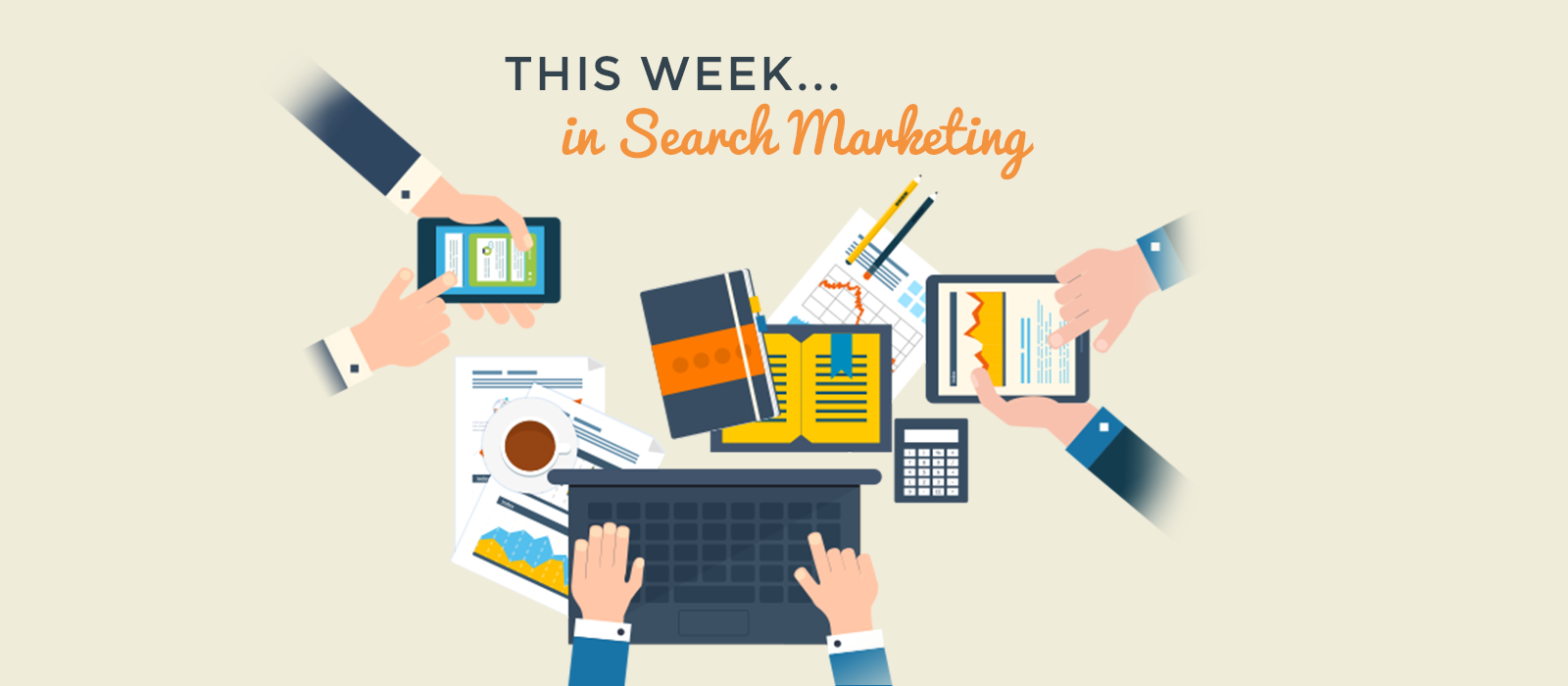 This week in search marketing
Jul 10th, 2017
Will robots take over journalism? Is Snapchat making life easier for stalkers? And will a US ruling impact the ability for marketers to target by location? Read on to find out more…
---
What's new with Google?
Google to fund 'robot journalism'
Google is funding a new software project that will automate writing of 30,000 stories a month for local UK media. The Press Association (PA) news agency received £622,000 for its Reporters and Data and Robots (Radar) scheme that it says will benefit "established media outlets", independent publishers and local bloggers.
The scheme will apparently still include "skilled human journalists" – five reporters will use official open data sources to automate reports about health, crime, employment and other subjects.
Neil Thurman, a lecturer in communication at City, University of London criticised the scheme, saying: "I find it difficult to see how automation is going to help provide additional coverage of local magistrates' courts and crown courts.
"You can't really cover [local government] through automation because it's a lot about investigation, politics, personal relationships, who has said what to whom and so forth – it's difficult to get that information in data feed form."
New look for Google News site
Google has also unveiled a redesign of the desktop user interface for its News site.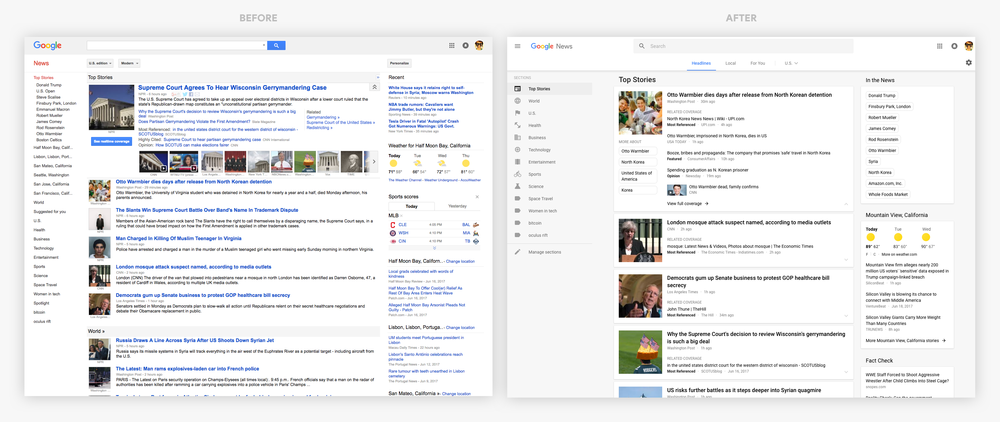 Source: Google blog
According to Google, the new UI has a clean and uncluttered look, designed for comfortable reading and browsing.
A card format that makes it easier to browse, scan and identify related articles about a story, to give a broader range of perspectives
The new layout focuses on key elements, such as publisher names and article labels, and maintains your view and place on the page as you click in and out of stories and explore topics.
A new nav bar shows 'Headline', 'Local' and 'For You'. The navigation column on the left features sections that you customise, creating your own mini newsfeed.

Source: Google blog
Google has also improved the algorithmic selection for top videos, highlighted the top video in a story card, and built a better player. While playing a video, more related videos will be available in the player.
Wheelchair accessibility feature for Google Maps
Google Maps users are now able to add accessibility details about locations or business listings. The accessibility attributes you can choose from include: wheelchair-accessible entrances, wheelchair-accessible elevators, wheelchair-accessible seating, and wheelchair-accessible parking.
According to Google's blog: "When you want to share accessibility information about a place or add details about many places quickly, just open Google Maps on Android, open the main menu, and then tap 'Your contributions'. Tap 'Uncover missing info' and sort by 'Accessibility' to find places around you that are missing this kind of information so you can start filling it in. You can also sort by different categories in case you have other information to add as well."
Snapchat
Snapchat has broken from its longstanding opposition to links in and out of Stories posts. Now a paper clip indicator will allow users to embed a link and viewers to swipe up to access the site via Snapchat's internal browser. These deep-linking capabilities were already available to advertisers and publishers in the Discover section, but not general Stories users. The new links will allow Snapchat to drive more traffic to news stories and also potentially generate more affiliate revenue for creators.
AdWeek's Marty Swant noted:"Until now, the only way users could add links was if a brand bought an ad and included a way to swipe. However, this could make it easier for marketers to gain more organic traffic. It's also a big win for media companies, which now finally have a way to direct users to their actual websites."
However, another new feature is not getting such a warm response. Snap Map lets users share their exact location with people on their "friends" list in real time. However, critics have voiced concerns about the feature being used by individuals with sinister motives.
In a statement, Snap said: "The safety of our community is very important to us and we want to make sure that all Snapchatters, parents and educators have accurate information about how the Snap Map works."
Snapchat claims that sharing your location is optional and turned off by default, and users can control who can see their location at any time.
Augmented reality
Pokemon Go is celebrating its first birthday by launching a number of in-game and a real-world event. Still going strong, with nearly a billion downloads worldwide, developer Niantic hopes to reinvigorate the fanbase with a big outdoor event later this month.
Since its launch, the game has gone through a number of changes and updates, promotions and news stories. The popularity and compelling nature of the game also seems to have revealed the potential of augmented reality for marketers and advertisers.
Brands including Manchester United, Ikea, and Burger King have all experimented with the medium.
John-Paul Burke, of mobile games company Gameloft, told The Drum: "Pokemon Go showed the world that mobile gaming needn't be a purely online experience by seamlessly connecting gameplay with our everyday lives.
"It also made marketers and advertisers sit up and take mobile gaming seriously. Players were literally being led about the world by a mobile game. The opportunity for brands was vast and clearer than ever before.
"We know that if branded content is integrated into gameplay, and tailored to the player's own interests, they are generally happy to be served it. Mobile gaming in particular offers numerous avenues for advertisers, be it branded mini-games or sponsored in-game events."
Source: Niantic and The Pokémon Company
Facebook
The social media behemoth has announced plans to crack down on spamming and low-quality content by "deprioritising" posts from users who publicly share more than 50 links per day.
 According to Facebook, publishers should "continue to post stories that are relevant to their audiences and that their readers find informative".
Adam Mosseri, Facebook's News Feed VP, saide: "One of our core newsfeed values is that News Feed should be informative. By taking steps like this to improve News Feed, we're able to surface more stories that people find informative and reduce the spread of problematic links such as clickbait, sensationalism and misinformation."
Mosseri says that the 50-plus limit will remain just one of many signals Facebook uses to determine how content is displayed in the News Feed and noted that the change will "only apply to links, such as an individual article, not to domains, Pages, videos, photos, check-ins or status updates".
US state to ban geolocation tracking
Illinois is in the process of passing a law that would make it illegal to track a phone's location without the owner's consent.
The bill sets criminal penalties and damages of at least $1,000, plus attorney's fees and court costs, for working out a person's whereabouts from their device without permission.
Some in the industry have questioned whether the bill will have any real-world impact, given that most devices, apps and websites now ask people for permission before they use location data.
However, brands such as Apple, Google Play and WhatsApp have had their knuckles rapped for location-sharing without consent.
---
To make sure you keep up to date with the latest and most important search news, sign up to our blog using the form on the left, for more insights – check out our resources or contact us today to see what we can do for you.