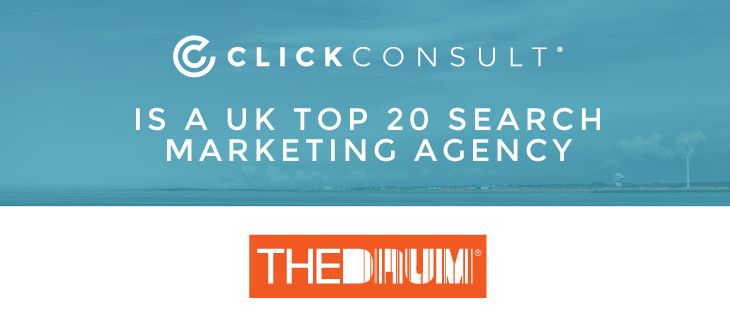 We're among the UK's best
May 13th, 2015
Analysis released by The Drum this week has placed Click among the top 20 search marketing agencies in the UK
---
The second annual Independent Agencies Census ranked 254 independent UK marketing agencies by three success indicators – financial performance, client satisfaction and peer recommendation – and grouped the results by size of workforce for comparison.
This means our results reflect not only the positive turnover growth we've experienced in the last financial year, but also that we're continuing to delight our clients and respected by our peers within the industry.
We're delighted to have been ranked in the following categories:
Financial performance (51-99 staff) = Ranked 20th
Client satisfaction (51-99 staff) = Ranked 17th
Peer recommendation (51-99 staff) = Ranked 20th
Click Consult's founder and CEO, Matt Bullas, said: "These metrics firmly position us as a top 20 UK search marketing agency. Our approach has always been to deliver tangible, measurable results in a way that's ethical and transparent, so these Independent Agencies Census rankings make me immensely proud. To be recognised by The Drum as one of the best-performing search marketing agencies in the UK is an honour."
It's not our only accolade this year: in February we were ranked number 13 in Prolific North's Top Digital Agencies of 2015.