A jargon-busting introduction to how paid search (PPC) can help you to achieve your business goals and how to use it effectively
Getting to grips with paid search is essential for every business wanting to stand out online. In fact, spend on paid search overtook that on organic (SEO) techniques some years back.
As achieving and retaining organic visibility on search engine results pages (SERPs) becomes more competitive and a longer term project, PPC becomes more attractive as a way to reach the top of the page more immediately.
The immediacy of paid search (PPC) campaigns allows the driving of traffic, leads and revenue to your website within a remarkably short time-frame compared to other search marketing disciplines.
Paid search (PPC):
Has an almost instant impact upon campaign launch
Is able to give you first page exposure on major search engines
Can send immediate and reliably consistent traffic to your website
Allows for campaigns to be tested and for ads to be accurately targeted
Can be optimised in order to drive leads or transactions to your site
Offers your brand a potentially large reach and greater exposure
Ensures that all of your ads match relevant search queries
Allows for accurate tracking
Your 'A Simple Guide to Paid Search (PPC)' eBook covers:
How to get the most from your paid search campaign
Maximising ROI from your budget
How to choose and use keywords effectively
The importance of writing high-quality ads and landing pages
Essential tips for managing your PPC account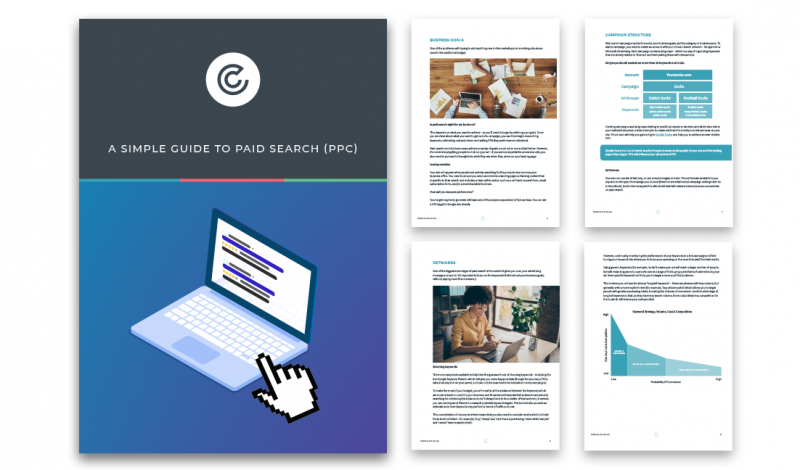 In addition to all of this, the paid search (PPC) model allows for full control of how much you spend per campaign – i.e. you will never pay more than what you think each click, lead or sale is worth to your business.
The paid search (PPC) landscape is also competitive, however, and in order to maximise the success of your pay-per-click campaigns, it is imperative to utilise data analysis tools, innovative thinking, leading technologies and paid search (PPC) best practices.