How to add a data source to a Google Data Studio report
At Click, we love Google Data Studio and the possibilities it offers for displaying data in user-friendly, easy-on-the-eye, easy-to-understand formats. Once you get the hang of it, its WYSIWYG interface is really simple to play around with and customise for internal and external reports
---
We wanted to add a new page to an existing client report (for Google Ads) to display performance data from a new source (in this case, Bing/Microsoft Ads). So we thought we'd share with you the steps we took to do it…
Step 1 – Start from existing Data Studio report
Open your existing report in Data Studio, then select Resource > Manage added data sources: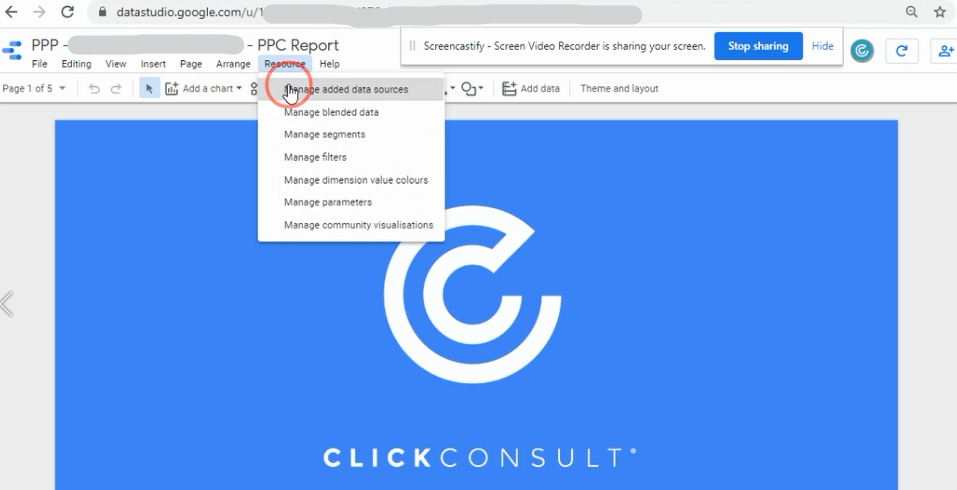 Choose Add a data source from the data sources list then add the data source you want to connect from your Partner Connectors menu.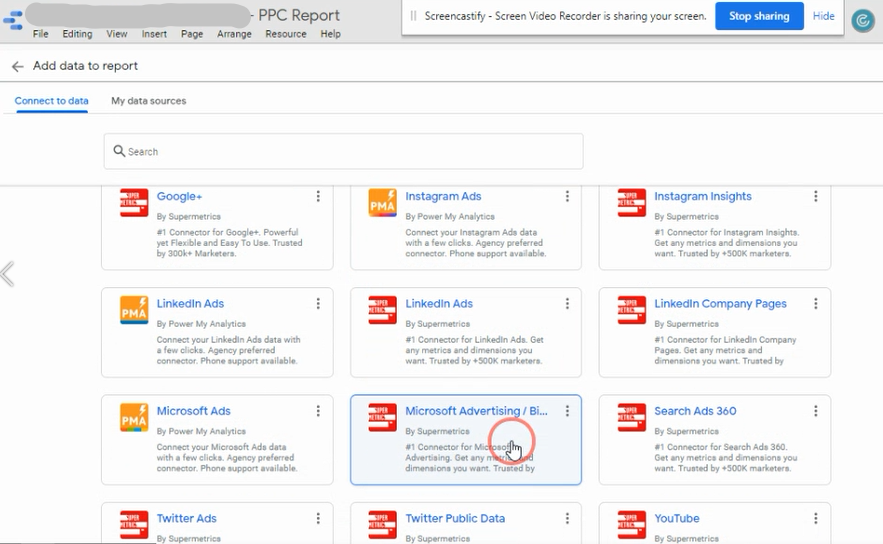 If you haven't already connected your data source, you can do that here.
Step 2 – Add new data source
On the next screen, scroll down and select the account you want to add from the dropdown menu:

When you click Add in the bottom right-hand corner, you'll be taken to your Data Sources list where the new account should appear. Give it a meaningful name (such as 'Client X – Bing Ads Report') by clicking Edit and overwriting the default name.
Step 3 – Duplicate page
Back in your existing report, select a page to use as a template for displaying the new data source, duplicate it, then name it something relevant. In our example, we've duplicated the Performance Review page: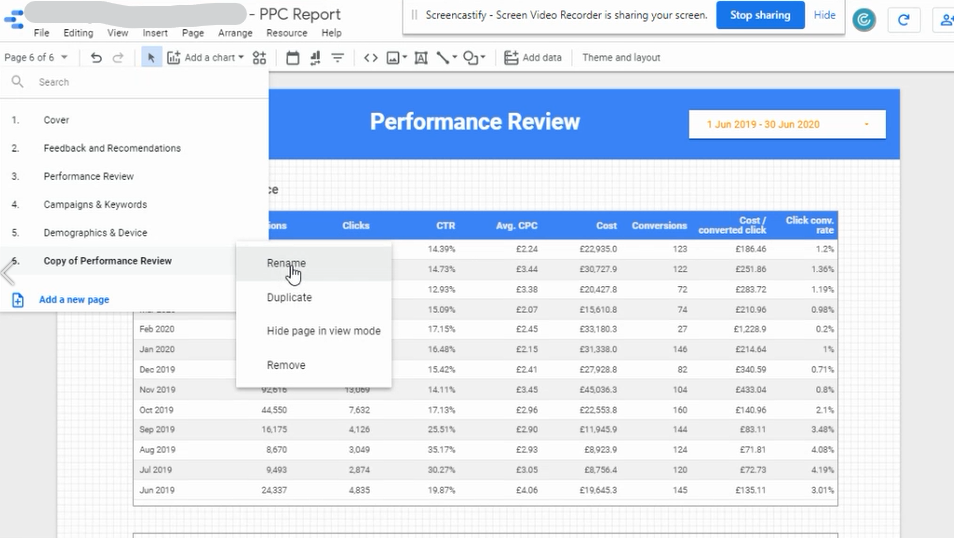 Step 4 – Select table
Select the table in which you want the data to populate, bring up the Chart > Table menu on the left-hand side and use the dropdown menu to select the data source that you've just added (notice we've also changed the heading in the page itself to Bing Ads Performance):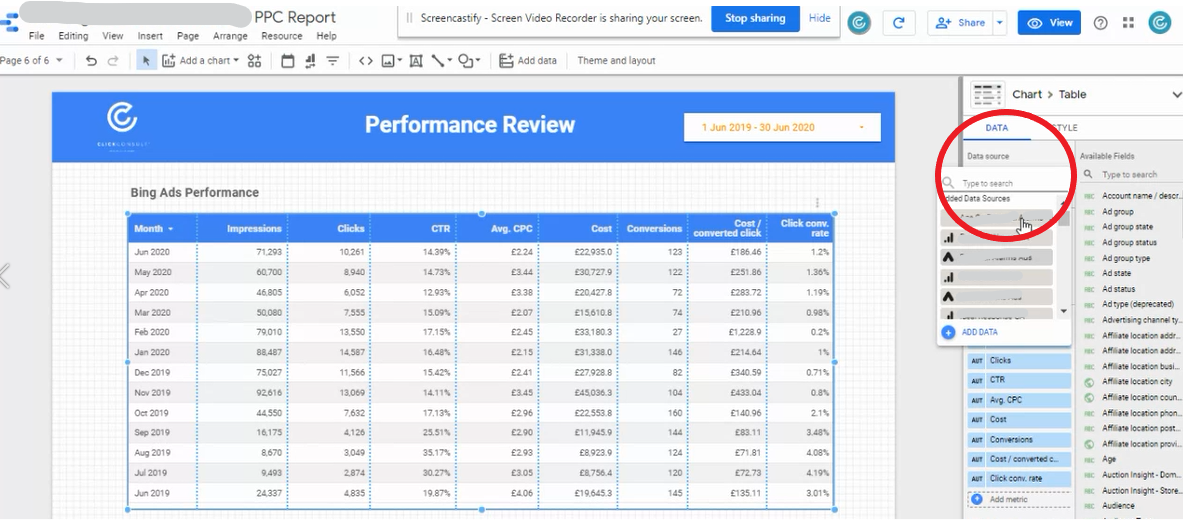 After a few seconds, the data will refresh before your very eyes, populated by your new data source.
(Note: Setting a data source at the page or report level has no effect on existing components in your report.)
Step 5 – Customise Data Studio Dimensions
You can now adjust the Dimensions to display how you prefer. In our example, we changed from a Month view (the default) this to show the Year & Month:
Step 6 –  Customise Data Studio Metrics
Now, arguably the most important part: deciding how the Metrics are displayed. You can easily add, delete, and change the order in which these are displayed. For our report, we dragged Clicks to the top of the list so it appeared in the first column of the table, and added click through rate (CTR) from the dropdown menu. Again, the table will refresh automatically.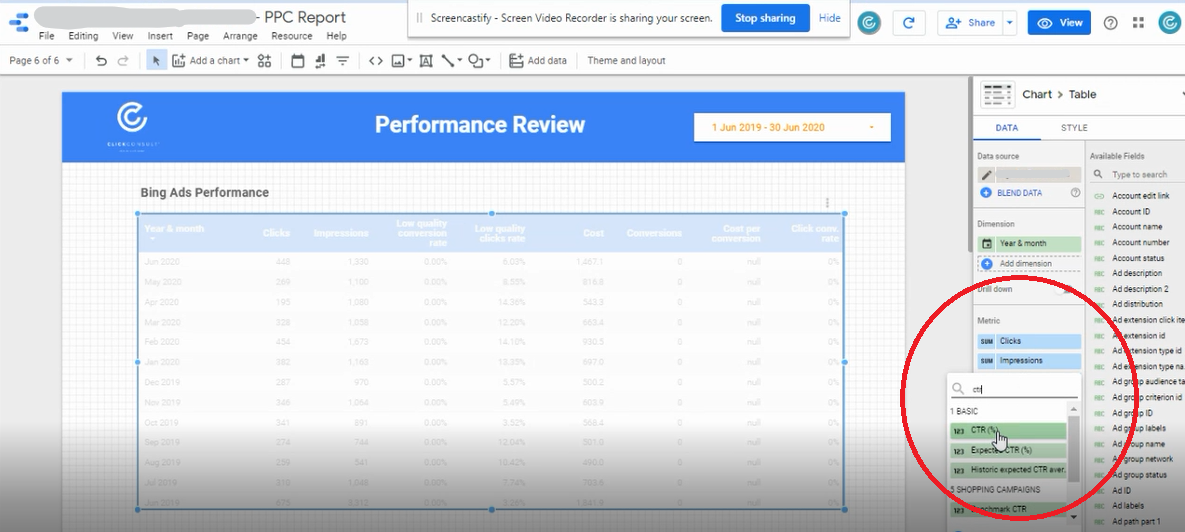 Step 7 – Customise other page elements
We then repeated Steps 4 – 6, adding the data source, adjusting the date display and changing the metrics displayed, or the other elements on the page: a Clicks/CTR chart and a Cost/Conversions chart;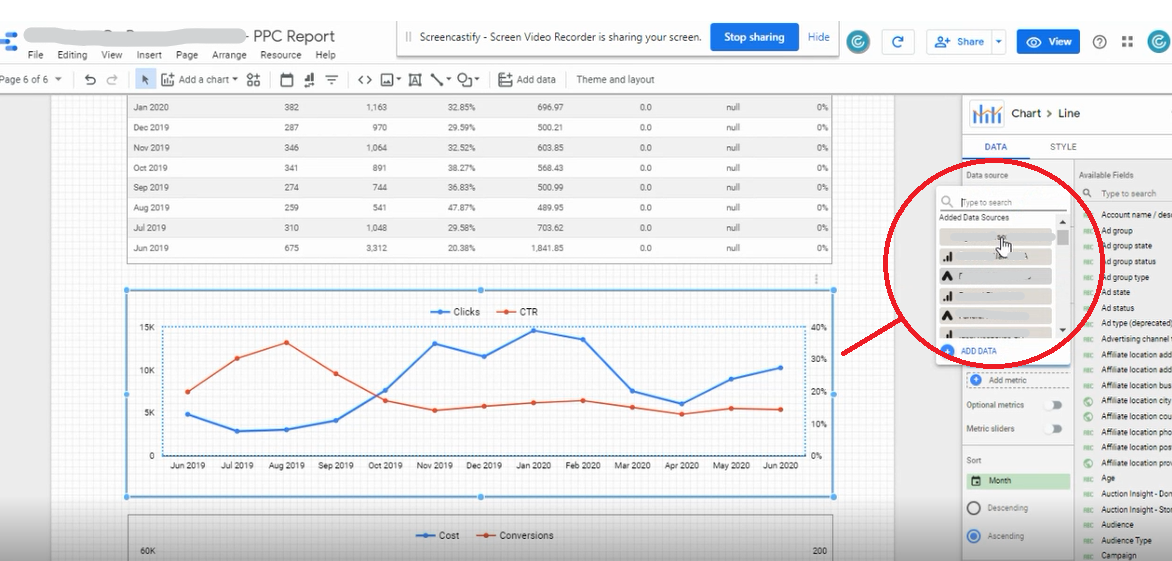 Finally, check the data is pulling through correctly, cross-reference the data with your Bing interface.
---
If you'd like to learn more about how to use Google Data Studio, watch it us explain some tips on our vlog post, or you can download our comprehensive beginner's guide for free.
Share this: