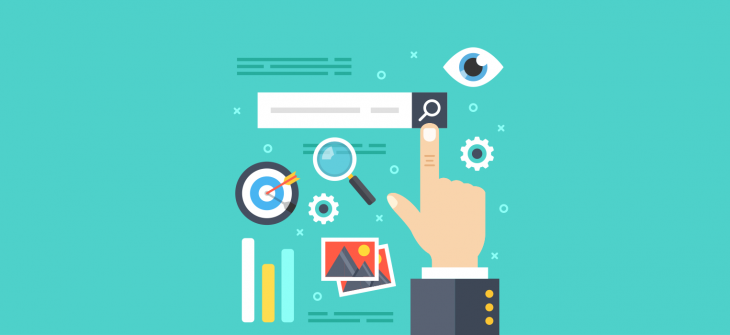 That Year in Search Marketing [2020]
The annual culmination of our (mostly) daily updated "week in search marketing" blog posts – here's 2020 in search marketing
---
January
Favicons
In two stories which are, I'm sure, are wholly unrelated and which I'm arbitrarily and erroneously putting together – The Verge and other outlets are carrying stories that accuse Google of trying to disguise ads with the introduction of favicons.
The other, completely unrelated story is that there have been a few people spotting tests of the old style SERP without the favicons.
Developer Docs
SE Roundtable have a breakdown of some of the main changes to the Mobile-First Indexing Developer Docs. While the tab with the new version may stay unclicked until I eventually close it (probably when the next refresh is released), the breakdown (see below) is generally common sense but great to see in black and white.
[Thread] New details from @googlewmc on Mobile-first indexing best practices ! They added :
– Focus on having "same content" on Mobile VS Desktop
– Same meta robots
– No interaction based lazyload
– Resources must be crawlable
– Same structured data on both versions
1/4

— Aymen Loukil (@LoukilAymen) January 22, 2020
Google
Because data analysis has just been too easy for too long, Google decided to release the 'January 2020 Core Update' and add favicons to the SERP (totally not to further disguise ads), but then – being reasonable sorts, they decided to ameliorate the situation by revealing exactly how the changes would impact brands rolling out a shuffle to the way sites would rank if they feature in the rich results (position 0).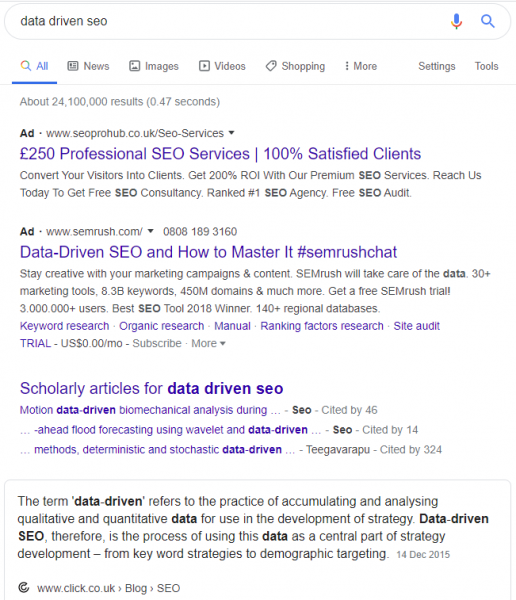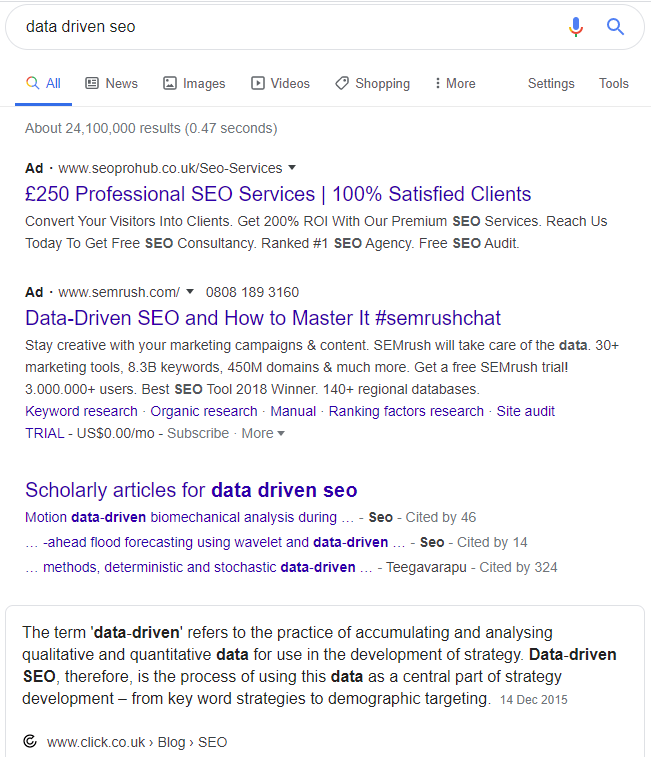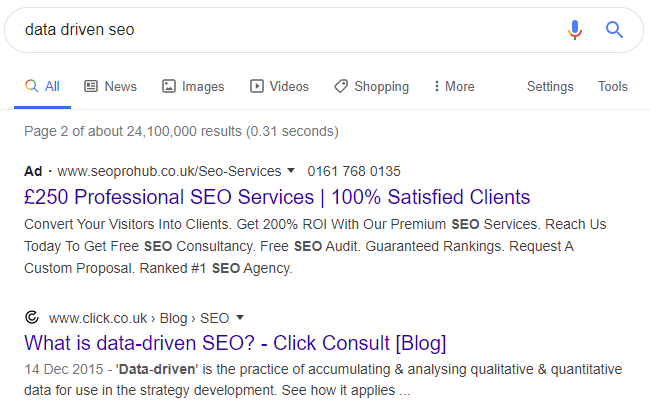 The situation previously – where the rich result holder would feature in positions 1-3 as a general rule has been altered so that now the organic position for the rich result winner will be position 11 (top of page two) while rumours are bubbling that featuring in one rich result could preclude a site featuring in others.
Another potential consequence of the featured snippet changes. If you win the featured snippet and your url gets removed from the rest of the organic results on the first page, looks like you'd lose any FAQ rich results as well. https://t.co/6QgXHhhH3R

— Marie Haynes (@Marie_Haynes) January 23, 2020
While I understand the disgruntled noises from Twitter SEO; like the favicons – the new format will become the new normal and it's likely that things will level out. Think of the rich result as position one highlighted by a standalone box and the top position on page two and it looks less awful. The main issue is that if the one rich result per domain turns out to be true, we're going to have to carefully consider what content we're marking up for which kind of result.
Instagram
In news I had no idea was a thing – Instagram has stopped displaying the Instagram TV button on their home page. The reason given in the article – which sounds reasonable enough – is that there is no way to monetise long form content. The fact that there has been any, in that case, is the more surprising thing.
Data-Vocabulary.org
Further evidence that Schema.org is likely to become the default structured data for the web, Google announced that rich results would no longer support structured data from Data-Vocabulary.org. While they've stated nothing about microformats, Google has consistently been behind JSON-LD – so if your site relies on one of the other structured data types, now may be the time to make the change.
Honestly? Monday wasn't much to write home about – there were plenty of articles on various slight changes Google has made (or may have made) – including possible changes to 'How to' rich results and a defence of the URL by Dany Sullivan. However, I think we can probably put this down to a thousand SEOs frantically analysing the results of the 'January 2020 update'.
February
Google updates Google Maps to celebrate 15th birthday
Google Maps is probably the company's second most important product after Search and this week it celebrates it's 15th Birthday. To honour the app google has refreshed version of app for Android and iOS with some new features:
There are now five (not three) tabs at the bottom of the map screen: Explore, Commute, Saved, Contribute (photos, reviews, content), Updates (feed of recommended places). These supersede the previous Explore, Commute and For You. The idea is to provide quick access to more content and to get more content from users.
Google is also adding new content about public transit based on user input: Temperature, Accessibility, Women's Section (region-specific) and Security information.
Google added that it's going to expand its Live View augmented reality walking directions, which are built on top of Street View's imagery. Live View will also gain new capabilities in the near future.
According to Greg Sterling at Search Engine Land – Google has not disclosed the specific amount of money invested to build Maps – it has spent "many billions of dollars" over the past 15 years — but the global scale and ambition of Google Maps is mind-boggling. Here are a few statistics to illustrate that:
Google Maps has "comprehensive data for over 200 countries and territories."
Information on more than 150 million locations/places.
40 million miles of roads.
25 million data updates on a daily basis.
Instagram prototypes letting IGTV creators monetise with ads
Instagram may finally let IGTV video makers earn money 18 months after launching the longer-form content hub. Instagram confirmed to TechCrunch that it has internally prototyped an Instagram Partner Program that would let creators earn money by showing advertisements along with their videos. By giving creators a sustainable and hands-off way to generate earnings from IGTV, they might be inspired to bring more and higher quality content to the destination.
The program could potentially work similarly to Facebook Watch, where video producers earn a 55% cut of revenue from "Ad Breaks" inserted into the middle of their content. There's no word on what the revenue split would be for IGTV, but since Facebook tends to run all its ads across all its apps via the same buying interfaces, it might stick with the 55% approach that lets its say creators get the majority of cash earned.
It's not clear IGTV's monetisation policies would be different, but on Facebook, they require that users:
Follow all its normal Community Standards about decency
Share authentic content without misinformation, false news, clickbait, or sensationalism
Share original content they made themselves
Avoid restricted content categories including debated social issues, tragedy or conflict, objectionable activity, sexual or suggestive activity, strong language, explicit content, misleading medical information, and politics and government
Instagram gives unfollow suggestions in new 'following categories'
Instagram will now show you who you interact with least frequently in case you want to unfollow them. In an effort to help you keep your feed clean and relevant, today Instagram is launching "following categories" that divides the list of who you follow into batches, including "most seen in feed" and "least interacted with."
"Instagram is really about bringing you closer to the people and things you care about — but we know that over time, your interests and relationships can evolve and change," a spokesperson told the team at TechCrunch. "Whether you graduate, move to a new city, or become obsessed with a new interest and find a community, we want to make it easier to manage the accounts you follow on Instagram so that they best represent your current connections and interests."
To access the feature, go to your profile, then "following," then you'll see the categories you can explore. You're also able to sort who you follow by earliest to latest and vice versa, in case you want to clear out your earliest ads or make sure you actually care about the latest people you followed.
Google Search Console fixed a bug with Google Tag Manager verification
Google has confirmed it fixed an issue with the Google Tag Manager method of verification. Writing for Search Engine Land, Barry Schwartz said: "As many of you know, there are numerous ways to verify your site or property within Google Search Console. One of those methods is via Google Tag Manager. Google has confirmed it fixed an issue with the Google Tag Manager method of verification.
"Google said you may need to reverify your site or property in Search Console if you were using the Google Tag Manager method. The issue "should be solved by now" and reverifying should work. If the properties are not verified, use one of the several methods to verify the property again.
There are many other ways to verify your site in Search Console, as described here. These include:
HTML file upload
HTML tag
DNS record
Google Analytics tracking code
Google Tag Manager container snippet
Google Sites
Blogger
Google Domains
16% of All Facebook Accounts Are Fake or Duplicates
Latest data from the team at Statista shows that up to 16% of all Facebook accounts could be fake or duplicated.
As well as revenue and user figures, the latest Facebook quarterly report also contains updated information on the proportion of fake accounts the platform is currently hosting. The social network estimates the proportion of duplicate accounts at eleven percent of monthly active users – that would be around 275 million user profiles. The proportion of 'false' – misclassified and 'undesirable' – accounts is said to be five percent (about 137 million user profiles).
The chart above suggests that these figures have remained the same YoY, but it is difficult to judge any developments in this area on the basis of the data. This is due to the fact that a comparison with previous years is only possible to a limited extent due to continuously evolving detection methods.
Amazon's booming ad business grew by 40% in 2019
Amazon had anticipated a good holiday season, and it got it according to the team at Marketing Land. It has been revealed that the company reported $87.4 billion in net sales for the fourth quarter of 2019, up 21% from the same period the prior year. On the advertising front, the company generated ad revenues of nearly $4.8 billion for the quarter, an increase of 41% year over year. That brings the company's annual advertising revenues in 2019 to roughly $14.1 billion, up 39% from $10.1 billion in 2018.
Amazon's advertising business makes up the bulk of what it reports as "Other" net sales. "Advertising as a subset has been growing at about the same rate year-over-year in the fourth quarter than it did in the third quarter," David Fildes, director of investor relations at Amazon, said on the earnings call last week.
Last quarter, Amazon expanded its sponsored display ad beta to more countries and introduced additional tools such as genre blocking and audience guarantees for over-the-top (OTT) advertisers.
Microsoft: Search advertising revenue grew slower than expected last quarter
Microsoft reported revenues of $36.9 billion for the second quarter of the 2020 fiscal year, which ended December 31, an increase of 14% over the prior year. Revenue from search advertising ticked up just 6% year-over-year in the quarter that encompassed the holiday shopping season.
Search advertising growth was lower than the company had expected, Microsoft CFO Amy Hood said on the earnings call Wednesday. The company had expected search advertising growth would be in line with the 11% seen in the previous quarter.
LinkedIn revenue growth has been decelerating. Revenue increased by 24% year-over-year last quarter, down from the 25% growth of the previous two quarters. The LinkedIn audience does continue to grow and the company touted another quarter of growing engagement. Sessions increased by 25% year over year.
"We saw record levels of member engagement again this quarter," said Microsoft CEO Satya Nadella. "Marketing Solutions remains our fastest growing business as marketers leverage enhanced tools and LinkedIn Pages to connect with our nearly 675 million members." That's up from the 660 million the company announced last quarter.
LinkedIn revenue growth has been decelerating. Revenue increased by 24% year-over-year last quarter, down from the 25% growth of the previous two quarters. The LinkedIn audience does continue to grow and the company touted another quarter of growing engagement. Sessions increased by 25% year over year.
"We saw record levels of member engagement again this quarter," said Microsoft CEO Satya Nadella. "Marketing Solutions remains our fastest growing business as marketers leverage enhanced tools and LinkedIn Pages to connect with our nearly 675 million members." That's up from the 660 million the company announced last quarter.
March
Google asked to delay third-party cookies removal
A business group within the World Wide Web Consortium (W3C) is planning to ask Google to delay the third-party cookie phase out in Chrome in light of the widespread disruption caused by the ongoing Coronavirus situation.
A member of the ad tech group told AdExchanger that the plan is to request that Google extend the deadline, which was somewhat tentative to start with, by between six and 12 months. The petition could be sent as soon as early April. Google announced its plan in mid-January to eliminate third-party cookies in Chrome by 2022, and said that trials for click-based conversion measurement (minus third-party cookies) would start by the end of the year.
Pinterest launches 'Today' tab
The visual search-based social media platform has fast-tracked the launch of the Today tab, "a new source of daily inspiration with curated topics and trending Pins", in response to all-time high in activity, as people around the globe search for inspiration during self-isolation. The platform says there were more searches and saves of Pins over last weekend than any other in its history,
It says: "We're featuring expert information from the World Health Organisation and Centers for Disease Control on topics like handwashing during the Coronavirus epidemic over the following weeks. In addition, we're also showing kid-friendly baking ideas, self-care tips, family-favourite movies and comfort food recipes based on trending Pins from what others are saving… More than ever, people are looking for ideas for activities to do at home — cooking quickly and easily, crafts and lesson plans for kids, tips for growing vegetables, and more."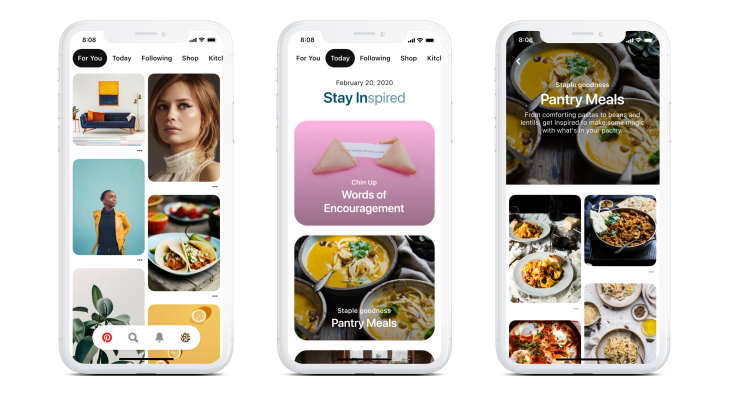 Snapchat publishes Corona impact stats
Snapchat has released research about the impact of the Coronavirus pandemic on society's everyday living, based on a survey of users, aggregated and anonymised location data and the top trends from search, stickers, public and Our Story post captions.
The results clearly show a trend for social distancing. High schools (-86%) and Universities (-73%) are the most impacted but quickly followed by entertainment venues (-59%), movie theatres (-40%) and bars (-29%). Travel is also heavily impacted with airport traffic being down (-22%) and hotel visits (-22%.)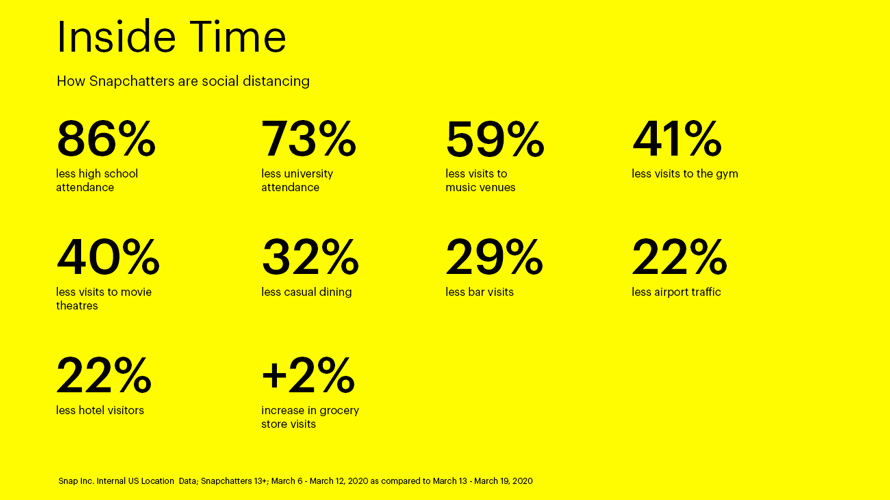 Google bans ads for Government documents or services
This May, Google will be enforcing a new policy in Google Ads that will affect all businesses running any ads for "documents and/or services that can be obtained directly from a Government or a delegated provider".
What this means that advertisers can no longer advertise documents or services that help people acquire, renew, replace, or look up official documents or information such as driving (and other) licenses, travel documents, passports, etc.
Google will start to enforce the new policy on 26 May 2020, and full enforcement will begin around five weeks later.
Beware, your analytics data is probably skewed
Search Engine Land is warning marketers that that surge in people working from home Brett Patterson, Digital Analytics lead at Siteimprove has this very important tip regarding analytics data. Brett says: "Internal traffic is not internal! With so many employees working remotely right now, this may influence your digital analytics data! Your typical filter won't catch workers working remotely, unless they are possibly using a VPN or other remote network connection. This means your employees [or your clients' employees] might be counted in your analytics metrics, even though you had previously created a filter for this."
Brett further recommends placing an annotation in your analytics account – and to keep this in consideration when measuring and reporting out on your digital marketing efforts.
Twitter: usage up, ad spend down
Twitter is seeing a lot more usage amid the COVID-19 lockdowns across the world – but that doesn't, however, mean that Twitter's making more money as a result, according to a new update from the company.
As reported by Bloomberg, Twitter has this week withdrawn its revenue and operating income guidance for the first quarter of 2020, as well as its outlook for expenses, headcount, and capital expenditures for the full year due to the rising impact of COVID-19.
"Twitter had a strong sta
rt to the year before the effects of COVID-19 began spreading more broadly, including a successful Super Bowl and overall strength in the US. The COVID-19 impact began in Asia, and as it unfolded into a global pandemic, it has impacted Twitter's advertising revenue globally more significantly in the last few weeks," said Ned Segal, Twitter's Chief Financial Officer. "We have made solid progress on our consumer and revenue product priorities and we remain confident in our opportunity and strategy. We hope everyone stays healthy and safe."
Ad spend to grow; but slow
Worldwide ad spending is still expected to grow compared to last year, says research firm eMarketer, but it has lowered its growth projections by nearly 3%. It will increase by 7.0% to $691.7 billion in 2020 over the prior year, down from the earlier growth estimate of 7.4% to $712.02 billion.
The updated spend projections include digital, directories as well as print, out-of-home, TV and radio advertising.
MediaRadar reported that the hospitality, film and tourism industries are, predictably, the most likely to strip back on industry ad spending from last year, calling them "at-risk".
It seems inevitable that "out-of-home" advertising – such as billboards and public transit ads – will be impacted due to isolation and social distancing.
eCommerce boosted
Data from Quantum Metric indicated that eCommerce sales for retailers that also have brick and mortar locations " saw an average revenue weekly growth rate increase of 52% and an 8.8% increase in conversion rates" in the first two months of 2020. This figure is only 18% in the UK.
50% of Chinese and 31% of Italian consumers say they're using ecommerce more frequently and for items they'd usually buy in-store, such as groceries.
Respondents from affected regions have revealed their lifestyle changes, opinions and reactions brought about by the pandemic in a new study from Ipsos MORI.
Google removes right-sidebar Featured Snippet
The right-sidebar fFeatured Snippet variant of Google search results has been migrated into the main results column, a Google spokesperson has confirmed. This change means those who used to have a right-sidebar Featured Snippet as well as appearing in the main results will now only have one link on page 1 of the SERPs instead of two – and also impacts other organic results by pushing them down the page. The move is part of Google's Featured Snippet deduplication, which began in January this year.
Mordy Oberstein, CMO of RankRanger, spotted the update had rolled out Thursday.
Seeing a multi-day fall-off in MozCast, but same end point — as of yesterday, something like 1% of SERPs with Featured Snippets had them on the RHS. A week ago, it was more like 30%. https://t.co/BYyGWRd83Q

— Dr. Pete Meyers (@dr_pete) March 19, 2020
Facebook "knew for years about inflated ad metrics"
Facebook executives knew the company overestimated the potential reach of ad campaigns, marketers who are suing the platform allege in new court papers.
"Facebook's internal documents show that Facebook personnel knew for years that the Potential Reach metric that it provides to Facebook advertisers on its advertisement purchasing interfaces (including on Ads Manager and Power Editor) was inflated and misleading," the marketers allege in an amended complaint filed Thursday with US District Court Judge James Donato in San Francisco.
The new complaint marks the latest development in a lawsuit initially filed in August of 2018 by advertisers who alleged that Facebook induced them to purchase ads and pay higher prices for them by inflating the number of users the ads could reach.
Facebook maintains that its estimates weren't guarantees and that no customers have suffered harm.
New look for attribution reports in Google Ads
Google has launched a new experience in Google Ads that features a simplified and intuitive set of attribution reports. It claims that the new experience can help you quickly understand how customers interact with your marketing throughout the purchase cycle, making it easy for you to take action in the areas that are driving results. Some reports have been combined and others removed. Starting today, available attribution reports in Google Ads include:
Overview
Top paths
Path metrics
Assisted conversions
Model comparison
Examples of cards on the revamped overview page
The revamped overview page helps you better visualise your customers' paths to conversion. For example, you can see the percentage of customers who converted after multiple clicks on your ads. You'll also be able to see the percentage of customers who engaged with your ads on each device, and who did so using more than one device.
Compare different attribution models with the model comparison report
Model comparison helps you compare your cost per conversion and return on ad spend for different attribution models, such as last click, rules-based, and data-driven attribution.
Attribution reports can be found in Google Ads by clicking the tools icon
in the upper right. Then, under Measurement, select Attribution.
Mobile-First confirmation
All sites will be switched over to Mobile-First indexing starting in September, Google clarified yesterday. This will conclude the process that has been underway since 2016. Google says 70% of indexed sites have already been switched over, but if you're one of the 30%, it's coming down to the wire to address any issues Google's mobile crawler has in accessing your site.
Twitter jumps on 'Stories' bandwagon
Twitter has announced it will begin to test a new sharing format called "Fleets." Starting in Brazil, the feature will let users post ephemeral content that cannot receive Likes, Replies or Retweets, before completely disappearing after 24 hours. However, the news has not been popular among Twitter users, with the #RIPTwitter trending this morning:
Retweet this tweet if you want edit button, not stories. #RIPTwitter pic.twitter.com/HOX10L9jwR

— Jishan (@iamsrkJishan_) March 5, 2020
Google cancels I/O
Google cancelled the "physical" aspects of its annual I/O developers conference, scheduled for May 12-14, over coronavirus fears.
"Due to concerns around the coronavirus (COVID-19), and in accordance with health guidance from the CDC, WHO, and other health authorities, we have decided to cancel the physical Google I/O event at Shoreline Amphitheatre," explains a Google spokesperson in a statement to The Verge.
Google typically uses I/O as its biggest news event of the year to introduce new changes to Android, Google-powered hardware, and even updates to services like Google Maps. Google says it's now exploring "other ways to evolve Google I/O to best connect with and continue to build our developer community."
Distrust among UK consumers for online reviews
UK consumers are increasingly reliant on customer reviews – with 90% saying they read reviews before buying online, and the average consumer spending £433 each year on purchases that were influenced or informed by an online review – they are also wary of their legitimate feedback being removed or censored by companies.
A study from Trustpilot, has revealed an alarming 42% saying they are very concerned about their freedom of speech.
Peter Mühlmann, Founder and CEO Trustpilot, explains: "Reviews are core to helping consumers navigate this complex eCommerce landscape, but there must be more transparency and explanation about how different platforms operate, including how they moderate, filter, flag, publish or remove reviews. Only then will consumers be able to feel confident they're making informed purchasing decisions. "
Consumer review websites ranked second for trust and third for their perception of providing honest product and service reviews; only family and friends rank higher in both categories.
Google tightens FAQ markup guidelines
Google has updated its content guidelines for the FAQ schema, meaning that if you repeat the same question and answer in multiple FAQ pages on your site, you are in violation of its guidelines..
Google has updated the guidelines of FAQ: "If you have FAQ content that is repetitive on your site (meaning, the same question and answer appear on multiple pages on your site), mark up only one instance of that FAQ for your entire site."https://t.co/favNCmWMTa
cc: @rustybrick pic.twitter.com/JBpDdAxkIk

— Kenichi Suzuki💫鈴木謙一 (@suzukik) February 28, 2020
LinkedIn is continuing to develop its offering beyond networking and job searching – and perhaps remain more relevant to younger professionals – LinkedIn – has announced it's testing the Stories format: quick bursts of disappearing content.
Pete Davies, Senior Director of Product Management at LinkedIn, said "… my job is to make sure we're giving professionals every format and feedback opportunity they need to make these conversations as productive as possible. Over the last few years, that's led us to launch features including Newsletters, Live Video, Trending News, and Reactions. There are more conversations taking place in the LinkedIn feed than ever before, with a 25% year-over-year increase in engagement…
"So, we're currently testing LinkedIn Stories internally, and we can't wait to test it with our members in the coming months. We've learned so much already about the unique possibilities of Stories in a professional context. For example, the sequencing of the Stories format is great for sharing key moments from work events, the full-screen narrative style makes it easy to share tips and tricks that help us work smarter, and the way Stories opens up new messaging threads makes it easier for someone to say, "and by the way… I noticed you know Linda, could you introduce me?"
"We've also found there's an entire generation growing up with Stories as a way of speaking; they're more comfortable starting conversations with a full-screen ephemeral format than posting updates and prefer sharing content that lives as a moment in time rather than as an item in a feed.
"I'm excited to see how Stories will bring creativity and authenticity to the ways that members share more of their work life, so that they can build and nurture the relationships necessary to become more productive and successful."
Consumers crave personalisation but not at the expense of their privacy
Retail brands to strike the right balance between respecting privacy and delivering personalised experiences for consumers across all generations, Episerver's Reimagining Commerce Report 2020 has found.
62% are interested in personalised experiences, unchanged from 2019
Last year 26% consumers wanted more personalisation; that number dropped to 17% this year
And 25% want brands and retailers to make shopper anonymity a greater priority
Other findings include:
Smartphones are preferred by all audiences except Baby Boomers as the default or favoured platform for online shopping:
25% of consumers use smartphones to research or shop online multiple times per week; 18% use them to complete a transaction multiple times per week –- 2% higher than in 2019
Smartphones lead all other device categories as the "default" for online product research and shopping: 58% of Millennials prefer smartphones; 49% of Gen Z
Yet only 18% of Baby Boomers prefer smartphones to other devices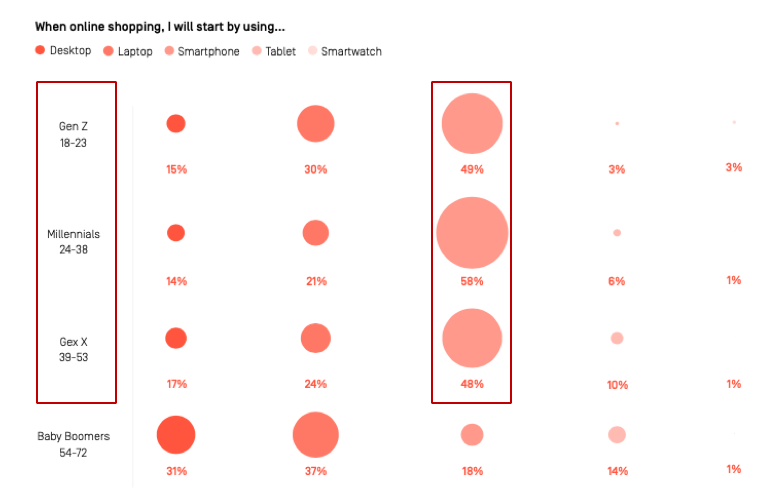 The survey also found, for example, that 48% of consumers start their online shopping at Amazon, compared with 39% who started at Google and 9% who start on a specific brand website.
Social commerce and influencer-generated purchases are both growing, with roughly 20% of consumers saying they bought something "directly because of a social media influencer's product post". The numbers are considerably higher, roughly 50%, for Gen Z and Millennials. In addition, 31% of consumers bought something directly from a social media ad, which was a 10-point gain over last year.
Instagram prototypes Snapchat-style disappearing text messages
Instagram is finally preparing to copy Snapchat's most popular feature, and one of the few it hasn't already cloned. Instagram has prototyped an unreleased ephemeral text messaging feature that clears the chat thread whenever you leave it, a Facebook spokesperson confirmed to TechCrunch.
Instagram already has disappearing photo and video messaging which it launched in February 2018 to let users choose if chat partners can "view once", "allow replay" multiple times for a limited period, or "keep in chat" permanently.
Back in late 2017, just 51 million of Snapchat's 178 million users were posting Stories per day, and that was when Instagram Stories was still in its first year on the market. According to Statista, Snapchat's top use case is staying in touch with friends and family, not entertainment.
Instagram Stories caused Snapchat to start shrinking at one point, but now it's growing healthily again.
LinkedIn rolls out Conversation Ads, aimed at to improving personalisation in messaging
Conversation Ads are coming to LinkedIn. The ad format builds on LinkedIn's current Message Ads (formerly Sponsored InMail), featuring full-funnel campaigns with options for multiple customised calls-to-action such as product education, webinar sign-ups, or eBook downloads.
The ad format is designed for real-time engagement, which means messages can only be sent when the prospect is active on LinkedIn. Advertisers can use Conversation Ads alongside other features – like Lead Gen Forms and Conversation Tracking – to help move the needle closer to a conversion.
The new ad product will be rolling out globally in beta to all advertisers over the next few weeks.
Schema.org adds coronavirus-related structured data types in version 7.0
Schema.org published version 7.0 of its specifications this week. The release contains new structured data types that were fast-tracked in light of the COVID-19 pandemic.
"We are also making improvements to other areas of Schema.org to help with the worldwide migration to working online and working from home," wrote the blog post authors, Microsoft's Tom Marsh and Google's Dan Brickly and R.V. Guha, "for example by helping event organisers indicate when an event has moved from having a physical location to being conducted online, and whether the event's 'eventAttendanceMode' is online, offline or mixed."
The new "SpecialAnnouncement" structured data type allows for date-stamped textual updates and markup to associate the announcement with a situation, such as the COVID-19 outbreak.
Google now showing 'specialists' tab in health condition knowledge cards on mobile
1 in 20 Google searches are health-related, and Google knows it has a responsibility to serve the most accurate medical information for these 170 million-plus daily searches. It is thought therefore that this update to Google's health condition cards in mobile search results will benefit patients seeking help for certain medical conditions.
The addition of a "specialists" tab could increase the frequency of healthcare providers appearing in local search results. Here are five SEO tips to help you capitalise on this opportunity:
Make sure your doctor or healthcare facility web pages follow best practices for local optimisation.
Add as much content to your physician or healthcare facility Google My Business profile.
Build out online profiles across the top healthcare directory sites (Healthgrades, Vitals, WebMD, etc.) and make sure the information is consistent across all profiles.
Incorporate Schema on your doctor and healthcare facility pages, specifically the Schema markup for Physician and LocalBusiness properties.
With all of the YMYL algorithm updates over the past few years, it'll be especially important for doctors to ensure they have a strong online reputation and demonstrate expertise in their medical area via citations from reputable health care authorities and sites (E-A-T).
Google Ads customer value reporting and conversion value rules
At SMX West last month, Google took a look at customer value reporting and value rules. The company first teased these features in the Google Ads UI at Google Marketing Live last year. They're both still in beta but here's what we know about how they're designed to work.
Customer value reporting. When it's live in your accounts, you'll find conversion value reporting located in the Tools dropdown under the Measurement section in the Google Ads UI.
Customer value reporting shows the "Distribution of your customer base over the previous 12 months" broken out by demographics (gender, age, parental status), locations and devices.
The demographics reporting is based on what signed-in users indicate in their Google accounts or what Google infers about users based on their search and browsing behaviors.
Conversion value rules. Google is also beta-testing conversion value rules. (It's located in the Conversions section under Measurement options when enabled.) You can "adjust values for conversion events based on conditions like location or device." At this point, the options are limited to location and device, but audience will be an option eventually.
The rules will then be applied to your bidding Google will also report on your conversion value rules. This will allow you to customise conversion values so they align more closely with your business goals.
COVID-19: An update from Google
As mass panic sweeps the globe and the outbreak of COVID-19 causes concern for millions of businesses it was timely yesterday that Sundar Pichai, CEO of Google and Alphabet released a press release on what the search giant is doing to help with the spread of information. In his post Pichai said: "For 21 years, Google's mission has been to organise the world's information and make it universally accessible and useful. Helping people get the right information to stay healthy is more important than ever in the face of a global pandemic like COVID-19.
"Since my last update, we've accelerated our work to help people stay safe, informed and connected. Here are the latest developments in our ongoing global response."
Below are some of the ways in which he highlighted that Google is helping…
Helping people find useful information
We're partnering with the U.S. government in developing a website dedicated to COVID-19 education, prevention, and local resources nationwide. This includes best practices on prevention, links to authoritative information from the World Health Organisation (WHO) and the Centers for Disease Control (CDC), and helpful tips and tools from Google for individuals, teachers and businesses.
Protecting people from misinformation
Promoting helpful information is only one part of our responsibility. We're also removing COVID-19 misinformation on YouTube, Google Maps, our developer platforms like Play, and across ads. On YouTube, we've taken down thousands of videos related to dangerous or misleading corona-virus information, and we continue to remove videos that promote medically unproven methods to prevent corona-virus in place of seeking medical treatment.
On Google Maps, our automated and manual review systems continue to take down false and harmful content such as fake reviews and misleading information about healthcare locations.
Enabling productivity for remote users and students
As more employers have asked workers to stay at home to help slow the spread of COVID-19, we're seeing more people using the premium features of Meet, our video conferencing app, which we made available to all G Suite customers at no cost until July 1, 2020. We've also shared tips and resources for remote workers of all kinds.
For educators around the globe, we've created new distance learning resources, including a collection of training materials, a new YouTube Learning Hub, and a series of blog posts and webinars.
Supporting relief efforts and government organisations
Through our philanthropic arm Google.org, we are committing $50 million to the global COVID-19 response, focusing on health and science, access to educational resources and small business support.
We have been working in close collaboration directly with the WHO. As part of that collaboration, on Friday we announced we'll be matching up to $5 million in donations to the WHO's new COVID-19 Solidarity Response Fund. The fund will help the WHO track and understand the spread of the virus and help front-line workers with essential supplies and information.
Bing's COVID-19 tracker filters data, news and video by region
Bing has launched a COVID-19 tracker that displays the number of confirmed cases worldwide. The data is broken down into active, recovered and fatal cases, and can be filtered by geographic region, The Next Web first reported on Monday.
Bing's COVID tracker sources data from the U.S. Centers for Disease Control and Prevention (CDC), the World Health Organisation (WHO), the European Centre for Disease Prevention and Control (ECDC), and Wikipedia. Users can see when the data was last updated by clicking the information icon in the sidebar menu.
Google uses AI to enhance video call audio
Google is hoping to end low quality video calls by deploying artificial intelligence to "fill in" audio gaps caused by bad connections. It comes as the use of video calls has become increasingly important during the coronavirus crisis.
Google says 99% of calls made using its Duo app experience some form of audio-related issue. Of these calls, 20% lose more than 3% of their total audio, while 10% lose almost a tenth. The new WaveNetHQ software works by specifically creating speech data to fill the gaps made by drops in audio. It uses a library of speech data to realistically continue short segments of conversations. The AI is trained to produce mostly syllable sounds, and can fill gaps of up to 120 milliseconds.
Google ends support for data-vocabulary.org structured data in rich results
A last reminder to switch to schema.org markup before April 6 to maintain rich result eligibility.
Beginning April 6, data-vocabulary.org structured data markup will be ineligible for Google rich results. Site owners must switch to schema.org markup if they want to maintain Google rich result eligibility.
Google is focusing on schema markup due to its increasing usage and popularity, the company said.
Site owners can use Google's Rich Results Test tool to test live code snippets.
This change only pertains to rich results. Pages using data-vocabulary.org markup for other purposes will still remain valid.
Small and mid-sized Google Ads agency partners to lose dedicated ad rep support
Some Google Ads agency partners learned this week that they will be losing their dedicated agency reps as of Wednesday. Google has confirmed to Search Engine Land that it has made changes.
The agency rep program undergoes a review every quarter. The company says the latest change is not related to support limitations during the coronavirus crisis. Google Ads has been notifying advertisers that "some support options may be delayed or unavailable" due to changing work schedules and routines of support specialists since earlier this month in the Google Ads interface.
It also does not appear to be related to the recent overhaul of the Google Partners program eligibility requirements. Google also said the change is not related to whether an agency has premier partner status.
"We recently made changes to Google representative support for our small and mid-sized agency partners," a Google spokesperson said in a statement to Search Engine Land. "These changes are not related to the ongoing COVID-19 crisis. They are part of a routine review where we evaluate our support level for all agency partners. Status as a premier partner does not impact their
agency representative status."
Desktop search is rising amid the work-from-home surge
If you've noticed desktop impression and/or click share has been increasing over the past month — and a bump in your Microsoft Advertising campaigns — you're not alone. Microsoft has seen a big shift in PC search share since more employees began working from home. "We're seeing that that's the device of choice when people have the choice," said Rik van der Kooi, Microsoft Advertising's corporate vice president . That's also where Bing, built into the more than 1 billion Windows 10 devices, is strongest.
"Search is more important than ever," said van der Kooi. He noted that in the last downturn of 2008, "search outperformed all other formats. Given stay-at-home and online media consumption, consumers are doing more online research, search and shopping."
The key for marketers, said van der Kooi during the company's live-streamed Microsoft Elevate event Tuesday, is knowing how to adapt as consumer behavior continues to shift rapidly.
Google updates its ads policy for inappropriate content to include 'public health emergency'
Amid the COVID-19 pandemic, Google Ads has updated its Inappropriate Content Policy. The updates take aim at keywords around sensitive events, price gouging and more.
The update does not specifically mention coronavirus, but the change is clearly aimed at preventing advertisers from trying to capitalise on the outbreak. Google banned ads for face masks earlier this month.
Zoom CEO freezes feature development to fix security and privacy issues
Zoom has been widely criticised over the past couple of weeks for terrible security, a poorly designed screensharing feature, fake end-to-end-encryption claims and an incomplete privacy policy. Despite that, the video conferencing service has attracted a ton of new users thanks to the coronavirus lockdowns around the world — the company reached 200 million daily active users last month.
TechCrunch reported that Zoom, an enterprise product designed for boring corporate meetings, has become a mainstream product with all the risks that it involves.
That's why the company's CEO Eric S. Yuan has written a lengthy blog post to address some of the concerns around Zoom. He starts by sharing some metrics. Zoom has been used by 90,000 schools around 20 countries. Daily meetings participants jumped from 10 million in December to 200 million in March.
But some companies are starting to reconsider using Zoom for video conferences. For instance, SpaceX, Elon Musk's rocket company, has banned its employees from using the service.
For the next 90 days, Zoom is enacting a feature freeze, which means that the company isn't going to ship any new feature until it is done fixing the current feature set. Zoom will also work with third-party experts and prepare a transparency report.
"For the past several weeks, supporting this influx of users has been a tremendous undertaking and our sole focus," Yuan writes. "However, we recognize that we have fallen short of the community's – and our own – privacy and security expectations. For that, I am deeply sorry, and I want to share what we are doing about it."
Google My Business: When should you use 'special hours' vs. 'temporarily closed'?
Greg Sterling recently hosted the second Live with Search Engine Land, with four leading local SEOs discussing how local and multi-location businesses are coping with the coronavirus crisis. Google My Business was a central topic and there were numerous questions about how to handle business hours updates and specifically when and how to use "temporarily closed."
In a follow-up, Greg asked Krystal Taing, a GMB Gold Product Expert, to summarise and clarify some of the discussion around business hours. Here's what was said: "If your business has adjusted hours or is temporarily closed for a short period of time (less than two weeks), you should use special hours. For longer extended closures, two weeks or more, you should use the temporarily closed status if you're able to.
"Marking a business as temporarily closed can only be done manually in the GMB UI, so my suggestion is to only use this option if you're managing a small set of locations or your franchisees are managing each location themselves. This is not ideal management for a multi-location business or agency that supports chains."
Asked if marking my business temporarily closed create a competitive disadvantage, if competitors aren't doing the same? Krystal answered: "Now that we can confirm there is no impact to ranking, I would advise to do what you need to keep consumers informed. If you're temporarily closed and you need to ensure people stop showing up to your location, you should update your GMB listing to reflect this. Thankfully, you no longer have to consider how this could impact long term rank or visibility."
New Google My Business guidance for healthcare providers
Google has published a new help document designed to help healthcare providers get started with Google My Business.
The new document is written specifically for healthcare providers like doctors, therapists, and other medical practitioners with the aim of helping them to claim and manage their practice's info.
Healthcare providers can add details about remote services like telemedicine, which is ideal with people being under lockdown and practicing social distancing. With a verified Google My Business profile, owners and administrators of practices can engage with and update current patients, and attract potential new patients.
Google highlights the following Google My Business features that are useful to healthcare providers:
Manage information such as hours of operation and contact info
Add health services offered, like telemedicine, house calls, diagnostics, and procedures
Engage with patients
Upload photos to show patients what they'll see before they arrive
Control who has access to your business profiles with location groups
Google gives Ad credits for Google Ads Small and Medium-sized Businesses customers
Google has announced that they want to help alleviate some of the cost for small and medium-sized businesses (SMBs) to stay in touch with their customers during this challenging time. That's why they're giving our SMBs worldwide $340 million in ad credits, which can be used at any point until the end of 2020 across all Google Ads platforms.
The news was announced on the Google Help Center and it was said that SMBs who have been active advertisers since the beginning of 2019 will see a credit notification appear in their Google Ads account in the coming months.
This is part of a larger commitment from Google to support SMBs, health organisations and governments, and health workers on the frontline of this global pandemic.
Pinterest rolls out new commerce features for retailers
Retailers on Pinterest will now have more ways to be discovered as the platform introduces new shopping features aimed at bringing products to where users are most likely to shop.
Amongst the updates were:
Verified Merchant Program
Pinterest will now allow retailers on the platform to be verified, making their products eligible for distribution across Pinterest shopping experiences, including 'Shop the Look' Pins and related product carousels. Verified Merchants will have a blue checkmark badge on their profiles, and will be eligible for "high-intent shopping experiences and metrics like conversion reporting," Pinterest said.
Conversion insights
Retailers on Pinterest will have early access to organic and paid conversion insights to more accurately measure Pinterest's impact on website visits, checkouts, and sales across multiple attribution windows.
Catalogs updates
Pinterest Catalogs, which allow brands to upload a product catalog for ads and Shoppable Pins, have been optimized to "lessen the time from feed ingestion to Product Pin creation," Pinterest said. The Catalogue update also includes new metrics, near real-time feed ingestion, user experience enhancements, and the ability to schedule feed uploads.
Dynamic retargeting
Pinterest has extended its dynamic ad retargeting to global markets for advertisers who want to reach users who have previously engaged with their brand online or have abandoned their shopping carts.
Now, brands can globally retarget exact or similar products that users search and save on Pinterest. The company said it will be working to build out even more "optimisation levers" to give retailers more control around dynamic targeting.
April
Free Google Shopping: what does it mean for marketers?
A sweetener for brands with shrinking ad budgets, an attempt to add greater variety to lure shoppers away from Amazon, or part of a longer-term strategy to gives marketers an easier way of being able to transfer from organic to paid search in the future? This article in Campaign discusses the reasoning behind – and possible effects of – Google's free Shopping listings roll-out.
Facebook As ditch "pseudoscience"
Facebook has removed "pseudoscience" as an option for advertisers that want to target audiences, a category available until recently, as the world's largest social media network vows to continue to curb misinformation about the COVID-19 pandemic. The company has also banned exploitative tactics in ads and banned ads for medical face masks, hand sanitiser, disinfecting wipes and COVID-19 testing kits.
Facebook pulls back on Campaign Budget Optimisation (CBO)
In a reversal, Facebook will no longer require advertisers to use its Campaign Budget Optimisation (CBO) feature in campaigns. Advertisers will have the choice to either have budgets managed at the campaign or ad set level.
"To provide advertisers with flexibility and choice in their buying strategies, we have decided not to pursue a mandatory migration for Campaign Budget Optimisation (CBO)," a Facebook spokesperson said in a statement . "While we still believe CBO provides performance and value gains, we will move to offering CBO as an option and not as a requirement."
Facebook had initially planned to move all campaigns to CBO-only by last September but has been pushing off the switch. With CBO, Facebook's algorithm automatically optimises budget allocation across the ads sets in a campaign.
Google adds website links to 'Call Ads'
Google announced that marketers can now add website links to Call Ads. The idea is to give consumers another way to contact and engage with the business during a time when call volumes are very high and wait times may be long — risking a bad customer experience.
Last year, Google expanded the character count in Call Ads' headlines and descriptions. It also moved the business name to the beginning of the ad-description text.
Google argues inclusion of the new site link will result in "fewer accidental calls and more qualified leads." The company also says, "[Y]ou can now engage consumers who may only be interested in visiting your site, and may not have previously interacted with your brand."
Google will roll out identity verification program to all advertisers
Google is extending its identity verification program to all advertisers, the company announced Thursday. Advertisers will be required to submit business incorporation documents, personal identification and other information to prove who they and the country they operate in.
According to Search Engine Land –
"A wider rollout for Google's identity verification program helps users find out more about who is advertising to them and enables them to make more informed decisions on whether to click on those ads.
"The program might also improve the overall state of Google's ad ecosystem by rooting out bad advertisers before they can reach a wider audience. "
Google launches search tips for poor query matches
Google today announced it is launching a new feature that tries to help you rephrase your query when the search engine cannot find relevant results on the web. Google said it is rolling out in the U.S. today "a new message that lets you know when Google hasn't been able to find anything that matches your search particularly well."
According to Barry Schwartz: "You may see a new message in Google search that reads – it looks like there aren't any great matches for your search."
Google did test this last November, but in those tests, Google made you click to see more search results. In the launched version of this feature, Google will show you search results — although not great results — below this box. "While you can still go through the results to see for yourself if they're helpful, the message is a signal that we probably haven't found what you're looking for," Google said.
Facebook's Messenger Kids will launch in more than 70 additional countries
Facebook announced the launch of Messenger Kids in more than 70 new countries and new features that will gradually roll out in different markets. As schools around the world remain closed because of the COVID-19 pandemic, TechCrunch repored that the new features are designed to let kids increase their contacts on the app under parental supervision.
The first new feature, called Supervised Friending, will launch today in the United States before other countries. Prior to Supervised Friending, kids needed to have their parents approve each of their Messenger Kids contacts. Supervised Friending lets parents turn on an option that allows their children to accept, reject, add and remove contacts. Parents are notified through Messenger and allowed to override any approvals through the Parent Dashboard.
The second new feature allows parents to approve other adults, like teachers, to add their kids to group chats. The third feature, now available in the U.S., Canada and Latin America, allows parents to make their child's profile name and photo visible to a circle of users that includes friends of their kids' contacts and their parents, children of parents' Facebook friends who also have Messenger Kids, and the children of people parents invite to download the app.
Google testing Question Hub in US for COVID related queries
Back in 2018 Google began testing a way for searchers to submit questions to Google manually. It launched in Google India in 2019 as Question Hub, as a way for searchers to let Google know when they haven't been able to find the content they are searching for.
Now this is being tested in U.S. based Google searches as a way for Google to identifying content gaps for COVID-related queries, a Google spokesperson told Search Engine Land.
Google Shopping opens up to free product listings
Google is taking the significant step of opening up its Shopping search results to unpaid, organic listings. The Google Shopping tab results "will consist primarily of free product listings" starting next week, the company announced Tuesday.
The move comes amid the coronavirus crisis in which many brick and mortar retailers have had to close their doors. An e-commerce strategy has suddenly taken on heightened importance and urgency for merchants. The crisis was the impetus for "advancing our plans to make [Google Shopping] free for merchants," Google's President of Commerce Bill Ready said in a blog post. However, the change will be permanent and fits into the longer-term vision for the company's role in digital commerce.
"For retailers, this change means free exposure to millions of people who come to Google every day for their shopping needs," said Ready. "For shoppers, it means more products from more stores, discoverable through the Google Shopping tab. For advertisers, this means paid campaigns can now be augmented with free listings."
Google adds clarity around eligibility, timing for SMB ad credits
Last month, Google announced it would be providing $340 million in Google Ads credits for SMBs as part of an $800 million effort to support organizations during the coronavirus pandemic. On Monday, the company updated the help page to provide some more information about the ad credits program.
Eligibility
Initially, Google had said small and medium-size businesses would be eligible if they had been active advertisers since the beginning of 2019 and adhere to Google Ads policies. The company has now clarified that advertisers will need to have spent with a Google Ads account directly or through a partner in 10 out of 12 months in 2019 and in either January and/or February of 2020.
Essentially, the credits are going to the small and medium-sized businesses that have been consistent, committed advertisers and were advertising this year, before the new coronavirus reached pandemic status.
Timing
The credits will roll out in phases, beginning in late May. Eligible advertisers will receive one ad credit allocation.
The credits can be used throughout 2020 on any Google Ads channel — Search, Display and YouTube — and campaign type. As the company previously announced, advertisers will be notified and see the ad credits appear in their accounts automatically. There is no action to take to be considered for eligibility.
Advertisers can use the ad credits for future advertising through December 31 of this year.
Google Ads Data Hub testing audience lists for display campaigns
Google's Ads Data Hub, the analytics and measurement platform for Google campaign data, has announced a string of upcoming enhancements. It also confirmed it is beta testing audience activation for display campaigns.
The company said it has been updating the infrastructure that underpins Ads Data Hub (ADH) to be able to scale it to more customers and simplify querying.
Closer to real-time analysis. Google said it has reduced latency from 24-48 hours down to 6 hours for display and YouTube ads data from Google Ads and for YouTube ads bought through Display & Video 360. That means you'll be able to run near same-day queries in some cases.
Self-service account linking. Users will soon be able to link their Google Ads, Campaign Manager and Display & Video 360 accounts to ADH on their own. You'll be able to create multi-tier account structures as well. This capability will be available in the coming weeks.
Sandbox analysis. The Sandbox testing environment is available to all customers. It has a data set available for testing query writing and get a better sense of what you can do with your own data.
Query templates. There are 20+ templates for common types of analysis run in ADH. The All events template, for example, Google says can be used to get impressions, clicks, conversions and Active View (Google's viewability metric) results for an account. Users can submit new template ideas through the feedback form in the platform.
Testing audience activation. Google confirmed it is testing the ability to build audience lists based on clicks or conversions from Google Ads, Campaign Manager and Display & Video 360, first reported by AdExchanger. Those audiences could then be activated for display campaigns in Google Ads and Display & Video 360. It does not cover audiences on Google Search, YouTube, or other Google O&O inventory.
UK gov announces 'Future Fund' for startups impacted by coronavirus
After mounting pressure from the U.K. tech startup ecosystem, and much debate, the British government today unveiled plans for a new "Future Fund" designed to ensure high-growth companies — namely, startups — across the U.K. receive enough investment to remain viable during the coronavirus crisis.
TechCrunch reported that the U.K. government is pledging a total of £250 million of taxpayer's money to the new fund (delivered via the British Business Bank). To unlock the investment — which looks to be in the form of a convertible loan note — businesses must secure an equal or greater amount of match funding from private investors, and be a U.K. registered private company that has previously raised at least £250,000 in private investment in the last five years.
The Future Fund is pegged to launch in May, and will see the U.K. government invest between £125,000 and £5 million in qualifying startups. It also says the scale of the fund will be kept "under review," suggesting more taxpayer money could be committed in future. Applications will initially be open until the end of September.
New COVID-19 schema
Schema is getting a big awareness boost with the new tags designed for COVID-19 announcements. The White House and several agencies are coordinating with Schema.org to promote visibility for the new structured data tags "SpecialAnnouncement" and "eventAttendanceMode" introduced last month. Private sector businesses are among those being urged to adopt the new markup when appropriate.
Amazon cuts affiliate commission
Amazon has announced another change to its affiliate marketing program – Amazon Associates – slashing commission rates across various categories from April 21st (next week). Affiliate referral rates for health and personal care products, for example, will be cut from 5% to just 1%. Other essential item-related categories like grocery were especially hard hit.
60% of COVID content "safe"
The majority of online content containing keywords related to the ongoing novel coronavirus pandemic is actually safe for brand advertising. AI company GumGum identified 2.85 million unique pages containing COVID-related keywords across its publisher network. These included: the words "covid", "covid19", "covid-19", "covid 19", "coronavirus", "corona virus", "pandemic", or "quarantine". Of those pages, the system's threat detection models classified 62% as 'Safe'. "All the concerns raised lately about coronavirus keyword blocking hurting publishers are valid," said GumGum CEO Phil Schraeder. "But this data shows that keyword-based brand safety is also failing brands. It's effectively freezing advertisers out of a huge volume of safe trending content, limiting their reach at a time when it should actually be expanding, as more people than ever are consuming online content."
People urged to 'shop small' on social
With organic searches on the platform for "support small business" increasing 351% in recent weeks, Pinterest has announced it's launching a brand new collection of unique products from sustainable brands on its Pinterest Shop, a feature it launched last November to showcase small and independent sellers.
France rules Google must pay publishers for news
Search Engine Land has reported that, late last week, French antitrust authorities ruled that Google must pay to display news content in France. This is the latest in a long-running battle between media publishers in the EU and Google over copyright fees and the right to show news content in Search and Google News.
Google has historically argued it benefits publishers by sending traffic to their sites. Over the weekend, the company said, in an email: "Since the European Copyright law came into force in France last year, we have been engaging with publishers to increase our support and investment in news. We will comply with the FCA's order while we review it and continue those negotiations."
Google and Apple team up on Covid-19 app
The Government has confirmed plans for an app that will warn users if they have recently been in close proximity to someone suspected to be infected with the coronavirus.
The health secretary Matt Hancock announced the move at the Government's daily pandemic press briefing. He said the NHS was "working closely with the world's leading tech companies" on the initiative. His reference to a tie-up with tech companies was a nod to Apple and Google, which announced on Friday that they were working on a software building block, to make it easier for others to build contact tracing apps.
Health Secretary, Matt Hancock, announced: "Today I wanted to outline the next step: a new NHS app for contact tracing. If you become unwell with the symptoms of coronavirus, you can securely tell this new NHS app and the app will then send an alert anonymously to other app users that you've been in significant contact with over the past few days, even before you had symptoms, so that they know and can act accordingly."
Ad workers take pay cuts
Temporary pay cuts have emerged as adland's key measure for weathering the storm of pandemic, according to a survey by Campaign Magazine. Respondents twice as likely to say they have been asked to take a pay cut as report being furloughed.
Forrester: advertisers face "imminent upheaval"
The advertising industry needs to readdress their tracking-heavy approach to digital advertising, which is being rejected by browsers, regulators and consumers, including Google Chrome dropping third-party cookies leave no other option.
"Change is no longer a nice idea. It has become a requirement," said Forrester VP and principal analyst Joanna O'Connell, who has authored a report about how marketers need to address this change. Instead of using data to provide relevant advertising, marketers need to "reorient around delivering consumer value," O'Connell added.
YouTube
In unsurprisingly virus focused news – Google has removed the moratorium on advertising alongside Corona Virus related videos. While it does mean that there will no doubt be ads running alongside some of the ridiculous conspiracy theories, it does allow channels such as (a personal favourite) Kurzgesagt will be able to earn revenue on their explainer video.
Covid SERP warning
I was checking the status of a conference I agreed to speak at (pre-apocalypse) to check it's status and saw my first alert snippet in the wild today: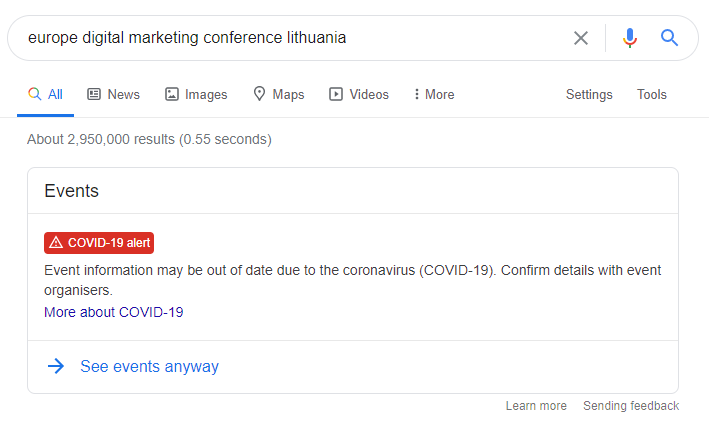 Google Partner changes postponed
Unpopular changes to the way Google confers Partner status that were to be rolled out this year have been postponed. Sadly, the delay is not due to the realisation that the demands it makes are in some cases unworkable and in others undesirable, but because of some kind of global situation currently unfolding. You can find the SEJ story here.
SEO is "good" says Google
Tweeted out by Gary Illyes, there is to be a series of posts from Google that feature case studies detailing the positive impact of SEO.
SEO is good for you.

* this post was not reviewed by the Surgeon General, side effects are unknown, take it at your own risk. https://t.co/UEGIJJ8JXx

— Socially distant Gary Illyes (@methode) April 8, 2020
SEO is "good" say loads of people
As every single content campaign is cancelled because of the apocalypse, brands will be focusing on improving their SEO, says a study quoted by Marketing Land. The study by Conductor asked around 300 people from a mix of industries how they would be responding to the virus related downturn – with SEO coming out particularly well.
Two great articles on marketing during the pandemic come from Econsultancy and Marketing Week. Good reads both – especially the Ritson piece – if you're looking to explain the worth of marketing during an economic downturn.
May
Google Ads credits for SMBs start rolling out
Starting today, Google is beginning the first phase of its program to provide $340 million in Google Ads advertising credits for eligible small and medium-sized businesses. Qualifying advertisers in New Zealand will be the first recipients of this program.
Advertisers that qualify will be notified and see the credit to be used for future advertising in their Google Ads accounts.
Google is coming for Facebook budgets with Discovery ads
Google introduced two big image-driven ad tests at its Google Marketing Live event last year. Gallery ads for Search campaigns didn't make it and are set to shuffle off this summer, but Discovery ads have emerged from testing and are now available to all advertisers globally.
Discovery campaigns quietly rolled out last month, and Google made the news official Wednesday. Discovery ads are eligible to serve across the YouTube Home and Watch Next feeds, Discover feed on the Google Search app and in Gmail Promotion and Social tabs and open up new avenues for both Google and advertisers.
After Twitter fact-check, Trump threatens to regulate or close down social media platforms
Once again, Donald Trump has doubled down. Following the addition of a fact-checking warning label added to his tweet about mail-in ballots, Trump took to the platform yet again to denounce it. In what may be his strongest words to date against a service that has largely given him free rein to this point, the president suggested that social media services would have to be regulated or shut down. Republicans have long held that social media sites harbor an anti-conservative bias.
"Republicans feel that Social Media Platforms totally silence conservatives voices," he tweeted. "We will strongly regulate, or close them down, before we can ever allow this to happen. We saw what they attempted to do, and failed, in 2016."
Google is Launching a New Video Series to Help Businesses Maximize Their Digital Marketing Opportunities
Google is launching a new video series designed to help marketers get a better understanding of key opportunities and trends, and provide updates on relevant Google ad products and tools to maximize reach and response.
As explained by Google:
"In our newest video series, The Update, Google marketing leaders and industry experts will look at what the latest data can reveal about the current climate, what your business needs to know right now, and the best methods and newest products to help you adapt to a new normal."
Facebook expects half of employees to work remotely over next five to 10 years
Facebook will permanently embrace remote work, even after coronavirus lockdowns ease, Mark Zuckerberg told employees on Thursday, accelerating the tech sector's geographic diversification away from its home in Silicon Valley.
The CEO said the world's largest social network would start "aggressively opening up remote hiring", expecting that about half its workforce would work remotely over the next five to 10 years.
"We're going to be the most forward-leaning company on remote work at our scale," Zuckerberg said in an interview with the Verge.
"We need to do this in a way that's thoughtful and responsible, so we're going to do this in a measured way. But I think that it's possible that over the next five to 10 years – maybe closer to 10 than five, but somewhere in that range – I think we could get to about half of the company working remotely permanently."
Apple and Google release marks 'watershed moment' for contact-tracing apps
Apple and Google have released a software tool that will make it possible for nations to release coronavirus contact-tracing apps that adopt the firms' privacy-centric model.
It offers developers access to added Bluetooth functionality to solve a problem existing apps have of iPhones sometimes failing to detect each other.
Android and iOS device owners will have to carry out system upgrades.
But some countries – including the UK – are pursuing a different approach.
"The release of these APIs [application programming interfaces] along with the operating-system updates will be a watershed moment for the development and adoption of proximity-tracing apps," said Marcel Salathé, an epidemiologist at the Swiss research institute EPFL.
Google hints at "nofollow" guidance update
Google's Gary Illyes has tweeted that he's working on something "to be announced" in response to a question by Search Engine Roundtable's Barry Schwartz about Google's change to its nofollow link policy (from March 2020, Google can look at a nofollow link attribute as a hint and not as a directive, when crawling and indexing).
Here are those tweets:
We don't have anything to announce to the best of my knowledge. The thing I'm working on will need to be announced, so you will have something. At one point. Some time in the future. No timeframe.

— Gary 鯨理/경리 Illyes (@methode) May 19, 2020
Bing rolls out Yes/No responses
Bing can now respond to searches with "Yes" or "No" answers for certain queries. It uses Natural Language Representation (NLR) modelling to assesses the relevance of web pages in relation to the query and reasons over and summarizes across multiple sources to arrive at an answer. Users (for now, only in the US) will see the direct answer along with a carousel of related excerpts. Given a search query, a model assesses the relevance of document passages in relation to the query and reasons over and summarizes across multiple sources to arrive at an answer
In its blog, Bing says:"… we finetuned the model to perform two separate (but complementary) tasks: assessing the relevance of a document passage in relation to the user query, and providing a conclusive Yes/No answer by reasoning over and summarising across multiple sources.
"In the following example, the query is 'can dogs eat chocolate', and we synthesize across sources to generate an unambiguous No. Thanks to the language understanding brought by NLR, the model can infer that 'chocolate is toxic to dogs' means that dogs cannot eat chocolate, even though an individual source may not explicitly say that."

Old style results for the question "can dogs eat chocolate"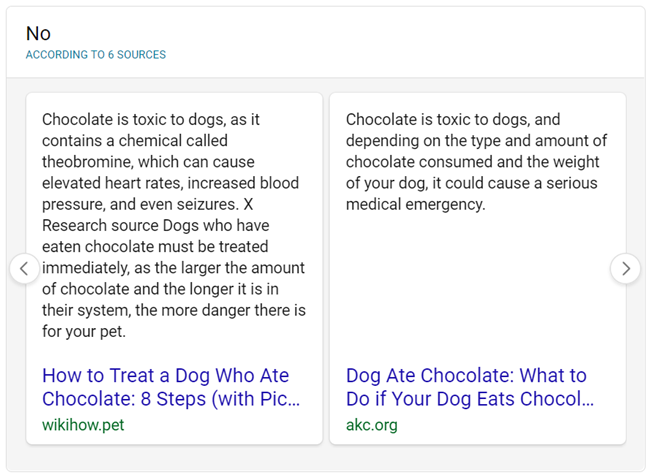 An example of the new-style results being rolled out in the US
YouTube revamps ad options
YouTube has rebranded its advertising offering, now renamed YouTube Select. YouTube Select rolls up the program formerly known as Google Preferred and connected TV viewing into a global offering. Some highlights of the new product:
Lineups. YouTube Select packages content in what it calls lineups that are tailored by market for topics such as beauty & fashion, entertainment, technology, sports, and more.
TV audience targeting. US advertisers will be able to target a dedicated streaming TV lineup for the first time, including YouTube Originals, live sports, movies, news, and content from popular creators.
Ad buying options. Advertisers will be able to buy into some YouTube Select lineups via Google Ads, Display & Video 360 and reservation in many countries, including most countries in Europe and Asia-Pacific.
Latest Google update finishes rollout
After roughly two weeks, Google said yesterday that the May 2020 core update is now finished rolling out. All indications are that this was a big update, impacting ranking across many industries and verticals.
Facebook buys GIPHY for $400 million
Facebook has acquiring the popular GIF-making and sharing platform Giphy, with plans to integrate it into Instagram and other Facebook apps. Giphy is the largest GIF-making and sharing website, with more than 700 million people seeing Giphy content every day. The platform is already integrated in many social media apps, most notably, Twitter, Pinterest, Apple's iMessage, TikTok and Reddit — most of which rely on Giphy's API and archives to let users share and post GIFs.
Messenger Rooms rolls out
Facebook's new group video chat feature Messenger Rooms officially went live at the end of last week, to compete with services like Zoom, Skype, Google Meet and Microsoft Teams. Facebook users can create a video chat room via Facebook or the Messenger app and invite up to 50 people to join a video call — even if they don't have a Facebook account. There's no time limits on calls.
Existing customers return to shopping apps
Global reattributions of shopping apps (where a user has returned to an app due to a retargeting campaign) increased by 43% month-on-month in April, data from Adjust confirms. As brands pulled back their spending on acquiring new users during March – the beginning of the coronavirus crisis for most of Europe and the US – there was a noticeable drop in shopping app installs and sessions.
However, since the beginning of April, there has been a considerable uplift in reattribution, indicating ad spend has resumed somewhat and that consumers may be gradually returning to their usual shopping habits. Statistics from the last week of April show reattribution at its highest level so far this year, proving that although new customers may be harder to come by, existing customers are being more successfully engaged by brands.
Google Chrome to crack down on battery- and data-sucking display ads
Google's Chrome browser will start blocking resource-heavy ads around the end of August, the company announced Thursday.
Ads that are programmed poorly, aren't network-optimised or mine cryptocurrency (seriously) can affect users' devices — hogging network data and draining batteries.
"We have recently discovered that a fraction of a percent of ads consume a disproportionate share of device resources, such as battery and network data, without the user knowing about it," Marshall Vale, a Chrome product manager wrote.
Twitter will now make it easier to see quote tweets on iOS
Twitter has added a new way to see how many people have retweeted a tweet and added a comment, the company announced today — but it's only available on the iOS version of the app.
The new feature organizes all of the retweets with comments into a handy list. To access it, tap on a tweet and then tap on the word "Retweets." You'll see retweets broken out into two columns — ones commenting on the retweet (or a "quote tweet") and a list of retweets with no comment.
Twitter announces employees will be allowed to work from home 'forever'
Twitter will allow its employees to work from home "forever", chief executive officer Jack Dorsey said in a company-wide email.
A spokesperson from Twitter confirmed the decision to the Guardian, saying the company was "one of the first companies to go to a work-from-home model" due to Covid-19, but does not anticipate being one of the first to return to its offices.
"We were uniquely positioned to respond quickly and allow folks to work from home given our emphasis on decentralization and supporting a distributed workforce capable of working from anywhere," the company said in a blog post.
"The past few months have proven we can make that work. So if our employees are in a role and situation that enables them to work from home and they want to continue to do so forever, we will make that happen."
Retailers can now link their PayPal and Google Merchant Center accounts
When Google announced last month that its Shopping search results would include free listings, it also announced an integration with PayPal. That integration is now live.
Retailers and brands using PayPal as a checkout option on their sites can link their PayPal accounts to their Google Merchant Center accounts in order to onboard products for listings across Google. If you're new to Google Merchant Center, the PayPal connection can also speed up the merchant verification process.
WhatsApp Web to get Messenger Rooms shortcut as part of Facebook's plan to tackle Zoom
Tech giants Microsoft, Google as well as Facebook have been trying to counter the massive increase in the user base of Zoom and the giants are now working on bettering their products to give the former a tough fight. In line with this competition, social media giant Facebook had recently launched Messenger Rooms, a video conferencing platform which allows for private conferences of up to 50 participants.
At the launch, Facebook had said that the video conferencing solution would be integrated with Facebook's other products, including Instagram and WhatsApp. Now, according to WABetaInfo, a Messenger Rooms shortcut has been added to WhatsApp Web version 2.2019.6. Currently, WhatsApp Web does not support video calling even as the video calling feature has been present on the mobile app for a long time now.
New Google 'Rising Retail Categories' tool exposes fast-growing product searches
During the COVID-19 lockdowns consumer behavior has changed dramatically. Needs-driven spending has largely replaced discretionary spending; online shopping — sometimes with curbside pickup — has supplanted in-store buying. And all this may soon change again, as local economies and retailers "open up."
In the current crisis, product search is an area that is dynamic and rapidly evolving, according to Google. So the company is introducing what it's calling Rising Retail Categories, within the ThinkWithGoogle domain. Google said, in a blog post announcing the new tool, "we've heard from our retail and brand manufacturing partners that they are hungry for more insights on how consumer interests are changing, given dynamic fluctuations in consumer demand."
Facebook and Google extend working from home to end of year
Facebook and Google have said they will let employees continue working from home for the rest of the year. The tech giants have announced plans to reopen their offices soon but are allowing more home working flexibility.
Google originally said it would keep its work from home policy until 1 June, but is extending it for seven more months.
Facebook said it would reopen its offices on 6 July as coronavirus lockdowns are gradually lifted.
Google chief executive Sundar Pichai said that employees who need to return to the office will start being able to do so from July with enhanced safety measures in place.
But the majority of employees who can carry out their jobs from home will be able to do so until the end of the year, Mr Pichai added.
Google Chrome update brings a transformative feature from Android to your PC
Google Chrome users can look forward to enjoying one of the most recent additions to the Android operating system – the ability to add subtitles in real-time – on their desktop and laptops for the first time.
The new addition comes courtesy of a software update from Google, which is available in Chrome Canary – a version of the browser app for those who want to beta test the latest features.
Just like on Android, users will be able to switch-on the feature for any media playing within the Chrome browser on desktop.
Facebook update crashes TikTok
Facebook has apologised after its latest software update crashed rival apps on iPhones and iPads.
Popular apps such as dating service Tinder, music-streaming app Spotify and video platform TikTok were among those rendered unusable.
The problem affected apps that had integrated the "login with Facebook" feature, which eliminates the need for a separate username and password.
Facebook said it had "identified the issue quickly and resolved it".
A new study from Sprout Social has shown that consumers expect brands to be active on social media. The consumers who connect with brands on social media are among the most loyal consumers, with 9 in 10 state that they buy from brands they follow. Even better, they usually spend more than other consumers.
When considering social media marketing, it becomes clear that marketers and consumers have different objectives and expectations. For a majority of marketers (69%), boosting brand awareness is their number one goal with social media, ahead of increasing web traffic (52%), and growing their audience (46%).
But consumers are looking for something else, a more intimate relationship with the brands they love. For them, engagement with the audience is the most important (61%), followed by transparency (45%) and strong customer service (44%). 40% expect brands to respond within the first hour, with 79% saying that they find it unacceptable to kept waiting longer than 24 hours.
Google Search Console now supports SpecialAnnouncement schema
Google has announced it support for SpecialAnnouncement in Google Search Console, including new reports to help you find any issues with your implementation and monitor how this rich result type is performing. Google with also support the markup on the Rich Results Test to review your existing URLs or debug your markup code before moving it to production.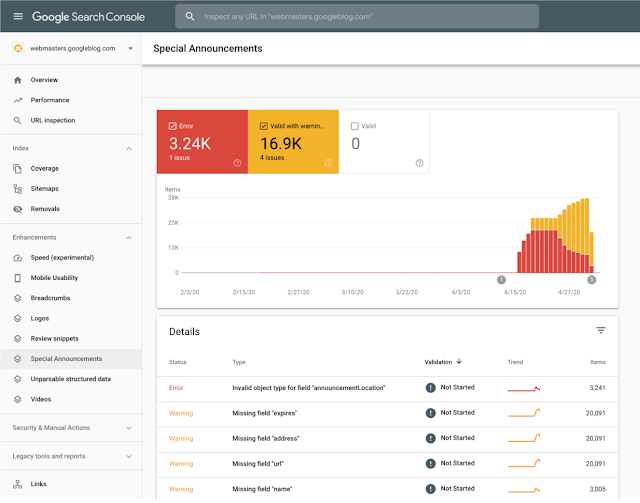 Source: Google
Google: May 2020 Core Update
Google's Danny Sullivan last night announced the roll-out of a Core Update:
The May 2020 Core Update is now rolling out live. As is typical with these updates, it will typically take about one to two weeks to fully roll out.

— Google SearchLiaison (@searchliaison) May 4, 2020
Google makes significant, broad changes to its search algorithms and systems designed to ensure it delivers relevant and authoritative content to searchers. They typically produce some widely notable effects; some sites may note drops or gains during them.
Equilibrium for digital ads
The digital advertising market appears to have settled into a holding pattern after demand for inventory on Facebook and Google plunged in March amid lockdown measures, Campaign reports. While the key cost-per-click and cost-per-thousand metrics are not yet showing price increases, several sources have told Campaign that they are broadly holding steady across UK, European and North American markets. Asia, whose countries have begun to ease lockdown restrictions, are seeing an increase in prices as economic activity picks up.
2.7 billion bad ads removed in 2019
Google blocked and removed 2.7 billion bad ads in 2019 – equivalent to more than 5,000 bad ads per minute – and suspended nearly one million advertiser accounts for policy violations.
This is a 17% increase on the 2.3 billion bad ads that Google said it removed in 2018. It also terminated more than 1.2 million publisher accounts and removed ads from more than 21 million web pages that are part of its publisher network for violating its policies.
In a blog post, Scott Spencer, VP of Product Management, Ads Privacy and Safety at Google, said:
Maintaining trust in the digital advertising ecosystem is a top priority for Google. And with global health concerns now top of mind for everyone, preparing for and responding to attempts to take advantage of our users is as important as it has ever been. We know abuse tactics will continue evolving and new societal issues will arise. In response, we'll continue to make sure we're protecting our users, advertisers, and publishers from bad actors across our advertising platforms
Common violations include:
Phishing, intended collect personal information from users under false pretences.
'Trick-to-click' ads, designed to trick people into interacting with them by using prominent links (for example, 'click here') often designed to look like computer or mobile phone system warnings.
Personal loan ads with misleading information on lending terms, which have become more prominent as more consumers turn to online financial services over brick-and-mortar locations.
Upper vs lower funnels ads: where should brands be investing?
Search Engine Land has published a discussion on upper funnel (branding and awareness) vs bottom of the funnel (performance/conversions) advertising, citing that while research shows a case for the latter (with results being more immediate), "new consumer data from Survata makes a strong case for brand marketing and argues that trusted brands are winning during the pandemic. That survey and other evidence point to brand visibility being more important than ever — and that brands that continue to build awareness will emerge stronger".
Merchant Center releases Price Competitiveness Insights
Google has released the Price Competitiveness Insights beta in the Merchant Center, giving advertisers new information to understand how their pricing stacks up against the competition. The dashboard, found under the Growth > Price Competitiveness tab, provides a visual summary of your price competitiveness with options to drill down by product type, brand, category, and product.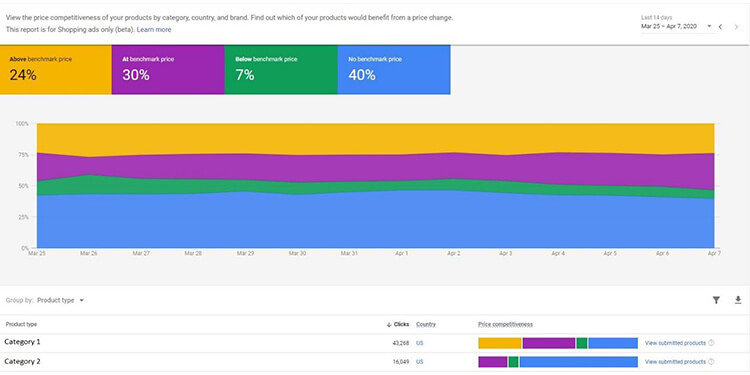 Source: Merkle blog
The data is intended to help advertisers:
Explaining performance trends.
Give insights to merchandising and pricing teams.
Inform bidding strategies.
June
Google tests showing Analytics data in Search Console with 'Insights'
Google is testing a new feature in Google Search Console called Google Search Console Insights. It gives Search Console users deeper reporting into the performance of the site and its pages, including page views, average time on page, referring sites information and more from Google Analytics.
Google Search Console Insights. Google has not officially announced anything about Google Search Console Insights, but Search Engine Land obtained information on this new feature from various sources. Users can get Google Analytics data right in Search Console, including:
Pages views overall.
Page views of individual pages.
Average time spend on the site overall.
Average time spend on individual pages.
Traffic to your site from organic search versus social versus direct traffic.
Top referring links from other web sites.
Newest referring links from other web sites.
Social media traffic broken down by each site, such as Pinterest, Instagram, Facebook, Twitter, etc.
Microsoft launches a free Search and Social campaign management platform for SMBs
Microsoft's Digital Marketing Center is moving past pilot stage, the company announced. The platform is designed to help small and medium-sized businesses manage digital campaigns across multiple networks from one interface.
Digital Marketing Center enables small businesses to manage organic social media and paid search and social campaigns across Microsoft, Google, Facebook and Instagram, and Twitter's ad platforms. The product came out of the company's experimental project lab, Microsoft Garage.
Similar to Google Smart campaigns, which aim to simplify campaign set up and management for SMBs, Digital Marketing Center uses Microsoft AI to power ad keyword and audience targeting and bidding. Advertisers set their goals, location targeting and budgets.
Unlike Smart campaigns, in Digital Marketing Center, advertisers can choose to build their own ads, use automated ad copy or modify auto-suggestions.
Budgets are automatically optimized across channels and platforms.
Bing brings visual search to product ads
Bing has added new visual search features to its sponsored Shopping results, the company announced Thursday. Users can click on the visual search icon in the Shopping search bar or in a product result to search for visually similar items. This feature has launched for clothing and shoes, with an expansion into home decor planned for the near future.
Facebook will show users a pop-up warning before they share an outdated story
Facebook announced Thursday that it would introduce a notification screen warning users if they try to share content that's more than 90 days old. They'll be given the choice to "go back" or to click through if they'd still like to share the story knowing that it isn't fresh.
Facebook acknowledged that old stories shared out of their original context play a role in spreading misinformation. The social media company said "news publishers in particular" have expressed concern about old stories being recirculated as though they're breaking news.
"Over the past several months, our internal research found that the timeliness of an article is an important piece of context that helps people decide what to read, trust and share," Facebook Vice President of Feed and Stories John Hegeman wrote on the company's blog.
Google will now auto-delete your location history after 18 months
Ahead of next week's California Consumer Privacy Act (CCPA) enforcement deadline of July 1, Google announced a number of new privacy updates. The company doesn't mention CCPA in its blog post, but the timing is probably not entirely coincidental.
The primary announcement concerns Google Location History and a new 18 month, default auto-delete policy. Location history is opt-in (it wasn't always). But if it's turned on, user location data will now automatically be deleted after 18 months. Users can also delete their location data manually or set auto-delete to happen at three month intervals.
Today, auto-delete must be activated by the user. That will no longer be the case going forward. This is part of a broader set of moves by Google to give users more control over their (location) data over the past year or so after several location-data related scandals.
Google upgrades enterprise messaging capabilities in Maps and Search
Google Messaging has been a better idea than experience, perhaps until now. The company announced that it was upgrading the capabilities of messaging for enterprises in Maps and Search.
Google said today that it was expanding the business categories that would have access to messaging. It was also adding product features: "smart replies, visual product carousels, and unique welcome messages." Google says that messaging on its platform (Android and Maps for iOS) can also smoothly transition from automated replies to a live agent if needed.
Google agrees to start paying for news content
European news publishers and governments have been trying to get Google to pay them to license content for years. There have been legal and legislative fights and tortured battles over copyright laws. After fighting the idea of paying publishers to display or link to their content, Google is now ready to comply.
Google said earlier in a blog post that the company would begin paying "for high-quality content for a new news experience launching later this year." It didn't disclose any further information beyond the fact that the program will be part of "an enhanced storytelling experience that lets people go deeper into more complex stories."
Google says it has signed licensing deals with both local and national publishers in three countries so far: Germany, Australia and Brazil, "with more coming soon." Specific deal terms have not been disclosed, nor have any selection or participation criteria beyond the phrase "high quality."
Microsoft launches a free Search and Social campaign management platform for SMBs
Microsoft's Digital Marketing Center is heading into a pilot stage that is accepting new participants. The platform is designed to help small and medium-sized businesses manage digital campaigns across multiple networks from one interface.
Digital Marketing Center enables small businesses to manage organic social media and paid search and social campaigns across Microsoft, Google, Facebook and Instagram, and Twitter's ad platforms. The product came out of the company's experimental project lab, Microsoft Garage.
Similar to Google Smart campaigns, which aim to simplify campaign set up and management for SMBs, Digital Marketing Center uses Microsoft AI to power ad keyword and audience targeting and bidding. Advertisers set their goals, location targeting and budgets.
Unlike Smart campaigns, in Digital Marketing Center, advertisers can choose to build their own ads, use automated ad copy or modify auto-suggestions.
Budgets are automatically optimized across channels and platforms.
Google confirms fixing issue with indexing Disqus comments
Google's Martin Splitt confirmed earlier this week that Google has fixed an issue with indexing and ranking some content found within the Disqus commenting platform. It is not clear how many sites were impacted by this issue, but Google said it is now resolved.
It is not exactly clear how long Google had issues indexing Disqus comments. When Disqus first launched, I know many blog platforms that wanted their comments visible to Google had to use workarounds to get them indexed. But as Google became better at rendering JavaScript, it began to index most Disqus comments by default. But not all.
Former Google ad boss to launch new search engine Neeva
Over the past two decades, various upstart search engines have tried to take on Google and largely failed – including Microsoft's Bing. And notwithstanding the recent crop of privacy search players lead by DuckDuckGo, the time may finally be ripe for a true competitive challenge.
That challenge may come from Sridhar Ramaswamy, who formerly ran Google's massive ad business. Ramaswamy left Google in 2018 and was succeeded by Prabhakar Raghavan, who now runs Google search. Ads is also part of Raghavan's new charge.
Ramaswamy is getting ready to unveil a new search engine and direct competitor to Google called Neeva, according to the New York Times.
The first major differentiator is that it will not have advertising and be subscription-supported. It will not track users and it will be personalized. Personalization will reportedly be accomplished without data mining. Neeva has so far raised $37.5 million and has 25 employees.
Neeva won't reinvent the search wheel; it will sit on top of existing content and data sources: Bing search results, Apple Maps, weather.com and other data sources. Neeva will also search personal files like email and "local" documents along with the web.
Google launches Keen, a new personalized search-discovery-social mashup
To the extent that tech pundits continue to compare Google's new Keen search and social discovery site to Pinterest, and users also think of it that way, it's probably destined to fail. Google famously doesn't promote and ultimately shutters most of these "experiments."
For Keen to survive, let alone succeed, Google will need to reframe and differentiate it from Pinterest — as a tool for persistent, personalized search and as a broad content repository for later consumption. It recalls the days of personal start pages and personalized content archives like iGoogle and Yahoo's MyWeb and MyYahoo or Mozilla's newer Pocket, which I'll get to in a bit.
Keen was developed by Google's Area 120 group. It was created in conjunction with Google's People and AI Research team, "dedicated to human-centered machine learning systems," project co-founder CJ Adams wrote in an inaugural blog post.
Youtube brings products to YouTube for action ads
YouTube says the number of advertisers using TrueView for action, the ads designed for performance advertisers with calls-to-action, increased by more than 260% last year. Now it's bringing product selection to these ads.
In a new test, ecommerce advertisers can show products in their TrueView for action ads. When the users click on the expansion arrow in a TrueView for action banner, a selection of products appears below the video.
This test essentially merges the TrueView for action banner with the product listings of TrueView for shoppinng ads. You'll need to have your Google Merchant Center account linked to your Google Ads account.
Nextdoor rolls out free Business Posts
Nextdoor introduced Business Posts this week. This is one of a number of tools and features the company has rolled out to support small business owners during COVID-19.
Business Posts are free to owners but require a claimed local business page to begin. They appear in the Nextdoor neighborhood newsfeed.
The company says Business Posts will "reach all neighbors within two miles of your business." That appears to be the maximum radius, so it won't address the needs of all service area businesses. I imagine, however, that Nextdoor will make adjustments as they look at the data and receive feedback from business owners.
Businesses get two posts per month for free. The company was silent on whether there would be a paid option for greater frequency.
Google adding local store details to Shopping
Google announced several features and updates Wednesday aimed at helping small and brick-and-mortar businesses re-emerge as local economies begin reopening.
Noting some of the ways changing consumer behavior during the coronavirus pandemic has impacted local businesses, Google said searches for "curbside pickup" and "in-stock" surged by more than 70 percent in recent months. And searches for local services have risen by 50%.
There is now another reason for retailers to update their Google My Business listings and create local product feeds. Starting today, local store information including product availability, locations and options such as curbside pickup or delivery will appear in the on Google Search Shopping tab in all countries where it's available.
Google fast-tracked adding free listings to Google Shopping in April due to the coronavirus crisis. The local inventory information will be available for both ads and free listings in the Google Shopping tab.
Yelp offers upgraded COVID reopening tools for local businesses
Yelp has arguably gone further than Google in providing specialized communication tools for local businesses during COVID-19. And Tuesday, the company announced a number of new features specifically for businesses and restaurants reopening now.
Described as "phase two" of its COVID tools rollout, Yelp is introducing a new COVID-19 section on business profiles, which expands upon the previous COVID-19 banner rolled out in March. It offers a larger canvas to communicate changes, updates and important health and safety information to customers.
Restaurants, for example, can communicate whether they have resumed dine-in service or have outdoor seating. Other categories of businesses can also indicate whether they offer virtual classes or online consultations.
Local SEOs most focused on link building, Moz report finds
In addition to organic tactics, nearly 80% of local marketers are buying ads on Google. That's 10% more than last year, according a newly released survey of 1,300 local marketing agencies, small businesses (SMBs) and multi-location enterprises from Moz.
The survey asked a wide range of questions; among other topics, about the impact of COVID-19 on marketing budgets. The majority (70%+) said they were dealing with cuts, though "74% believe that business-as-usual will return within a year of safety orders being lifted." Paid media, social and localized web content were more often cut than SEO, though local link building was in the middle of the list.
Asked what SERP features they were most focused on, these marketers responded: 1) featured snippets, 2) local packs, 3) Google Business Profile and 4) "we don't have a SERP feature strategy." Consistent with the zero-click narrative, 77% of respondents said they agreed with the statement that Google (Business Profiles) are "the new homepage" for local businesses.
Facebook intros new knowledge panel-like information boxes
Facebook has introduced knowledge panel-like information boxes into its search results for certain queries. The information within the boxes are sourced from Wikipedia.
Facebook's search engine has focused primarily on connecting users with content that lives on its platform (the pages of other users, brand pages, local businesses and so on). However, Facebook CEO Mark Zuckerberg has said, "Search for Facebook is going to be a multiyear voyage"; that was back in 2014.
While it's unclear whether these kinds of features were what he had in mind back then, they may aid Facebook's current efforts against misinformation by making it easier for users to look up sources without having to leave the platform.
Google webspam report released – our top takeaways
Google discovers more than 25 billion spammy pages a day, according to its annual webspam report released this week. The company also published a companion post on why it's important to keep spam out of search results.
Our Director of Search, Alan Reeves, highlighted the following as the key takeaways:
More than 25 Billion pages Google discover each day are spammy
More than 99% of visits from SERP lead to spam-free experiences
Link spam continued to be a popular more than 90% of link spam was caught by Google's systems, and techniques such as paid links or link exchange have been made less effective.
User-generated spam didn't grow in 2019 and Hacked spam, while still a commonly observed challenge, has been more stable compared to previous years
Had an increase in spammy sites with auto-generated and scraped content with behaviors that annoy or harm searchers, such as fake buttons, overwhelming ads, suspicious redirects and malware.
Google received nearly 230,000 reports of search spam in 2019, and we were able to take action on 82% of those reports we processed (doesn't say how many processed).
Google sent more than 90 million messages to website owners to let them know about issue, 4.3 million were related to manual actions
(Apparently) the new rel= attributes were well received and adopted by webmasters around the world!
Google to allow removal of counterfeit goods from search results
Google is now allowing users to report counterfeit goods within the organic/free Google search results for removal. This works similar to the DMCA process, where you can request removal of stolen copyrighted content from Google's search results.
Google Ads already prohibits such products from being advertised on Google and it describes counterfeit goods as goods that "contain a trademark or logo that is identical to or substantially indistinguishable from the trademark of another. They mimic the brand features of the product in an attempt to pass themselves off as a genuine product of the brand owner.
Google has told Search Engine Land that this is fully manually at the time being. Similar to DMCA request takedowns, this is a manual process. Google will require you to submit a takedown request, a Google employee will review the request and decide to take down the content or not.
But overtime Google will use these submissions to develop ranking algorithms and systems that will help Google further limit the visibility of sites that are consistently found to be selling counterfeit goods. This will help Google more algorithmically stop counterfeit goods from getting into the Google organic results.
Google Search Console performance report gets recipe filters
Google has added new filter options to the performance reports within Google Search Console. If you use recipe markup, Google may give you the ability to filter your performance report within the "search appearance" options.
You can access the filters by logging into Google Search Console. Then click on the "performance report" and then select the "+New" option to select "search appearance…" Within those options, you might see two new filters for recipe:
Recipe Gallery
Recipe rich results
Head of Google Ads to run Search
Google announced Prabhakar Raghavan, former head of Google Ads, is changing roles to head Google Search while simultaneously overseeing Ads. The move diminishes the traditional separation of product teams and has SEOs concerned about how it might affect organic search results.
The past and current behaviors, along with the perceived failsafe of historical separation of Google products, is why many veteran SEOs recoiled when they read the announcement that Google was promoting the head of Google Ads to be the head of Google Search. The announcement was made even worse when they learned the new head of Google Ads would be reporting to the head of Google Search.
Google lets you text 'Plus Codes' that reveal your exact location
If you struggle to share obscure locations with your friends and family on Google Maps, there's a little-known feature that just might help.
"Plus Codes" are digital addresses that Google gives locations, and you can use them to pinpoint places that otherwise don't appear on its apps. The codes rolled out in 2018 work on both iPhone and Android across Google Maps, Chrome and the Google search engine itself.
It's thought that the codes could be handy for people indulging in remote walks and camping for example, and could even act as a safety feature.
Twitter puts fact-checking label on tweets linking 5G with coronavirus
Twitter is adding fact-checking labels to tweets that wrongly link new superfast 5G mobile networks with the coronavirus.
Instead of deleting or hiding such tweets, Twitter is showing a message on them that reads "Get the facts on Covid-19." When clicked on, users are taken to a page titled "No 5G isn't causing coronavirus" which debunks the conspiracy theory by linking to credible media websites and other official sources.
In a statement sent to CNBC, a Twitter spokesperson said: "We're prioritising the removal of COVID-19 content when it has a call to action that could potentially cause harm. As we've said previously, we will not take enforcement action on every Tweet that contains incomplete or disputed information about COVID-19."
Bing Webmaster Tools new Site Scan feature finds SEO issues
There is a new feature that was just released in the new version of Bing Webmaster Tools, it is called Site Scan. Site Scan is a site audit tool which crawls your site and checks for common technical SEO issues.
You can access this in the new Bing Webmaster Tools over here.
Bing said "Site Scan is an on-demand site audit tool which crawls your site and checks for common technical SEO issues. Fixing these issues will make your website search engine and user friendly. With this tool, you can improve your website performance not only on Bing but on other search engines as well."
How does it work. You go to the Site Scan feature, then click on "Start new scan." Enter in the name of the scan, the scope of the scan, the limit of pages you want Bing to scan and even more.
Search Engine Land have outlined the details of the report here and the types of result that you can generate.
What does it tell you. The scan detail report will find common SEO issues. It will give you:
Scan Status
Number of pages scanned
Number of Errors
Number of Warnings
List of issues found, their severity and the number of pages affected
The report is broken down into:
Errors: These are the most critical issues we found on your website. You should prioritize resolving these issues as they can impact indexability of your website.
Warnings: These are the issues with medium severity which might impact your SEO health.
Notices: These are lowest severity issues or recommendations which you can investigate after solving all the errors and warnings.
SEMRush drops paid guest blogging service after Google policy scrutiny
SEMrush, a very popular SEO toolset, came under scrutiny in the SEO industry this week when its content marketplace added guest blogging services that highlighted natural links as a benefit to the service. This ultimately resulted in SEMrush dropping the service from its website.
SEMRush removed the guest blogging page from its site, which previously said: "The Guest Posting service from SEMrush Marketplace provides you with a cascade of high-quality, natural links to your site, boosting your rankings and helping you get more organic traffic. Without doing any research or routine work yourself, you can order unique content with an integrated backlink to your site, which is then placed on a relevant site within your niche."
Google My Business offers more flexibility with business hours
Google My Business has launched a new feature to give local businesses more flexibility with their business hours that reflect ways they're adapting for social distancing as they start to reopen.
You can now set up "more hours" in Google My Business with special times for seniors, pickup, kitchen, and more. You can even set these hours by day of the week and multiple times per day.
How it works. You will need to login to your business profile in Google My Business.
On your computer, sign in to Google My Business.
If you have multiple locations, open the location you'd like to manage.
Click Info.
Next to "More hours" click Edit Edit pencil.
In the "More hours" box under "Add hours," click on the type of hours that are applicable.
Next to the day of the week you want to change, check the box and enter your hours.
After you entered all hours, click Apply.

Some of the options can be seen above.
Google launches featured snippet to web page content highlight feature
For the past couple of years Google has tested highlighting content on a web page based on clicking on a featured snippet from the Google search results. This was being tested both on desktop and mobile.
This is now live and works on most Google featured snippets and on most web browsers. Danny Sullivan from Google said on Twitter this feature went live last week after years of testing. Danny said "we've done this regularly with AMP pages since December 2018. We tested with HTML pages last year, as noted. We now do it regularly HTML pages, since last week."
Smart Bidding is becoming smarter
In our weekly catch up with Click Consult's Head of Paid Media, Dave Karellen, he noted that the largest update so far this month was that smart bidding was getting smarter.
He said that this is, for once, on the surface at least, is a wholly positive move as it gives businesses more flexibility to adjust bid strategies.
Dave referred to the update from Google, which said: "Today's guidance revision is a huge leap forward and highlights in no uncertain terms the confidence our Product Team has in our bidding strategies.
"We've historically had a conservative view on how frequently customers can change targets. This will no longer be the case for Google Ads or SA360 automated bidding. From now on "customers should feel comfortable changing CPA and ROAS targets as frequently as they would like, with changes of as large a magnitude as they would like in order to meet their business objectives (e.g., to adjust to a changing market, or to manage spend). We recommend customers make target changes that are aligned with their business objective (e.g. to adjust spend or optimize to a new ROI goal), and use tools like target simulator to forecast the impact of a change.
"'Changing targets does not put the bidding strategy back into learning mode. The bid strategy is always 'learning' by definition, and constantly updating predictions as conversions are reported.""
Did you see Google local ranking changes in early May? It could be a bug…
At the end of April and in early May, the local SEO community were noticing a lot of ongoing fluctuations and volatility with the Google local search results both in Google Search and Google Maps. It turns out, this was not the result of an algorithmic update but rather a bug.
Danny Sullivan of Google said last week, "Just wanted to update. Thanks for the examples. They helped us find a bug that we got resolved about about [sic] two weeks ago, and that seems to have stabilised things since."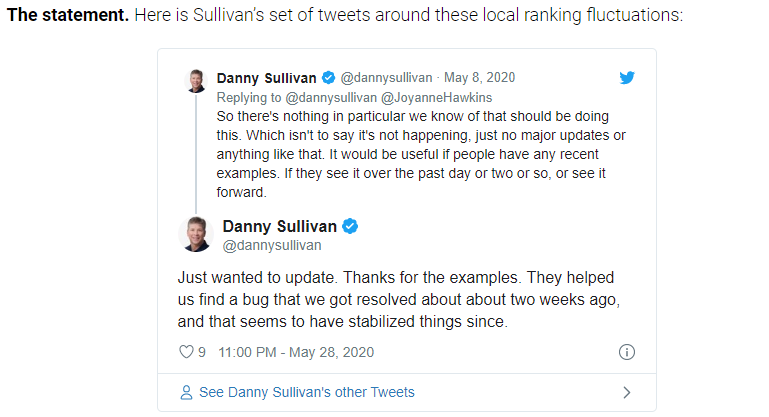 Sometimes, just sometimes, changes you see in search rankings have nothing to do with you. Sometimes Google makes mistakes. The local rankings have been much more stable over the past couple of weeks since Google fixed this particular bug.
Survey looks at how the global lockdown is changing user behavior and digital consumption
The outbreak of the COVID-19 pandemic has pushed the world to stay inside their homes. This has further forced them to spend more time reading, streaming, and consuming online content. As per a report, the number of minutes spent by readers on news sites has increased by roughly 46% when compared to the data pertaining to the same time last year. With social distancing and self-isolation being practised by a major part of the world's population, this has become the new normal.
Social media apps, online games, streaming content, and other digital media content together have managed to take away the maximum share for the time users are spending in the Lockdown period.
Here are the key findings:
Social media apps, online games, st

reaming content, and other digital media content together have managed to take away the maximum share for the time users are spending in the Lockdown period.

Ecommerce

is the "new normal", we will see a huge shift in the buying-selling sector after the world has recovered from COVID-19.

Apps and services with a subscription model are seeing a rise in their revenue.

As per a

report

by the Guardian for the UK,

Facebook

has witnessed 300 new local

Coronavirus

support groups, whose combined membership now totals more than a million people.

More detailed pointers on how global lockdown is changing user behavior and digital media consumption.
August
The average GMB profile has 73 reviews, 45 photos, 5 Posts and a star rating of 4.08
Google My Business (GMB) optimization has become critical for brands and small businesses alike as the gateway to offline and, increasingly, online conversions. Google Search and Maps (especially) are often the first points of contact for millions of consumers with businesses that have physical locations, as well as service-area businesses.
One of the questions I've asked repeatedly over the past few years is "how many businesses have verified their listings on GMB?" Places Scout in 2019 analyzed 2.4 million business listings in over 30 categories and came up with an answer: 62.2%. A 2020 analysis of 800,000 listings by Whitespark found a lower number: 49%.
The Places Scout study contains a wealth of valuable GMB benchmarking information. Here are some of the numbers.
According to the study, the average GMB profile is 72% complete. Sixty-one percent have business hours posted and 93% feature a business phone number. Seventy-three percent have a URL, but only 29% on average have a business description. The average description length is roughly 231 words.
Google tests reporting of false positives in Search Console
Let's say your site was flagged by Google search as having a security issue, be it malware or maybe your site appeared to be hacked. Google is now testing a feature to let you request that Google review the site and the specific security issue if you think Google mistakenly identified your site as having such a security issue.
"We're piloting a new reporting system beginning with security issues," Google said on Twitter. There is a new "Report a Security Issue" button on the security issues help page where site owners can report potential false positives or request a re-review of the security issue.
Google's new AdSense Reports page makes it easier to visualise data
Google has launched a new AdSense reporting page, the company announced Tuesday. The new Reports page will be rolling out in phases and it could be up to two weeks before it reaches all publishers.
Google has restricted reporting data to the last three years for all AdSense products. With the exception of billing and payments data, it has also removed all AdMob and YouTube reporting data. This limitation will make reports more accurate, Google said.
Historic data can still be downloaded from the old Reports page or the new Reports page, where it will be accessible until the end of 2020.
Publishers will be automatically opted into the new Reports page when their accounts are updated. However, the previous iteration of the Reports page will remain accessible until the end of September.
The AdSense API will be upgraded in 2021 with more parameters and signals. Over the next year, Google will prioritize enabling publishers to get more insights from the data they already have by contextualizing reporting data with suggestions.
The new Reports interface should make it easier for publishers to manipulate and visualize their data. It also adds more in-product help via hover-over information icons. These improvements can help publishers identify trends, compare important metrics and learn more about how their account is performing.
Google makes it easier to control Shopping ads by country
If your Google product feeds are set to show products across multiple countries, there's a new feed field to give you some more flexibility.
You can now use the shopping_ads_excluded_country attribute to keep some products from showing in certain countries you're targeting, Google announced this month. That attribute will override the country targeting set at the feed level.
If the U.S. is your primary country of sale, and you've added Canada and Mexico as additional countries of sale in Merchant Center, you can use the shopping_ads_excluded_country attribute to exclude certain products from being advertised in Canada or Mexico Shopping results.
With this attribute, you don't have to create separate feeds for each country in order to control which products show where.
Google launches 'people cards' in Search
Google has launched public search profile cards for individuals in India, the company announced.
Known as "people cards," the new feature has already begun rolling out in English for mobile users in India.
People cards may increase visibility for personal brands by making a knowledge panel-like list of links and information about an individual available to potential customers, clients and/or employers right from the search results.
Individuals that have claimed their people card can add details such as a personal description, their occupation, employer, location, profile avatar, phone number, website and social media accounts. This curated information may help people card owners influence their customer journey.
Facebook redesign will be rolled out next week
Facebook has slowly been rolling out a redesigned version for desktop, and will enforce the change for all users from next month.
The 'new' Facebook was introduced back in May, and has a much more minimalist design than the previous version.
The top of the website has been changed from blue to white, and includes light grey icons for the News Feed, Facebook Messenger, notifications, Watch, Marketplace and Groups.
Facebook's logo has also been changed, with the letter 'F' now in a brighter and lighter blue circle. Another change is that Facebook Stories used to appear on the right of the page, these have now been moved to the middle, and are represented by rectangles rather than circles.
Unfortunately, according to the Daily Mirror, the initial response to the redesign hasn't been great.
One user tweeted: "This facebook redesign might give me the final push just to delete the stupid thing."
Another added: "Whoever worked on Facebook's redesign needs sacking. Yuck."
Google to launch 'enhanced news storytelling' project with licensed content
Google's history with news publishers is, to say the least, complicated. The company historically has resisted paying licensing fees for news, arguing that it was delivering considerable value to publishers in the form of traffic. But some publishers (e.g., Rupert Murdoch) have complained over the years that Google was actually "siphoning" their ad revenues, eroding their brands and hurting subscriptions.
European regulators and legislators tried for several years to force Google to pay publishers with more restrictive copyright laws and lawsuits, which didn't really work. However French antitrust authorities recently ordered Google to pay for news content and work out a deal with publishers.
This years-long back-and-forth, against the economic backdrop of traditional news media decline, has helped evolve Google's position. More recently the company has sought to be a better partner to publishers. In that spirit it launched the Google News Initiative in 2018 "to help build a more sustainable future for news via programs like Subscribe with Google and the Local Experiments Project."
In June of this year Google announced a news-content licensing program "to pay publishers for high-quality content for a new news experience launching later this year." Google says this new initiative will feature "an enhanced storytelling experience that lets people go deeper into more complex stories." It began testing this program in Germany, Brazil and Australia.
This new product will reportedly live side-by-side with Google News and won't replace it.
Yelp's updated 'Request a Quote' and new 'Nearby Jobs' provide lead-gen for SMBs
Yelp introduced "Request a Quote" business messaging in 2016. In the interim, the company added capabilities and is now reintroducing it as a more full-featured lead-generation and business matching tool with appointment booking.
Yelp is also launching "Nearby Jobs" for local services businesses, which gives them the ability to access a flow of local leads a part of a $240 monthly subscription. Businesses can proactively reach out to interested consumers based on a feed of local projects and service requests.
More than 60 business categories now offer Request a Quote, featuring a newly revamped lead-gen questionnaire. That will grow to 100 in the near future, according to Yelp Product Lead Yue Wu. Those include auto repair, movers, photography, salons, pet groomers, realtors, child care, home services, professional services and contractors, among others.
Bing Shopping opens up to free product listings
Organic product listings are now available in the Bing Shopping tab, Microsoft announced Monday. They are currently offered to Microsoft Merchant Center store owners with approved offers, and will launch with a small volume of traffic this month.
The ability to promote products for free is currently only available to merchants in the U.S., but will also eventually roll out to those in the UK, Canada, Australia, France and Germany.
Microsoft Shopping Campaigns customers do not need to take any action to participate and all approved product offers in Microsoft Merchant Center are automatically opted into free product listings. Clicks from the Product Listings section of the Shopping tab are free; retailers do not need to pay Microsoft for them.
Microsoft encourages merchants to submit detailed product feeds as a data source for these organic listings. Merchants that do not wish to participate can opt out from the Settings page of their merchant center store.
Google and Firefox renew their 'default search' partnership
Google and Mozilla's Firefox need one another. That was recently reaffirmed in the decision to extend their 2017 search partnership, which was set to expire this year.
Mozilla gets most of its revenue from search partnerships, the most important of which is Google — the latter is the default search engine for Firefox in North America. Google needs Firefox as a competitor in the browser segment, which it dominates globally. Google's browser is under antitrust scrutiny in both Europe and the U.S.
Failure to extend the search deal with Google could have been a potentially existential blow to Mozilla, which has laid off 320 employees since the beginning of the year. As part of that, last week the company reduced its workforce by 250.
COVID-19 has put pressure on the browser company and it now needs to accelerate revenue diversification to survive over the long term.
Google Performance Planner adds support for conversion delay and shared budgets
Google has added three new features to Performance Planner, its ad campaign forecasting tool, the company announced Monday. Performance Planner can now account for conversion delay and supports shared budgets across search campaigns as well as campaign plans that can be viewed and edited by other stakeholders.
Writing for SEL, George Nguyen said we should care because: "Being able to account for the lag between when a user clicks on an ad and when they perform a conversion action can help advertisers get more accurate campaign projections. Shared budget projections may also make the Performance Planner tool more useful for advertisers managing their campaigns that way. And, enabling advertisers to share their performance plans supports collaboration with other stakeholders."
Google Search Console Insights for content creators
After being under the radar for a couple of months, Google has confirmed the new Google Search Console Insights according to Barry Schwartz for Search Engine Land. Search Console Insights is a new view of your data specifically "tailored for content creators and publishers," Google said. It can help content creators understand how audiences discover their site's content and what resonates with their audiences.
Search Console Insights uses both Search Console and Google Analytics data in one view. Google announced the beta to
day on Twitter, saying, "Today we're starting to roll out a new experience to beta testers: Search Console Insights. It's a way to provide content creators with the data they need to make informed decisions and improve their content."
Facebook launches free 'paid online events' for SMBs and others
Facebook wants to help small businesses (SMBs) survive the COVID crisis — and make money.
A few months ago, the company announced $100M in cash grants and ad credits for SMBs. It later introduced Facebook Shops to help SMBs sell online. And today it announced a new product to monetize classes and online events called, matter-of-factly, "paid online events."
Potentially powerful new channel. Paid online events is currently a free product that enables "businesses, creators, educators and media publishers" to set up paid events or classes online and keep 100% the revenue themselves — except on iOS, where event hosts must give up the 30% "App-Store tax," as Facebook called it.
The offering is self-contained: hosting, promotion, ticket sales and payment processing are all provided. Businesses, publishers, creators and educators can determine whether they're eligible here.
TikTok launches a new information hub and Twitter account to 'correct the record.'
TikTok had already offered its statement regarding the Trump administration's executive order that will ban the app from the U.S. if it's not sold by Chinese-owned parent company ByteDance by a given deadline. Today, the company has additionally launched its own online informational hub and a new Twitter account designed to give it a dedicated platform for its collected responses, including those where it may need to respond more quickly — perhaps in response to the president's tweets, for example, or with other breaking news.
On Monday, TikTok launched tiktokus.info, a website that organizes the company's statements, news coverage, "expert opinions," FAQs and other resources in a single destination. Oddly titled "The Last Sunny Corner of the Internet," TikTok makes the case for its app as a place where millions express themselves creatively. It also goes on record to flatly deny that it would ever provide TikTok U.S. user data to the Chinese government. And it spells out its commitments to areas like user safety and security, as well as its commitments to combating election misinformation and interference, among other things.
Google adds 'last updated' hours notification to GMB profiles
Google My Business (GMB) profiles now indicate when business hours were last updated. A small but important change, this happened roughly two weeks ago.
Some SEOs interpreted this as a test when it first appeared, but I confirmed with Google today that it's not. In the examples below — both are London retail store locations — the hours information includes the notification: "updated by business" and how recently.
Google extends lead forms to YouTube, Discovery campaigns
Google has been testing lead form ad extensions in Search campaigns since last fall. Now, advertisers can use the lead form extensions in YouTube and Discovery campaign ads as well. The company also announced new initiatives to automate data imports into Google Ads.
Lead form ad extensions will be available in Display campaigns later this year, Google noted in its announcement Wednesday.
Google has expanded the field options available for collection since it initially started testing lead forms. Now in addition to name, email, phone number and postal code, advertisers can opt to collect city, state, country as well as business contact information, including company name, job title, work email, work phone.
You can now capture leads from Quora ads
Quora has rolled out Lead Gen Forms for advertisers after a few months of beta testing. The forms can contain up to 12 fields and are prefilled with users' Quora account information. Available fields include:
Contact Info: First Name, Last Name, Email, Business Email, Phone Number
Employment Info: Job Title, Company Name, Company Size
Location Info: City, State (US Only), Zip Code (US only), Country
You can download leads via CSV in the Ads Manager to send leads to Salesforce, Gmail, Marketo or other systems.
LinkedIn to acquire TikTok?
"Microsoft is in talks to acquire TikTok, the Chinese-owned video app, according to a person with knowledge of the discussions, as President Trump said on Friday that he was considering taking steps that would effectively ban the app from the United States," The New York Times reported Friday.
The company is in talks with the White House and reportedly negotiating to take over TikTok's operations in US, Canada, Australia, and New Zealand.
Despite its best efforts, TikTok's attempts to convince U.S. legislators that it operates wholly independently from its Chinese parent company ByteDance haven't stuck. It's options increasingly look limited to spinning off to go public or spinning off for acquisition. It's looking like TikTok may be headed down the latter route.
Google security updates improve user privacy in digital advertising
Google has issued a number of security updates and tools that will provide greater transparency and more control when it comes to accessing ad-supported content.
There will be a number of improvements made to its 'Why this ad' feature, (telling users some of the factors that came into play when selecting a certain ad for them), with an enhanced 'About this ad' option that will also show users the verified name of the advertiser behind each ad.
There will also be an 'Ads Transparency Spotlight' tool, to provide people with detailed information about the all the ads that they see on the web, while the 'Privacy Sandbox', an open standards initiative that will explore more privacy-forward ways for Chrome to support digital ads.
The aim is to eventually phase out support for third-party cookies on the browser.
In a blog post statement outlining the updates, Google says that, "The future state of digital advertising promises new technologies, new standards, and better, more sustainable approaches, but it will take some time to get there.
"We recognise the unease that many in the industry feel during this period of transition.
"While there is certainly more change on the horizon, it's critical that marketers and publishers do not wait to take action."
Microsoft launches revamped Bing Webmaster Tools
Bing announced it has completed the migration from the old Bing Webmaster Tools to the new Bing Webmaster Tools. With this launch, Bing also launched a new URL inspection tool, a new Robots.txt tester tool, the site scan tool and a new webmaster guidelines.
With this migration Bing was able to consolidate 47 different links in the old version to 17 different links, since most of the links have been consolidated and bundled into fewer tools that do more. Bing said this makes the new Bing Webmaster Tools user experience "more user friendly and intuitive."
Google Search Console adds image license structured data support
Google has added support for image license metadata for licensable image label to both Google Search Console reports and the Rich Results test tool. Google said on Twitter "we are happy to announce support for Image License structured data in Search Console in addition to the Rich Results Test tool."
This is metadata and schema that you can use to display licensing information about content that appears in Google Images. A new section has been added to the Enhancements reports in Search Console if you use this markup. Google will only show this to you if you use this markup.
Google also said it is supported on the Rich Results test tool. Google's updated documentation on this tool says it is one of the 17 markup options supported by the rich results test tool.
Google adds 'Black-owned' business attribute to local listings
Verified Google My Business profile owners in the U.S. can now add a Black-owned business attribute to their listings.
Business attributes are highlighted as icons when customers view a business' profile on mobile, as shown below.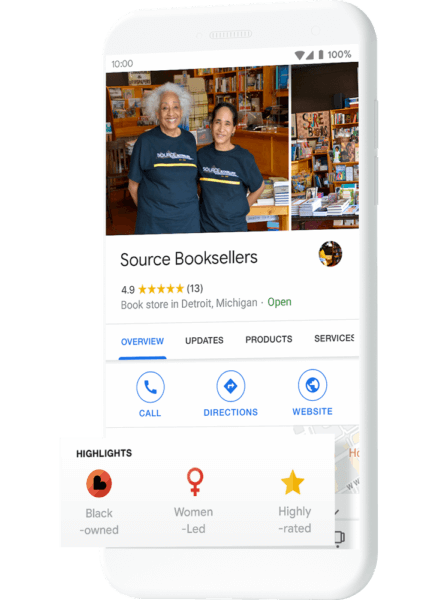 Google said it has seen "a surge in online searches for Black-owned businesses" in recent months — a period in which the Black Lives Matter movement gained momentum. Distinguishing Black-owned businesses in local search may help those businesses attract visibility in Search and Maps and gain customers.
"With this attribute, our goal is to make Search and Maps more inclusive and help support Black-owned businesses when they need it most," Jewel Burks, head of Google for Startups U.S. said.
November
Google Guaranteed badge starting to appear on Google Maps listings
Google has been making a big push of late with Local Services Ads, which includes its two underlying "trust certifications," Google Guaranteed (home services) and Google Screened (professional services). And recently the company started making the Google Guaranteed badge available to businesses for a monthly fee, outside of participation in Local Services Ads (LSA).
Positioned as part of an "upgraded profile," the Google Guaranteed badge costs $50 per month or $600 per year. The badge will appear on the local business profile and in the Local Pack. Google has labeled this program "an experiment," which may or may not continue depending on adoption.
The visibility of the Google Guaranteed badge on the profile in organic results presumably offers added value for LSA advertisers and may generate additional organic clicks and/or leads.
Given that Google has just moved from fixed pricing for LSAs to bidding, it's possible marketers down the line will compare the relative value of the $50 per month profile "upgrade" vs. the per-lead cost of LSAs. Provided they pass the trust certification.
Twitter has stopped its 'Fleets' rollout – one day after launching it
Twitter has decided to temporarily pause the rollout of its newest feature, Fleets, only one day after launching it.
The new feature is similar to other features found on social media platforms like Facebook, Instagram and Snapchat – vanishing posts which are only available to view for a short period of time before they disappear forever. Twitter explains, "Fleets are for sharing momentary thoughts – they help start conversations and only stick around for 24 hours." The message will appear when a user's profile picture is clicked. Much like Instagram stories, there is no way to publicly comment or like the story, except via Direct Message.
According to reports, users with the Fleets feature were experiencing difficulties with the app, with Twitter lagging, freezing and even crashing completely. The official Twitter Support account tweeted, "We're slowing down the rollout of Fleets to fix some performance and stability problems. If you don't have the feature yet, you may not get it for a few more days. "We love that so many people are using Fleets and want to ensure we're providing the best experience for everyone."
Apple accuses Facebook of 'disregard for user privacy'
Apple has criticised Facebook for trying to "collect as much data as possible" from users, saying it will push ahead with its planned launch of a new privacy feature despite objections from the advertising industry.
The company's director of global privacy, Jane Horvath, made the criticism in a letter to a coalition of privacy groups, reassuring them that the feature, which will require users to actively allow developers to track how they use other apps, would still be launched.
"We developed [App Tracking Transparency] for a single reason: because we share your concerns about users being tracked without their consent and the bundling and reselling of data by advertising networks and data brokers," Horvath wrote.
She defended Apple's approach to targeted adverts, which she said was based on demographic details rather than user tracking.
LinkedIn members reach 722 million, up 9% YoY
The number of users on LinkedIn increased 9% again year-over-year to 722 million in the third quarter, Microsoft reported this week. LinkedIn revenue increased by 16% and sessions rose 31% year-over-year.
LinkedIn's "membership" continues to tick up steadily. Microsoft said LinkedIn saw "record levels of engagement" again last quarter and that revenue growth was "significantly ahead of expectations" as the advertising environment improved. That marks a recovery from the previous quarter when LinkedIn revenue growth was hurt by a weak job market and cuts to advertising spend amid the pandemic, the company said.
E-commerce advertisers reign on Facebook
Online commerce represents Facebook's largest advertising vertical. The significant shift from offline to online shopping during the pandemic also led to a surge in advertising demand on the platform, Facebook said in reporting third-quarter earnings last week. Total ad revenue for Q3 reached $21.2 billion, up 22% year-over-year in Q3, and there are now more than 10 million advertisers on the platform.
Facebook's investments in social commerce features for SMBs, in particular, over the past couple of years helped put it in an ideal position to capitalize on the accelerating shift to online shopping. The company also fast-tracked and expanded several efforts, including Facebook and Instagram Shops, Instagram Checkout, and the Facebook Shop tab, since the pandemic.
Huawei is set to drop Android, and shun a Google OS
IN 2021 Huawei will be introducing a massive change – dropping Android for their in-house HarmonyOS software. But the P40 Pro and P30 Pro makers aren't the only tech giant that looks set to shun a Google-made operating system.
According to a report in the Express, rumours are circulating that OnePlus could be about to drop a Google-made operating system on an upcoming device. But fans who are worried about seeing a massive Android shake-up like their Huawei counterparts are getting needn't be concerned. Apparently, OnePlus won't be switching things around on their Android devices – it will be on their upcoming OnePlus Watch.
Google Photos gets great new feature, but you'll have to pay
Here's what you need to know about the update to the Android and iOS photo sharing service.
Google has just added a great new tool to its Google Photos editing suite – but it won't be available to vanilla users on Android and iOS. The Mountain View firm has just rolled out an enhanced version of its colour pop feature. With this newly added functionality Google Photos users will be able to add colour pop to any photo, not just one with depth information. However, regular Google Photos users won't be able to take advantage of this handy tool – you'll also have to be a member of the paid-for Google One plan.
A Google spokesperson said: "In Google Photos, colour pop is a feature that continues to be available for anyone to use, at no cost, for photos with depth information (such as portrait mode).
"As a part of an ongoing rollout that began earlier this year, Google One members can apply the feature to even more photos of people, including those without depth information."
XDA Developers and 9to5Google have also discovered further proof that Google could be rolling out more Photos features behind a paywall.
Facebook rolls out testing for Dark Mode for its iOS
Facebook has started rolling out broader Dark Mode support on its iOS and Android apps, five months after bringing the feature to the desktop.
Dark Mode is designed to reduce eye strain in low light environments and, according to Facebook, 'help prevent those awkward moments where your phone lights up the room.'
The social media giant confirmed it was adding Dark Mode when it rolled out its new desktop redesign earlier this year.
Aside from being more aesthetically pleasing to some, it's designed to be easier on the eyes.
Dark Mode also consumes less energy, making it more battery efficient.
Facebook launched Dark Mode for Messenger back in 2019, touting the feature as offering 'lower brightness while maintaining contrast and vibrancy.'
Facebook Ads bugs unnerve advertisers ahead of Black Friday
Facebook Ads has earned a reputation for being particularly glitchy and unpredictable. Over the past 12 to 18 hours, many advertisers experienced issues with temporary ad disapprovals and accounts being disabled.
Facebook confirmed the problem at 11:15 p.m. Thursday. "There was a technical issue that caused some FB ads & ad accounts to be mistakenly disabled," Rob Leathern, Facebook director of product management, said on Twitter. "We identified and resolved the issues within a couple of hours, and access should be restored."
"Account access should be restored. Some ad rejections may still take some time to run through the system – should be sorted out soon however," Leathern added in a reply.
TikTok jumps into social commerce with Shopify
TikTok's advertising division TikTok for Business announced a global integration with Shopify Tuesday that makes it easy for Shopify merchants to promote their products on the short-form video social network. The two companies also announced #ShopBlack to amplify Black-owned Shopify merchants on TikTok.
This marks the first major commerce integration for TikTok and opens up its ad business to Shopify's 1 million-plus merchants. Merchants can manage their campaigns from their Shopify dashboards and TikTok is offering a $300 ad credit to eligible merchants.
December
Google confirms passage indexing is not yet live
Google's Danny Sullivan has confirmed with Search Engine Land that Google has not yet rolled out passage indexing. Initially they expected, based on the original announcement, that Google would roll out passage indexing by the end of the year – 2020. But since it is not rolled out yet, SEL suspect Google will hold the launch until early 2021.
Very specific searches can be the hardest to get right," said Google, "since sometimes the single sentence that answers your question might be buried deep in a web page. We've recently made a breakthrough in ranking and are now able to not just index web pages, but individual passages from the pages. By better understanding the relevancy of specific passages, not just the overall page, we can find that needle-in-a-haystack information you're looking for."
Google said passage-based indexing will affect 7% of search queries across all languages when fully rolled out globally.
Google Search Console brings back request indexing tool
Google has reenabled the request indexing tool, within the URL Inspection tool in Google Search Console. The tool was disabled on October 14, 2020 – 69 days ago – and it was expected to come back before the holiday shopping season. That came and past but it is now back before Christmas and New Years.
Google announced this on Twitter saying "We're glad to announce that 'Request Indexing' is back to the Google Search Console URL Inspection – just in time for the new year!"
Google also "reminded" us that if you have "large numbers of URLs, you should submit a sitemap instead of requesting indexing" via Google Search Console. Google also said that the "requesting indexing does not guarantee inclusion to the Google index."
Google December 2020 core update is now fully rolled out
Google has confirmed minutes ago that the December 2020 broad core update that began rolling out on December 3, 2020 is now completely rolled out.
Google said "the December 2020 Core Update rollout is complete."
What we know from Google, as we previously reported, is that the December 2020 core update started to roll out around 1:00pm ET on Thursday, Dec. 3. Like all core updates, this was a global update and was not specific to any region, language or category of web sites. It is a classic "broad core update" that Google releases every few months or so. In this case, it was the longest stretch since a confirmed broad core update, one that took just under seven-months, as opposed to the typical three-month time frame.
This update, according to many of the tool providers and the SEO community was a very big update. Many who were either negatively or positively impacted saw gains or declines of 10% to over 100% of their previous levels of organic search traffic.
Google uses augmented reality to let users try on cosmetics
Google is launching a digital "try it on" experience for some cosmetics-related queries using augmented reality, the company announced Thursday. It is working with data partners ModiFace and Perfect Corp to visualise thousands of eyeshadow shades and lipsticks from brands such as L'Oreal, MAC Cosmetics, Black Opal and Charlotte Tilbury. The feature is launching this week in the US.
When you search for certain eyeshadow or lipstick products on the Google app, the knowledge panel may contain a swatch of shades, which can be viewed on different models of varying skin tones.
Google accused of colluding with Facebook and abusing power
Ten state attorneys general filed a lawsuit against Google on Wednesday, alleging that the company has illegally used its monopoly over the online advertising sector to force out competition via a range of exclusionary tactics.
"Plaintiff States seek to restore free and fair competition to these markets and to secure structural, behavioral, and monetary relief to prevent Google from ever again engaging in deceptive trade practices and abusing its monopoly power to foreclose competition and harm consumers," the filing reads.
The complaint claims that the fundamental change in Google's advertising business came in 2007, when it acquired DoubleClick, giving the company access to DoubleClick's ad management software and its base of web publishers, advertisers and ad agencies.
Google Ads moves campaign goal metric
Google announced it is now moving the campaign goal metric in Google Ads to an easier location to find it. The score is being moved near your optimisation score, so it is easier to locate.
Google said it is being moved to make it "easier for you to understand how optimisation score prioritises recommendations."
How is this score calculated. Your campaign goals are determined by your bidding strategy and can be focused on conversions, conversion value, clicks or impression share.
Using a goal eases your decision-making when you create a campaign in Google Ads by guiding you to the specific features designed to help your campaign succeed. When you create a campaign, you can select a goal. The goal you select should align with the main thing you want to get from your campaign, for example, Sales or Website traffic. After selecting a goal, you'll see relevant, recommended features and settings to help you attain the results that matter most to your business.
Google Web Stories ads now available via Display Network
Google is launching programmatic ad buying for Web Stories in open beta. Until now, Story Ads could only be sold directly by publishers via Google Ad Manager.
Story Ads can be sold programmatically by all publishers using Ad Manager and AdSense. Publishers will just need to add the <amp-story-auto-ads> tag in their Web Stories. Ad serving within Web Stories is handled dynamically "to optimize both user experience and monetization potential," says Google, meaning publishers can't control where the ad slots appear in their Stories.
Initially called AMP Stories, Web Stories are full-screen mobile experiences for publishers to deliver content. They can appear on in Google Search, Google Images and the Discover feed.
Mobile shopping is gaining share this holiday season
It wasn't that long ago that mobile was primarily considered just the first stop in a conversion journey that, nine times out of ten, ended on desktop. Mobile accounted for just 13% of digital sales at the end of 2014. The numbers look very different this year as digital and mobile commerce habits and experiences have shifted rapidly.
In an October Instart Logic survey of 2,000 U.S. consumers ages 21-45, 62% said they used their mobile phones for their entire shopper's journey — from discovery, to research, to the purchasing of an item.
Adobe data showed that in the days following Cyber Monday this year (Dec 1 to Dec 9), mobile accounted for 39% of consumers' online spending during that period, up 47% year-over-year. Overall, online shopping in the U.S. increased by 48.8% year-over-year, Adobe said.
Mobile's share was even higher among the more than one million Shopify sites at 69% between Thanksgiving and Cyber Monday.
According to Think With Google, 'why' was searched more than ever in 2020 (mood, as the cool kids say), but the full video is worth a watch – for a corporate video, it's quite a moving recap of the year.
The end of AMP?
With the customer experience update due in May next year, it seems Google is preparing for inclusion of non-AMP content in their top stories carousel. SERoundtable covers the appearance of non-AMP pages, but the question is: what will be the drive for brands to adopt AMP in future? Especially as the performance difference has proved to be negligible.
Links and ranking
As it was a conversation between me and a couple of others at Click yesterday, and I'll forget otherwise, there's a nice little look at links and ranking on the Moz blog yesterday. I haven't looked much at DA in a while, but it seems I may have to take another look after they reworked it recently.
Update review
Search Engine Land covers the various update reviews from industry tools in an article on the recent core update. The consensus seems to be that it was a big one across industry verticals and that dictionary and encyclopaedia sites will have noticed a drop.
Structured data an 'extremely light' signal
Search Engine Journal covered a a few of John Mueller's tweets on structured data in which he says it is an 'extremely light' signal – while he didn't elaborate, most will assume he means ranking signal. While this might discourage people from using structured data, we have never pushed this as a technique to improve ranking but to improve comprehension and ability to rank. Having structured data may be a light signal, but the Google algorithm being able to correctly interpret your data is what is really important about it.
Passage indexing probably not part of core update
SERoundtable ran a piece on a question from Barry Schwartz on a recent Google Hangout. He asked Googler John Mueller whether the passage indexing and core update may have been bundled – the answer was an underwhelming 'probably not', though as Schwartz says: "I'd hope Google gave us a bit of time between the core update and that release to see how either may or may not impact our sites".
Google Chrome has pulled these popular video extensions
Several popular video extensions have been removed from the Google Chrome online store for breaking policy rules according to TechRadar. Google told Reuters that the extensions in question were developed by IAC/InterActive Corp and that a decision on the company's status on the store remained pending.
Google argues that IAC misled users by employing deceptive marketing practices. Reportedly, some of IAC's plug-ins promise features that are not present, trick users into installing software that they do not want, and change individual's home pages. Google did ask IAC to rectify these issues before escalating the situation.
Not it seems that IAC could be about to face severe penalties as a result of the rogue extensions and even a potential ban. Google is currently in the process of reviewing other IAC plug-ins before coming to a final decision.
Google: Page experience signals for ranking apply only to mobile
Google has published a list of frequently asked questions regarding Core Web Vitals, the company's set of performance metrics pertaining to user experience, and the upcoming Page Experience update, which will roll out in May 2021.
Page experience signals for ranking apply only to mobile search. In the answers to the questions "Why are there differences in scores between mobile and desktop?" and "Is there a difference between desktop and mobile ranking?" Google states, "At this time, using page experience as a signal for ranking will apply only to mobile Search."
"Core Web Vitals measure the end-user experience of a particular web page and don't take into account the technologies and architectures involved in delivering that experience," Google said. This means that, with respect to the Page Experience update, Google prioritises the observed user experience above all else.
Google December 2020 Core Update rolling out
Google announced it is rolling out a new core update, the December 2020 core update. This is the third core update of the 2020 year, the first one was the January 2020 core update and the second one was May 2020 core update.
Historically, Google has released a core Google algorithm update every few months or so. It has been just about seven months since the May 2020 core update, which took place on May 4, 2020. So this one took a lot longer than previous updates to roll out.
Here is Google's tweet announcing it, where Google said "later today, we are releasing a broad core algorithm update, as we do several times per year. It is called the December 2020 Core Update.

Google has given advice on what to consider if you are negatively impacted by a core update in the past. There aren't specific actions to take to recover, and in fact, a negative rankings impact may not signal anything is wrong with your pages. However, Google has offered a list of questions to consider if your site is hit by a core update. Google did say you can see a bit of a recovery between core updates but the biggest change you would see would be after another core update.
Twitter finally shuts down its abandoned prototype app twttr
Twitter is shutting down its experimental app twttr, which the company had used publicly to prototype new features back in 2019. The app was first introduced at the Consumer Electronics Show in January 2019, then launched to testers that March. Its primary focus had been on trying out new designs for threaded conversations, including things like how to branch replies, apply labels and color-code responses, among other things. Some of those tests eventually turned into Twitter features and the twttr app was no longer being used.
The idea to design in public was an interesting experiment by Twitter.
Most companies roll out internal beta tests, followed by smaller-scale A/B tests to a percentage of their public user base to get feedback about new ideas. But with twttr, the company actually invited its users to be a part of the much earlier-stage development process.
Google expands local business message & map query analytics
According to the latest post by Barry Schwartz, Google is rolling out two updates to Google Maps and Google My Business for both consumers and business owners. Messaging is being expanded so consumers can message with businesses in more ways. Business owners will be able to see more local maps insights and analytics to understand how customers are finding them on Google.
Customers using Google Maps can now message with businesses via their business profiles on Google Maps within the updates section and via Google Posts.
"We're rolling out the ability for verified businesses to message with customers directly from the Google Maps app. Once a business turns messaging on from their Business Profile, they can start replying to customers on Google Maps from the business messages section in the 'Updates" tab,'" said Google.
Google's new holiday gift guide is built to send users to Google Shopping results
Google has launched the "Google Shopping Gift Guide," a microsite that highlights products it predicts will increase in popularity in the US this month, according to Google search trends over the last several months.
The site contains the year's top 100 trending gifts, divided into seven product categories. Some of the trending products are generic terms (e.g., "LED Lights"), while others are specific products (e.g., "Fitbit Versa 3"). Clicking on a generic term takes the user to the Google Shopping results page for that term, as where clicking on a specific product brings the user to that item's Google Shopping product detail page.
Google Shopping product pages show users the typical price range for that product across the web. Signed-in users can also turn on price tracking to receive a mobile notification and email when prices decrease.
Google tests multiple contextual links in featured snippets
Google this week began testing showing multiple contextual links within a single featured snippet result. In short, a featured snippet would have not just a single link to the publisher that Google used for this content, but would augment that featured snippet to provide links on phrases that Google feels needs more explanation. The catch is, those links would not link to the place Google grabbed the featured snippet from, but to other web sites.
Snapchat puts the "Spotlight" on top Snaps
Snapchat has launched Spotlight to feature the best Snaps in a new feed aimed squarely at countering rival TikTok. Creators whose videos are selected can "earn a share of more than $1 million that we're distributing to creators every day!," said the company.
Creators can submit their videos to Spotlight. They must be at least 16 years old to be eligible for revenue sharing. Spotlight is first rolling out in the US, Canada, Australia, New Zealand, the UK, Ireland, Norway, Sweden, Denmark, Germany, and France.
Spotlight's launch came as TikTok announced Charli D'amelio became the first creator to gain 100 million followers on the platform. Unlike TikTok, creator discovery has never been an integral feature of Snapchat.
Google Discovery ads can now use your 4:5 social image assets
Google announced updates for Discovery ads. There is now a 4:5 portrait aspect ratio layout that showcases Discovery ad images more prominently in feeds. Google is also rolling out updates to audience selection workflow for Discovery campaigns, which run across YouTube, Gmail and the Discover Feed. The below was reported on Search Engine Land this morning.
If you're running social campaigns, you may already have 4:5 assets for Facebook and Instagram feed and Stories ads. Now you can use those assets in Discovery campaigns.
The recommended specs for portrait images are 960 x 1200 with a minimum requirement of 480 x 600. Note that you'll still need to have at least one landscape and one square image available for Discovery ads. Google automatically selects the image format based on a number of factors.
Google will soon show the estimated conversion volume lift estimates when "Audience expansion" is enabled during campaign set up. Google says it's internal data shows audience expansion for Discovery ads on average yields a 52% lift in conversions at a comparable CPA. It's designed for new customer acquisition. Note, there's no direct reporting in Google Ads available on expansion performance.
Share this:
We use cookies to give you the best experience on our website. If you continue without changing your cookie settings, we assume that you consent to our use of cookies on this device. You can change your cookie settings at any time but if you do, you may lose some functionality on our website. More information can be found in our Cookie Info and Privacy Policy.