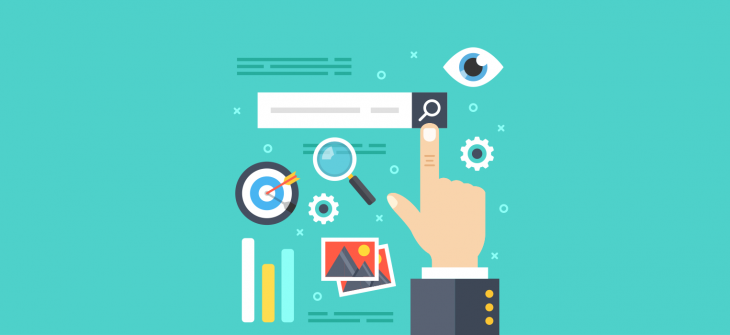 This month in search marketing: January 2021
It's the first week back at work since we undertook the first collective dropkick of a year into a bin ever attempted by the human race, but while many in our industry slept of a stay-at-home New Year hangover, the news kept rolling in and we'll be keeping up to date (mostly) throughout January
---
Thursday, 14th Jan
Yelp launches "health and safety measures" community feedback feature
Yelp now lets users leave feedback on local businesses' health and safety compliance around COVID pandemic precautions. Community members can vouch that businesses are enforcing social distancing and requiring staff to wear masks.
As the COVID-19 situation continues to evolve, SMBs and local businesses want to ensure they're communicating their safety precautions to customers. The new feature allows you to let Yelp users know what measures you're taking to keep them and your employees safe.
The health and safety rating feature gives users the ability to inform others of the precautions that they're seeing businesses actually implement and enforce to keep customers safe.
Google News performance report added to Google Search Console
Google launched a new dedicated performance report within Google Search Console for Google News publishers. This report will show on the left sidebar under the "Performance" section for any site that appears in Google News.
This report shows you clicks, impressions and click-through-rates for your performance on Google News from news.google.com, and from the Google News app on Android and iOS.
Google said it helps news publishers answer questions such as:
How many times have my articles appeared to users in Google News?
Which articles performed well in Google News?
How does user behavior vary by country?
You can segment the traffic by page, country, device and data, and filter the reports by date range and other metrics.
Tuesday, 12th Jan
Google updates the Search Console coverage report
Google announced it has made substantial updates to the coverage report within Google Search Console. Google wrote the company is "rolling out significant improvements to this report so you're better informed on issues that might prevent Google from crawling and indexing your pages. The change is focused on providing a more accurate state to existing issues, which should help you solve them more easily."
Google said it added more fine-grained index coverage statuses to the report. You can expect Google to relabel some categories with the new, more specific categories. Google wrote the list of changes include:
Removal of the generic "crawl anomaly" issue type – all crawls errors should now be mapped to an issue with a finer resolution.
Pages that were submitted but blocked by robots.txt and got indexed are now reported as "indexed but blocked" (warning) instead of "submitted but blocked" (error)
Addition of a new issue: "indexed without content" (warning)
Soft 404 reporting is now more accurate
Monday, 11th Jan
Google confirms it launched subtopics ranking in mid-November
Danny Sullivan of Google confirmed over the weekend that one new ranking change went live in mid-November that was from the slew of announcements at Google's Search On event last October. Google launched the subtopics ranking feature in mid-November, Sullivan said.
Google said in October that subtopics rankings are "neural nets to understand subtopics around an interest, which helps deliver a greater diversity of content when you search for something broad." Google gave this example, "if you search for "home exercise equipment," we can now understand relevant subtopics, such as budget equipment, premium picks, or small space ideas, and show a wider range of content for you on the search results page."
Google My Business launches new performance reporting
Google is now rolling out new performance reports within the Google My Business Insights section. These new reports have been a long time coming, with hints of it back in August and then again last month. But now, these reports are live for you to access and test out.
To access the reports, log in to your Google My Business profile, and click "Insights." At the top of the page, you may see a message that reads, "Your insights are moving."
The new Insights report does not include metrics such as website clicks and driving directions initiated. It also does not show you if searchers found you on Google Search versus Google Maps, as the current Google Insights report does. The reports also do not display the photo views, quality of those photos, and other metrics previously available in the older performance reporting.
Friday
Okay, so the week went well – trying to sort out home schooling routines and picking up work packs and instruments from school and trying to update a regular news blog turns out to be harder than you'd expect – so you'll be getting three days of news today. However, from a look at my feed, it seems many people must have been in the same position as there hasn't been much of a news variety published this week. Whether it's just been a quiet week or everyone else is suffering the same tightrope walk, I don't know, but here's the second half of the week…
SMITH outperforms BERT
I've mentioned before that Microsoft's exclusive access to GPT-3 puts it ahead of Google in the machine learning stakes, but Google has recently (missed by me at the end of November last year) published a paper on SMITH – which, according to this great summary on Search Engine Journal, outperforms BERT in its capacity to parse whole documents. I'd encourage anyone reading this to click through to the main article which does a good job of summarising – or you can skip to the next step and join me in trying to get through the research paper this evening.
Data Studio News Query Reporting
SE Roundtable also covers the addition of 'news' as a property parameter for addition to Data Studio reports which will, along with the recent addition of video and image, allow for better understanding of how aspects of search impact a site.
Google Question Hub
This one was everywhere in the SEO community (you can see one such article on SE Roundtable), but from some quick research, it doesn't seem especially useful unless you're managing SEO for a large brand or are addressing a prominent search 'entity' – in which case it could be useful as an idea generation tool, but for most SMEs and SEOs, there seems to be little reason to add it to your list of tools (for the moment).
Tuesday
It's still Tuesday. I'm calling it a successful second day. That being said – there wasn't much of note in the various search related publications today.
More product information slides
In addition to a reviews slide, SE Roundtable features a piece on a new size slide for some products – which offer size comparisons with other similar products. The case they feature is that of a bottle of whisky:
---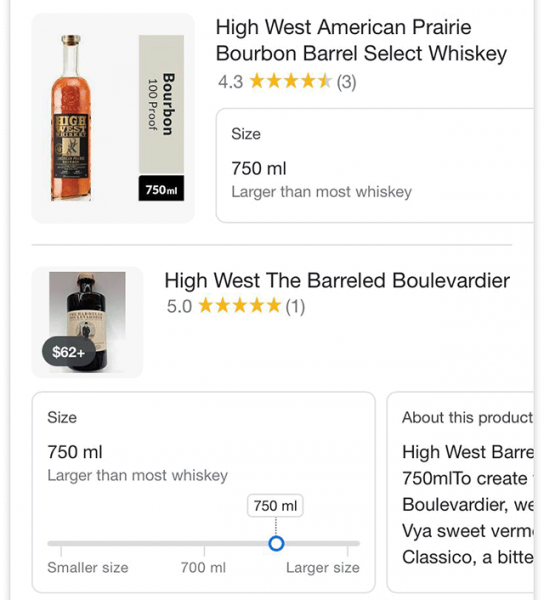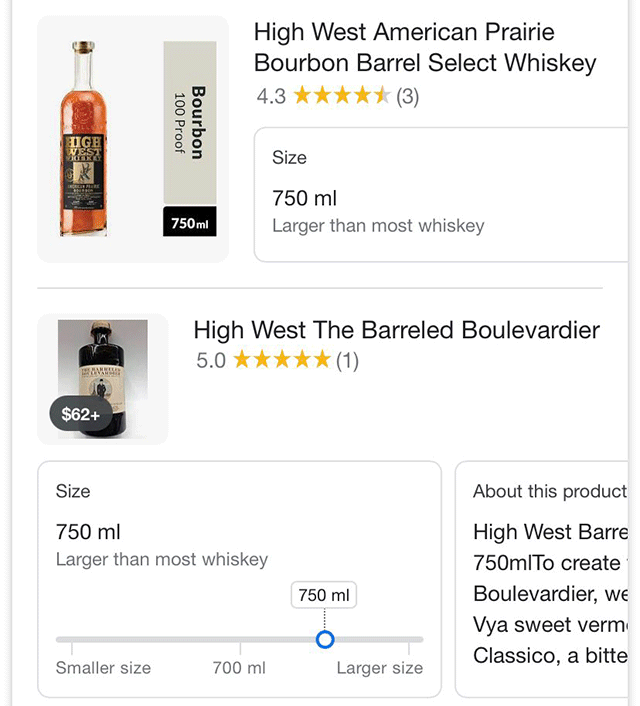 ---
Snapchat
Search Engine Journal features a number of stats from this report on the current state of Snapchat. With Facebook having tried its utmost to use its full weight and that of Instagram to combat the app's growth, it seems the platform is still growing. More impressive still considering the antitrust lawsuits Facebook is currently facing for its treatment of Snapchat among others.
Monday 04/01/2021
Here we go, day one of the New Year – and we wish you all a happy one. Let's see how long I can keep my head above the figurative water of the working week.
John Mueller's New Year Wisdom
As posted by Glenn Gabe (@GlennGabe), then blogged by Barry Schwartz and Search Engine Roundtable, then added to this collection (it's a long and winding road), the advice is from SMX 2020 and summed up thusly:
Core Web Vitals (i.e. Page Experience Update)
Sites that are technically better with technical SEO have an advantage
Technical SEO in general is harder so get help
Sites should aim to get users to "user pull," meaning people should want to search for you by your brand name
Ranking updates will continue, including core updates which are hard to explain
There will be SEO updates that help less-SEO-savvy sites such as passage indexing, RankBrain, BERT and others (I don't think John specifically named these)
Look for ways to be more visible to the user, maybe structured data or search verticals
There is power in a Union
Despite not being directly search related, one thing that is likely to have far-reaching and unpredictable results is the decision that Alphabet workers have taken to form a union.
---
---
Dynamic Customised Tabs
In what we'd hope is just a test, Search Engine Journal published a blog covering a new local GMB feature which offers up a secondary SERP for a specific service – which, according to the person that spotted it, seems to seldom feature the brand whose panel it featured in.
TikTok and Instagram
No doubt in anticipation of the outcome of a number of lawsuits, Tiktok and Instagram are set to see video content appearing in search results – there'll be more visibility for influencers on the platform and video will need to take another step up in importance at agencies and brands alike.
---
There's always a lot going on in search and digital marketing – and 2021 is already guaranteed to be one of the fastest moving yet. Keep up to date with our monthly news blogs – or stay ahead and contact us today!
Share this: