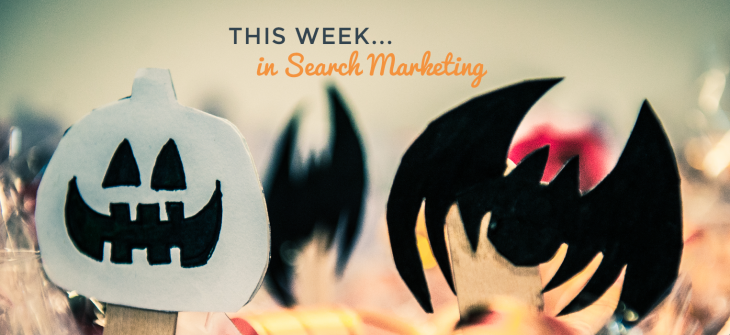 This week in search marketing [29/10/2018]
With Halloween set to fall on Wednesday, I can't discount the possibility that there will be some terrible puns in this week's news, but I will try to keep it to a minimum
---
Thursday
Simulmedia
In a development I'm almost certain I've seen before (possibly Channel 4? Yeah, they did something similar, but it was only for their All 4 platform), Simulmedia are opening a platform for D2C brands to programatically purchase television ads. At Click, we've been talking for a while now about the inevitable merging of digital and traditional advertising, it's great to see a big and positive step forward.
Google
Again reported in Search Engine Land, is a story on Google's Duplex – the AI powered appointment booking system. Apparently, this week, Google has added the option to allow Google Assistant to call your business in GMB (Google My Business). While it was only demoed in May, this undoubtedly represents alpha or beta testing of a tool I think may prove to be pretty important to the future of search and of SMEs.
Wednesday2> Bing
Bing have been really upping their game the last few months, and with Google seemingly involved in one scandal or another lately, have been ticking along in the background, upgrading their offering in organic and paid search. The latest development – featured in Search Engine Land – is the ability to create recurring insertion orders, helping to streamline the process of ensuring your campaigns run smoothly.
Tuesday
Facebook at FoM
Marketing Week is covering the Festival of Marketing and, in this article, specifically a presentation from Facebook's Planning Director – Ian Edwards. Some of the key stats reported include:
35,000 new Facebook business pages go live every day
A 'Messenger Experience' campaign by Victoria Beckham saw 60,000 consumers engage with the experience in fourteen days
21% of sales in the US are driven by email marketing
75% of European brands' marketing data was rendered obsolete by GDPR
Google
Google patent expert and all-round fantastic SEO resource Bill Slawski's site features an in-depth piece on how the Google Knowledge Graph updates itself by answering questions. Based on a patent that details the below three methods the Knowledge Graph uses to update itself, there's some interesting discussion of possible implications:
The knowledge Graph may be updated with one or more previously performed searches.
The knowledge Graph may be updated with a natural language query, using disambiguation query terms associated with the entity reference, wherein the terms comprise property values associated with the entity reference.
The knowledge Graph may use properties associated with the entity reference to include information updating missing data elements.
Monday
Google
Search Engine Land has a review of the latest update to the way Google returns hotel search results today, with an image of the new look results featuring in an overview alongside a trip down memory lane, with equivalent images from 2015 as well as a few of the tested types from the last year. With Google's rich results having cost various travel and leisure industry sites a lot of traffic in the past, it'll be interesting to see what effect this will have on various hotel room comparison sites.
Bing
Also on Search Engine Land, there's a breakdown of Bing's keynote at SMX East in which was discussed a desire to create 'intelligent search. The article gives a historical overview from the presentation on the various types of result, showing their progress so far. It also features the fact that Bing will index your Office 365 content – allowing you to more easily return your own information as well as that of the web at large.
---
Stay up to date with the latest in search and digital marketing news by signing up to our blog – or check our resource sections for specific strategies and techniques to succeed in search.
Share this: